The $42 Tool You Need in Your Truck at All Times
The ABR E-Z Deflator is the cheapest, easiest way to improve your ride off-road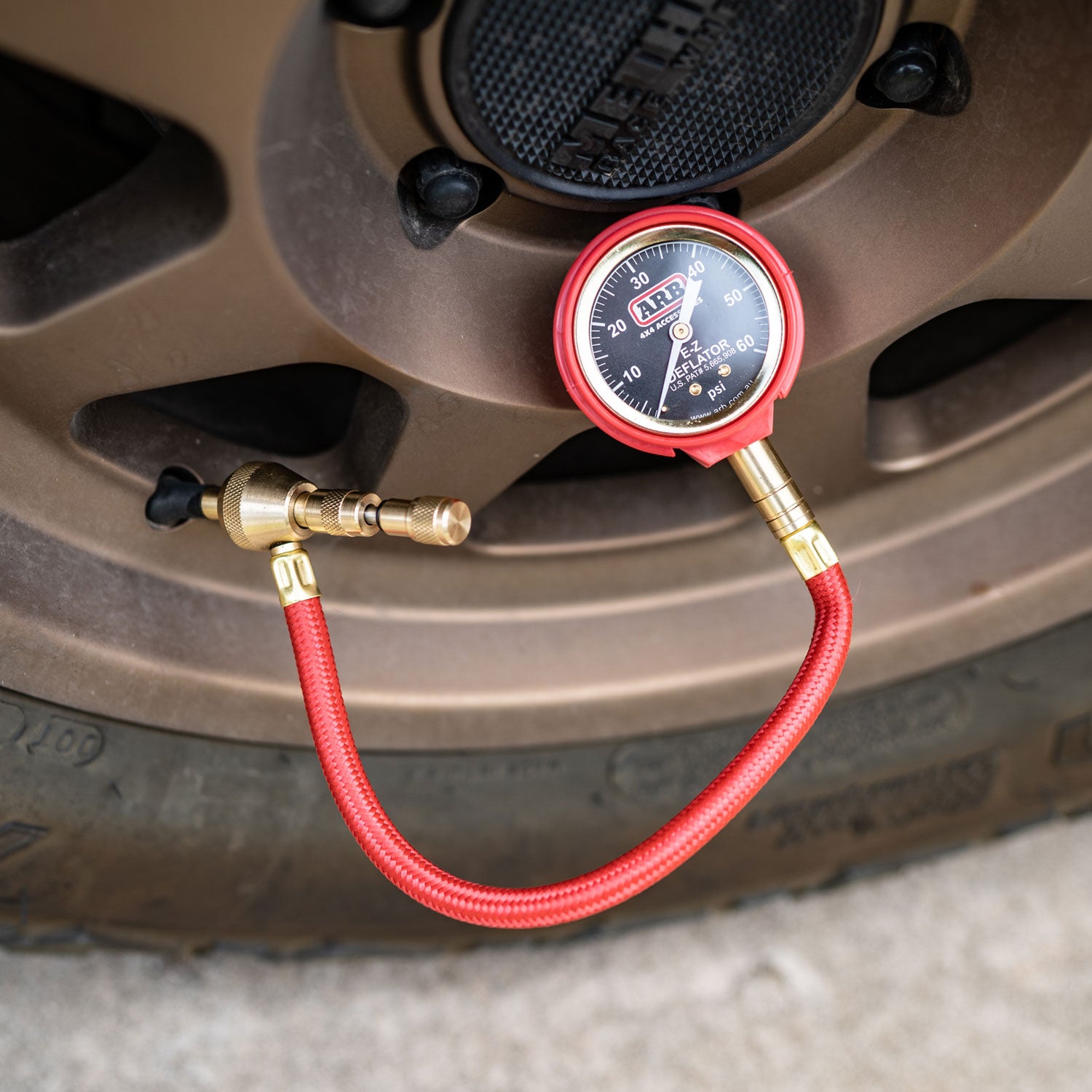 Jakob Schiller(Photo)
Heading out the door? Read this article on the new Outside+ app available now on iOS devices for members! Download the app.
Last winter, I drove down to Baja, Mexico, with my wife and two small kids. We caravanned with friends who also have a young daughter. Our vehicles—two purpose-built Toyota Tacomas—were tricked out with every piece of off-road gear you can imagine: meaty mud-terrain tires, lockers, Maxtrax, etc.
One night, we rolled onto a wide-open beach south of San Felipe looking for a camping spot. My buddy, who was leading, drove off the flatter section of the beach down a small hill that angled toward the water. I followed—and immediately got stuck when I tried to climb back up. I put the truck in four-wheel drive low, turned on my rear locker (a mechanism that locks the rear differential and increases traction), and proceeded to make things worse as my rear wheels, weighed down by all the gear in my bed, dug in. At this point, my four-year-old daughter, sitting in the back seat, proceeded to scream that she had to use the bathroom "right now!"
After a potty break on the sand, I consulted with my buddy, who told me to stay calm. Luckily, he's a certified off-road driving instructor and has seen much worse. He had a winch on his truck that could pull me out, and we both had shovels we could use to dig. But then he said he had a better idea: the ARB E-Z Deflator.
The Deflator—which costs less than a nice dinner out—is a tire air-pressure gauge designed to safely and easily remove your valve core and rapidly air down to a specific PSI, before reinstalling it. With less air inside, the tires flatten out, increasing their contact patch and therefor traction, as well as massively improving ride quality. (The same concept applies to plus-size mountain bike tires that can run a lower PSI.) By pulling the valve core, the Deflator lets air out much more rapidly, and with much less hassle, than you could achieve by simply depressing that core. That's doubly convenient, given the very large volumes of air contained in up-sized off-road tires.
Working by headlamp with my truck tilting toward the Sea of Cortez and buried in the sand, it took us only 15 minutes to let the air out of all four tires. Back in the driver's seat, I gave the truck a little gas and immediately felt it move in the right direction. Thirty seconds later, we were up on the shelf and ready to make camp. (We refilled my tires the next day with an onboard ARB compressor mounted under my hood.)
Needless to say, as soon as I got home, I bought an ARB E-Z Deflator, which now lives in my truck full-time. Last month, I saw the device in action yet again when we used it to air down Jeep tires before driving over the giant rocks that litter the Rubicon Trail—North America's most difficult four-wheel-drive road. Now, with more practice, I'm able to take my tires from road to dirt pressures in just a couple of minutes. And that means that airing down is something that's now quick and convenient for me to do every time I go off-road, before I get stuck.
Of course, I still recommend driving with good tires, a shovel, and, ideally, four-wheel or all-wheel drive if you like play off-road. But the Deflator is an additional piece of affordable gear that will always come in handy.
Lead Photo: Jakob Schiller