The Humble Minivan Is Due for a Rebrand
It's time to radically reimagine the silhouette of the American outdoors vehicle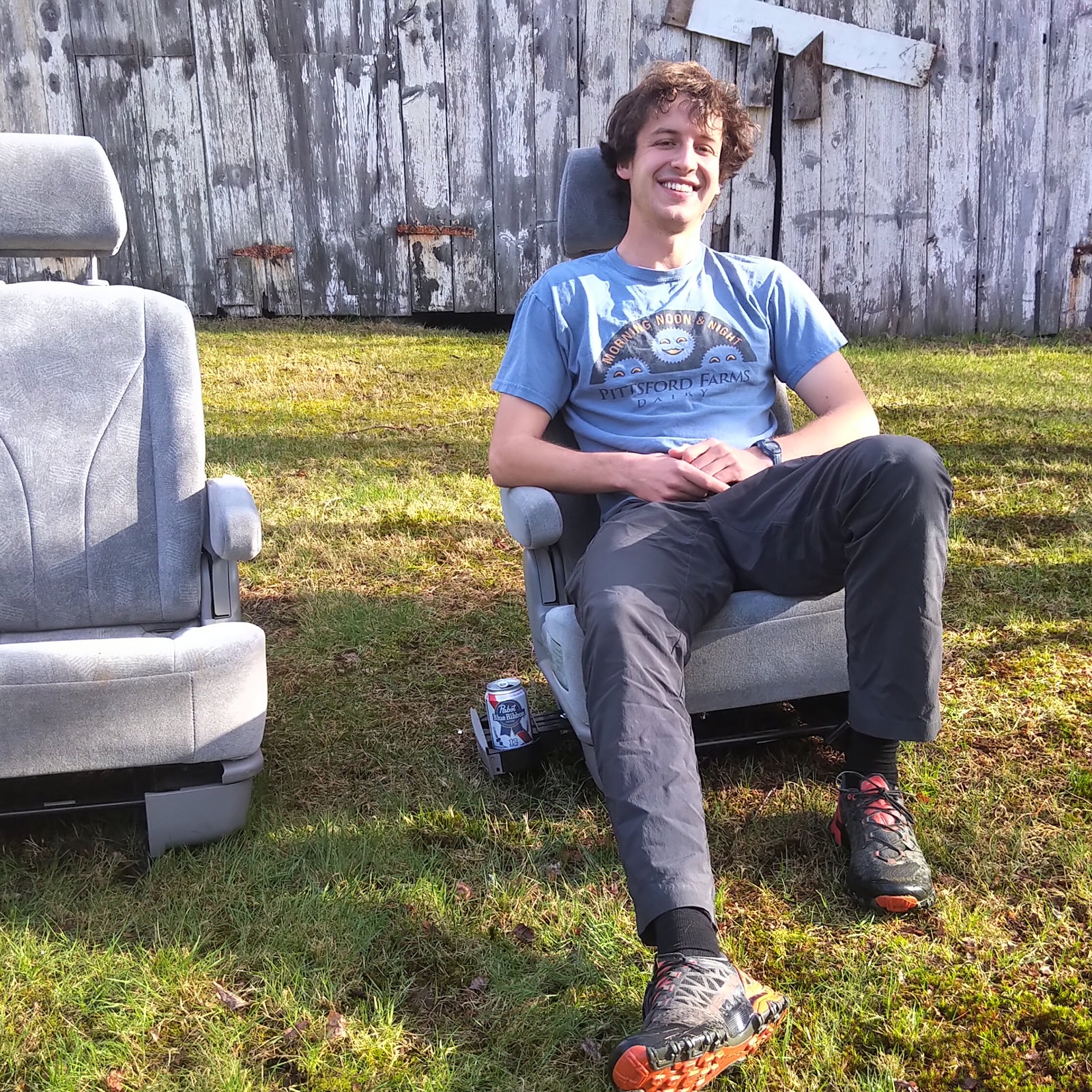 Henry Colt(Photo)
Heading out the door? Read this article on the new Outside+ app available now on iOS devices for members! Download the app.
Last August, after the pandemic marooned me for a summer at my childhood home in Massachusetts, I moved to Maine to teach at a rural middle school. I loaded my car with the essentials—guitar, banjo, running shoes, backpack, tent, sleeping bag, topo maps, cold-brew coffee apparatus—feeling like I was reentering adulthood.
Then I took a long look at the car itself—a silver 2003 Mazda MPV minivan named Silverfish that I'd half-grudgingly, half-gratefully inherited—and winced. A large (and dorky) piece of my childhood would be coming with me.
My parents bought the behemoth when I was in second grade, and my sister and I named it after what we imagined was a species of sleek, barracuda-like fish. (We had no idea a silverfish was something you spray Raid on.) By the time I left for Maine as a 25-year-old, however, Silverfish had become a source of acute embarrassment—an oversized soccer-team-hauler with rust, dents, and dysfunctional AC (thanks to a small but hungry rodent). On the day of my departure, I asked myself: is the silhouette of my new adult life really shaped like a minivan?
At first, I thought Silverfish would serve me only as a commuter car. Then, in October, I met my friend Eli, a research biologist and experienced outdoorsperson, for some trail running in Acadia National Park. To my surprise, he eyed Silverfish with something akin to lust: "Sweet van. Would you ever sell that thing?"
Over the next few months, Eli's interest in my van began to make more sense. I still couldn't reconcile Silverfish's homeliness with my own wannabe-ruggedness. And I still couldn't get past its most obvious flaws—a temperamental, if surprisingly peppy, V6 engine and an utterly vibe-killing presence on first dates (like having the whole family along!).
But each weekend, as Silverfish helped me run, hike, camp, and cross-country ski, the adventure-related benefits of owning a minivan were becoming more apparent. Here's what I've learned.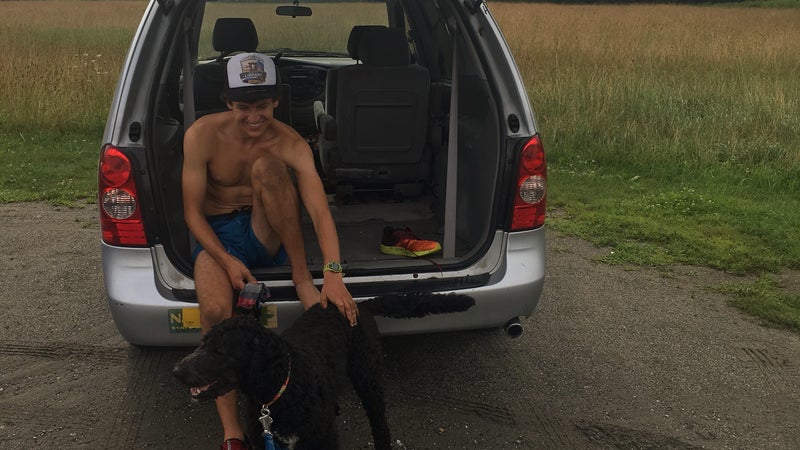 ---
Minivans are affordable. 
Especially compared with trucks, SUVs, or full-size vans with expensive buildouts, minivans are a viable option for the gear-toting outdoorsperson with a moderate budget. And used ones—say, ten-year-old vehicles with 100,000 miles—are even cheaper. According to Kelley Blue Book, a 2011 Toyota Tacoma truck will set you back $11,700; a Toyota Sienna minivan, on the other hand: $10,200. Step down to a Dodge Grand Caravan minivan and you'll part with $6,300. (Since most minivans don't come with all-wheel drive, you may need to factor in a set of snow tires.)
They can haul lots of stuff.
In most minivans, removing the second-row seating and folding down the third (like I did in mine) opens up a Mammoth Cave's worth of storage—127 cubic feet for Silverfish, 144 for a 2011 Grand Caravan, 150 for a 2011 Sienna. A truck with a 4' x 6' bed and a standard cap yields about 72 cubic feet of storage space, if you don't include the rear seating area (which is walled off from the bed). Silverfish can fit three mountain bikes side by side, wheels and all—and I never have to worry about them getting stolen. And if you're a surfer, wouldn't you rather stash your boards inside, not on the roof?
There's plenty of activity space.
Keep the second row of seats, and a minivan can haul at least seven passengers. Take it out and you've got a surprisingly luxurious changing room, kitchen (leave those windows open!), portable kennel, or, says Eli, post-winter-surf-session warming hut. (And, for a few Zoom sessions of mine, a therapist's office.)
In November, Eli and I ran the Pemi Loop—a 30-mile tour of eight New Hampshire 4,000-foot peaks. Though the run itself flew by in a Clif-Blok-and-endorphin-fueled state of White Mountain Bliss, it's the night before that I remember most vividly: marveling at the spaciousness of the cargo area as we rolled out our sleeping bags and feeling proud of the old Mazda.
There are plenty of cupholders.
It seems trivial, but bear with me. Mazda knew that suburban soccer teams needed to hydrate. Well, so do climbers, surfers, car campers, and grad students on a budget. In Silverfish, you're never more than a few inches from one of ten cupholders. Certain 2011 Sienna models even come with a dozen. A 2011 Tacoma has only seven, so maybe you should think about your beverage requirements before buying a truck.
You're boldly rebranding a cultural symbol.
A certain segment of the outdoor world (me included) seems transfixed by image-fueled gear clichés: Darn Tough socks, stickered Nalgenes, slack MTB head tube angles, and expensive flannel shirts designed to imitate cheap flannel shirts. Behind the wheel of a minivan, you subversively toss out the stereotypes—the rugged Tacoma, the decked-out Sprinter, heck, even the sporty Outback—and recast the meek denizen of the cul-de-sac as a brash open-road adventurer.
---
On a sleety Saturday in February, I was heading down Interstate 295 when Silverfish started vibrating. It lurched and growled as I drove it to the nearest mechanic. The diagnosis? "Coils."
I wish I could say I cried when the mechanic told me the coils would cost more to replace than Silverfish was worth. Or a couple weeks later, when the salvage shop clerk handed me a $175 check and told me no, I couldn't see my old van, because it had already been crushed by a car compactor. Instead, I felt a strange calm. In that karmic way that things seem to leave our world once their life purpose has been accomplished, I knew that Silverfish had taught me what it needed to: If love means never having to say you're sorry, then adulthood means never having to say you're embarrassed.
Which is why I didn't feel overly conflicted when a shiny 2007 Subaru Outback caught my eye. It was, of course, silver.
Lead Photo: Henry Colt
Trending on Outside Online