Adventure Rig Showdown: Trek vs. Airstream
Chasing singletrack, giant fish, and surrender in a matchup to find the finest route across Arizona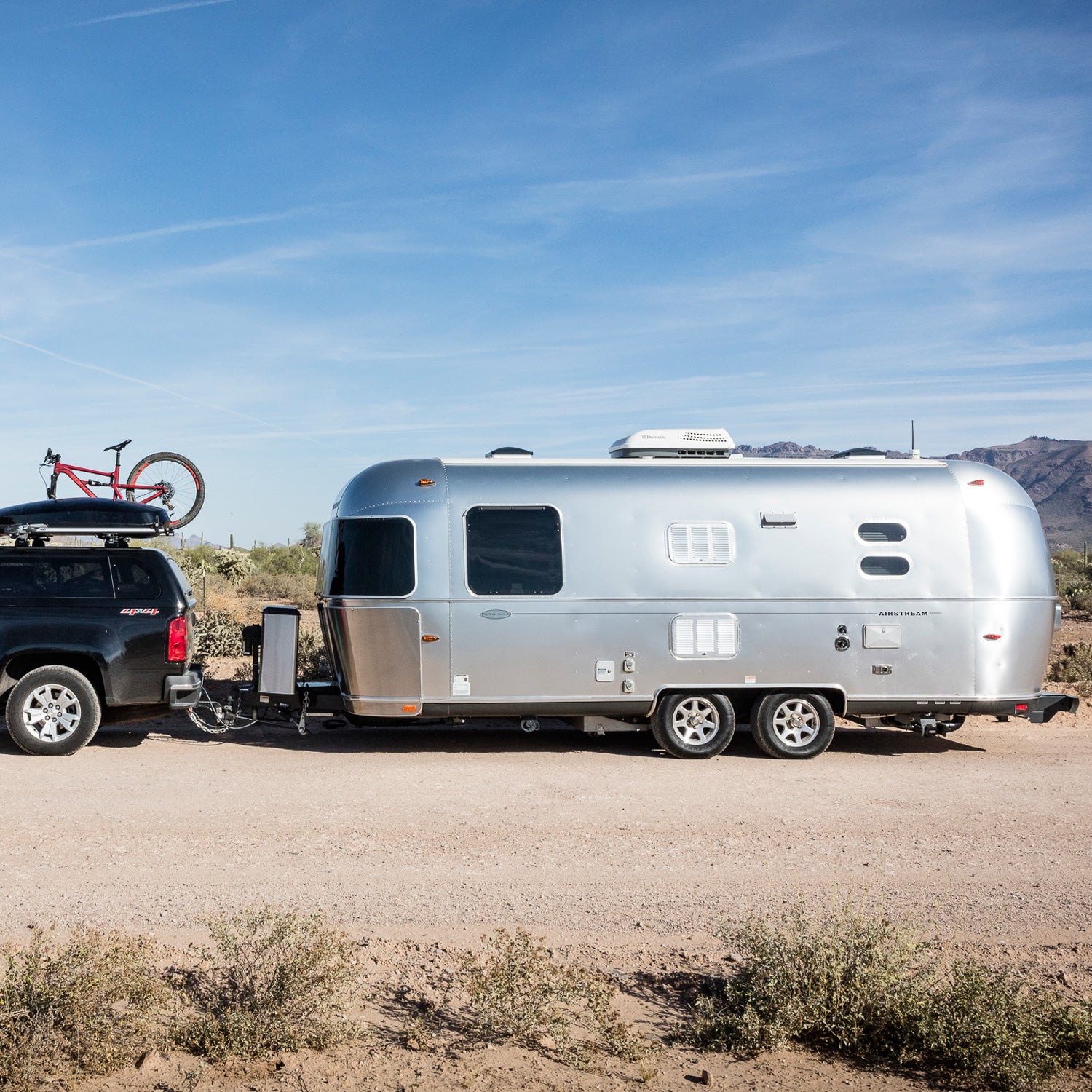 JJAG Media(Photo)
Heading out the door? Read this article on the new Outside+ app available now on iOS devices for members! Download the app.
Jen and I are not people who sit still much. Less than a week after we picked up Artemis, we hatched our first adventure: head-to-head journeys across Arizona.
The Modern Nomad

Our guide to living on the road and spending more time outdoors—without quitting your job.
Earlier in the winter, I'd briefly contemplated racing the 750-mile length of the Arizona Trail. The ride involves humping everything you need (clothes, camping equipment, food, water) over tons of difficult single track, with the added, slightly insane twist that you have to carry your bike across the Grand Canyon on your back as it's illegal to ride in the park. Given a heavy work and travel schedule I had ruled it out this year. But sitting at my computer in front of Artemis, it occurred to me: Why not solo the route now? Sure, I was wildly unprepared. But just like our somewhat impromptu decision to buy an Airstream, sometimes you go with your gut and take advantage of the circumstances.
Ditching your wife with the intimidating task of pulling a 4,600-pound trailer on her own just a week after buying it might seem ill advised, but Jen is dauntless. She was already more comfortable towing than I was, and she said she loved the idea of heading out with Artemis in search of her own adventure ("bonding," she called it). So the plan was laid: After I finished a few assignments and stockpiled some Cycle Life columns, Jen would drop me at the Mexico border with my bike and work her way across Arizona in search of new trails and rivers to fish. If all went well, she'd pick me up around a week later at the Utah state line.
One of the trickiest parts of riding the Arizona Trail is getting to and from the route, with the start down a dusty dirt road three hours south of Tucson and the finish at a lonely campground along another pocked back road an hour and a half west of Page, Arizona. And you never know how long the ride will take. (Seven days? 10? Two weeks? More?) So racers often go to convoluted lengths to ride, shuttle, and arrange their entry and exit. The fact that Jen would simply plop me down at the start and continue on with her mobile life in my absence, made this madcap plan a lot simpler.
We camped at the Mexico border under a black sky sprayed with stars and Jen rolled out early the next morning, leaving me in the silence of the wilderness with my bike and the ominous task of getting to Utah. She was always destined to be quicker than me across the Grand Canyon state. The Trek Fuel EX I'd chosen for the ride is an impressive machine, but my rangy, endurance cyclist legs are clearly no match for the Chevy Colorado's V6. And anyway, this wasn't a race, I kept telling myself. I had sped through this course on many previous occasions chasing efficiency and fast times, but what I was after this round was introspection. I wanted to be part of the landscape—not just move through it.
The trip was immediately different. Whereas in the past I'd rarely encountered wildlife because I was rushing with head down, in the first hour dozens of Coues whitetail deer milled all around me and I sent a band of javelinas snorting off like a pack of stumpy linebackers. Over the next week, I bumped into deer, elk, bear, skunk, pronghorn, rattlesnake, jackrabbit, coyote, fox, gila monsters, and, in the Grand Canyon in the dark, what I think was a ringtail cat. I pedaled hard and efficiently, taking few breaks in 12- to 18-hour days in the saddle, but I also allowed myself lunch stops, which I'd never do racing, and tried to get six or more hours of sleep each night. Laying on the hard earth under the tapestry of constellations and feeling the cold night breeze on my face was just as much part of the experience as pedaling.
I had sped through this course on many previous occasions chasing efficiency and fast times, but what I was after this round was introspection. I wanted to be part of the landscape, not just move through it.
By the time I reached Phoenix some 72 hours after setting off, I had found a rhythm, but a chronically pinched nerve in my neck had flared and was causing my hand and foot to go numb. Jen texted to say she'd been held up because of some warranty work on Artemis at the dealership in Phoenix, and she was camped at Lost Dutchman State Park for the night. It was 5 p.m., hot and windy as Hades, and she was just two hours up the trail. Had I been racing, I wouldn't have been allowed to see her, as the rules preclude outside help. But when I came to Lost Dutchman, I pointed my front wheel to the campground, where I found Jen cheering me like I was a hero. Of course I was not, but the beer was cold, the company gratifying, and the queen-size mattress a welcome change from the windshield sunshade I was carrying as a sleeping pad.
Bikepacking is a microcosm of Airstreaming: You move along, self-contained so you can stop and go as you like, but you're never sure where you're going to end up or what lies ahead. A fierce storm was blowing in from the north, I discovered that night at Lost Dutchman, and snow was forecast on my next two to three days of AZT. With the trail ahead notorious for turning to sticky, impassable mud and my hand and foot numb, I did what would be normally unthinkable: I stopped riding.
Instead, I helped Jen load Artemis, and we pointed north to the Grand Canyon, where she had a fishing date the next morning. The drive was a harrowing mix of white-out snow in Flagstaff and bruising hail and sleet elsewhere, and I was glad, both because I wasn't on my bike as well as to be there to help with the nasty drive.
We found a spot at the campground at Lee's Ferry, with glimmering views on the Colorado and—shockingly—three bars of 3G. Edward Abbey would surely barf to know there's now connectivity in the Grand Canyon, but for me it meant a week of catch-up while Jen practiced her casting. With fresh trout on the grill each night and some stillness, my body slowly unwound from the first three days. I was down that I wouldn't get to finish the AZT, but part of our decision to travel was the commitment to make it fit with work. So I wrote a travel feature and finished a revision that came in while I was riding, and despite a lingering melancholy, I realized I was lucky to be able to do these things here. You may never know where the road ahead leads, but the whole point of Artemis, the whole point of life, I guess, is to enjoy the ride no matter the destination.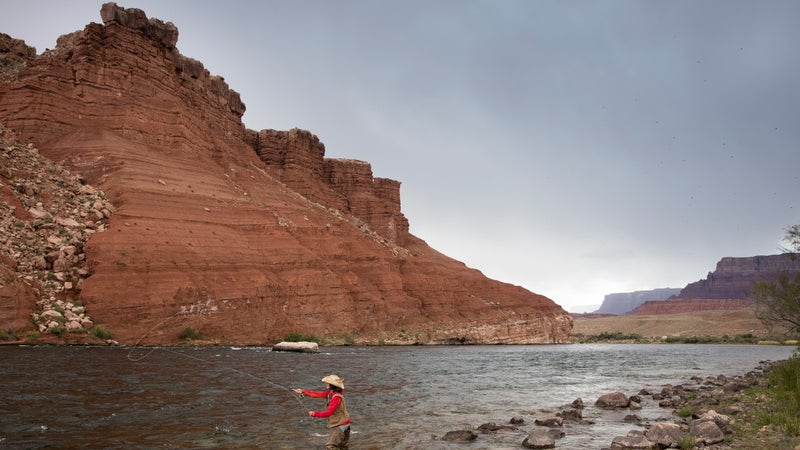 Then one morning over coffee, Jen surprised me: Why don't you put back in on the Arizona Trail and finish the ride southbound? I was caught up on work, my neck was marginally better, the forecast looked good, and we were less than two hours from the Utah end of the trail.
Two mornings later, I rolled out in 30 mile-per-hour headwinds pointed toward Lost Dutchman. Over five days, I'd pick my way southward, through the Grand Canyon to Tusayan, across the piñon and juniper-speckled high plains and over the shoulder of Humphreys Peak to Flagstaff, around ponderosa country and down the rocky Mogollon Rim, and eventually into the sand, saguaros, and heat haze of Phoenix. 
After nine days on the trail and 858 miles, I was relieved and gratified to have finally seen the whole route but also wistful that it had been a journey in two parts instead of one as I'd planned. Then I thought back to the Grand Canyon crossing, which I'd made with the Trek on my back from North Rim to South in 12 hours.
It was 90 degrees when I reached the Colorado River and staggeringly difficult ascending the 5,000 feet up the South Kaibab trail. In the last 1.5 miles I came on a scrum of 40 odd seventh graders on a field trip. They backslapped me and gave me high fives and marveled at me like I was The Hulk, then moved ahead of me as I reeled and stumbled under my load. But when I reached the rim, the class was there, lining the trail on both sides and cheering, clapping, and whistling. "Bike dude! Bike dude! Bike dude!" they chanted as I topped out.
 
It was one of the more ridiculous and sweet moments of the entire ride, and one I wouldn't have had going the other direction given that the North Rim was still closed. In fact, every encounter from my journey was equally dependent on my convoluted route choice and me being at the precise spot on the AZT at the very moment I arrived there: the herd of elk I startled at dusk over Flagstaff, the meteor shower I woke too in the remote darkness of the Mogollon Rim, the guy in Mesa who judged me so down on my luck based on my unruly hair and beard, sweat-crusted gear, and measly bike-load of life belongings that he offered to give me money. We often think in terms of what could have been, how things aren't perfect, and #fomo. But really it's all just experience and blessed life, no matter which route you choose.
Lead Photo: JJAG Media