Alex Honnold's Ultimate Adventure Vehicle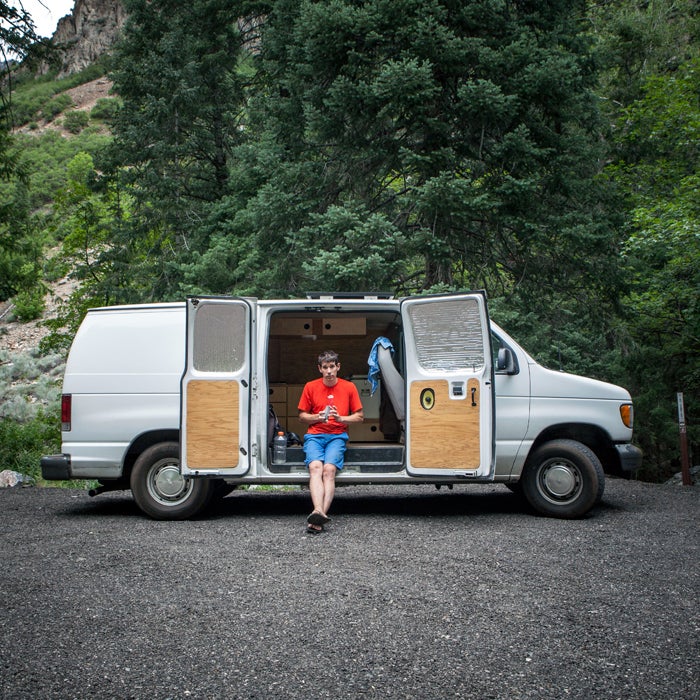 Heading out the door? Read this article on the new Outside+ app available now on iOS devices for members! Download the app.
Honnold's Humble Abode
Welcome to Alex Honnold's home sweet home, parked in American Fork, Utah. We caught up with the climber for an inside look at his deluxe camper-van setup, complete with all the gear you could ever want to free solo Half Dome—or to go on a slightly less adrenaline-filled adventure.

Honnold walked us through all the high- and low-tech features within to show us what he needs to live—and climb—on the road.
Back Drawer
"The drawer in the back has the right gear for any adventure. And it's even custom-sized to fit a crash pad. Many a big day has begun with me in the back of the van pawing through gear."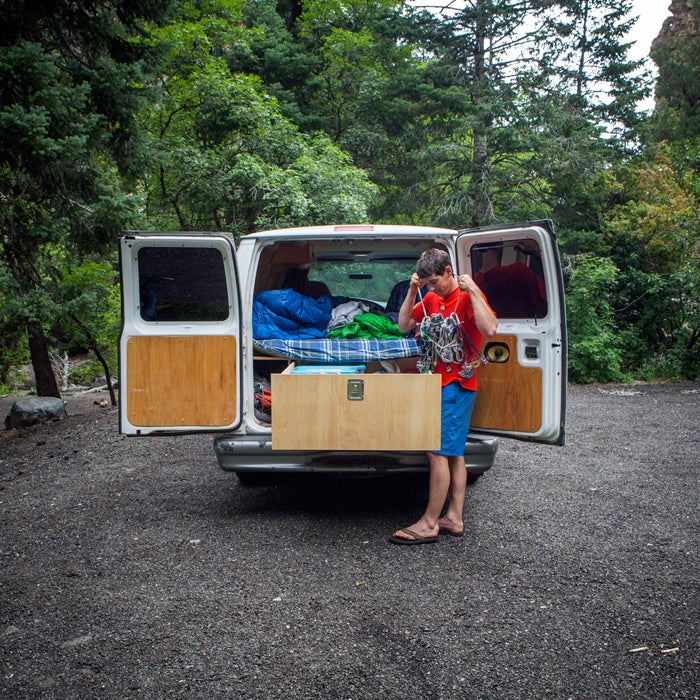 ---
Gear Bins
"A close-up of that aforementioned gear drawer. It's mostly full of cams, draws, and shoes, though it also has what feels like an infinite supply of chalk (the folks at Black Diamond gave me a garbage bag full), bolts, pitons, a drill, other random aid-climbing gear. Good thing it's a big drawer…"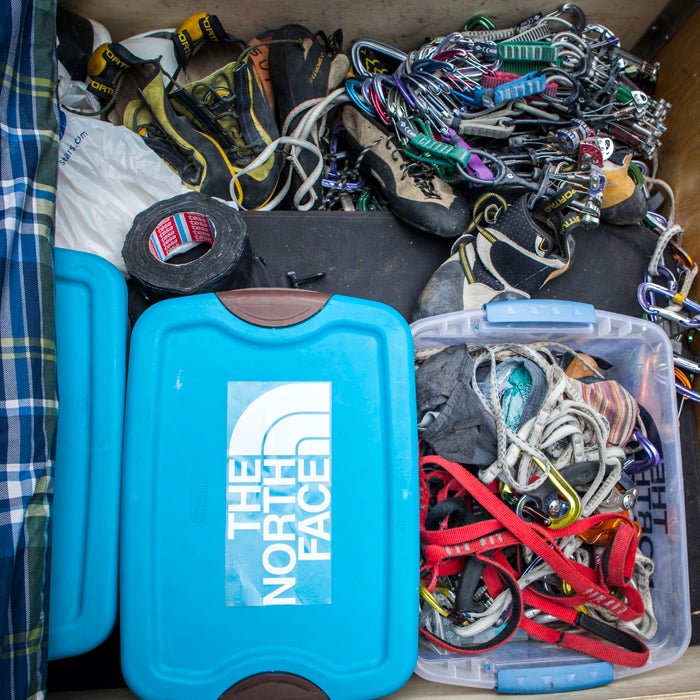 ---
The Library
"Quality time in the library. I generally have a cabinet full of climbing guides and pleasure reading books, which for the last four years or so has meant environmental nonfiction. There's lots of time for reading in a home with no TV."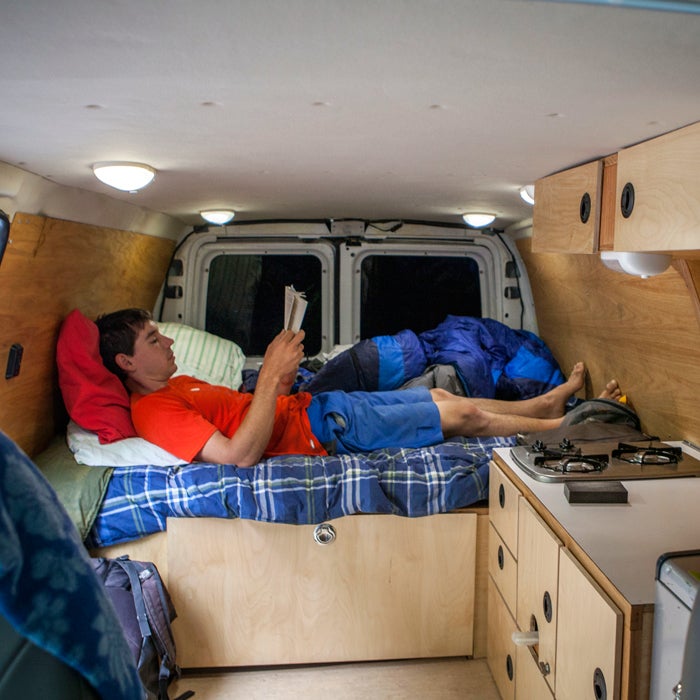 ---
The Kitchen
"Dinner time! After years of just having a Coleman camp stove bolted to my counter, the newest version of my van is a bit better built."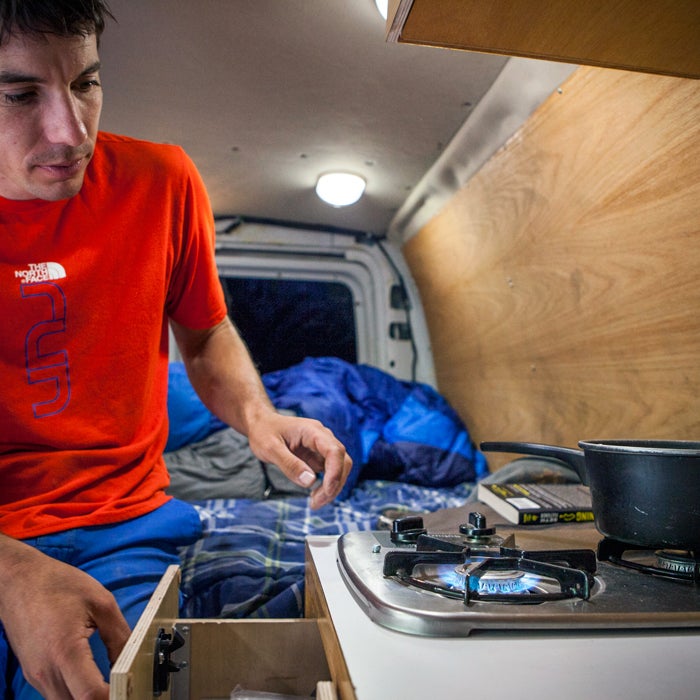 ---
Snack Storage
"Custom-sized water drawer that keeps my five-gallon jug hidden away. Plus the snack cabinet, with enough Clif product to power me up anything. Notice the Goal Zero batteries hidden down below."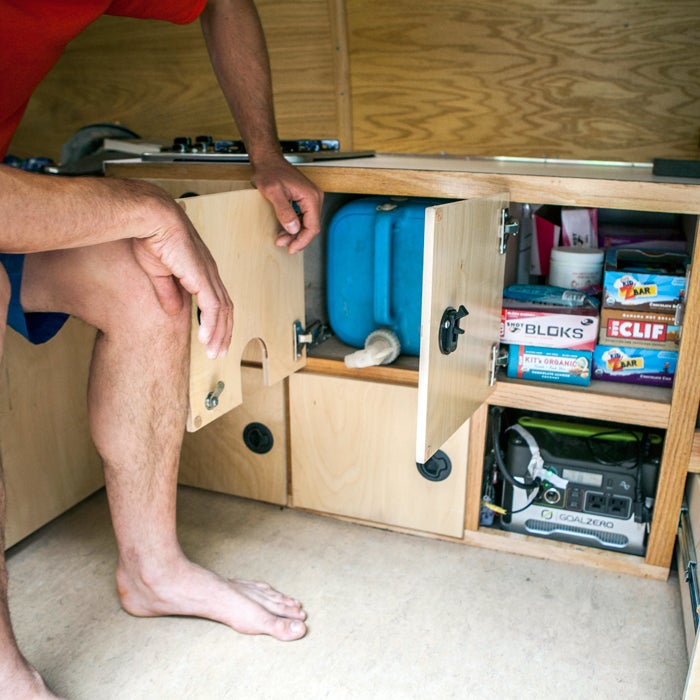 ---
The Water System
"I lost patience and decided to tip the jug up when it was running low on water. Typical home life."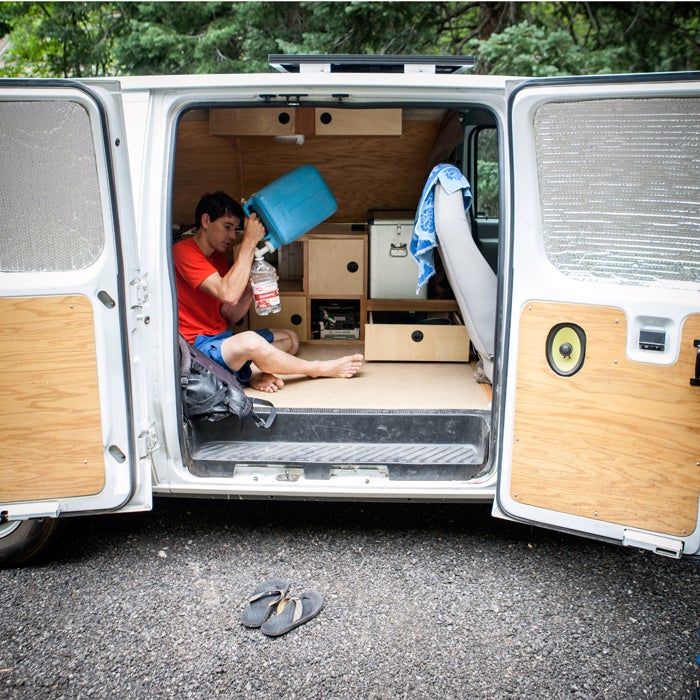 ---
Beneath-Bed Storage
"There's extra storage around the wheel wells that's easily accessible from either the trunk or from hidden panels built into the bed. The driver's side compartment holds ropes and skis, while the passenger side holds random camping gear."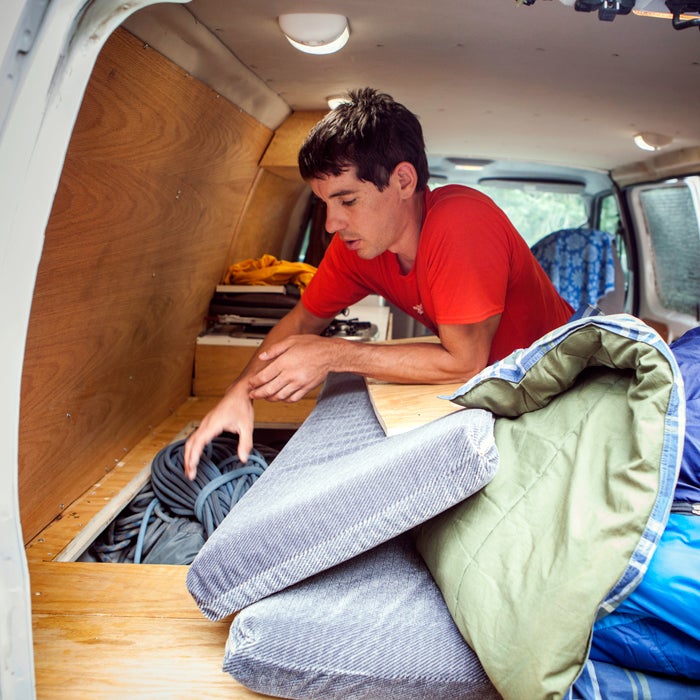 ---
Primary Storage Space
"So tidy! I try to sweep and clean up every other day. It's hard to live with a mess in such a small space."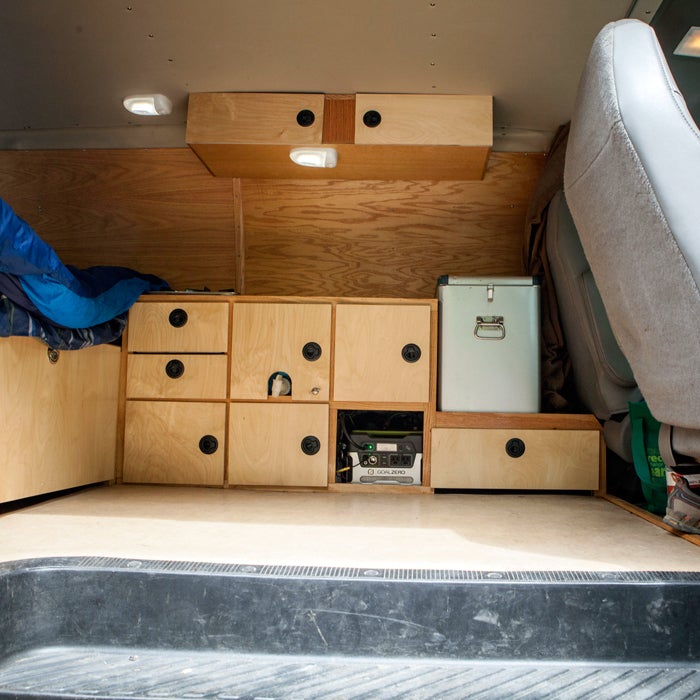 ---
Goal Zero Solar Panels
"Two 60w solar panels from Goal Zero. They feed into the battery inside, which in turn powers the fridge, lights, and occasionally my laptop."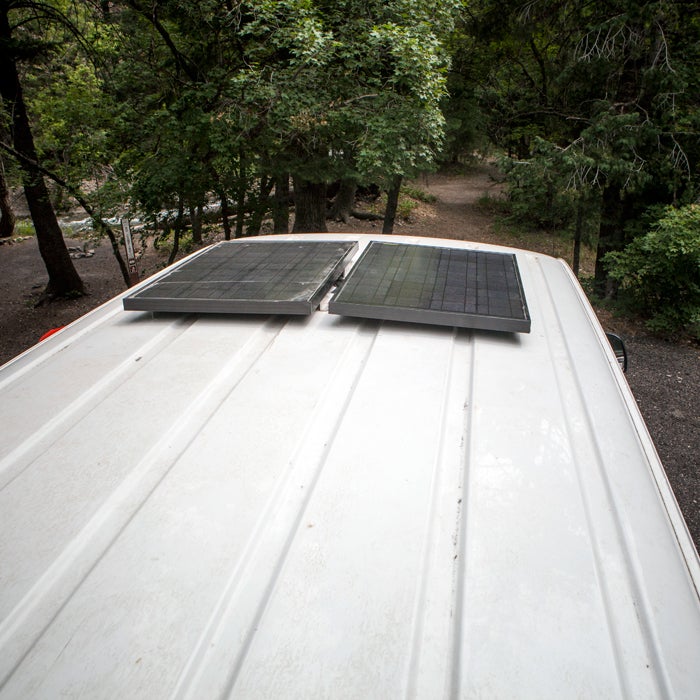 ---
The Scenery
"The view from bed. Looking leafy and green out today!"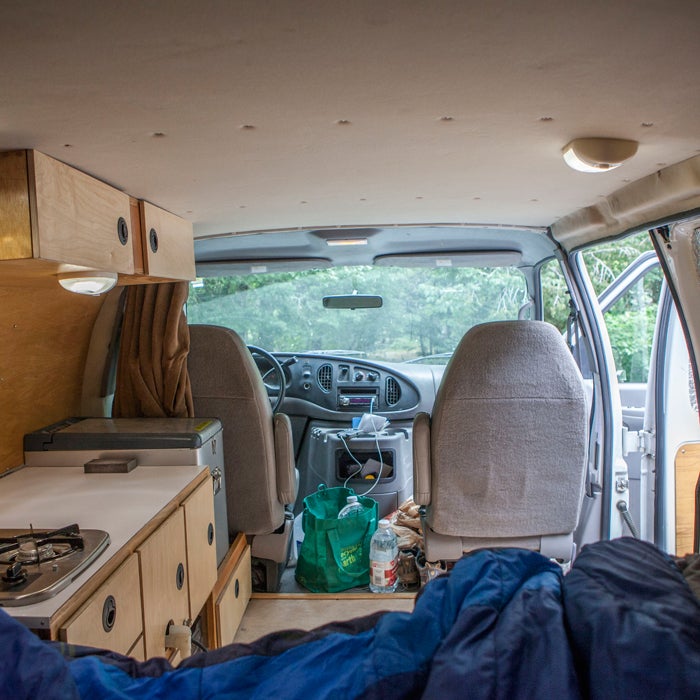 ---
The Gas Tank
"External propane tank. My buddy John Robinson, who built out the whole interior of the van, told me that if he was going to do the work, he would only do it all legit and up to code. So he cut a hole in the wall and put the propane tank outside the living space. And installed a carbon monoxide detector. I wouldn't have bothered, but I appreciate his craftsmanship."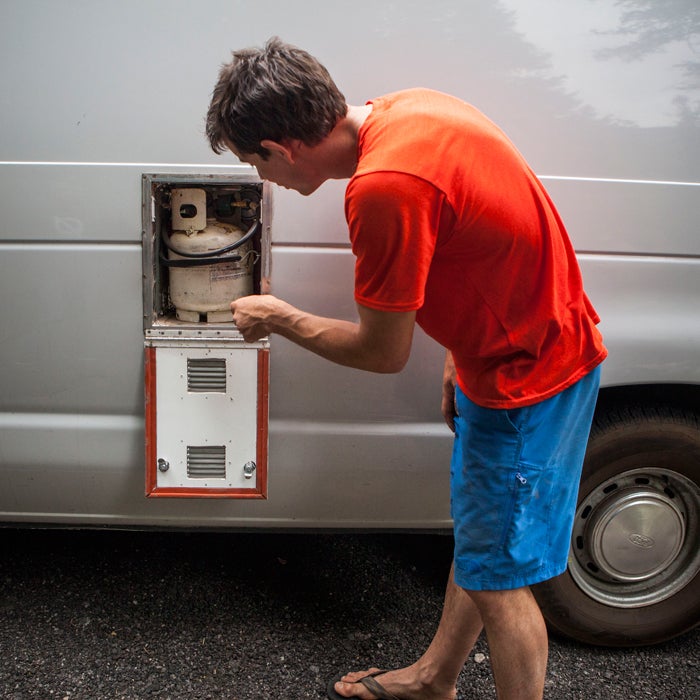 ---
Nourishment
"Blueberries! Delicious! I do a lot of my eating in the front seats just because they're more comfortable."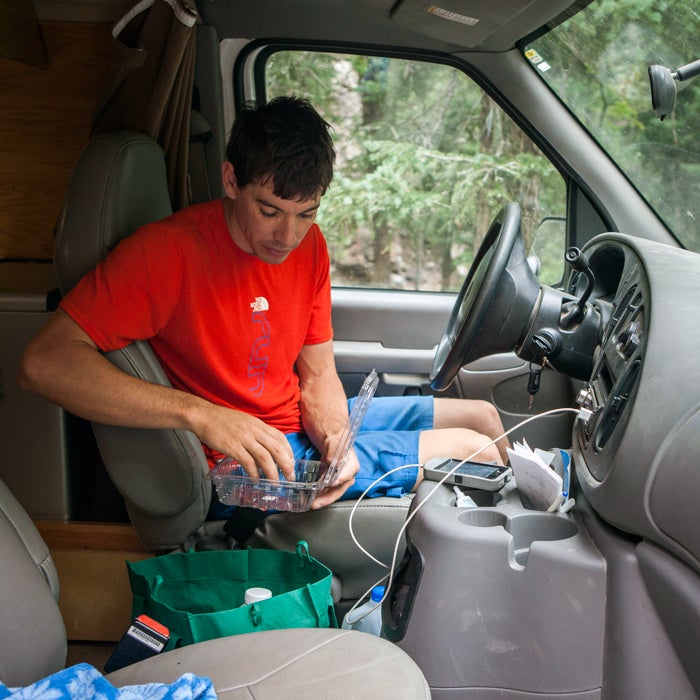 ---
The Back Room
"When you open it all up like this it almost looks like an apartment. Luxury!"
---
The Proud Homeowner
"I noticed that my tire has some weird bumps on it. But I know as little about tires as I do about the rest of the van (which is next to nothing). Cause for concern? Perhaps."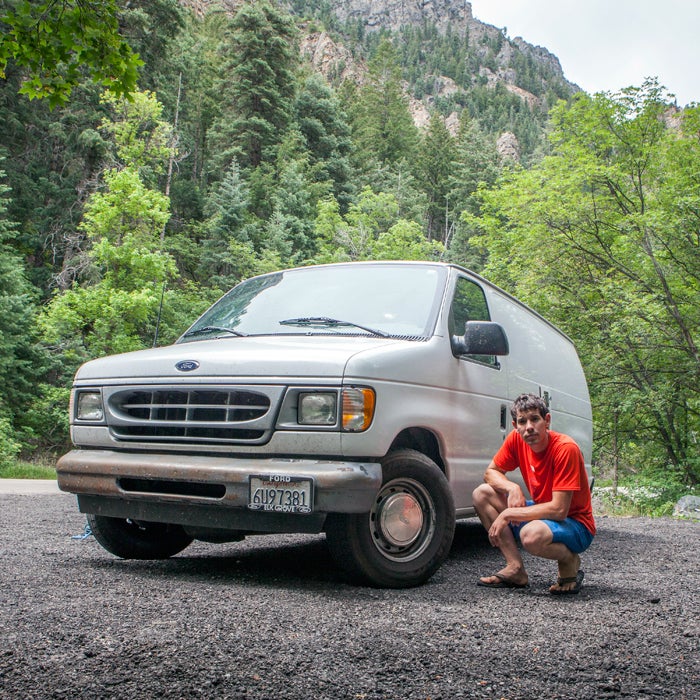 Trending on Outside Online