The 16 Best Cars for Adventure
Whether you spend most of your drive time navigating urban streets or powering through rugged dirt, 2017's standout rides are all-access passes to wild adventure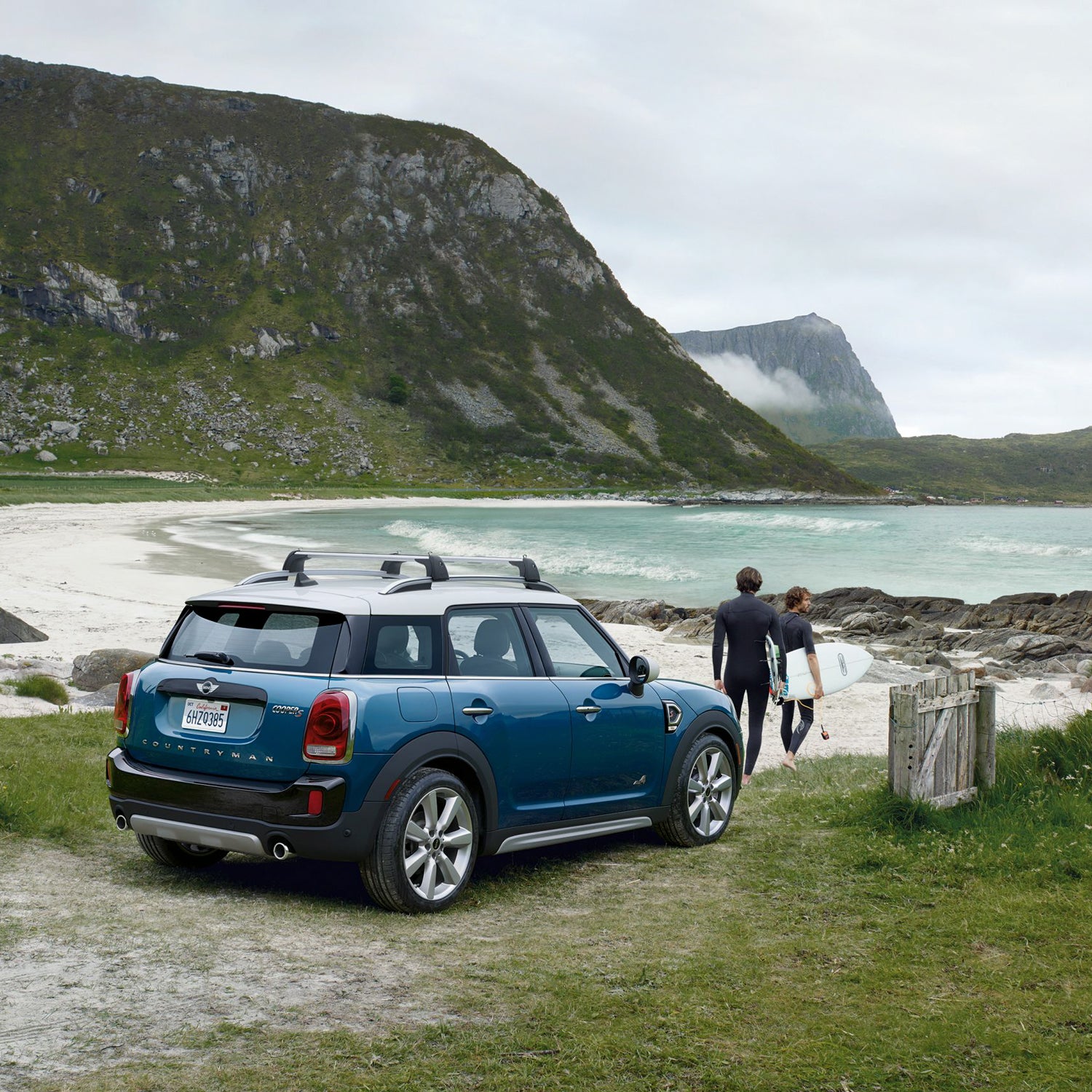 Courtesy Mini/BMW
Heading out the door? Read this article on the new Outside+ app available now on iOS devices for members! Download the app.
Sketchy Forest Roads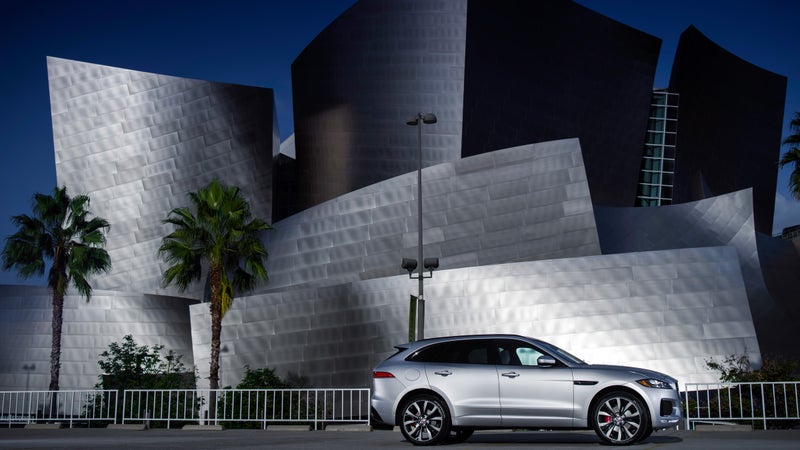 Jaguar F-Pace
The Test: After throttling Jaguar's first-ever SUV across frozen lakes in Scan­dinavia and over 11,000-foot passes in the Colorado Rockies, our opinion of the 340-­horsepower V-6 F-Pace boiled down to this: it's a riot. The 18-inch wheels rolled over uneven terrain with verve. Our con­fidence was further boosted by an on-demand all-wheel-drive system that sends power to the rear by default, engaging AWD only when needed. Interior space is enough for two mountain bikes with the seats folded down. All that, and this cat can still ferry four adults.
What's Missing: Despite the F-Pace's ample thrust, it's a heavy, thirsty beast.
The Verdict: If you're a skier, biker, or dog lover looking for a rig with sex appeal, this is your new ride. $41,985; 18 mpg city/23 mpg highway.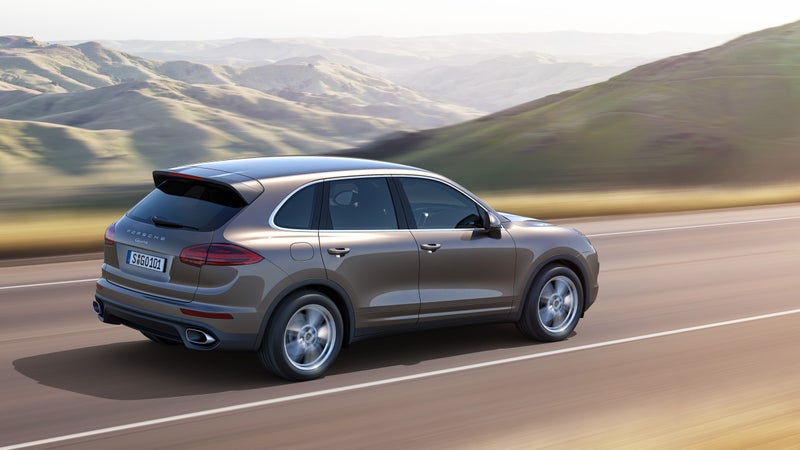 Porsche Cayenne
The Test: The rap on the Cayenne is that it's the most capable SUV that ­almost none of its owners take beyond the pavement. Back in 2003, when it debuted in North America, we drove one through nearly hood-deep standing water, what felt like bottomless mudholes, and even up steep, root-strewn rocky slopes. The Cayenne only got better in 2011, when Porsche added center differential locks, which make all the wheels turn at once—useful for getting unstuck. Although the Cayenne defaults to rear-wheel drive on tarmac, it can send nearly all its power to either axle depending on which tire has the most grip. Switching to off-road mode lifts the chassis to 10.7 inches, besting the ground clearance of some otherwise hardier pickup trucks. What truly continues to distinguish a Cayenne from, say, a Jeep Grand Cher­okee is that it handles like a sports sedan during regular driving, with some of the best braking of any car on the road and corner­ing grip even at super­car speeds.
What's Missing: Not much. But this summer, Porsche will retool the Cayenne, which could cost the SUV some of its notorious capability.
The Verdict: A tank that handles like a sports car. $60,650; 19 mpg city/24 mpg highway.
Toyota Tacoma TRD Pro
The Test: This Taco is built to do one thing—thrive in the rough. As we learned over 120 miles of tooling around town, the truck's ride is unapologetically stiff, and the 3.5-liter V-6, while plenty powerful, is geared for dirty duty rather than interstate cruising. But once we ventured into the rough, the Tacoma's burly Fox shocks, wide stance, and 9.4-inch ground clearance gave us every excuse to ­explore. For ­novices, the Pro model's six-­speed ­automatic transmission affords superpowers in the form of its Crawl ­Control feature. Basically cruise control for off-roading, Crawl Control propels the truck up and over the gnarliest terrain, automatically modulating braking and power between all four wheels. The driver only has to steer.
What's Missing: The Tacoma can take you almost anywhere, but good luck seeing the vistas out of the squat windshield.
The Verdict: An unabashed, user-­friendly 4×4 hero. $43,700; 18 mpg city/23 mpg highway.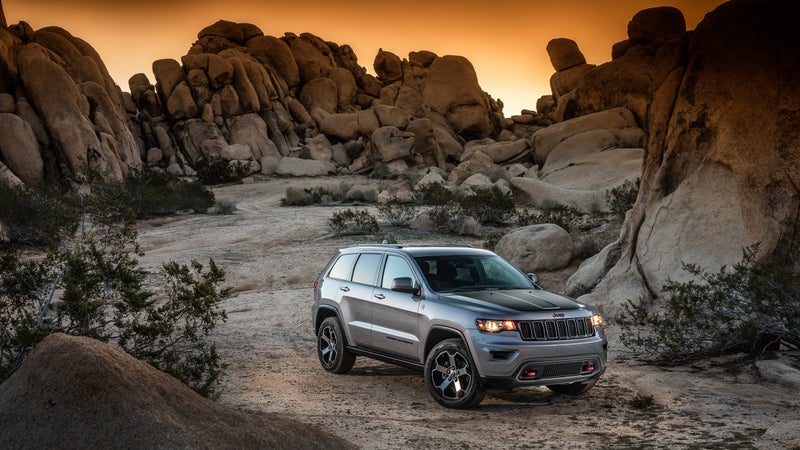 How To Outfit Your Vehicle to Carry Anything

From tips professional #vanlifers to how to not to tie a surfboard on your roof.
Jeep Grand Cherokee Trailhawk
The Test: With the Trailhawk, Jeep moves away from its traditional center of burly SUV-cum-­comfort stud and invests heavily in the rough-and-tumble game. Its signature feature is Jeep's Quadra-Drive II air suspension, which jacks up the ground clearance from 8.2 to 10.8 inches with the push of a button. Rumbling on 20 miles of washboard Forest Service roads along Colorado's Front Range, it turned an otherwise teeth-­chattering 40 minutes of miserable driving into something tolerable. In addition to four-wheel drive and its terrain-select system, the Trailhawk comes with an armored underside, as well as red hooks up front for pulling lesser vehicles out of a jam. Jeep also includes massive Goodyear All-Terrain Adventure tires, and they conquer almost everything. Even with plenty of trail moxie, the interior is plush—almost too nice for the dusty, muddy, sloppy conditions the Trailhawk is made for.
What's Missing: A bare-bones version with all the confidence, fewer tech flourishes, and none of the luxury.
The Verdict: That same sweet Grand Cherokee ride but with hardcore cred. $44,090; 18 mpg city/25 mpg highway.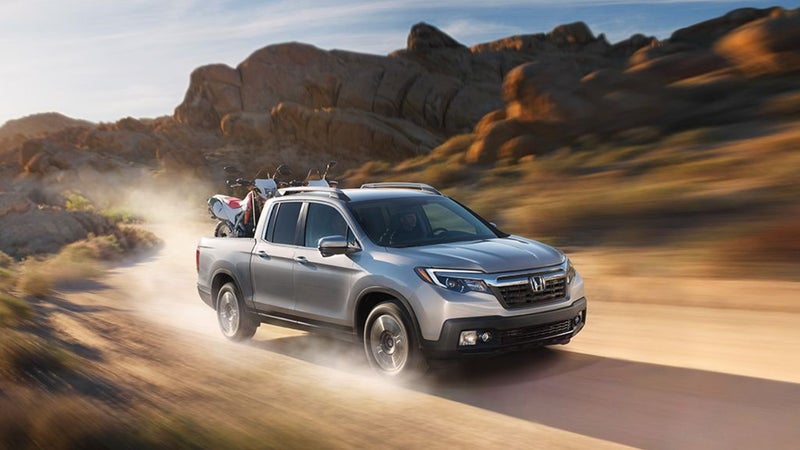 Honda Ridgeline
The Test: It may look and act like a truck, but at its heart, the Ridgeline is a very comfortable crossover. On a 920-mile road trip between Colorado and New Mexico, the 3.5-liter V6 engine in the AWD version clocked a respectable 24.5 miles per gallon even while hauling a family of four, plus all their gear and a cooler, which stowed neatly in the truck's clever locking waterproof trunk located under the bed behind the rear axle.
Getting into the trunk was made easier by the Ridgeline's rear gate, which can swing either open or down, like a traditional pickup truck, making a bigger platform for hauling boats or bikes.
The fun continues with six speakers in the lighted truck bed, which can double as a sleeping platform with the rear gate down. Honda even sells a tent that fits inside the bed. As a ski truck, it's a dream machine: plenty of room in the bed for boards and sticks or for ferrying backcountry bros back up to the top of the pass, while still being a cushy interstate cruiser for everyday needs.
What's Missing: While Honda doesn't claim that the Ridgeline is an off-roading champ, and its AWD system will get it through more muck and mud than you'd think, we'd have liked a little more giddyup.
The Verdict: Call it the anti-truck for those who want utility without a harsh ride and dismal fuel economy. $32,175 (with AWD); 18 mpg city/25 mpg highway.
---
Smooth City Pavement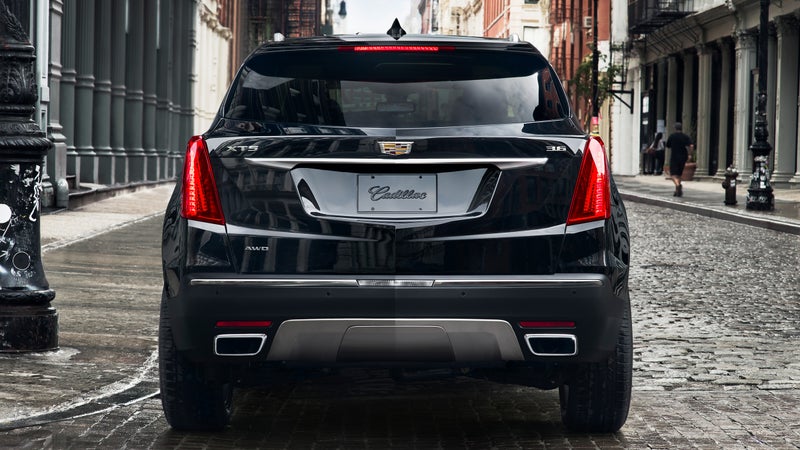 Cadillac XT5 AWD Luxury
The Test: Whether meandering through San Francisco's tight, traffic-clogged streets or coasting along open stretches of Highway 1 south to Santa Cruz, this new Cadillac is, in a word, easy. Easy to maneuver, easy to spend all day in, easy to get in and out of, and easy to throw stuff into and retrieve. It's like the Goldilocks of midsize crossovers. While that doesn't necessarily mean exciting, it's a key selling point for a premium rig. On a cross-continent blitz, the XT5 would be a welcome cruise liner compared with the stiffer, more aggressive ride of the Jaguar F-Pace. Cadillac also gave rear ­passengers 39.5 inches of leg­room and seats that recline for snoozing. The 310-horsepower V-6 with all-wheel drive spends most of its time judiciously powering the front axle, shutting off half its cylinders when turning all four wheels is fuel-sucking overkill.
What's Missing: The eight-speed automatic transmission helps with fuel economy but can make passing ­maneuvers frustrating since it can take a while to find the optimal gear.
The Verdict: The luxury crossover for those who want a happy medium between a Euro sports car and an American truck. $48,790 (with AWD); 18 mpg city/ 26 mpg highway.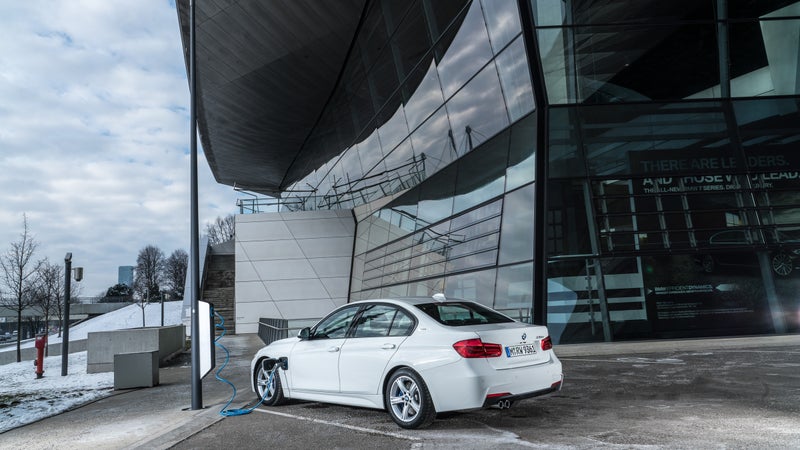 Cars That Only Spit Out Water Are Finally Here

Hydrogen Cars You Can Buy Now
BMW 330e
The Test: The 330e is the latest step toward BMW's ambitious goal to power the bulk of its cars electrically by 2026. While it's not a full-on EV, the 330e can range 14 miles in pure electric mode. Unlike past BMW hybrids, it'll truly hustle (up to 75 miles per hour) without burning a drop of gas. Then there's Auto eDrive, where the transmission passes seam­lessly between electric and gas, staying in EV mode if you're light on the throttle. The surprising part is that the 330e has better acceleration than the gas-only 3 Series, because it combines propulsion from a 180-­horsepower, two-liter, four-­cylinder ­engine and an 87-horsepower electric motor. Handling is ultra-crisp and tactile, inspiring confidence no matter how hard you push. And yep, BMW kept trunk-to-cockpit fold-down rear seats from pre­vious versions, so there's room aboard for everything from backpacks to bikes.
What's Missing: Greater range in electric-only mode.
The Verdict: A (nearly) no-­sacrifices sports sedan that happens to be a hybrid. $44,695; 72 MPGe, 30 mpg ­combined.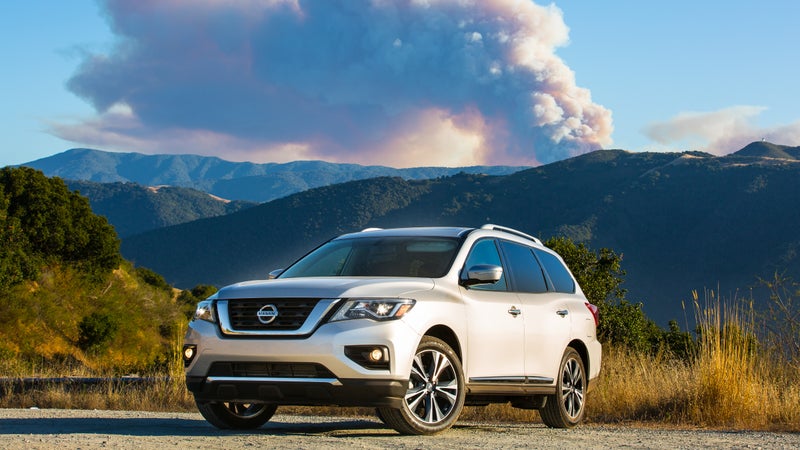 Nissan Pathfinder
The Test: It may look like the same old Pathfinder, but a peek under the hood proves otherwise. Nissan boosted the engine to pump out 284 horsepower and tow up to 6,000 pounds (e.g., a 27-foot Airstream). The suspension is better, too—stiffer and more capable. On a hilly drive near Big Sur, California, the smooth continuously variable transmission (CVT) was well mated to the engine, with little of the whining drone found in other CVT setups. While it's primarily built for the asphalt, the Pathfinder has adventure chops. We locked the transmission into four-wheel drive to power up a sandy lane in the mountains, and descent control stopped us from sliding on the way down. Nissan's Around View Mon­itor provides a 360-degree image of the terrain, so we could skirt around boulders and $100,000 Benzes in the Trader Joe's parking lot. Think of the Pathfinder as a bigger Subaru Outback with a more refined on-road ride and twice as much towing capacity.
What's Missing: While three rows of seats make the Pathfinder seem capacious, there's not enough headroom in back for an adult to sit up straight.
The Verdict: A suburban cruiser with an active-lifestyle soul hidden under sheet metal and leather. $32,920 (with 4WD); 19 mpg city/26 mpg highway.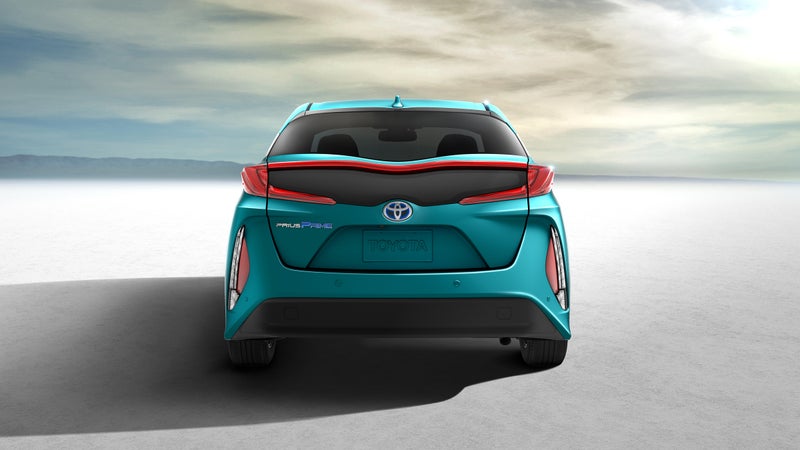 Toyota Prius Prime
The Test: An edgy hybrid? With this latest iteration of the Prius, yes. Just stare at the Tron-esque rear lights and aggressive front end. A sports car it isn't, but the Prime is a spry daily driver that lives up to the Prius enviro heritage. Toyota tweaked the handling, affording more predictable cornering, and the Prime can run entirely without gasoline for 25 miles (farther than the average office commute). Even if you floor it, the car stays in EV mode until its cells are depleted and can cruise up to 640 miles when using both the gas engine and electric motor. Getting to a distant trailhead and back is no sweat.
What's Missing: The rear hatch gives the impression of storage space, but only that.
The Verdict: The archetypal hybrid bares its teeth. $27,965; 133 MPGe, 55 mpg city/53 mpg highway.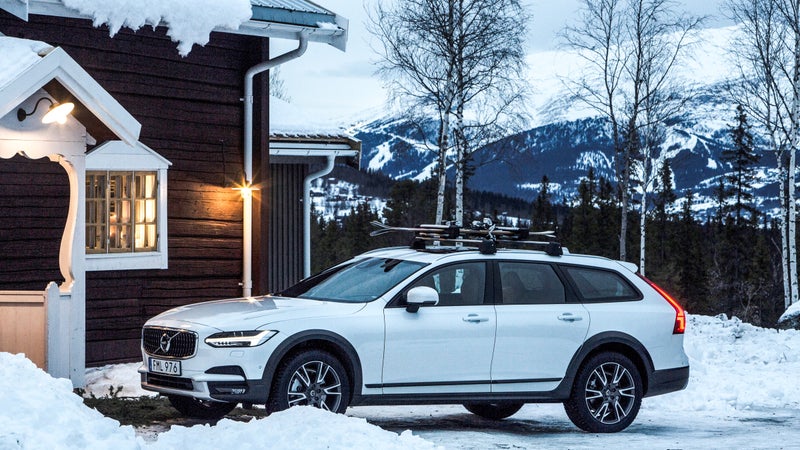 Volvo V90 Cross Country
The Test: Driving this big Volvo wagon near dusk on ice-coated roads near Are, Sweden, we couldn't help but marvel at the amenities on offer. Sure, it was bitterly cold outside, but inside, ten-way-adjustable leather heated seats and a heated steering wheel kept everything as cozy as a Swedish sauna. Every piece of glass in the car is laminated, cutting ambient noise to a murmur, even though we were driving on studded tires that would ordinarily create an unholy din.
Volvo gifted the V90 with AWD and more than eight inches of ground clearance—besting the off-road chops of many tall-riding SUVs in this realm. And yet it handles like its S90 sedan cousin, with the poise of a fast performance car, not a bloated box. Plus, this is Volvo, meaning de facto safety, from active-cornering head- and fog lamps (which make it easier to see around sharp bends) to crash protection that overrides the steering and braking to yank the V90 CC back onto the road in case the driver doesn't realize the car has drifted onto the shoulder.
What's Missing: The great ground clearance doesn't include armored undercarriage protection.
The Verdict: A ridiculously gorgeous alternative to the default luxury SUV. $55,300; estimated 22 mpg city/30 mpg highway.
---
Winding Mountain Passes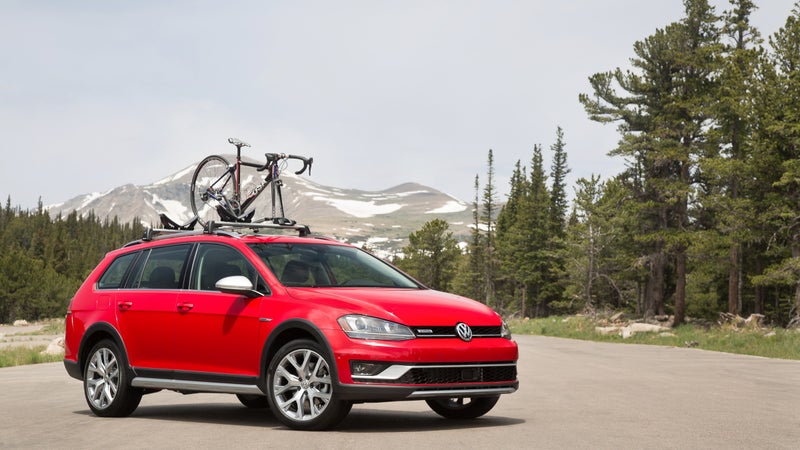 Volkswagen Golf Alltrack
The Test: As soon as we hit snaking blacktop in the shadow of Washington's Olympic Mountains, it was clear that the VW Alltrack was no plodding crossover. It's lighter, it steers more sharply, and it feels sportier than any SUV-like creature in its class. A 1.8-liter engine paired with a six-speed dual-clutch automatic transmission keeps torque right in the sweet spot when climbing steep grades in sport mode. The Alltrack has 4WD as well and comes standard with an off-road setting that allows more wheel churn before the traction control kicks in—a huge help if you're trying to power out of mud or snow. Shift back to D on the interstate, and the Alltrack defaults to luxe-sedan quiet, with superb sound deadening. The seats are plenty supportive for long hauls, and stock amenities include fog lamps and smartphone integration via Apple CarPlay or Android Auto.
What's Missing: The maximum 66.5 cubic feet of stowage doesn't quite match a Honda CR-V.
The Verdict: A European SUV ­alter­native without the sticker shock. $27,770; 22 mpg city/30 mpg highway.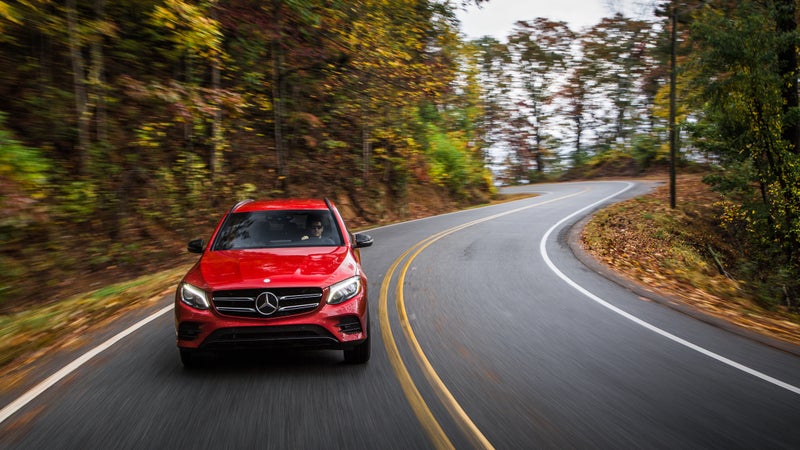 Mercedes-Benz GLC300 4Matic Coupe
The Test: It's better to think of this latest crossover from Mercedes as a taller, roomier sedan than as an SUV. With 6.3 inches of ground clearance, the GLC300 Coupe rides a few inches higher than a normal about-town car, but that's not quite enough lift for barreling over rutted forest two-track. Still, it's plenty capable of shuttling you and your crew to where pavement ends and trail begins. Its max 56.5 cubic feet of storage bests the ­Volvo V60, its nine-speed transmission is smooth, and its center of gravity is low, so you never get that high-riding car sickness on mountain hairpins. Plus, the two-­liter turbo­charged four-cylinder engine delivers a gutsy 273 pound-feet of torque. Inside, every surface, from vent knobs to window levers, feels tailor-made.
What's Missing: The price of fashion is function, and the GLC300 Coupe's sexy roofline chops six cubic feet from the standard GLC's total cargo capacity.
The Verdict: A sedan-crossover mashup that's fun and fairly pragmatic. $45,950; 21 mpg city/28 mpg highway.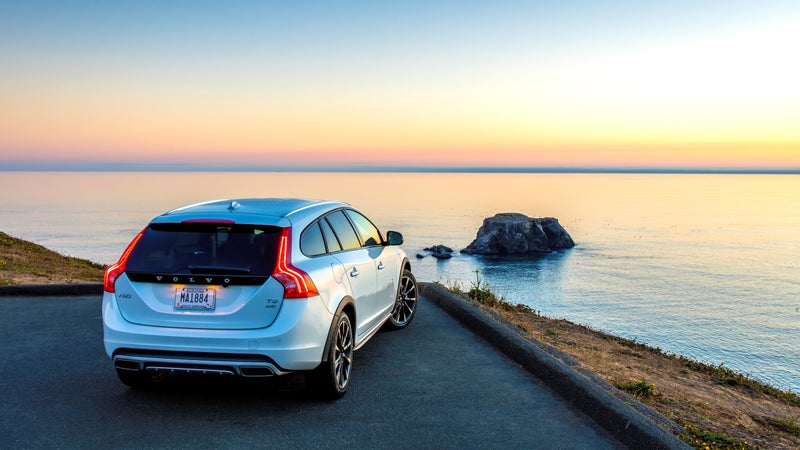 Volvo V60 T5 AWD Cross Country
The Test: Credit the Swedish carmaker for knowing how to handle winter. This V60 has heated every­thing: seats, windshield-washer nozzles, and side mirrors. Plus, there's a transparent electrical defroster embedded in the windshield. Skiers will dig the second-row pass-through, which is wide enough for powder sticks. While the V60 isn't massive inside (44 cubic feet with the rear seats folded), this wagon is superior to any ­sedan when it comes to hauling gear, and with standard AWD and ground clearance at an impressive 7.9 inches, you're getting reasonable wherewithal that actually bests some crossovers. Handling is nimble, if not quite as firm as the Volks­wagen Alltrack, but the Volvo is quick, with 240 horsepower on tap from a turbocharged four-cylinder engine.
What's Missing: The rear seats aren't roomy enough for anyone bigger than a teenager.
The Verdict: The ideal chariot to chase first tracks. $42,695; 22 mpg city/30 mpg highway.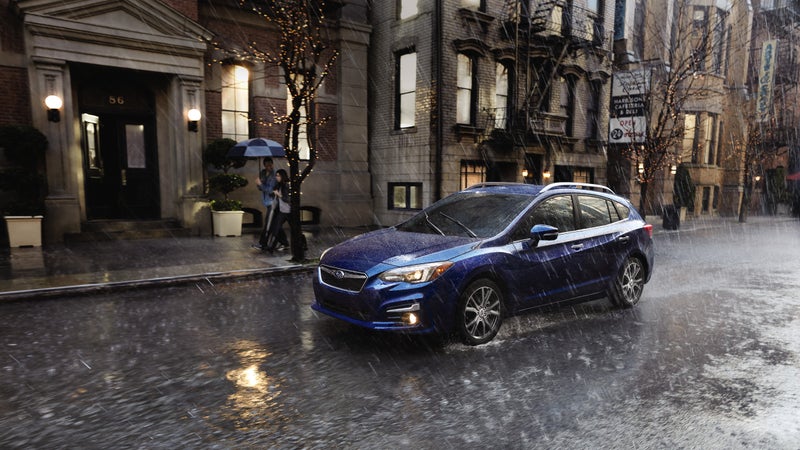 Subaru Impreza
The Test: Once we hit 100 mph on an empty stretch of mountain highway close to the Mexican border in Southern California, we were sold on the revamped Impreza. Subaru made the hatchback roughly 1.5 inches longer and wider, not to mention stiffer. The decidedly higher fuel economy belies its sports-car handling. Credit the brand-new chassis, sport-tuned steering, all-wheel drive, and more than half an inch less ground clearance, which affords it glue-like grip on the road. Beyond the frame, the ­Impreza impresses with a spacious inter­ior. Subaru also dropped the roofline for improved aerodynamics and easier roof-rack access.
What's Missing: Guts. The Impreza's 152-horsepower engine and CVT transmission are geared for fuel economy, not oomph.
The Verdict: The value-pick AWD star just became a joy to drive as well. $19,215; 28 mpg city/38 mpg highway.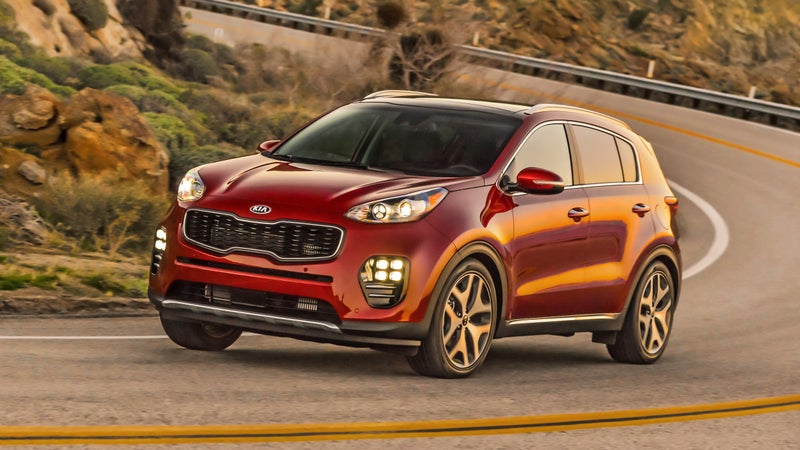 Kia Sportage SX Turbo AWD
The Test: With each mile we ascended up the snow-packed road to St. Mary's Glacier, outside Denver at 10,400-feet of elevation, the more capabilities we discovered in the Sportage. Ten miles later, at the trail, with four inches of snow covering the iced-over tarmac, we locked the center differential to turn the spritely 240-horsepower, two-liter turbo crossover into a full-time 4WD tank. Foot-high snowdrifts were no match.
Inside, we were coddled with a heated steering wheel, heated seats, tunes via Android Auto, and enough leg- and headroom for four six foot adults to sit comfortably. Behind all that was a cargo area big enough for backcountry snowshoes and winter gear for four. On our 120-mile winter mountain adventure, our fuel economy far exceeded the EPA's numbers—we notched 26.8 miles per gallon on highways and slow mountain roads. Overall, it was hard to find anything the angular Sportage SX didn't have in terms of features and options.
What's Missing: A bare-bones version of the turbo AWD vehicle for a lot less money. And true snow tires for icy roads; AWD and traction control don't do anything to help this Kia's stock rubber stop on ice.
The Verdict: The top-shelf, feature- and option-packed SX Turbo version looks and drives all city, but will handle more country than you'd expect. $34,895; 20 mpg city/23 mpg highway.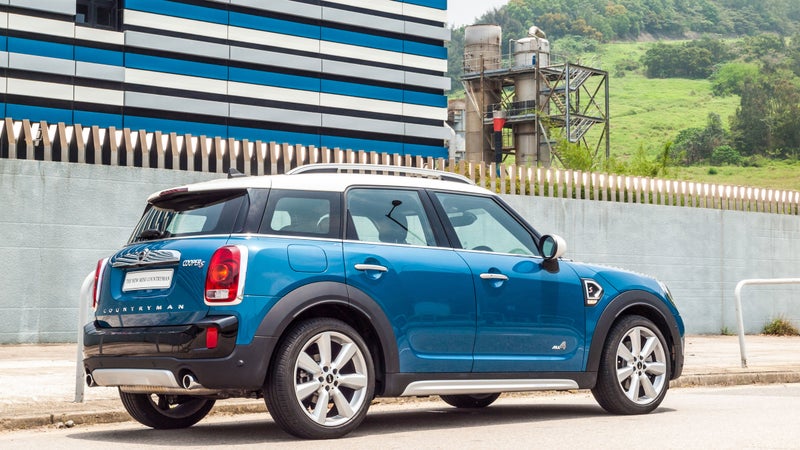 Mini Cooper S Countryman ALL 4
The Test: Charging around muddy two-tracks in England in the newest, biggest Mini in the brand's history, it occurred to us that the brand has addressed some of the size complaints while staying true to what makes the car, well, mini. It sits higher than any other hatchback on the market, with 6.5 inches of ground clearance, offers more cargo space than almost any other hatchback, and is finally the first Mini that's genuinely comfortable for full six-footers in the second row. And as the name implies, the ALL 4 edition has AWD. Would we take one rock-crawling? Nope. But for snow-caked or gravel-strewn fire roads, it's perfect, and even though it matches or bests many compact SUVs for roominess, precise steering and quick acceleration from a 189-horsepower inline, turbocharged four-cylinder engine make it far more of a joy to dart through traffic.
What's Missing: More off-road prowess, since the Mini lacks features like hill-descent control or an off-road transmission mode you can find in rivals like the VW Alltrack.
The Verdict: The biggest, most pragmatic Mini for adventure. $31,950; estimated 28 mpg city/35 mpg highway.