Don't Buy a Car. Buy a Pickup Truck.
Roomy, safe, fast, and affordable, full-size trucks are the ultimate adventure enablers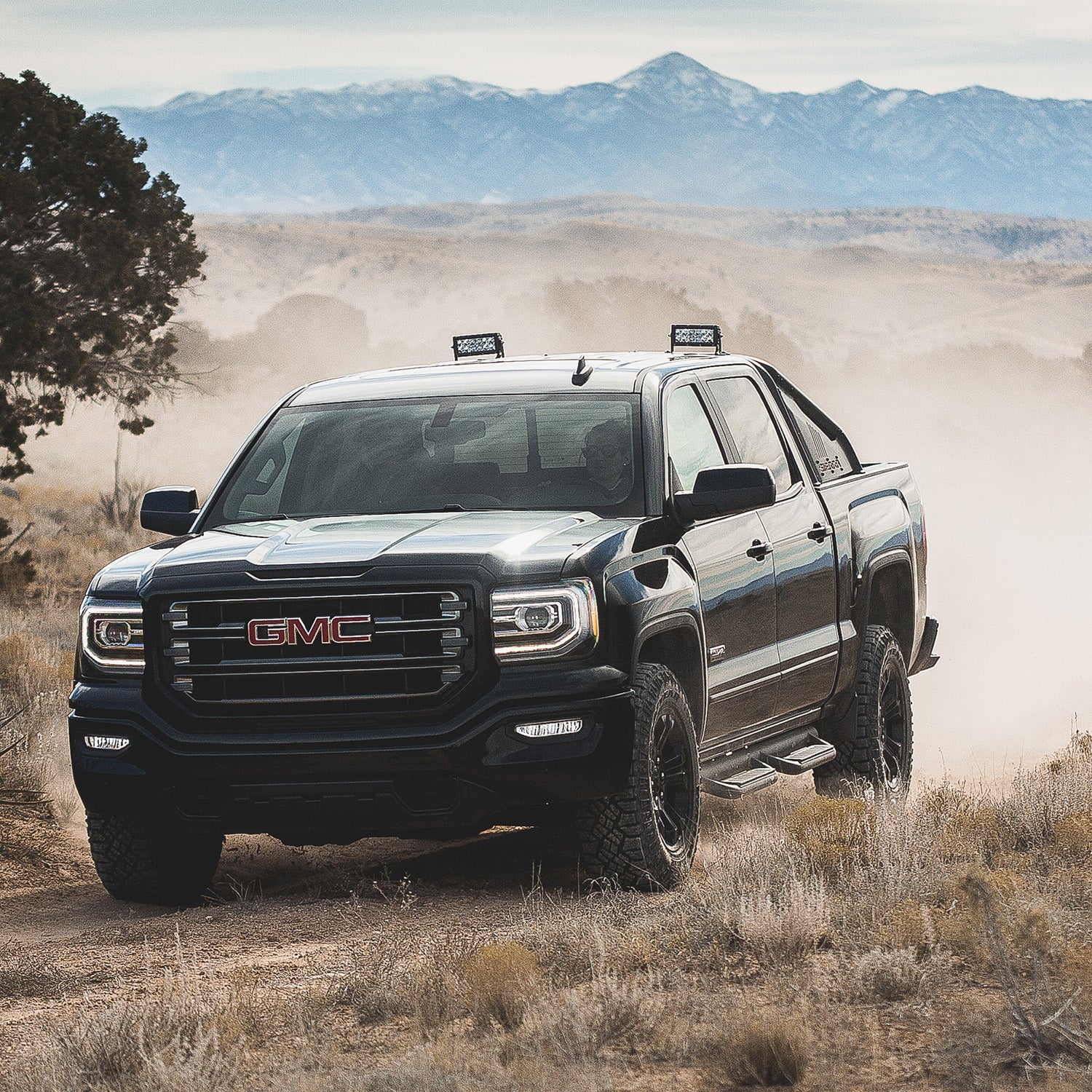 Heading out the door? Read this article on the new Outside+ app available now on iOS devices for members! Download the app.
With headlines on the advent of electric power, autonomous driving, and car sharing dominating automotive news, it's easy to forget about our day-to-day realities as drivers. And recently it seems that our desire to mitigate our environmental impact and spend less time behind the wheel has caused us to forget the number one reason most of us buy cars today—practicality. Want to know what's the most practical vehicle out there? The pickup truck.
Let me explain.
#1. Pickups Support Activities
In August, my girlfriend and I drove up to Oregon for the eclipse. We took two large dogs, one 90-pound electric "mountain bike" (more on that soon), my compound bow, a two-foot-diameter octagonal foam target, our luxury camping setup (complete with a huge tent, full-size bed, and giant awning), two Yeti coolers, a scuba tank (long story), four bundles of firewood, a barbecue grill, a large stove and propane, three 30-packs of Tecate, and other assorted odds and ends. That pretty thoroughly filled the 5.75-foot bed of a GMC Sierra 1500, but the optional eight-foot bed would have had room to spare.
One way, that drive included two days on lonely desert highways, a few miles on dirt roads, and a little bit of real off-road that was challenging enough to require four-wheel drive.
The day after arriving in camp, five friends decided to hit some singletrack an hour away for a group ride. Now emptied of all that camping gear, the truck fit all the bikes and all their riders just fine, without the aid of any racks.
Whether it's an exorbitant amount of camping gear, three full-grown elk, an inflatable boat with outboard motor, or just a load of old mattresses we needed to get out of the girlfriend's cabin last weekend, our pickup truck has been able to haul it. In fact, it's probably the only vehicle that could have. And at the end of the day, we can empty all that stuff out and sleep in the back.
#2. Pickups Are Roomy
Of course, you know pickup trucks can haul stuff. But people who haven't ridden in a modern truck are always surprised by how large they are inside, too. A couple years ago, I took a friend and his two teenagers on a camping trip up at Coyote Flat, in the eastern Sierra. The four of us had plenty of room, and my 85-pound dog, Wiley, could even spread out on the floor in front of the rear seats without getting in the way of the kids' legs.
That four-door F-150 has a half-inch more rear-seat legroom than a Mercedes flagship luxury sedan—the $90,000+ S-Class—and much more head, shoulder, and hip room. The F-150 has 1.5 inches more rear legroom than the company's largest SUV, the Lincoln Navigator. Other full-size trucks offer similar space.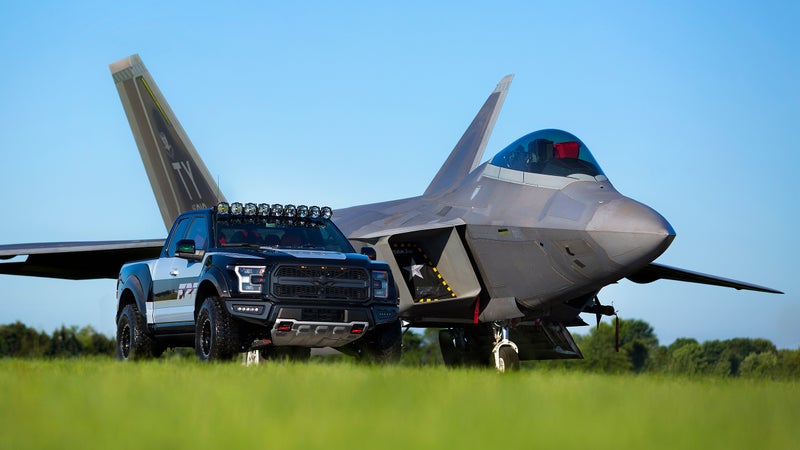 #3. Pickups Are Fast
Spending days at a time on two-lane highways alongside slow trucks and bad drivers can get really frustrating if you lack the ability to pass easily. The GMC we were driving was equipped with a 6.2-liter, Corvette-sourced V8 that enabled us to rocket past traffic on short straights and made passing even long lines a breeze.
That 420-horsepower Sierra 1500 runs zero to 60 mph in just 5.6 seconds. That's as fast as a Ferrari from the early 1990s. And payload won't affect a pickup's performance nearly as much as it would a passenger car's.
In addition to acceleration, the big engines and luxurious cabins in today's pickup trucks make cruising all day at high speed as easy as it would be in a high-dollar grand tourer like a Bentley or Aston Martin. Just here, you're carrying a bed full of stuff and aren't attracting the attention of every cop you pass.
#4. Pickups Are Fuel Efficient
Reframe the metric as work per gallon versus miles per gallon, and pickups actually do pretty well on fuel.
I owned a 2015 Subaru Outback for about 18 months, when it was new. On long trips, loaded down with gear, I averaged about 27 mpg. On this summer's 900-mile drive up to Oregon in the GMC, I averaged 20 mpg.
The Subaru is more efficient, right? Well, hold on. In the Outback, I couldn't have hauled half the stuff I did in the pickup. I couldn't have passed as easily, and it wouldn't have hauled all those mountain bikes once we were up there. While passenger cars may advertise higher fuel-efficiency numbers, a pickup truck's performance and fuel economy are less affected by payload—which is far higher. The GMC may have gotten only 20 mpg, but it got 20 mpg while being nearly twice as useful and carrying about twice as heavy a load.
Extrapolate that to daily use. Could a pickup complete a job in a single trip that would take a passenger car two or more trips? The nature of hauling jobs is complex, but I'd wager the answer will often be yes, and 20 mpg is far less than half of 27. That's not including all the time you'll save.
Start throwing roof racks, bikes, and other equipment on a passenger car in an effort to catch up with a truck's capacity, and you'll see its fuel economy plummet. With a Yakima basket and mountain bike on top of the Outback, I saw fuel economy fall as low as 22 mpg. And that car could fit maybe three bikes, tops. If we hadn't had that truck in Oregon, it would have taken two cars to go on that mountain bike ride. One truck getting 20 mpg versus two cars getting 22? You need to think about fuel economy in terms of the work being performed, not simply the miles being covered.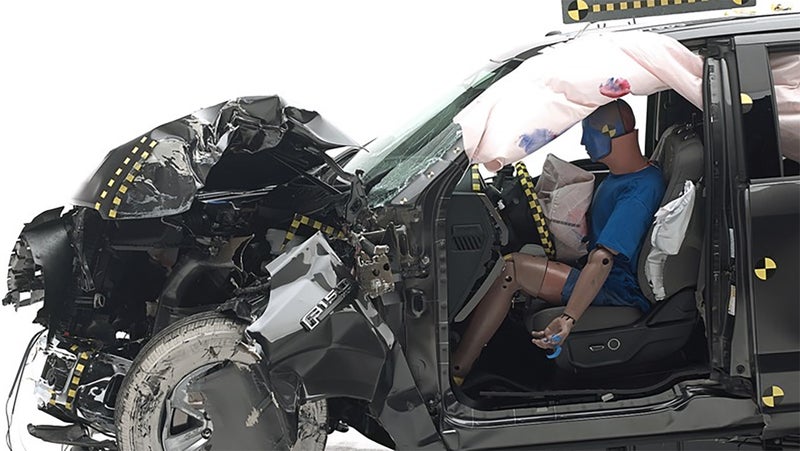 #5. Pickups Are Safe
"In its studies, the Insurance Institute for Highway Safety (IIHS) has found that a heavier vehicle will typically push a lighter one backward during the impact," explains Edmunds.com. "As a result, there is less force on the occupants of the heavier vehicle and more on those in the lighter vehicle, according to IIHS. The organization's fatality data bears this out."
Crash safety among all cars has improved by leaps and bounds in recent years. And while technologies like crumple zones, airbags, and automatic braking have made modern passenger cars far safer than old pickups, modern trucks benefit from all the same technologies cars do, while also having physics on their side.
You also have to factor in other size differences. Should a passenger car run into the side of a pickup, its lower bumper will hit the truck's frame. The truck's passengers will be safe. Should a truck hit the side of a passenger car, its higher bumper will strike the car halfway up the doors. That's not good for the passenger car's occupants.
Sitting up high, with an excellent field of view, a pickup's driver is also able to see over most traffic. With superior vision, they'll be able to identify potential accidents sooner and react with more time than passenger car drivers, whose vision is hindered by other vehicles.
#6. Pickups Aren't Very Good Off-Road or in Winter, but That Doesn't Matter
Truck makers love to advertise off-road equipment like four-wheel drive, lifted suspension, and anything else that might sound cool on a garish sticker. But the truth is they're just too large these days for serious off-roading. Even hopped-up special editions like the class-dominating Ford F-150 Raptor are simply too long, too low, and too vulnerable to venture into Land Rover territory.
Those marketing stickers also trick buyers into thinking a pickup will be good in hazardous winter weather. But as we identified earlier this year, the only thing on your car that helps in snow or on ice is a high-quality set of winter tires. Additionally, the true four-wheel drive that most pickups come with isn't as responsive to changing road conditions as the all-wheel drive in some passenger cars, like Subarus. In fact, the only pickup that's able to operate in both AWD and 4WD and comes stock with snow-rated tires is that Ford Raptor.
But none of that matters. Most drivers only "off-road" on dirt roads, and a 4WD pickup truck will be far more capable there than any passenger car, largely due to the clearance and that ability to lock the center differential. Most drivers also utterly refuse to fit winter tires, no matter what type of car they're driving. And if you still think your pickup will be good in the snow just because it says 4×4 in six-inch letters on the side, at least you'll be relatively safe when you crash it.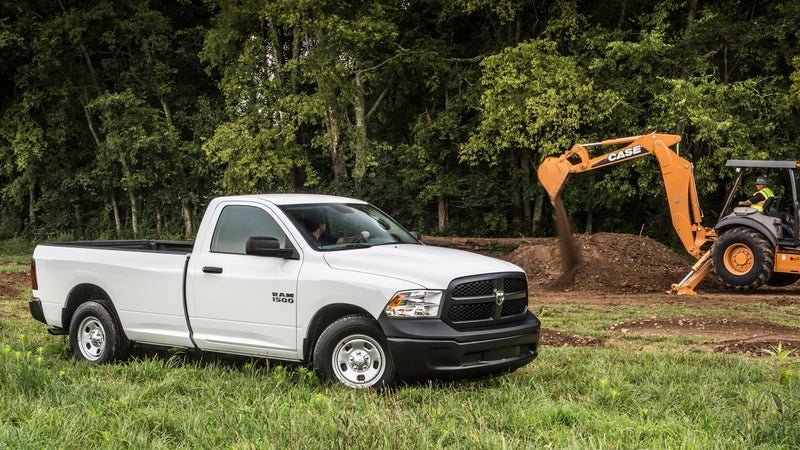 #7. Pickups Are Cheap
More interior space than a luxury car. Enough horsepower to outrun a 25-year-old Ferrari. Enough room in the bed for two people to sleep in back. Enough power to tow and haul virtually anything. Four-wheel drive. Surprisingly good fuel economy, given all of the above. Combine all those merits into one vehicle, and the result is surprisingly affordable.
Full-size, four-door, four-wheel-drive pickups start around $30,000, and you can get the big motors, the leather, and most of the goodies for well under $50,000.
That's far cheaper than large SUVs, which we've already identified as offering less room for the first two rows of passengers and being less useful for supporting outdoor activities. That fancy GMC Sierra Denali we drove to Oregon starts at $52,000. The brand's equivalent Yukon Denali SUV starts at $65,000.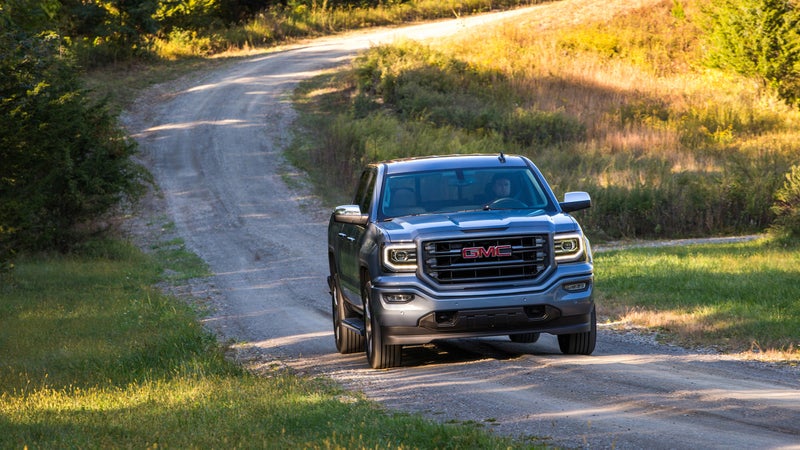 Which Pickup Is Right for You?
Full-size pickups are the bestselling vehicles in the country, and as such, competition among truck makers is fierce. That volume is the reason so much value can be packed into such reasonable price tags.
The same can't be said for midsize trucks like the Toyota Tacoma and Chevy Colorado. That's why the Tacoma's current platform dates all the way back to 2004; why it struggles to compete on cost and fuel efficiency with larger, faster, better full-size trucks; and why that smaller truck isn't as safe as its larger competition.
So, tantalizing as they are, smaller trucks like the Tacoma and Colorado just aren't as good as their full-size counterparts. But, every full-size pickup on sale right now is pretty much tied for being the best adventuremobile out there. Once you've understood that, it's simply a case of deciding which brand's incentives and packages work best for you. Or which one you think looks best.