Which New Midsize Pickup Truck Is the Best?
With brand new offerings from Chevy, Ford, GMC, and Toyota, this auto class has never been better, or more competitive. Our off-road expert explains why.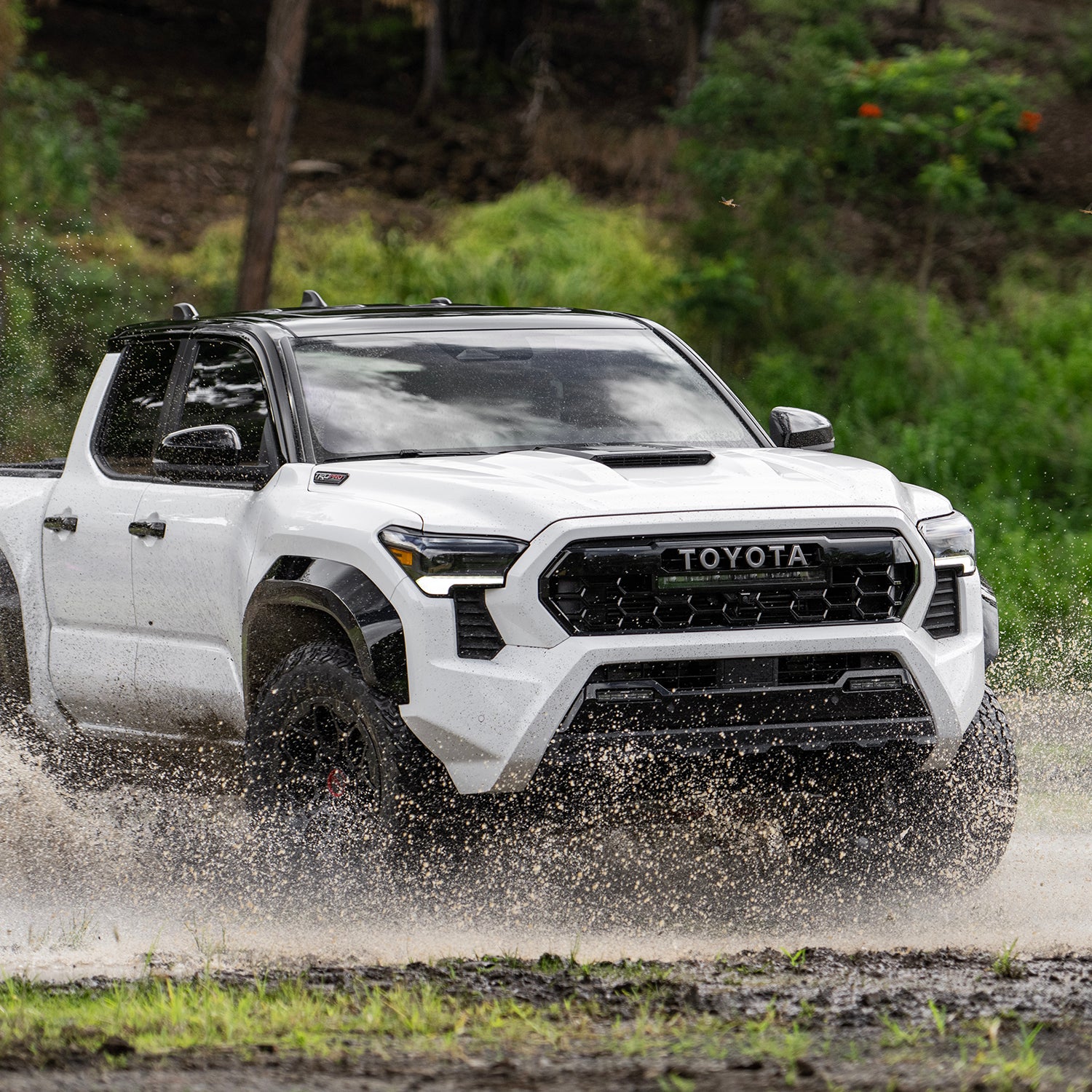 Toyota
Heading out the door? Read this article on the new Outside+ app available now on iOS devices for members! Download the app.
Visit any mountain town, ski hill parking lot, trailhead, or river access site, and you'll see midsize pickups. They hit the sweet spot of capability, size, and price for us outdoor enthusiasts who need a serious adventuremobile. Now, for the first time, it looks like those midsize pickups will actually be good. Let's dive into the specs for the new Chevy Colorado, Ford Ranger, GMC Canyon, and Toyota Tacoma, and find out just how good.
Payload: The Most Important Number
The reason why midsize trucks are popular with outdoorsy types? Their size. Just as smaller trucks are easier to park in town, they're also easier to drive off-road, where space is often similarly tight. The problem is that smaller trucks have traditionally also been less capable of supporting heavy loads. The last generation Toyota Tacoma (on sale from 2015 to present), for instance, was only able to carry 1,125 pounds in its most popular configuration—four doors, with four wheel drive.
What Is Payload on a Truck?
A lot of people think payload is the weight a truck is able to safely carry in its bed. It's not. Payload is a vehicle's gross vehicle weight rating (GVWR)—the maximum it's legally allowed to weigh on the road—minus the weight of the truck itself. So, that payload must include passengers, dogs, gasoline, and anything you carry in or bolt to the truck. Again using that third generation Tacoma's 1,125 pound payload as an example, you can see why some midsize trucks are unable to safely take four people on a simple camping trip.
And that's why these automakers have put a lot of effort into increasing payload capacities across this new wave of midsize pickups. Payload is the fundamental definition of how much work a truck is capable of performing. Increasing payload has required not only stronger frames, but larger cooling systems, bigger brakes, more robust transmissions, and stronger suspension systems.
Payload capacities will vary depending on how each individual truck is optioned. A heavier engine might make more power, but also takes a bigger bite out of GVWR. Spec'ing a faux roll bar might look sick, but will also add weight. And spending up to a higher performance suspension may also reduce the weight at which those new springs and dampers can offer optimal performance. Let's take a look at how they broadly stack up.
Payload Comparison in Midsize Trucks
New Chevy Colorado
The maximum payload you can get out of a Chevy Colorado—which is only available with four doors, a a five-foot bed—is going to be 1,684 pounds. That's on the two-wheel drive, commercial customer oriented WT model, and the base consumer spec LT. Adding four-wheel drive, a locking rear diff, and a few more amenities reduces payload on the nicer, more capable Trailboss and Z71 trims to 1,587 pounds. The high-performance ZR2 only manages 1,151 pounds, which puts it firmly in can't-take-four-people-camping territory.
New GMC Canyon
The GMC Canyon is a more luxurious Colorado (both brands are owned by General Motors). With more features inside, payload on four-wheel drive Canyons starts at 1,590 pounds. On the AT4X, which is basically a lux ZR2 that adds protection parts and a winch, payload is only 1,010 pounds.
New Ford Ranger
The old Ford Ranger (2019-2023 model years) had the highest payload in the midsize truck class. And this new truck is also a strong contender—all 4WD Rangers will be able to carry 1,711 pounds. The high performance Ranger Raptor, with its larger motor and its associated systems, along with its very high-performance suspension system has a payload of 1,411 pounds.
New Toyota Tacoma
Toyota is only releasing a single payload number for the just-announced 2024 Tacoma. The TRD Off-Road, complete with the more powerful hybrid powertrain and eight-speed automatic transmission can carry 1,709 pounds. That's already fully competitive with the Ranger. But, that number could get even more impressive.
Not only is the TRD Off-Road an optioned-up trim level complete with some heavy luxury features, but it's also only available in four-wheel drive, with a four-door cab. Two door Tacomas, and ones with the lighter, less-powerful non-hybrid powertrain may offer an even higher capacity. And, the TRD Off-Road and other high trim levels are equipped with coil rear springs. Lower trims use leafs. There are a lot of variables at play here, but often coil rear suspension can't carry as much weight as leafs, so that payload for more affordable Tacomas could get even higher. That's exciting for those of us looking to do more in these smaller trucks.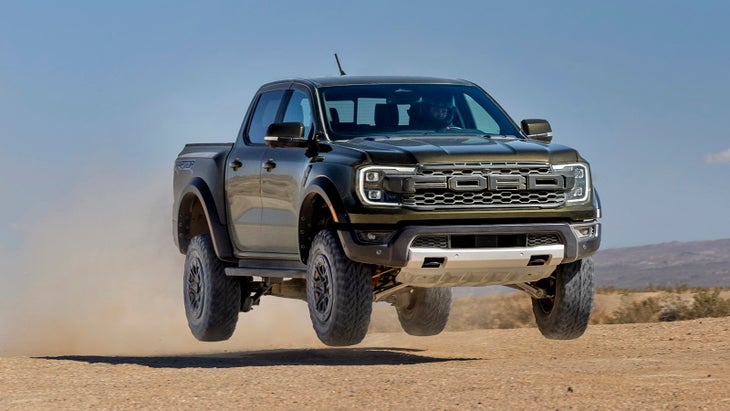 Engines and Transmissions Determine How Midsize Pickups Will Drive
Away from the outdoors world, midsize trucks are not as popular as their full-size stablemates. Ford sold about 57,000 Rangers in 2022. That's 600,000 fewer sales than the F-150 in the same year.
What that means for you is that midsize trucks can't match the value provided by their more popular full-size cousins. A widget produced in extremely high volumes will always be a cheaper widget than a completely identical one made in small numbers.
Talking about volumes and value is relevant to engines and transmissions, because those are another part of midsize trucks that have traditionally been weak.
Let's pick on the Tacoma again. The base motor on the old truck was a naturally-aspirated four-cylinder, so it's not worth discussing further. The upgrade was the same ancient V6 that was used in the Camry for a couple decades, complete with a six-speed auto that wasn't fitted with appropriate final drive gearing, and was programmed with flawed software that made it constantly hunt for gears. The new truck, in contrast, uses a totally modern 2.4-liter, turbocharged four-cylinder that makes 278 horsepower and 317 pound-feet of torque, and mates that to either a six-speed manual or (an again, modern) eight-speed auto.
And that's just the basic powertrain. Like the new Tundra, Toyota is fitting the Tacoma with an optional electric motor in the transmission bell housing, and a big lithium-ion battery under the rear seat. Toyota's calling its hybrid powertrain iForce Max, and rather than using it to increase fuel economy, the company instead employs it to add performance. It makes 326 horsepower and a seriously impressive 465 pound-feet of torque—the most torque in this class. Hybrid Tacos will only be available with the eight-speed auto.
All Colorados and Canyons are fitted with the same 2.7-liter turbocharged four-cylinder, plus an eight-speed automatic transmission. Consumer spec models will make 310 horsepower, and either 390 or 430 pound-feet of torque, depending on how much money you spend.
The Ranger maintains the same 270 horsepower 310 pound-foot 2.3-liter turbocharged four-cylinder engine. But, where the last generation Ranger was fitted with the same hard-working 10R80 10-speed auto used in bigger vehicles like the F-150 and Super Duty, this new truck is downgraded to the more passenger car-oriented 10R60 10-speed used in crossovers like the Explorer. Drivers who stay on road and don't modify their vehicles will notice a little more refinement, but those of us who work our trucks hard off-road and fit large tires should watch out for that transmission overheating.
Optional on the Ranger will also be the twin-turbo 2.7-liter four-cylinder that's used in high-spec Broncos. That motor makes 310 horsepower and 410 pound-feet, but will be similarly limited by the use of that 10R60.
Ranger Raptor uses the same 3.0-liter twin-turbo V6 found in the Bronco Raptor. That's good for 405 horsepower—the most in the class—and 430 pound feet, and is mated to the more durable 10R80 gearbox.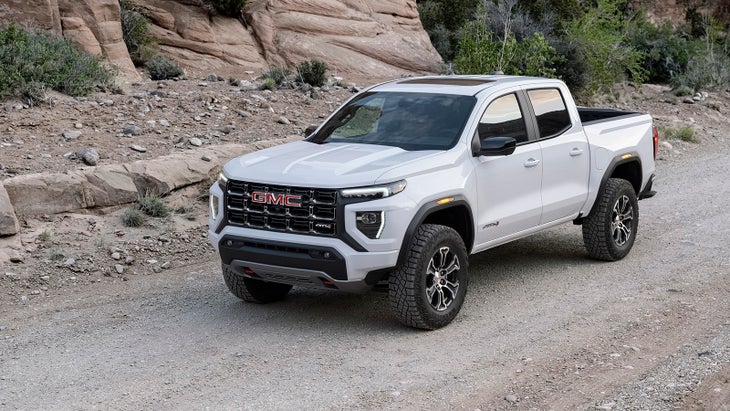 Suspension Provides Comfort and Traction
All three trucks (well, four if you count the GM twins twice) are traditional body-on-frame trucks with live rear axles and independent front suspension. Versus live front axle trucks like a Jeep Gladiator (which also competes in the midsize segment, but is now outdated), that arrangement is able to combine good ride quality and sharp steering, while retaining the ability to haul a reasonable amount of weight.
But even though they're all similar, there are a few key differences, especially on higher performance trims.
The big news in this segment is the Tacoma has adopted coil rear springs on higher trims. Versus the leafs still used by the SR, SR5, and Prerunner, coils typically offer improved ride quality, and enhanced articulation. But, keeping the rear axle precisely located as it moves up and down is more complicated on coils, requiring additional mechanical connections between axle and frame. To achieve this, Toyota has employed a similar five-link rear end arrangement as that was used on the existing 4Runner and recently retired 200-series Land Cruiser. There's nothing wrong with that setup, but it's not exactly new or exciting.
The big question mark hanging over coil Tacomas will be articulation. The new Tundra, with which the Tacoma shares its modular frame, also made the switch from leafs to coils. But, that new Tundra actually has less articulation than the old one since Toyota decided to prioritize stability while towing over off-road performance, and mounted the rear shocks outboard of the frame. Will the Taco be similarly limited? Toyota says no. Thanks to an optional disconnecting front sway bar (unique in this class), articulation on the new fourth-generation Tacoma is said to be 10 percent improved over the third-gen.
Articulation may be a problem for the new Ranger, since it's also moving its shocks outboard, even though it's retaining the leaf springs. But that's only on 2.3 and 2.7 Rangers. The Raptor adopts its own unique setup front and rear, with longer front control arms that will massively increase wheel travel, a wider rear axle to match front track width, and a unique Watts link setup that will be capable of controlling rear axle movements much more precisely than Toyota's setup.
All that should help the Ranger Raptor find more acceleration traction on loose surfaces, enhance its ability to keep tires on the ground over uneven terrain (increasing traction), and like the F-150 and Bronco Raptors, will also enable it to land sweet jumps while running across wide-open terrain at very high speeds.
But while it looks like the Ranger Raptor will be able to do all that stuff substantially better than the go-fast versions of the other trucks, both the GM twins and the Tacoma are attempting to get close to Ford's Raptor formula for the first time. Like the Raptor, TRD Pro version of the new Tacoma will also use longer front control arms, and quality 2.5-inch internal diameter Fox shocks. The GMs also use longer control arms, but use an even fancier spool valve shock from Formula One supplier Multimatic, even if rear suspension on ZR2 and AT4 remains leaf. Compellingly, Chevy also fits those longer control arms to mid-tier Trailboss Colorados, allowing buyers to access additional front wheel travel at a lower price point, savings they can then spend on coilovers and shocks of their own choosing.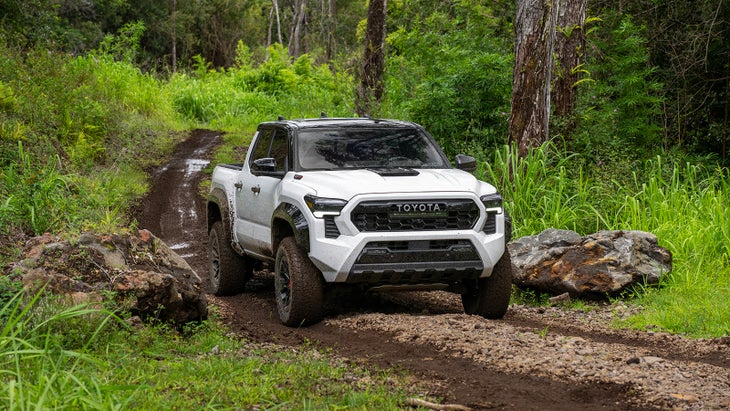 Which Midsize Pickup Is Best?
We've got three (err, four) very similar vehicles here. Which one is right for you? For the first time, you can't  go wrong with any of them. Go with the brand or color or name you like most, pick the options that suit your needs, and you will not be disappointed.
But, just going off the spec sheets, the Tacoma is making an incredibly strong case for itself thanks to the combination of genuinely good powertrains with high payloads and those rear coil springs. At Average-Joe price points and trim levels, I think that's going to make it the most compelling truck here.
And there's more. That 1,709 pound payload is quoted for the high-performance hybrid powertrain. Ditching that in favor of the plain old turbo-four will not only save money and weight (presumably increasing payload even further), but will allow buyers to option a manual transmission. Using the money you save by going with that TRD Off-Road trim level, rather than TRD Pro and its complicated powertrain, should leave budget left over for an even better aftermarket suspension setup like Old Man Emu's BP-51. The result? A truck that remains practical, reasonably affordable, and more capable off-road.
The Colorado and Canyon are already on sale, and Ford just started taking Ranger orders today at a comparable $34,000, or so, starting price. Toyota hasn't talked prices yet, but if it can remain competitive with the other brands, then it's really setting itself up as the winner here. I'll report back once I've driven one.
Lead Photo: Toyota