How to Build the 4×4 of Your Dreams on a Budget
Know what you're getting yourself into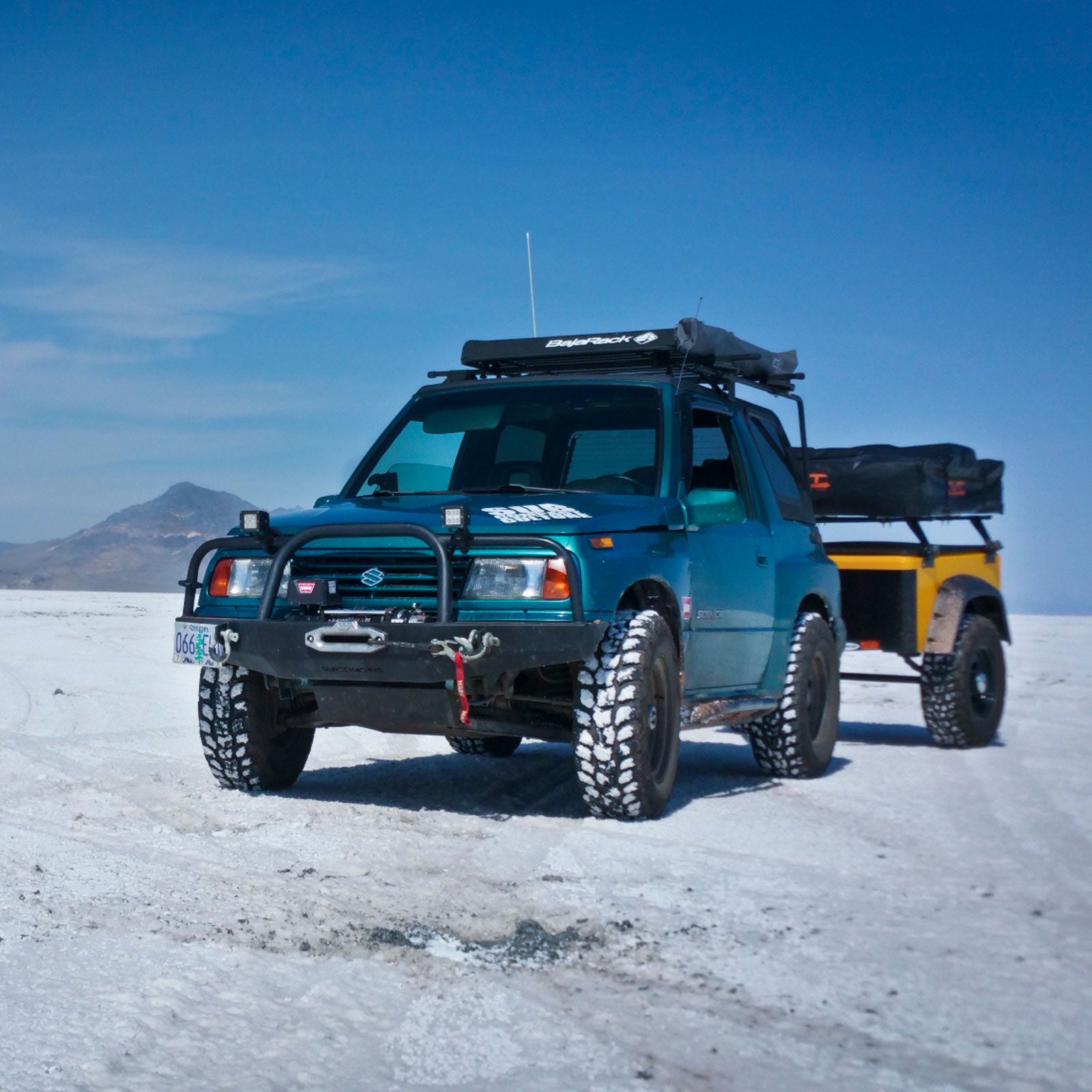 Heading out the door? Read this article on the new Outside+ app available now on iOS devices for members! Download the app.
You're taking the plunge, diving headfirst into the unknown: buying your first off-road adventure rig. But this needs to be a budget build, not a $60,000 vehicle. This budget beauty will be a fantastic 4×4 that'll give you years of bountiful experiences—if everything goes right.
Start by searching locally, scouring ads to find the perfect adventure rig. If you can't find a suitable rig locally, you may need to start looking at other cities' offerings. After expanding your search, you may find that the ideal ride is 1,500 miles away. However, just because you can't find your perfect budget build nearby doesn't mean you shouldn't fly and buy, but know that that takes planning, flexibility, and luck. 
Local Finds
You don't need a money tree for a great 4×4. My husband and I have built five budget rigs. The easiest way is to find a one in your town or surrounding area. First, do your research—learn about the 4×4's you're interested in owning, know what you're willing to spend, and be selective. By doing research, you'll better know what to look out for, what the typical mechanical issues are, and how much they cost to fix. 
Know Your Budget
If you have a certain budget, stick to it. Over the years, I've seen "mechanic's specials" empty people's wallets. Replacing items like head gaskets, brakes, radiators, or other parts costs real money. Sometimes it's more than you're willing to spend. So know your budget and mechanical capabilities to fix your adventuremobile, try and anticipate what you're getting into, and try to avoid the dreaded money pit. 
Test-drive every rig you're looking at before settling on one. You never know how the vehicle will behave unless you commandeer it. 
Consider Maintenance
Weigh your options regarding mileage. Finding a low-mileage, 30-year-old rig could be golden, but it could also pose major issues if it sat in one spot for years. Conversely, finding a high-mileage runabout may cost you if basic maintenance hasn't been done. If you can't get those records, assume nothing's been maintained—ever. 
You can lengthen your 4×4's life by replacing engine oil, transmission fluid, gear oils, coolant, and brake fluid. It's cheap insurance if you're not sure if it's never been done before. Check the brakes, anything equipped with grease fittings, and the ignition system (plugs, wires, the cap, the rotor). These are fairly inexpensive items that'll save you headaches. Ask me how I know.
Fly and Buy
Fly somewhere, buy a rig, drive it back home. We live in Oregon, and we've completed two fly and buys in Texas. We're into Japanese domestic-market 4×4's and scored two right-hand-drive Mitsubishi Pajeros with turbocharged diesel engines. There's not a huge demand for small 4×4's in the Lone Star State, so importers post elsewhere in the hopes that interested parties will snatch them up. 
How to Do It
Possibilities are endless if you look outside your local area. Once you find something you're looking for, check it out via Skype or phone, or have a trusted friend look at it for you. It's risky, but if you're willing to travel, you may be rewarded with the budget rig of your dreams.
Both times we did a fly and buy, we had trusted friends check the vehicles out. After phone calls, videos, and Facebook Live walk-arounds, we decided to buy them. Since they were early 1990s 4×4's, we knew there'd be dents, scratches, and nonfunctioning features here and there. 
What to Bring
Pay in cash (versus wiring money in advance). Pack zip ties, duct tape, a AAA card, and patience. Get copies of the import paperwork before you go—this is critical for getting a temporary trip plate from the DMV. Get car insurance set up before you go so it starts the day you purchase the vehicle. Before making your journey back home, check with every state you'll be passing through to ensure they accept your state's temporary plates. Some states may not accept trip permits. 
Finally, allow extra time in case you run into issues. Let others know your planned route. Fly and buys take time, trust, and a bit of know-how. Pack your sense of adventure. Once you've bought your budget build, you need to drive it home—and that could be an undertaking in and of itself!
Lead Photo: Mercedes Lilienthal