Buggin' Out: The Best Camper on the Market
Behold the Cricket, summer's best new road-trip partner.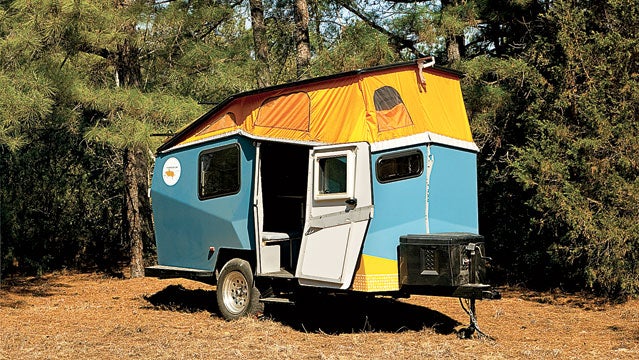 Sarah Wilson
Heading out the door? Read this article on the new Outside+ app available now on iOS devices for members! Download the app.
It's easy to get caught up in appearances. Bold designs and fancy accessories are certainly to be appreciated. But that doesn't mean they're practical. So when Garrett Finney decided to build a pop-up trailer that was closer to a tent than an RV to tote his family around, he leaned on a decade of experience working for NASA. As senior architect for the Habitability Design Center, which helped devise the International Space Station's interiors, Finney was intimately familiar with close quarters.
"Most architects and designers don't know what they're doing when a space gets really small," says Finney. "They don't know the difference between a 36-inch wheelchair-accessible doorway and a 22- or a 21-inch one." So he built a mock-up of the trailer in his offices, then spent days bumping into table corners and counter edges to identify trouble spots. Then he fixed them.
After that, Finney turned to maximizing functionality, taking a page from the design of the space station, where, in zero gravity, every surface is created equal. A spine supports the trailer's roof and connects to ribs that hold up the walls. Interior attach points on the skeleton can be used to hang everything from bunk beds and cargo nets to a pull-up bar. The ceiling, walls, and floor are all treated as functional spaces. The result, which he dubbed the Cricket, is the most thoughtfully crafted pop-top camper ever devised.
Finney began rolling out production models earlier this year (starting price: $16,750). Options include a stove, beds, a 12-volt fridge, air-conditioning, and an outdoor shower. Even with all of them, a Cricket tops out at only 1,400 pounds, which means that even a four-cylinder Subaru has more than enough towing power for liftoff.
Trending on Outside Online