The Coolest Adventure Vehicles We Found at Overland Expo
We're ready to quit our day jobs and go explore the planet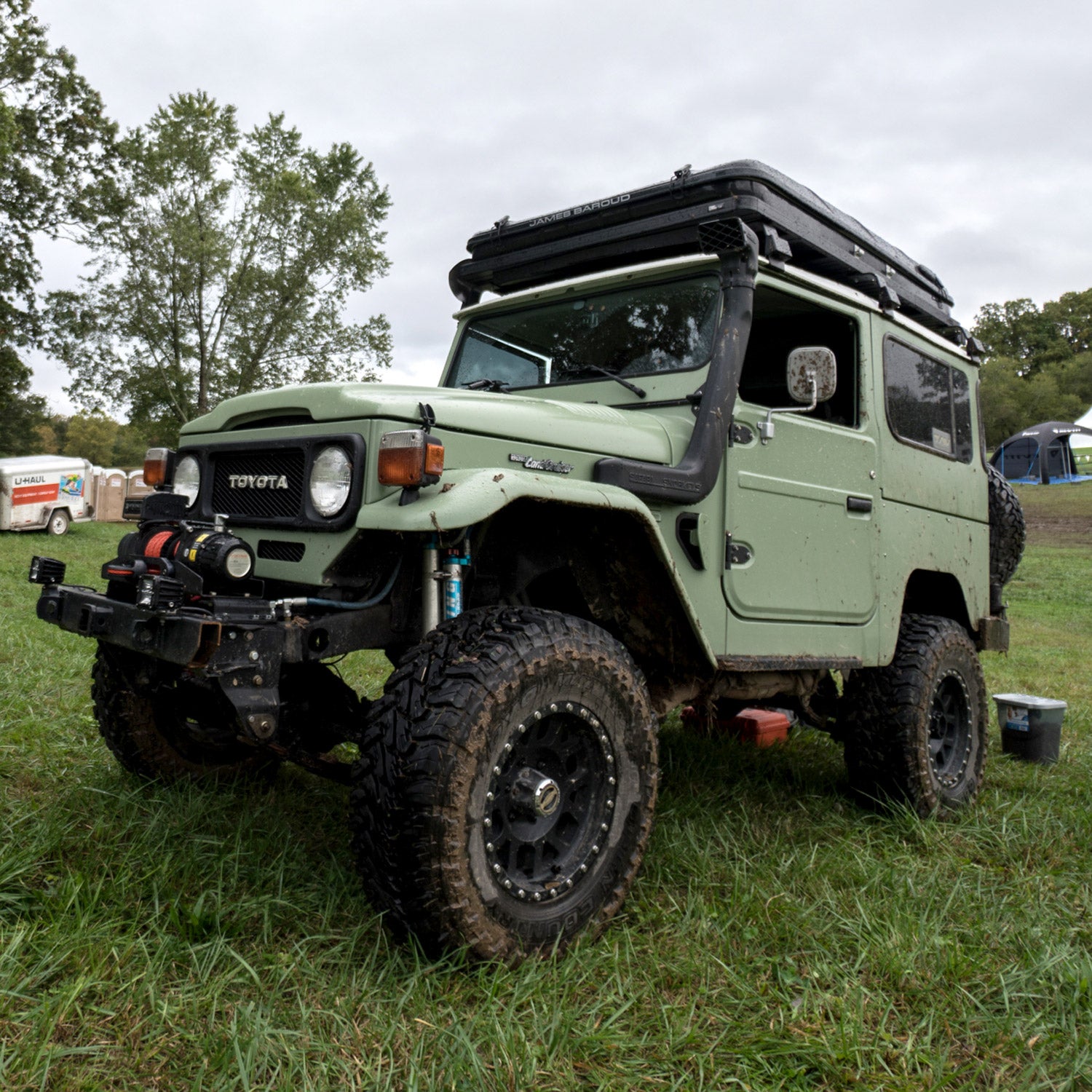 Heading out the door? Read this article on the new Outside+ app available now on iOS devices for members! Download the app.
Each fall, adventure-travel enthusiasts gather on a ranch in Asheville, North Carolina, to check out hundreds of tricked-out adventure cars and trucks and to learn the ins and outs of overlanding. The event's called Overland Expo, and it's basically a dream come true for the editors at Outside. If you want to drool over the most badass, go-anywhere jeeps, trucks, vans, and bikes in the world, this is the spot. Hurricane Joaquin dumped buckets of rain on this year's event, but we still spent a couple days walking around the venue rounding up our favorite rigs.
Outrider USA Horizon E-Bike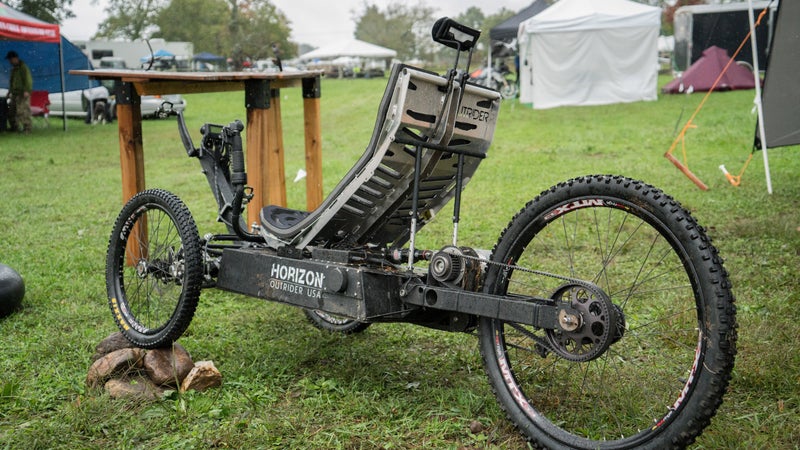 This off-road tricycle from Outrider USA turned plenty of heads at the expo. It's one of the coolest e-bike concepts we've seen. A different take on the company's popular Alpha model, the Horizon uses mountain bike components and a carbon-belt electric drivetrain with a high and low range to power riders down trails or gravel roads. It'll do 25 miles per hour and has a base range of 30 to 50 miles per charge. Opt for additional batteries to go farther and power your base camp at night.
---
Quebec Volkswagen Syncro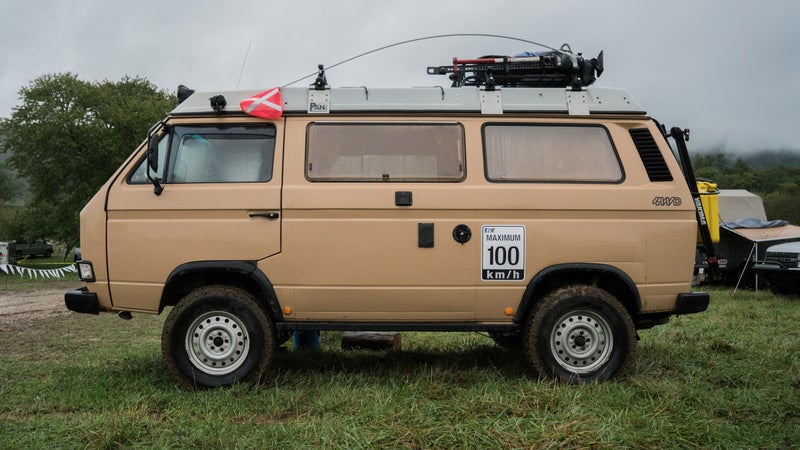 Everyone loves a Vanagon, and the nicest one we saw belonged to Yves Rodrigue. He and his dog, Boogaloo, made the trip to North Carolina from Quebec, Canada, in this extremely rare '89 Syncro 16—basically a heavy-duty, limited-run version of the original Syncro—with a diesel engine from a Volkswagen Jetta. Rodrigue started a Facebook page called Maximum 100 km/h to document his travels.
---
Overland Journal/Hema Maps Toyota Land Cruiser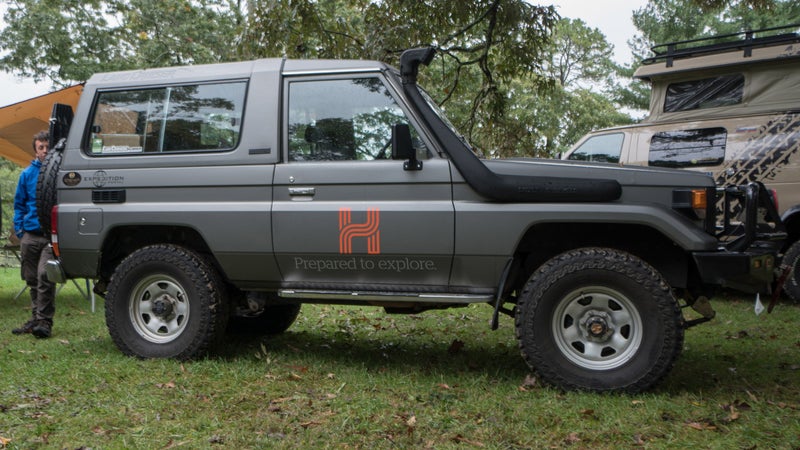 The folks at Overland Journal and Hema Maps brought their incredibly rare Toyota BJ74 Land Cruiser to the show, and we couldn't stop staring. These 70 Series Land Cruisers have a well-earned reputation as the best overland expedition vehicles ever made, due to their simple, reliable, rugged nature. Production started in 1984, but they were never sold in the United States. Nowadays, they're relatively easy to get, thanks to an NHSTA rule that makes it legal to import vehicles from another country if they're more than 25 years old. This particular vehicle came from Landcruisers Direct, a company that specializes in importing iconic vehicles from Japan.
---
EarthCruiser FX
For the uninitiated, EarthCruiser makes some of the most incredible, expensive adventure rigs on the market—they run upwards of $175,000. Designed and tested in Australia but now built in Bend, Oregon, EarthCruisers are based on a 4WD Mitsubishi Fuso platform and designed to be the go-anywhere, self-sufficient base camp of your dreams. These things get about 15 miles per gallon and can take you completely off the grid for months at a time, thanks to diesel- and solar-power systems and 80-gallon water tanks.
---
Toyota FJ40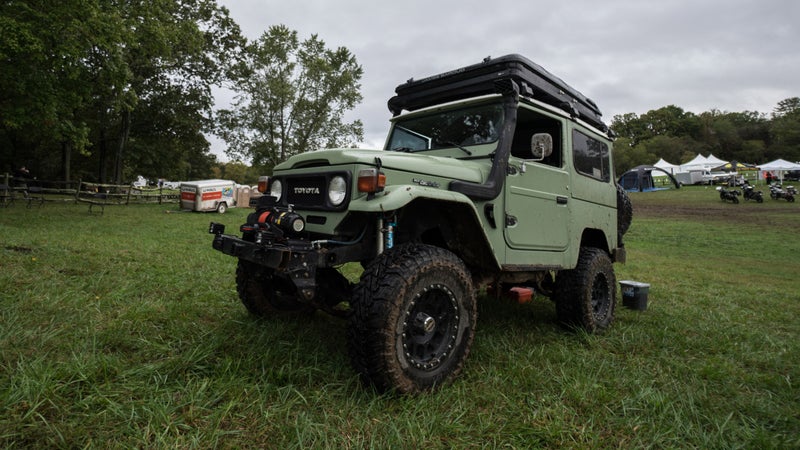 TAV Expedition Outfitters is based in Albuquerque, New Mexico, and has one of the nicest FJ40s we've ever laid eyes on. The company specializes in designing purpose-built off-road machines. The custom paint job and well-organized interior storage system made this one stand out.
---
Cummins Nissan Titan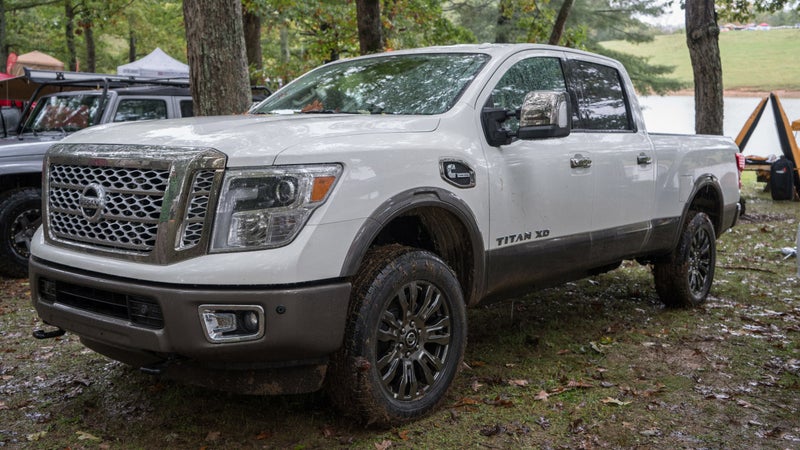 We're excited about diesel engines making their way into lighter-duty American pickups, including the Ram 1500, the upcoming Chevy Colorado Duramax, and the new Cummins-powered Nissan Titan XD. The new Titan will feature a Cummins 5.0L V8 Turbo Diesel that puts out 310 horsepower and a staggering 555 lb-ft of torque.
---
Ford E350 V10 Chateau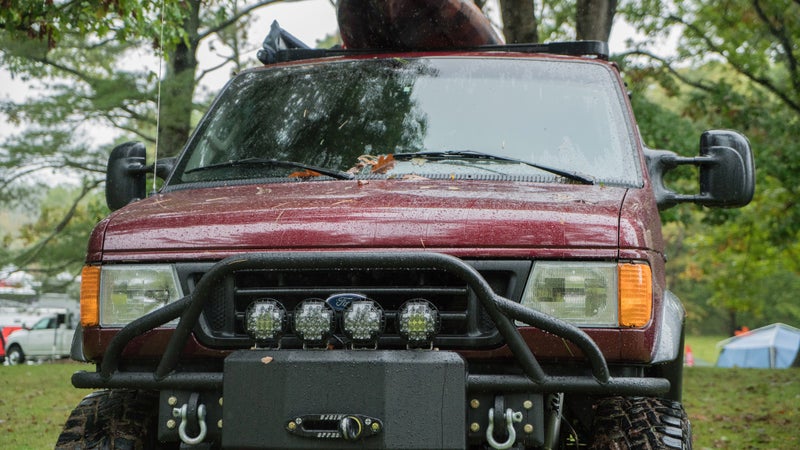 The guys at U-Joint Offroad have taken #VanLife to the extreme. Specializing in 4×4 van conversions, they brought several of their recent projects to Overland Expo, including this 2005 Ford E350 V10 Chateau, named V7. You'd be hard-pressed to find a more capable van, thanks to the six-inch front/four-inch rear lift, 35-inch tires, and custom roof rack.
---
Land Rover Defender 90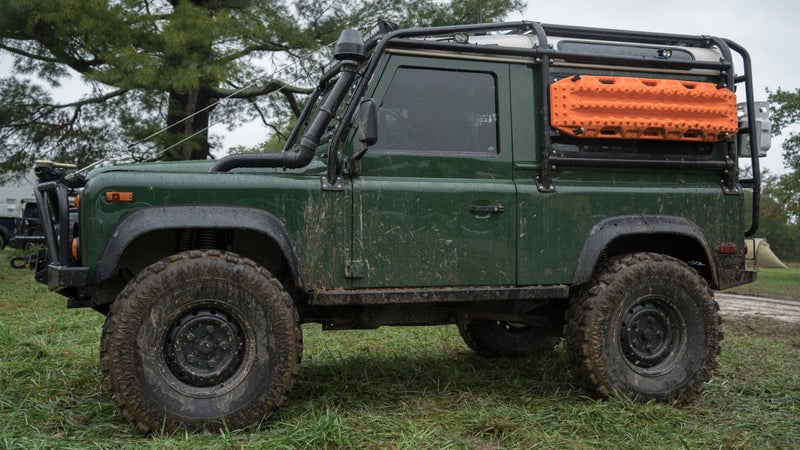 Land Rover had a major presence at this year's event, and it's easy to understand why given its storied history in overland travel. This Defender 90 was absolutely flawless and was seen pulling out many other vehicles that got stuck in the hurricane-caused mud.
---
BMW F 800 GS Adventure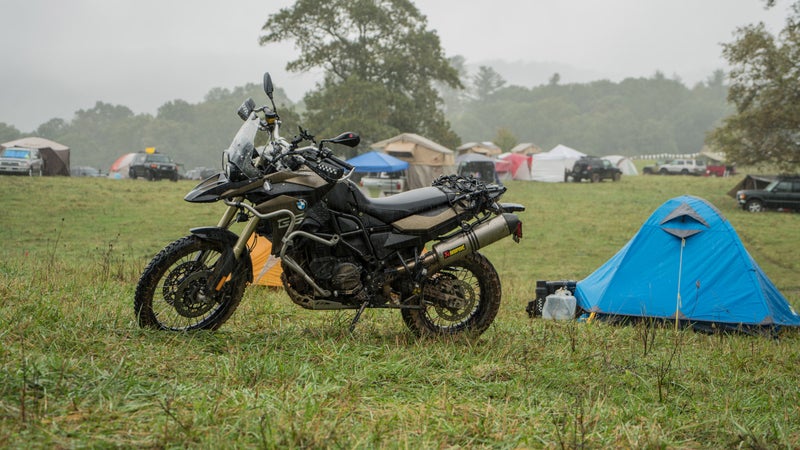 Not all adventure vehicles have four wheels, and bikes like the BMW F 800 GS Adventure were quite popular at this year's expo. It's a more minimalist approach to overlanding but great for dirt roads and tight spaces. When loaded with a rack and panniers, you can cover a lot of ground plenty quick.
---
Anvil Adventures Trailer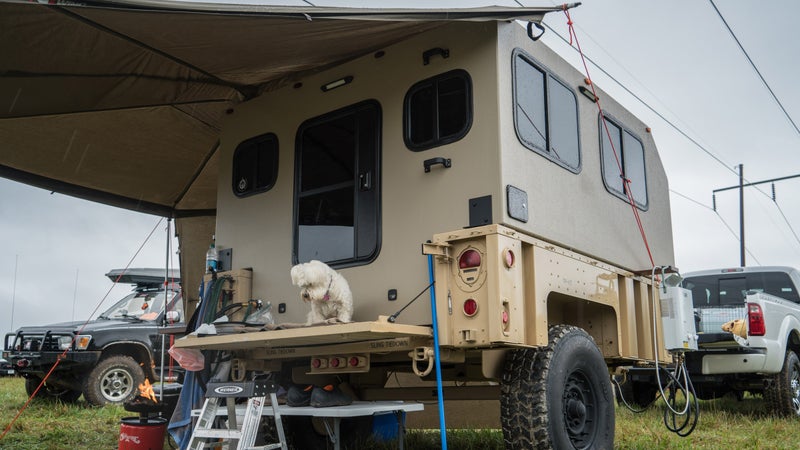 Towables of all shapes and sizes made an appearance at the Expo, including this one from Anvil Adventure Trailers. A custom-built removable topper sits on a military trailer chassis, and has all the bells and whistles of the big adventure vehicles (think solar panels and camp showers), without the weight and large footprint. Most important, there's enough room inside to sleep two adults and a dog.
---
Drive the Globe's Mercedes Unimog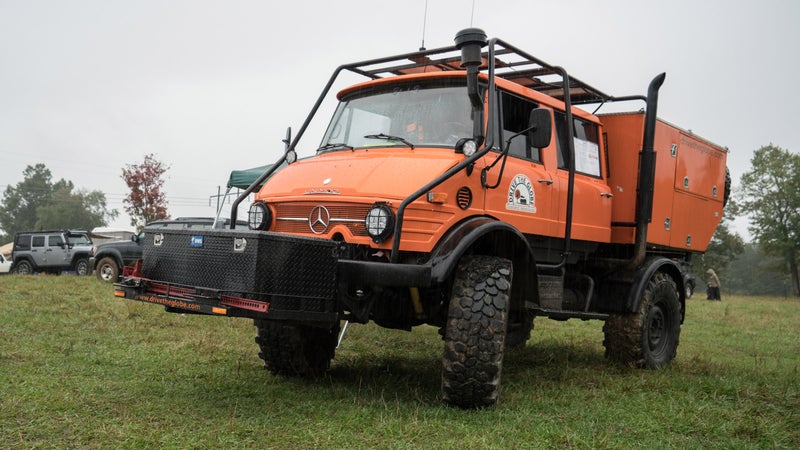 Michael Ladden from Drive the Globe Overland Adventures was on hand in his bright-orange Mercedes Unimog, which attracts loads of attention anywhere it goes. Originally produced for use on farms, Unimogs are some of the biggest, baddest vehicles ever built, thanks to their massive ground clearance and workhorse design. Full-time AWD means they manage to get most places pretty easily—if they fit.
---
Honda Element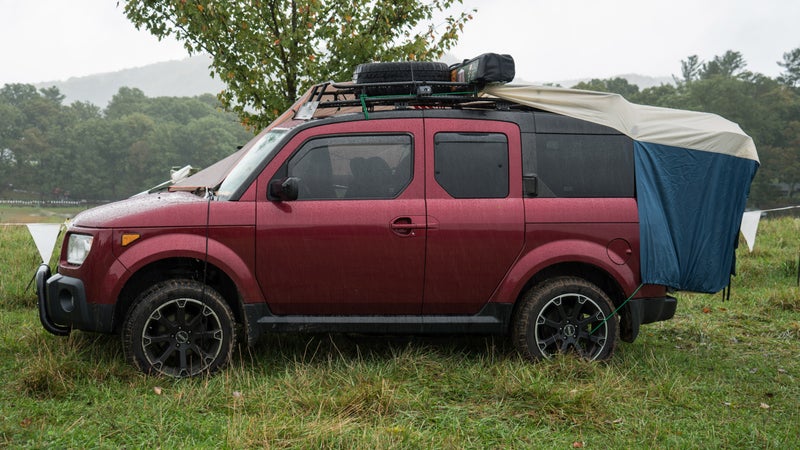 Much to our chagrin, Honda discontinued the Element in 2011. While it might not be the coolest-looking vehicle we saw, it's flat rubber floor, removable rear seats, and massive amount of cargo space make for one incredible camping platform.
---
Toyota Tacoma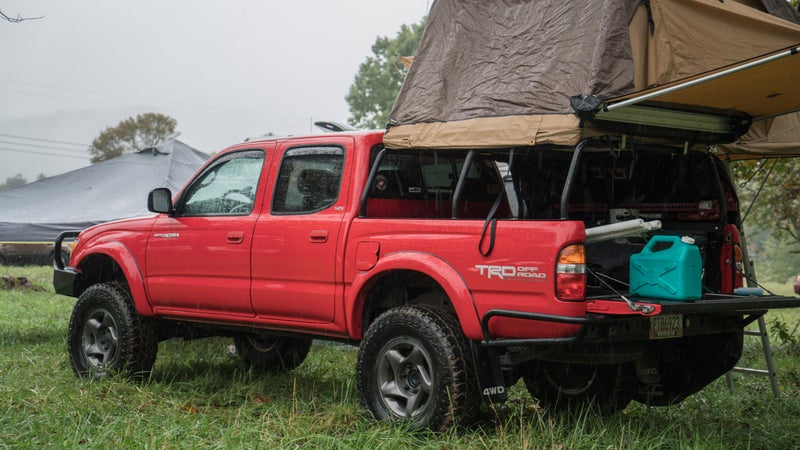 It should come as no surprise that one of the most common vehicles in attendance was the Toyota Tacoma. It's tested, reliable platform makes it one of the most popular overland vehicles on the market. It doesn't hurt that they run approximately forever. We loved this Gen 1 Tacoma, which featured heavy-duty front and rear bumpers and a bed-mounted rooftop tent.
---
Exploring Elements EEXP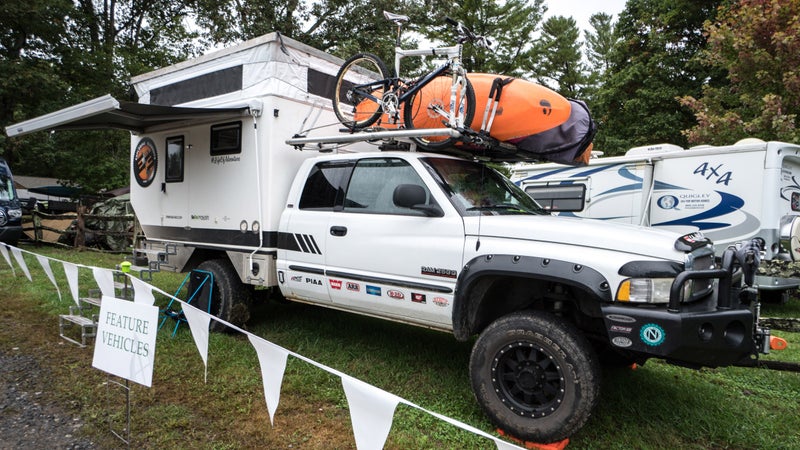 Bryan Dorr of Exploring Elements turned a 2001 Dodge Ram 2500 into what he calls the EEXP. It was one of the most popular vehicles at the show, thanks to its custom XPCamper shell and plethora of adventure gear stashed on top.
Trending on Outside Online