Indefinitely Wild
The Cure for Your Winter Motorcycling Blues? A Timbersled Snow Bike.
Transform your dirt bike into a bona fide snowmobile for less than $4,000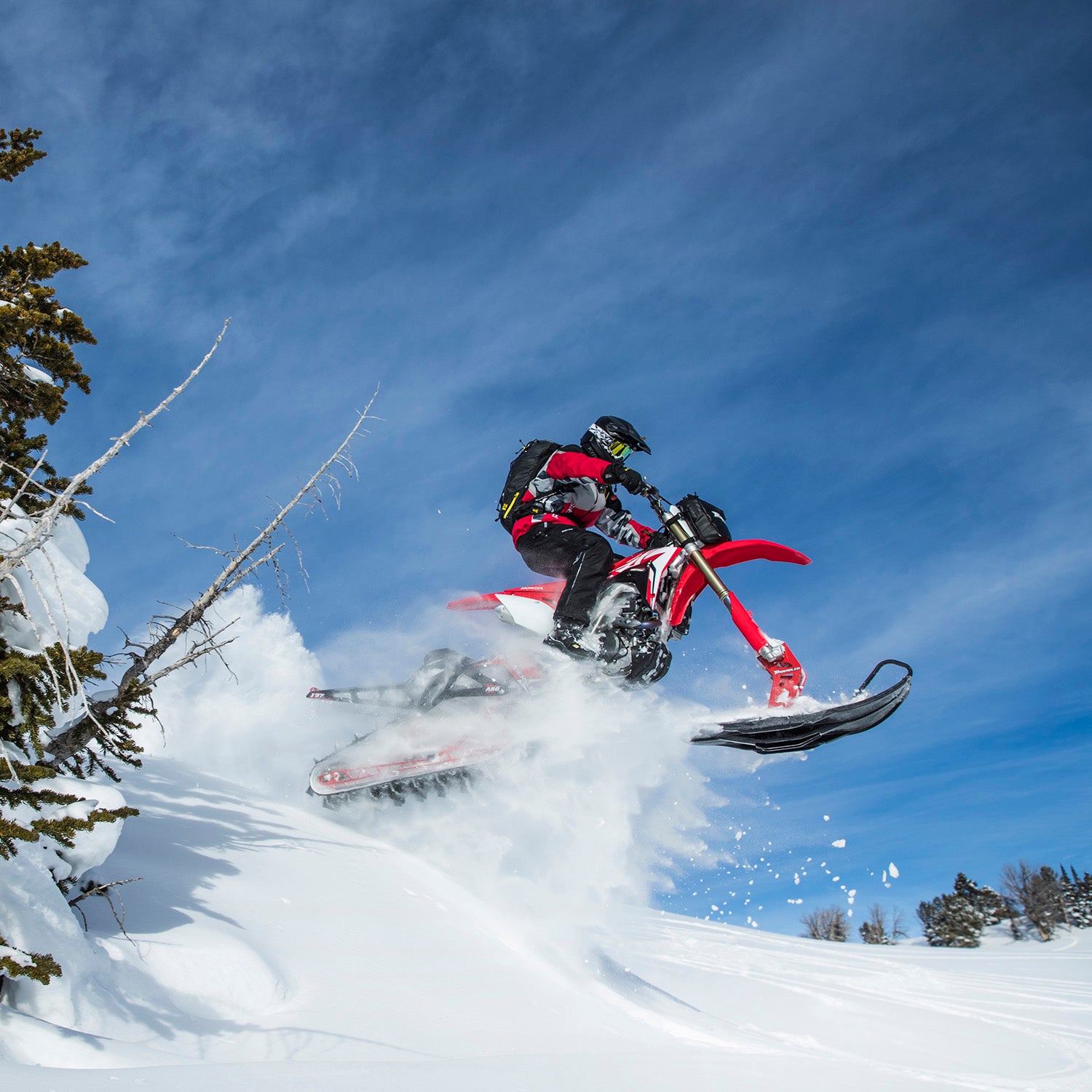 Heading out the door? Read this article on the new Outside+ app available now on iOS devices for members! Download the app.
If you love riding motorcycles and live somewhere that gets blanked by snow half the year, you've got problems. That is, until you mount a Timbersled conversion kit to your dirt bike and turn your favorite sport from a three-season affair to a year-round fun fest. And the best part? It's cheaper and easier than you think: the ST 120 RAW kit starts at $3,499.
Credit the Timbersled crew out of Sand Point, Idaho. You see, these guys and girls used to spend winter months twiddling their thumbs waiting for the snow to melt so they could swing a leg over their dirt scooters. That's how and why Timbersled was born—to enable yearlong riding on the same bike you blast berms on in spring, summer, and fall.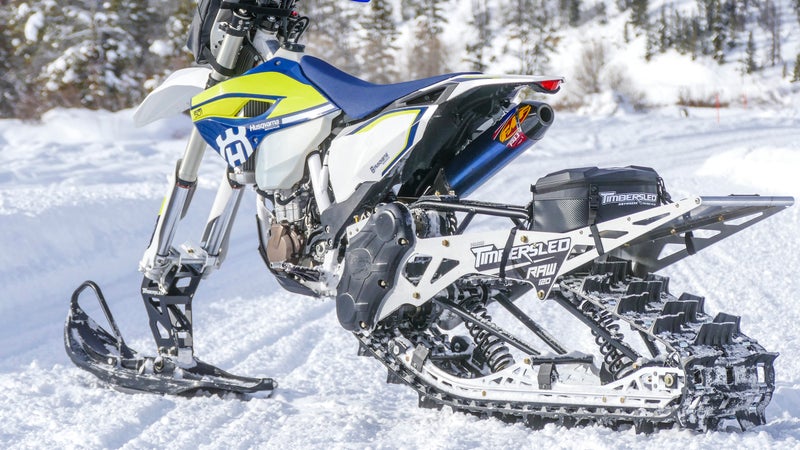 What Is It?
A high-performance snow conversion system, to be exact. And they've been in production for seven years now, so engineers know what works and what doesn't. The 2018 Timbersled conversion kit is the most complete to date, requiring nothing more than a dirt bike, a basic set of metric sockets/ratchets, and a couple hours in the garage.
The company makes a setup for any would-be snowbike rider. Timbersleds are available in five separate kits, ranging from a 90-inch ST Ripper track ($1,999) for the little guy or gal in your family riding a 110cc Honda, Kawasaki, or Yamaha bike to an ARO 137-inch-long track kit ($6,199) capable of traversing steep mountain faces and the deepest of deep powder.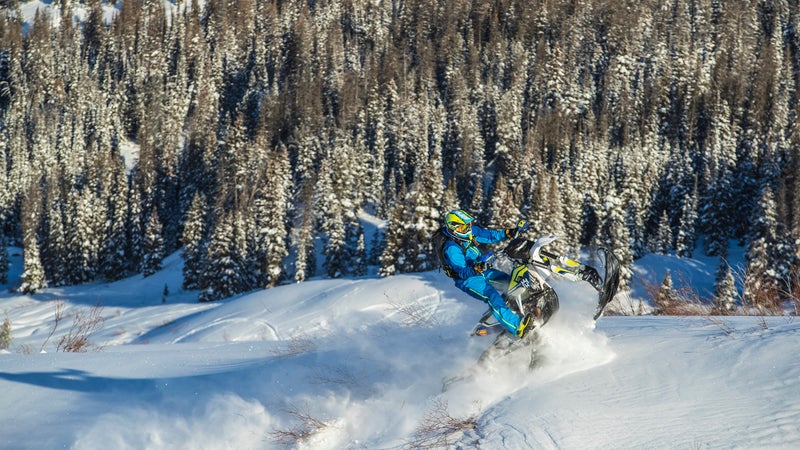 Who's It For?
Timbersleds are designed for riding off-highway, in snow, so a motorcycle license isn't required. Each product is a universal-fit setup designed to bolt onto whatever color off-road motorcycle you have in your garage, whether it's a Beta or a Yamaha, via vehicle-specific installation kits.
Simply unbolt and remove the swingarm pivot bolt, upper shock, final drive chain, and front and rear brakes, and then attach the Timbersled front and rear assemblies, complete with fully bled hand brake. Top off the fuel tank, and you're ready to roost white stuff.
We rode the electric-start-equipped Husqvarna FE 501s, but what you really want is a fuel-injected 450cc motocross bike, preferably with air front suspension. Read: the 2017 KTM 450 SX-F. Hard-hitting power and stiff suspension are the name of the game for an appropriate bike conversion, considering the extra heft of the Timbersled apparatus, as well as drag from the track/ski on snow.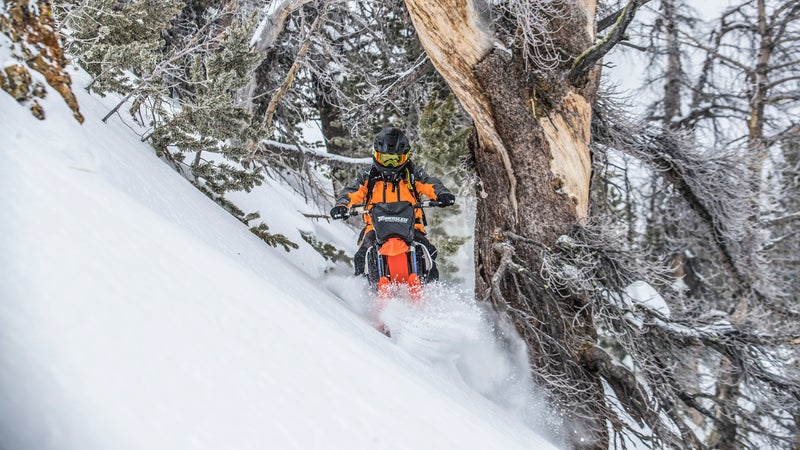 Riding It
The wide track makes Timbersled snowbikes inherently stable at a standstill, so they don't require a kick, or any other stand, so long as you're not parked on the side of a hill. Simply swing a leg over, thumb the engine start button, and you're ready to ride. For 2018, engineers modified the chassis so the ski and track width (11.5 inches) is identical. This aids in handling since the ski packs down the snow before the track passes over it, giving its paddles better bite.
At parking lot speeds, the Timbersled is a bit tricky to maneuver. However, upshift into second gear, add some speed, and handling improves. Unlike a knobby-tire dirt bike, where you generally turn the handlebar to initiate turns, the Timbersled responds best when leaned over in turns, similar to a street bike but more closely to a sit-down-style personal watercraft. Some element of balance is definitely required, but not as much as on two wheels.
Timbersleds perform best over fresh powder that hasn't been tracked up by other vehicles. It adeptly carves arches, offering the sort of exhilaration you get on skis or a snowboard.
Like a jet ski, the deeper the turn, the more throttle is needed to stay above the snowpack and finish the arch, but it's a sensory blast that combines elements of motorcycling, watercraft, and snowboarding.
Weight and drag tame the 55-horsepower engine of the single-cylinder FE 501, much like riding in sand dunes, and necessitate liberal use of the throttle and left foot so you can work all five forward gears. Much like a dirt bike, first gear is only for climbing the really steep stuff. Timbersleds also drink a lot of 91 octane, so a larger "desert racing" style fuel tank would be a wise investment.
Because of the lengthy track, you can drop the clutch instead of feathering it during launches, and its momentum helps keep the engine from stalling at low speeds. Although our bike wasn't fitted with one, we could see how a Rekluse auto-clutch could come in handy and further simplify the riding process.
A right-hand-operated hydraulic disc brake controls track speed, but because there is so much drag from the snow, you really never use it unless you're making a quick stop.
Pro tip: "Set" the track into the snow when stopped to allow for easier mounting on uneven terrain. Be careful, however, because you can lock up the track and slide into tall unmovable objects, like trees, just like a snowmobile.
Because you need to keep the engine at high revs all the time, adhering to the motorcycle's scheduled maintenance intervals is important. You'll also want to wear earplugs—the engine can get quite loud when barreling across the snow in fifth gear at upwards of 50 mph. We assume the clutch will need to be replaced more often, but Timerbsled says the OE clutches on bikes like the FE 501 have gone more than one full season on the stock setup.
Thankfully, there is no dirt, sand, or dust, so the air filter rarely needs cleaning, and the delicate bearings in the steering head that typically get beat up in mud see less wear and tear. The Timbersled hardware itself is virtually maintenance-free.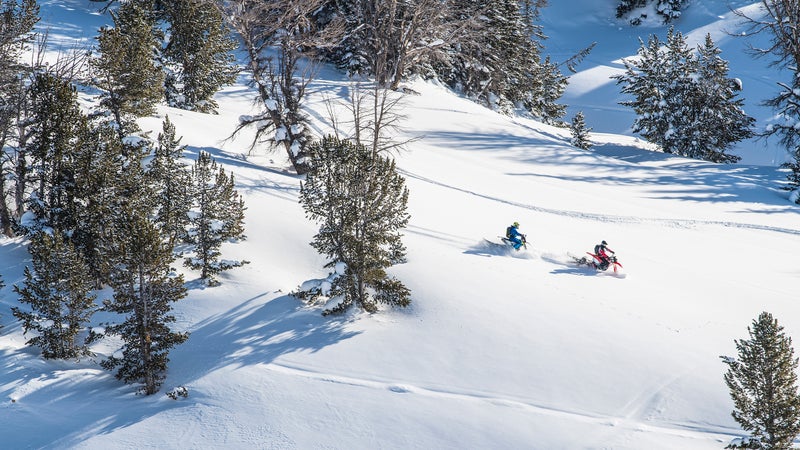 Likes
Go places few folks can travel without snowshoes and a week's worth of food.
Ride your dirt bike year-round.
Truly bolt-on components with no cutting or drilling required.
Dislikes
Groomed-trail handling could be sharper.
Takes up precious garage space during warmer months.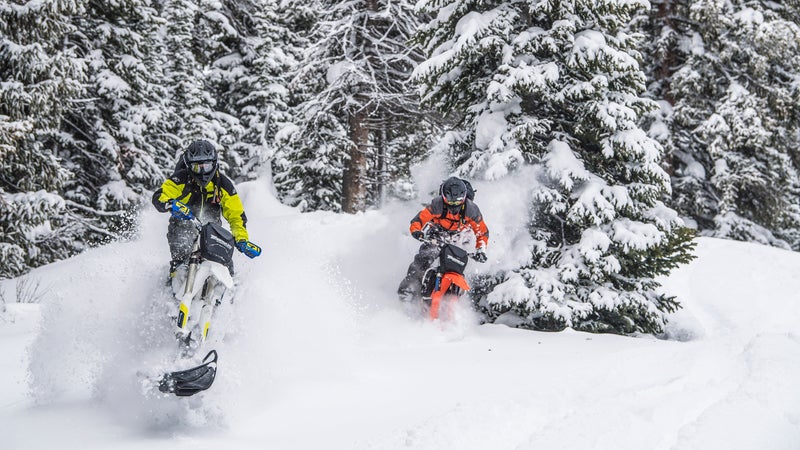 Should You Buy One?
Winter can be a real bummer for many off-road motorcyclists, but bolt on a Timbersled conversion kit and that all changes. The technology opens up a world of opportunities for riders, allowing you to set off and explore faraway places and difficult terrain that most will never see without a solid set of snowshoes, a week's worth of food, and an open calendar.
Many dirt-bike riders switch machines after a season or two. Fortunately, the Timbersled kit goes with you and can be retrofitted with a vehicle-specific installation kit, allowing you to continue riding the newest dirt bikes and those to come.
Lead Photo: ToddWilliamsusa.com