Indefinitely Wild
A Tempered Analysis of Rivian's New Electric Trucks
Electric power + a pickup = a match made in heaven in American consumers' eyes. But let's not get too excited yet.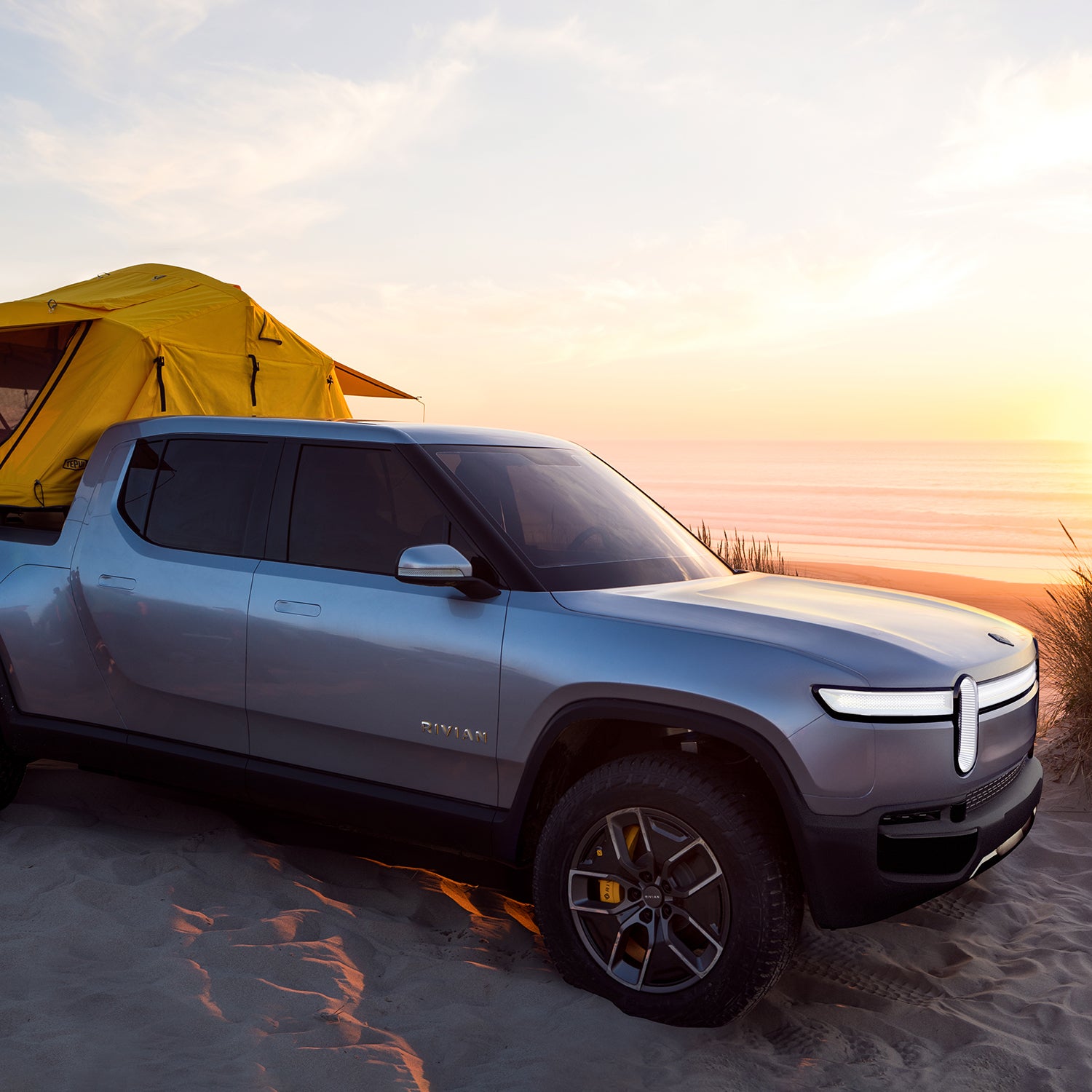 Heading out the door? Read this article on the new Outside+ app available now on iOS devices for members! Download the app.
Americans love buying trucks. Americans love the idea of electric vehicles. So when a new startup enlisted the aid of Rihanna and stepped into the spotlight Sunday night with a new range of electric trucks, people got really excited.
I think it's time to cut through all that glitz and glamour and take a look at what's really going on here. 
Rivian is a new company based in Detroit that was founded by 35-year-old R.J. Scaringe soon after he received his PhD in mechanical engineering from the Massachusetts Institute of Technology. Reportedly, it's raised about $500 million, mostly from Saudi conglomerate Abdul Latif Jameel and Japanese mega-corp Sumitomo. Rivian has operated in stealth mode since 2009, with little to no recognition or press until this week.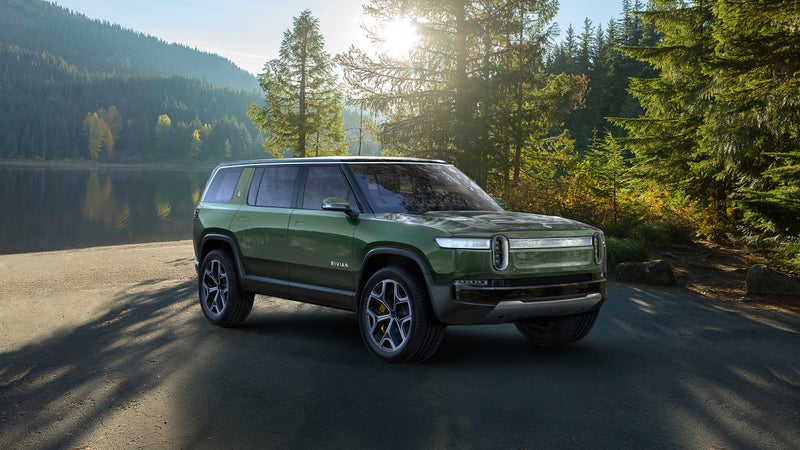 That changed as soon as the company unveiled two concept vehicles. The R1T pickup truck and R1S SUV both appear to be based on the same chassis, which integrates the batteries and four electric motors into a modular "skateboard" capable of underpinning different types of bodies. 
Both models are supposed to be available in a range of battery capacities and performance specifications. Rivian says the basic R1T will cost $69,000, and be equipped with a 105 kWh battery that will give it a range of 230 miles. That truck is capable of accelerating from zero to 60 miles per hour in an impressive 4.9 seconds. Versions equipped with 300- and 400-mile ranges will follow and up-spec models could drop that 0-60 time to as low as 3.2 seconds. Rivian has not announced pricing for versions beyond the base model.
The R1S SUV will start at $72,500 for the 230-mile version and boast similar performance numbers. Rivian says it hopes to begin deliveries of both vehicles in "late 2020," but neither model is yet in production and it's not clear what changes will be made to these concepts before a final production spec is achieved. Rivian is now accepting $1,000 deposits.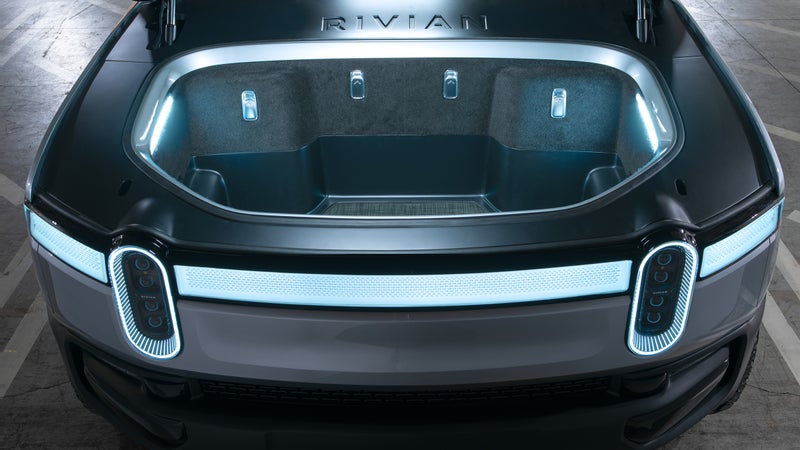 Both vehicles feature airy, spacious interiors with simple, screen-based dashboards that are very reminiscent of Tesla. The R1T, in particular, is full of clever design details intended to catch the eye of outdoorsy types—whom the company is explicitly marketing to. There's a transverse ski pass-through between the bed and cab, an integrated air compressor in the bed, and, most exciting of all, a front trunk, or "frunk" as Jalopnik has dubbed the storage compartment. Rivian has dubbed the four-motor setup "quad drive," but offers no details about how it might work.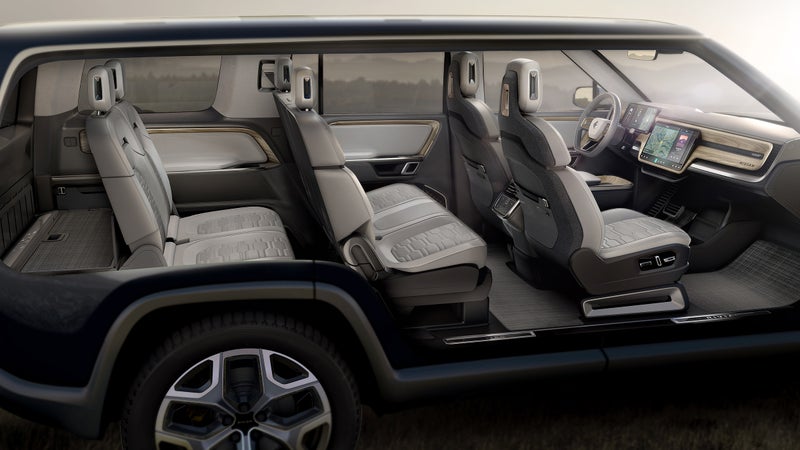 Earlier this year, Rivian spent $16 million to purchase a mothballed Mitsubishi factory in Illinois and has negotiated a $50 million package of taxpayer-backed subsidies with that state. Rivian has not detailed who its suppliers will be or what level of manufacture or assembly it will perform in its plant, but Sumitomo supplies materials to Panasonic for the batteries that company makes for Tesla, so it seems logical that Panasonic may also supply those for Rivian. 
The company says it currently employs 600 people across its Detroit HQ, and its R&D facilities in California, Michigan, and the United Kingdom. It does not yet list any employees at the Illinois factory. 
Described soberly like this, does Rivian remind you of another company? Tesla also uses mid-size initial investments to develop really exciting new vehicle concepts, uses those concepts to drum up a lot of publicity, negotiates heavy subsidies, then uses customer deposits to demonstrate demand, wrapping all that up as a pitch for enough additional money to actually start producing a new model. Five-hundred million may sound like an awful lot of money to you and I, but it costs between $1 billion and $6 billion for an established automaker with existing facilities, processes, suppliers, and know-how to bring a new vehicle to market.
Not only is Rivian a startup, but it's making some very big claims about the performance and innovation of its new trucks. Turning those promises into a reality that you can put in your garage is going to be an enormous challenge. Tesla has been producing cars for 10 years and has yet to totally figure out things like quality control and profitability. "Tesla is very much the exception, and not the rule," says Patrick George, the editor-in-chief of car enthusiast website Jalopnik.com. He points to the recent high-profile failure of electric car startup Faraday Future and suggests that the auto industry is currently very skeptical of new businesses following in its footsteps. 
Is This the First Electric Pickup?
Well, it depends on what you mean by first. Various concept cars over the years could have been described as both electric and pickups, despite their whacky styling. In 2016, Chevy produced a real, working prototype hydrogen fuel cell Colorado for the military. Hydrogen fuel cells generate electricity, powering electric motors. Another American startup called Workhorse has working prototypes of a battery-electric conversions of existing full-size trucks, targeted at commercial and government fleet use. Bollinger appears to be in a very similar position to Rivian. The big difference between all of the above and the R1T appears to be Rihanna. 
Why haven't the big automakers made an electric truck yet? Well, pickups are their most profitable vehicles. Not only do they sell in large volume, but they also have huge profit margins. As long as fuel remains cheap, Americans will continue to throw all their disposable income at them, so Ford, GM, Fiat Chrysler et al are invested in protecting those profits. Toyota doesn't import the much-more-capable Hilux into the U.S. because that vehicle would have a much lower margin and eat into sales of the much more profitable Tacoma and Tundra. So why would they spend a couple billion dollars to sell a less profitable electric alternative? 
"Automakers don't want to mess with their bread and butter," says George. He suggests that putting together the range and ruggedness mainstream truck buyers expect is a difficult hurdle for any hypothetical electric truck to overcome. "I hate to sound like a Ford ad," he continues, "But truck buyers expect their trucks to be built tough."
Math is also a problem for a hypothetical future pickup truck. The batteries in the most advanced electric consumer vehicle on the planet—the Tesla Model 3—are revolutionary because they cost just $190 per kilowatt-hour. Assuming Rivian is able to match that price (which is unlikely), the base R1T will have $20,000 in batteries onboard. And that $20,000 in batteries only gets it a 230-mile range. Will American consumers accept a $69,000 truck that can only go 230 miles? That appears to be a gamble Rivian is willing to make, but it's not one major automakers are taking.
Having said that, it's an absolute certainty that each has calculated what the necessary battery cost must be in order to create adequate return on investment. And you can safely bet that every one of them will have an electric pickup (in addition to many other vehicles) in showrooms as soon as they're convinced they can make money selling them. Will that be before or after the first Rivian R1T is delivered? Your guess is as good as mine. 
And it's also almost assured that there will be plenty of other electric SUVs around before the R1S goes on-sale. "2019 will be the year of the electric SUV," says George. He cites the new Jaguar I-Pace as an example and suggests a more off-road oriented version of that vehicle, wearing a Land Rover badge, will soon be available, along with similar vehicles from all the other upmarket European brands.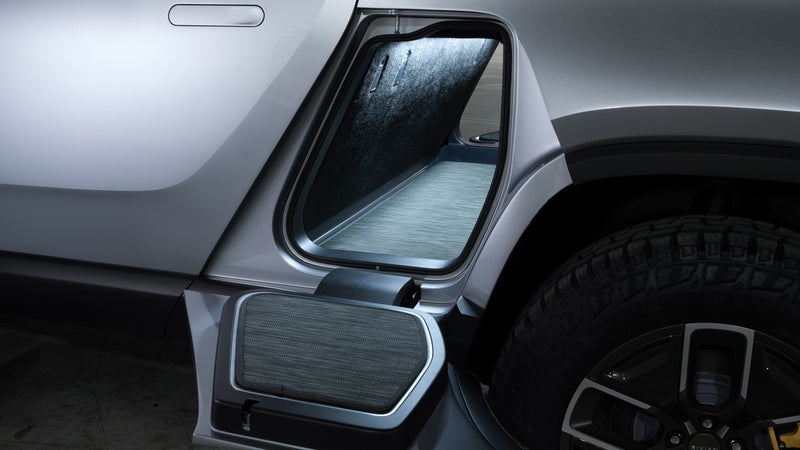 Let's Talk About Taking Electrics Off-Road
Because the layout of electric vehicles isn't predetermined by the fixed locations of major mechanical components, designers of them are free to optimize the location of the big, heavy parts. One of the reasons Teslas handle so well is because, like the Rivian concepts, they house their batteries under the floor of the cabin, lowering the center of gravity as far as possible. Those volatile batteries need to be protected from crashes, debris, and the elements, so the resulting armor also doubles as both chassis, and skidplate. 
Extend the merits of that skateboard powertrain/chassis to off-roading. Rivian claims the R1T will have up to 14.2 inches of ground clearance. Keeping the center of gravity below the floor will help keep it stable and safe over really challenging obstacles. Like other electric vehicles, those batteries are sealed, so they can go underwater. Rivian therefor is able to claim an impressive 3.2 foot maximum wading depth.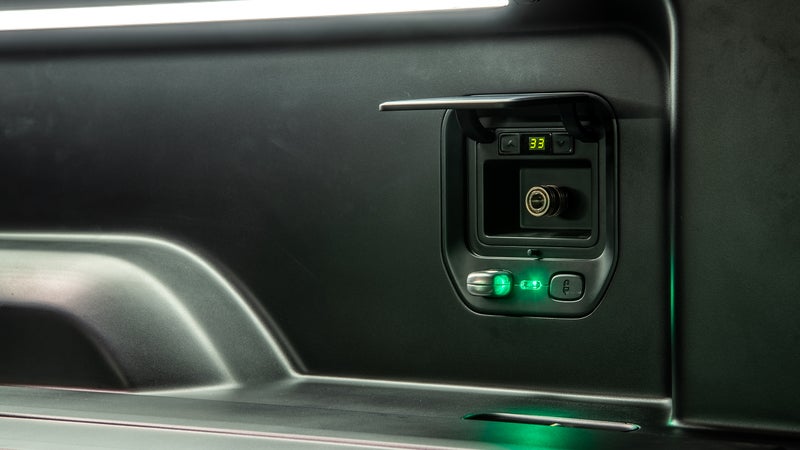 Powering each wheel through its own electric motor, the Rivians will also forego traditional four-wheel drive. This is actually the most promising thing about them, so hear me out. On an internal combustion engine truck, 4WD locks the speed of the front and rear driveshafts together. Without driveshafts or even axle differentials, a four-motor electric like this one can choose to replicate the function of locking differentials, or even go further, and actively portion power to the wheels with the most traction. This could massively boost such a vehicle's ability to make the most of low-traction situations, and elevate the performance of such a vehicle to a whole new level.
Will the Rivian be the first vehicle to do that? No mention is made of how the vehicles plan to handle traction off-road. That's disappointing, because it can and should be the major selling point of any electric vehicle with even the faintest off-road ambitions. It's much more important than gear storage, wading depth, or even outright performance. It's concerning that the features Rivian is putting its messaging emphasis behind are reminiscent of the stuff you'll find on concept cars that never end up seeing the light of day. 
An automaker with considerably more experience with electric motors understands this. Toyota went through the effort of installing such an independent motor torque vectoring system in its new Prius and is able to communicate that fact to buyers. Why isn't Rivian doing the same?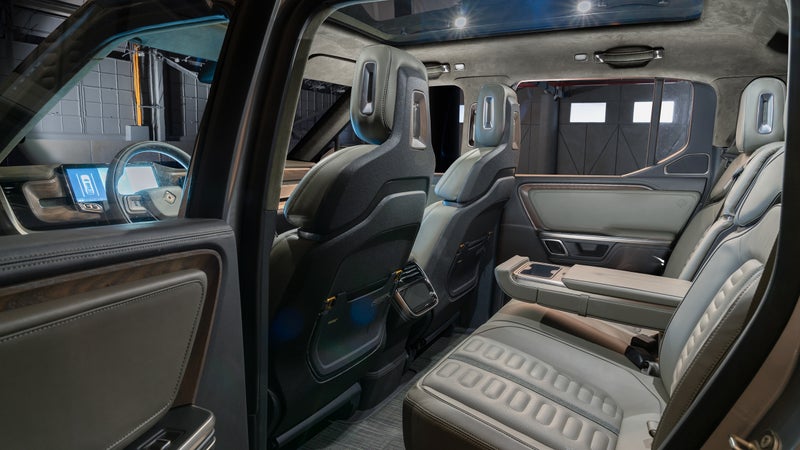 In Reality, Innovation Is Hard
I sound like a real Debbie Downer, huh? I hate that I have to, because, like you, I'd really like to drive an electric truck. I'd especially like to drive one that's made in America, is face-melting fast, can store my skis in a neat tunnel, and which takes full advantage of all the benefits of an electric powertrain to offer unprecedented off-road performance. But Rivian is not currently offering that vehicle: it's offering images of two concept cars no one has driven and a list of vague promises about their performance and the company's ability to execute on said promises. 
The wider picture of what's going on behind this is that battery electric vehicles accounted for just 0.6 percent of U.S. car sales last year, but that number is predicted to grow to 20 percent by 2030. China, with its government-dictated push for electric vehicles, offers an even greater opportunity. There are a couple of major business opportunities as the biggest change the car industry has ever seen occurs. Companies invested in providing batteries and their materials want to push the expansion of EV sales as hard as possible (hence the Sumitomo investment), and when the major automakers are finally forced to stop relying totally on profits generated by gas guzzlers, they're going to go shopping for intellectual property and expertise around EVs. That's going to create a seller's market for startups which generate a lot of both. Helping those startups along is an awful lot of good will from a public hoping for a brighter future and financial handouts from governments trying to bring investment in that future to their states and countries. Oh, and I forgot to mention a booming defense industry that's worried about unstable oil supplies and that is forced by law to buy American. 
It looks like Rivian has the pieces in place to find success in that environment. It's just not clear if that success will actually involve putting the R1T or R1S you see here in your driveway. 
Trending on Outside Online