The GMC Hummer EV Has Horsepower—and the Power to Impact Climate Change
We took the world's first electric super truck off-roading to find out what it could do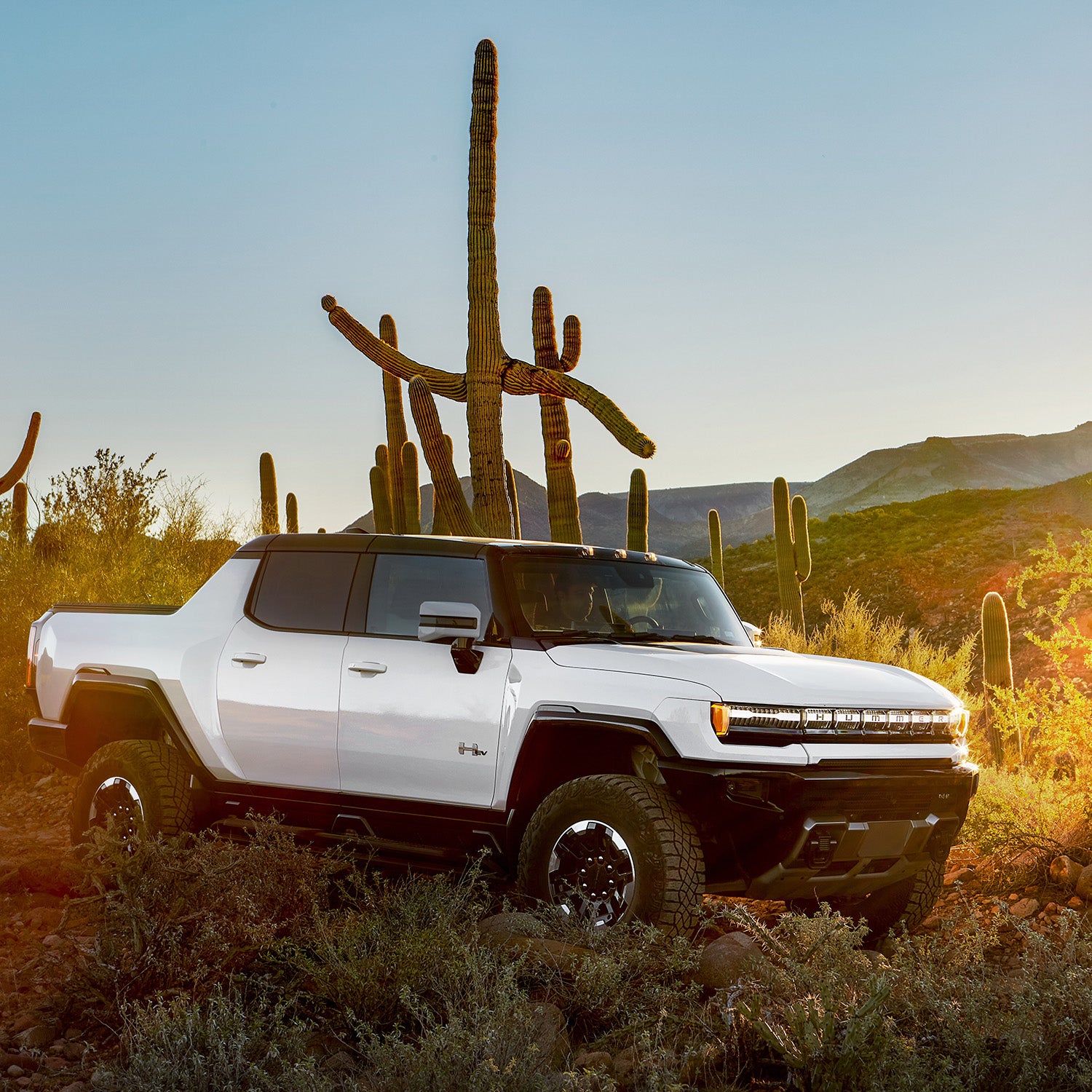 Heading out the door? Read this article on the new Outside+ app available now on iOS devices for members! Download the app.
1,000 horsepower. 1,200 pound-feet of torque. 9,063 pounds. $112,595. Those are some big numbers. But there's one other big number that really helps put the new GMC Hummer EV in context: 66,000. That's how many people have already ordered one. Last week, I took the all-electric Hummer off-roading in the Arizona desert to see how all those numbers add up. 
What Is It?
Bring the Hummer EV to a complete stop, click the traction control button on the dash twice, push the brake pedal to the floor, followed by the throttle, and the vehicle enters something GMC is calling Watts to Freedom mode (charmingly abbreviated WTF). Wait a couple of seconds for a light on the dash to turn green—in that time, the suspension drops two inches, the dampers stiffen, and additional cooling is applied to the motors, allowing them to safely run more electrical current—then release the brake, and the vehicle will accelerate to 60 miles per hour in three seconds flat. 
That's fast. As fast as a Porsche 911 GT3 RS, which weighs just 3,153 pounds. Faster than a 700 horsepower, 6,439 pound Ram 1500 TRX. 
Scarcely believable acceleration times have become something of a calling card for electric vehicles of late. The most obvious example, of course, is the Tesla Model S Plaid, which can hit 60 MPH in only 1.98 seconds, making it the fastest accelerating production car ever. But, that Tesla can only achieve that number when fitted with some of the stickiest sportscar tires ever made, and even then only under very specific, very controlled conditions that require a special traction-increasing resin first be applied to a drag strip—an environment where the vehicle isn't actually allowed to operate, since it lacks the safety features required to go drag racing. 
The Hummer, in contrast, performs its feat on mud terrains—35-inch, E-rated Goodyear Wrangler Territories, to be exact, here shorn of the "Wrangler" to avoid any inadvertent advertising for Jeep—and can achieve its full acceleration potential in any old parking lot. 
It's those tires that give us the most insight into what separates the Hummer from other electric vehicles. If you've ever driven on oversized mud terrains, you'll know them to completely spoil a vehicle's road manners. Optimized for off-road traction and puncture resistance, they limit performance and fuel economy, and struggle to provide grip on pavement. Perhaps most importantly, they compromise braking distance. Which is why you'll find them on so few new vehicles, even ones commonly lauded for their off-road potential. 
From 60 MPH, the Hummer EV's braking distance on those mud terrains is 137 feet, according to MotorTrend. That same magazine tested the 5,947 pound Ford F-150 Raptor's braking distance at 140 feet. The Raptor is fitted with lighter, 35-inch all-terrain tires, that provide more grip on pavement.
The Hummer achieves that braking distance on those mud terrains not only thanks to the massive 14-inch brake discs on all four wheels, but also active dampers, that maintain optimal weight distribution, even as heavy braking transfers forces to the front tires. A sophisticated stability control system also helps by working to keep the massive vehicle from losing control at it experiences such extreme forces. 
And discussion of the Hummer's ridiculous performance can't stop there, because unlike any other shockingly fast electric vehicles, GMC's engineers have actually found a practical application for its max power mode. The extra power provided by WTF, and the extra cooling necessary to manage it, are also automatically applied in off-road driving, any time the vehicle needs to summit a very steep obstacle. Pull the Hummer EV up to a tall vertical step, apply the throttle, and you'll feel a short pause as the motors ready themselves to apply max power, and then the truck will just drive up that step without drama. Hit the button to enable the virtual rear locker—which tells the motors driving each of the rear wheels individually to match their speeds—and you won't even experience wheel spin. The Hummer EV can climb vertical obstacles up to two feet high as a result. 
That the Hummer EV is arguably the fastest accelerating production pickup truck ever—the Rivian R1T claims a similar time, albeit on highway tires—isn't the impressive thing here. It's the level of cohesiveness achieved across all the components that combine to facilitate that performance that's mind blowing. This isn't just a 1,000 horsepower electric truck that's capable of accelerating from 0-60 in three seconds on 35-inch mud terrains. It's one that takes the wild nature of all the parts necessary to achieve that, then completely tames them with a level of integration that's only possible from a massive automaker with a long history of worrying about things like warranty claims, class action lawsuits, profit and loss tables, and shareholder value. That's to say: the Hummer EV makes accelerating from 0-60 in three seconds flat on mud terrains feel almost ordinary.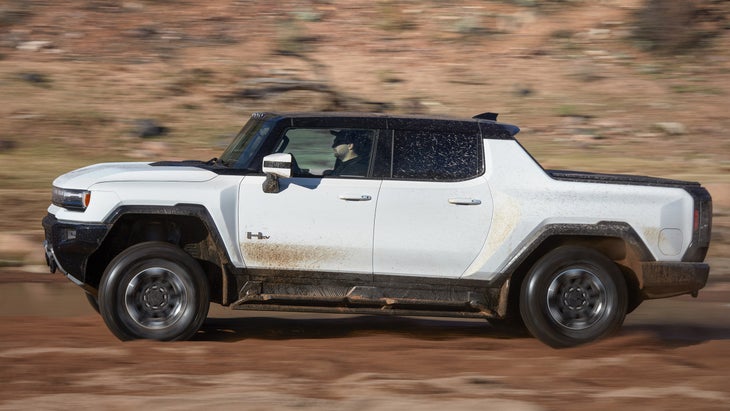 Who's It For?
GMC is clear about its goal for the Hummer EV: It wants to convince the kind of people who drive big pickup trucks that electric vehicles are awesome. 
The Hummer EV does not attempt to be the most efficient vehicle possible. On-road, I saw about 1.5 miles per kiloWatt hour. Given the 205 kWh of usable energy in the battery pack, that equates to a real world range in mixed highway and city driving of about 308 miles. Official EPA range—most useful as a point of comparison for shoppers—is 329 miles. That's around one-third the efficiency of a latest, greatest electric sedan like the Lucid Air. 
Off-road, I saw efficiency plummet as far as .4 miles/kWH, which works out to 82 miles of maximum range, from completely full, to dead in the water. I should note, though, that was with the roof panels removed, and the air conditioning blasting on full power in 80-degree temperatures. 
But the Hummer EV's potential lies not in competing with other EVs—it's in converting drivers away from heavily polluting internal combustion engine pickups. Even given the relatively massive carbon footprint that goes into producing a vehicle like this Hummer, and America's still-fossil fuel leaning power grid, a study commissioned by Ford found that EV trucks have about 64 percent lower total lifetime emissions than their ICE equivalents. 
The Hummer EV may not save the planet on its own, but by converting drivers of the most polluting, most popular vehicles out there into something 64 percent less harmful, it actually stands to put a larger dent in total greenhouse gas emissions than many more efficient vehicles.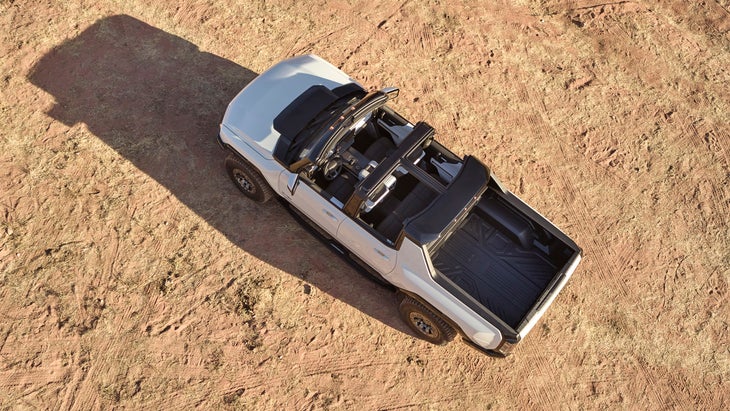 Design
The Hummer EV is heavier than most heavy duty pickups, and at 86.6 inches, as wide as a Ford F-150 Raptor. But its form factor is more plaything than work truck. 
Reminiscent of a side-by-side ATV, the independent suspension sits right at the extreme ends of the body, maximizing approach and departure angles. That suspension facilitates 13 inches of wheel travel for all four wheels, using control arms bolted much further inboard than is possible with ICE power trains. Those long control arms are similar to aftermarket long travel suspension systems, and like those, work to minimize CV angles even at the extreme limits of that articulation. The rest of the underbody is completely flat, and clad in armor that should make it virtually impervious to off-road damage. 
The Hummer's five-foot bed feels positively minuscule in the context of the rest of the vehicle's proportions. Fitting any sort of topper or camper is going to be difficult, given the raked angle of the c-pillar, and the wing extending from the rear of the cab's roof. Its dimensions shrink even further if you want to carry a spare tire. The Hummer's underfloor battery, and axle-mounted motors preclude space for that spare underneath the vehicle, and the pickup bed's tailgate means there's no room for one on the rear. So, available in the accessory catalog is an in-bed mount for two full-size spares. Those eat up most of the bed's width, and over half its length, while obscuring what little vision was possible through the rearview mirror. 
Up front, the Hummer includes a generous front-trunk. But, if you want to remove the glass roof panels, you'll need to reserve its space for those. The Hummer includes styrofoam cases custom molded to match each panel, as well as tie-down straps to secure the whole stack. 
But if you think more play than practicality, the design begins to make sense. The windows retract entirely into the doors and the rear window retracts into the body, maximizing the open air experience. The interior is less lux than it is practical. Hard wearing materials shed grime, and can be wiped clean, even if a lot of them aren't soft to the touch. Generous grab rails extend everywhere, providing passengers plenty of places to hold onto for dear life. 
The entire thing is more four-seat, road-legal dirt bike, than it is luxury SUV or practical pickup.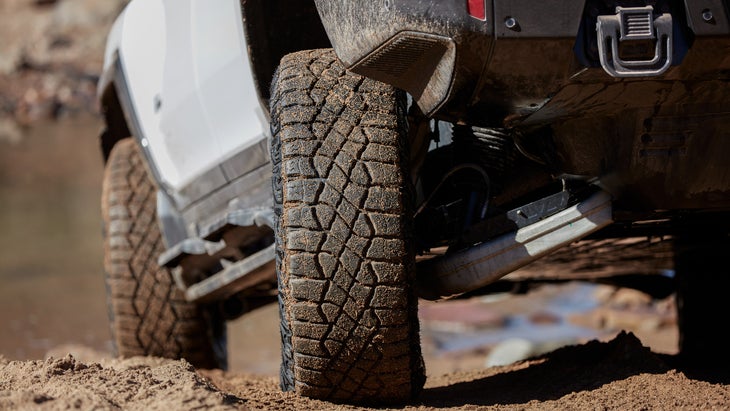 Using It
My two biggest concerns coming into this drive were off-road traction, and ride quality.
I'm a traction nerd, so bear with me for a minute. Off-road, traction is not defined by power apportionment or torque vectoring. It's defined by wheel speed matching. And, the achilles heel of multi-motor EV setups is that they don't feature a mechanical connection between all the wheels, so they rely on software to try and replicate that mechanical connection. That's harder than it sounds, given that forces acting on a vehicle's tires come not just from the motors, but also external variables—the stuff you're driving over. 
The Hummer EV employs two motors on the rear axle—one driving each wheel—and one motor on the front. All three motors are identical. Software determines the speeds at which each axle is driven, based on conditions. On-road, the axles spin at different speeds using programming designed to maximize acceleration. Off-road, programming nominally matches speeds, but in soft terrain like sand, it's designed to spin the rear axle faster, thus allowing the truck to perform like a dirt bike, riding on top rather than digging down into that soft surface. Then, there's driver selectable buttons for a virtual rear locker, and unlike any other EV, a traditional mechanical locker on the front. 
Climbing steep, loose surfaces, I found the virtual rear locker to be very effective, especially given that it activates instantaneously. It works without any of the detectable wheelspin, or unpredictable lateral movements I was fearing. Given that you only typically employ a front locker in the most difficult circumstances, it's still reassuring to see a mechanical component play that role on the Hummer. Push that button, and you get exactly the precise traction you're expecting. The system works. My nerdy skepticism is alleviated. 
The Hummer is fitted with air springs. The advantage of air suspension is that it allows a vehicle to alter its ride height. The disadvantages are usually ride quality and articulation. Because you inflate the spring to increase height, increasing the height of typical air suspension also stiffens the spring rate and uses up some of the travel, limiting its ability to absorb bumps, and flex downwards.
But unlike other air suspended vehicles, the Hummer doesn't approach its maximum height during the vast majority of off-road driving. Nominally operating off-road with 10.1 inches of ground clearance, the suspension can add another 1.8 inches of height if you need to summit challenging obstacles. On top of that, the vehicle will also offer a an additional four inches of height in what GMC is calling Extract Mode. Only available at very low speeds, Extract Mode is intended to lift the Hummer's belly free of an obstruction should you become bogged in sand, mud, or snow, and you'll also be able to use it to drive over a large boulder or similar. 
But the big advantage of Extract Mode comes when you're not using it. Because there's four to five inches of additional height—and all the air pressure and travel it takes to achieve that—going unused in the normal off-road modes, the Hummer's air springs remain compliant through normal off-road driving, and even in very technical terrain, and the wheel remains able to move downwards. Combined with the adaptive dampers that alter the amount of damping provided over different types of terrain and at different speeds, the Hummer's ride quality is extraordinarily good, and it manages to keep its wheels in contact with the ground, even through uneven obstacles.
I drove the vehicle as part of a media launch event in which GMC's handlers didn't allow us to air down the tires. On the big LT mud terrains, street pressures are 50 pounds per square inch. I'd typically run 18 PSI on dirt as doing so lengthens the tire's footprint to improve grip, and increases compliance over obstacles to improve puncture resistance. Lower pressures also ride considerably better over all the bumps and rocks you encounter off-road. But even at 50 PSI, the Hummer was smooth and compliant. That's really saying something.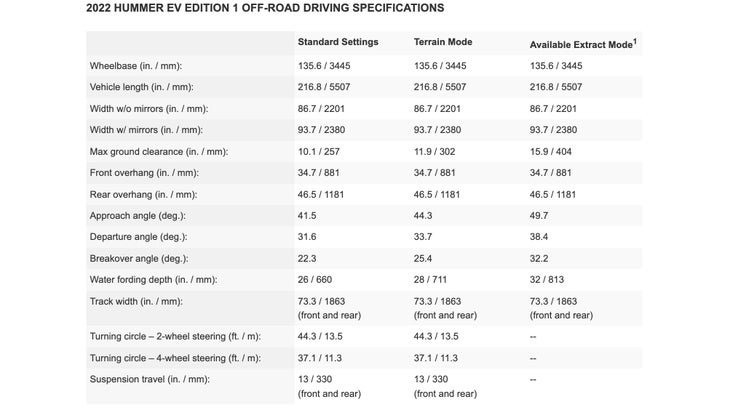 Likes
Rear wheel steering massively aids agility. Maneuvering this thing off-road feels like driving a four-door Jeep Wrangler, not an HD pickup, and U-turns are tighter than a compact car.
There's an extraordinary level of new technology, going beyond what can be described here. But the level of integration is just as impressive. You won't need to relearn how to drive in order to operate this thing, it's as simple and seamless to use as any other vehicle GMC makes.

 

Seriously smooth ride quality.
Supercar acceleration.
Extremely quiet at highway speeds, if you put the roof on.

 

Real off-road tires, standard.

 

16 external cameras add much confidence off-road, and while parking.
Virtually silent operation adds a new dimension to off-road adventures.

 

Batteries are future proof; dealers will be able to replace individual cells with fresh components as they age, and they can be upgraded as new technologies and chemistries become available, too.

 

Wheel travel and track width equivalent to those of a Ford Raptor indicate high-speed off-road handling should be excellent.
Feel through the steering wheel and pedals is very good, increasing confidence on-road and off.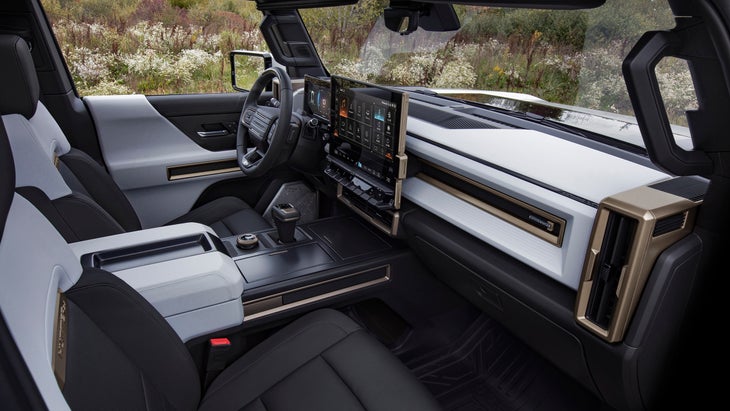 Dislikes
1,300 pound payload is barely enough to carry five American-sized adults, let alone any cargo.

 

Adding spare tires—and you need to add a spare tire—eats up most space available in the bed. Buyers may be better off purchasing a Rig'd Supply Ultraswing, which mounts the spare tire to the hitch receiver, rather than the two-tire, in-bed mount sold by GMC
Outwards visibility out of the slim windshield, over the tall front hood, and through the tiny door mirrors is poor. The cameras partially make up for this off-road, but placing the vehicle in heavy traffic can be challenging.

 

Range becomes massively limited during enthusiastic off-road driving.

 

Drivers should factor in the 10,550 pound gross vehicle weight rating (the weight of the vehicle plus its payload) when selecting recovery gear and planning recoveries. The Hummer EV exceeds the towing capacity of most SUVs and trucks—including the Hummer EV itself—so you'll need a friend with a heavy duty pickup and appropriately strong shackles, straps, and other equipment, if you ever need to get tugged out of an obstacle or towed home from a trail. The official accessory recovery kit does not meet the 3x safety factor that should be considered mandatory. I wouldn't want to employ any gear with a working load limit lower than 31,650 pounds.
The Edition 1 pictured here includes only a front sway bar. Other models will offer one on the rear. But, none of them disconnect, which leaves a considerable amount of off-road performance on the table.
The stock Goodyear's aren't Three Peak Mountain Snowflake-rated, and there are no real winter tires available with a 35-inch diameter for an 18-inch wheel. That's going to be a problem for Hummer EV customers who want to drive in snow. The best compromise is likely going to be a Toyo Open Country ATIII in 35×12.5-18, with an F load rating. That tire does carry a 3PMSF stamp, and performs well in most winter conditions this side of sheet ice.
Should You Buy One?
If you place an order now, your truck won't enter production until sometime in mid-2024. Those 66,000 orders are far more than GMC anticipated, and they're struggling to increase production capacity enough to meet demand.  
That's for all versions of the Hummer EV. In addition to the Edition 1 I drove and you see here, there will be other models starting at around $80,000, as well as a Hummer EV SUV, which features a shorter wheelbase, enclosed rear cargo area, and a standard spare tire mounted to the rear door. 
But those 66,000 orders indicate that GMC has already succeeded in its mission. Fewer than 12,000 original Hummer H1s were ever sold during its 15 year production run. The Hummer EV has only just gone on sale, and it's already convincing pickup buyers—tens of thousands of them—that electric vehicles are awesome. And that's because the Hummer EV really does prove that they are. 
Lead Photo: GMC