Indefinitely Wild
Hey Look, a Rooftop Tent That Won't Ruin Your Car
Go Fast Campers SuperLite 50 is the lightest, most-affordable hard-shell rooftop tent ever—and it's made in Montana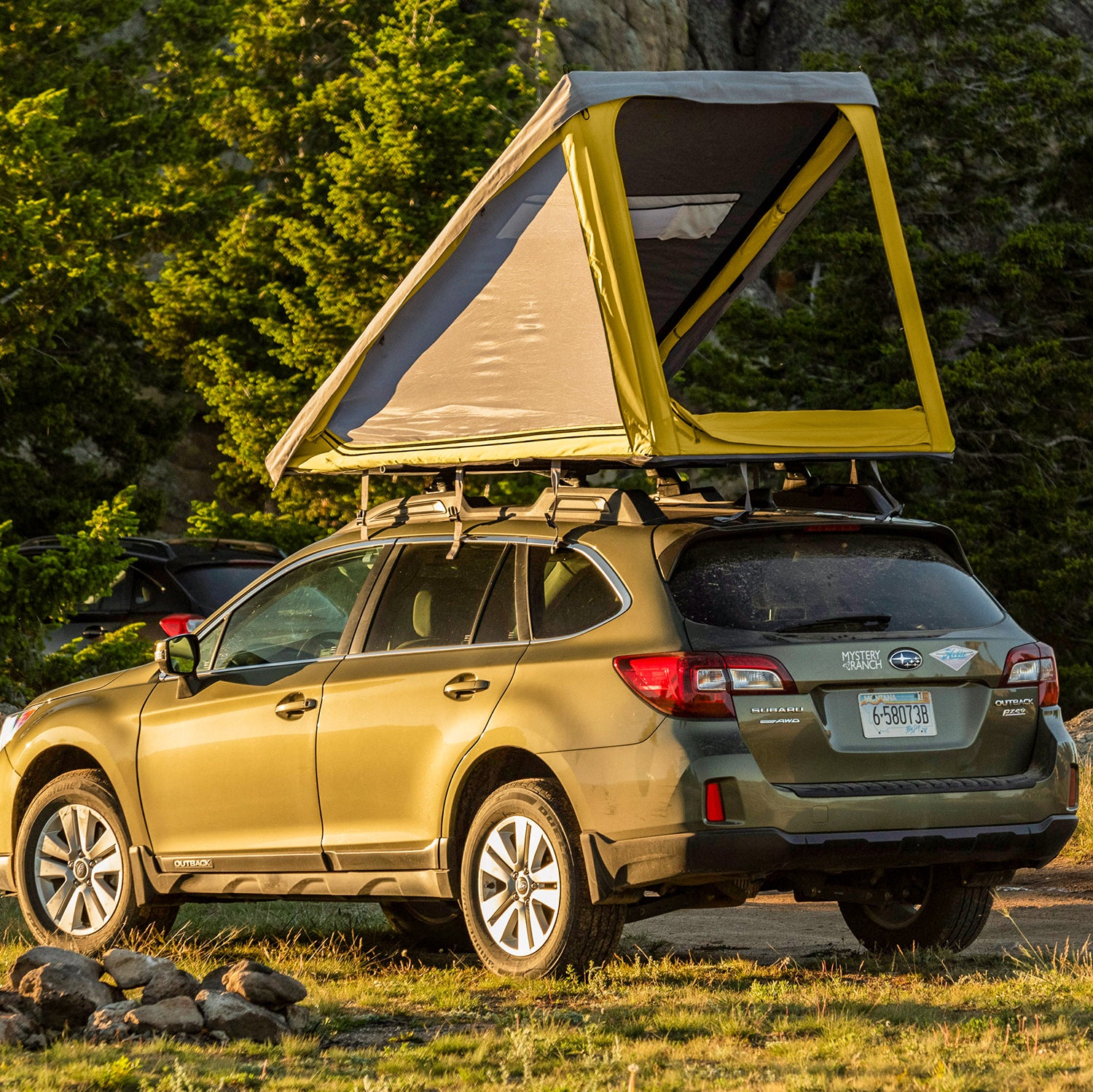 Stuart W. Palley(Photo)
Heading out the door? Read this article on the new Outside+ app available now on iOS devices for members! Download the app.
Everyone loves the idea of camping in a rooftop tent. But, there are two big reasons why they have always been a challenge: weight and size. And that's what makes the new Go Fast Campers SuperLite 50 so innovative. Weighing 80 pounds, with a packed height of just six inches, it'll be the only hard-shell rooftop tent that you can safely mount to off-roaders. And that's saying something, because at $1,199, the SuperLite will also be the most affordable hard-shell rooftop tent, too—and one of the only ones made in America.
The Trouble with Rooftop Tents
I have ranted about the extremely problematic nature of rooftop tents before. The short version: your roof is the worst possible place to add weight and height. Your vehicle is designed to carry weight inside its body or bed, not on its roof. Attaching heavy things to your car or truck so high up raises the center of gravity, compromising handling, performance, and outright safety. Vehicle roofs aren't designed to carry much weight, so bolting heavy stuff up there may also cause damage. And by increasing the overall height of your vehicle, you'll also reduce its fuel economy and increase wind noise.
All of those problems compound each other. The weight makes traditional rooftop tents very difficult to lift onto or off of your rig, and the size makes them difficult to store. You likely won't be able or willing to remove the tent when you're not using it, which means you'll be sacrificing fuel economy, noise, and driving dynamics every single day.
Does all that add up to a product you'd be willing to spend thousands of dollars on? Because these things are, traditionally, very expensive.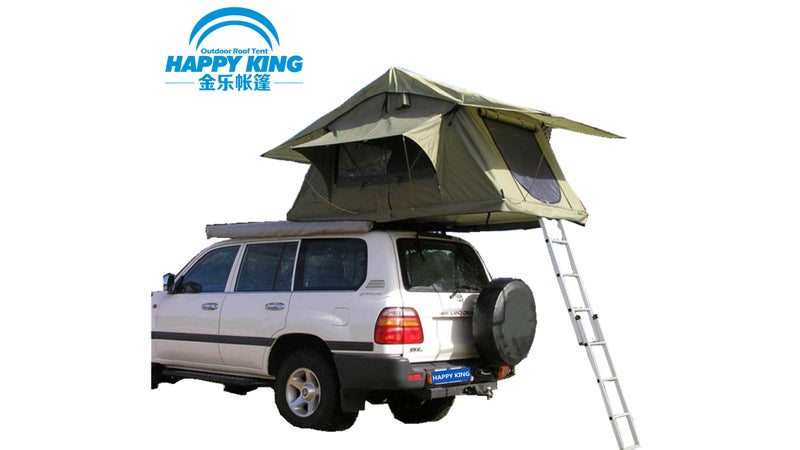 Why We Want Rooftop Tents
Despite my skepticism, I get the appeal, because I camp out of one too. The GFC Platform camper on my Ford Ranger doubles the secure storage space in the bed, while reducing the amount of stuff I have to carry back there, and creates a cohesive indoor-outdoor living area that makes camping out of the truck feel like staying in a cabana. It allows me to remove wet or muddy shoes and clothes in a weather-protected space before climbing into the sleeping area, makes setting up or taking down camp an under-five-minute affair, and allows me to do everything on surfaces that aren't conducive to ground tents (mud, rocks, pavement).
But, all that comes at a significant cost. The Platform retails for $6,500 before options and accessories, of which you'll require plenty. That cost, plus the need for a truck to mount it to, is justified in my life because I like camping so much that I've made a career out of it. Most people don't prioritize sleeping outside to such an extreme degree, so a widely appealing rooftop tent needs to be cheaper, lighter, less complicated, and easier to mount and use on more vehicles. Enter the SuperLite 50.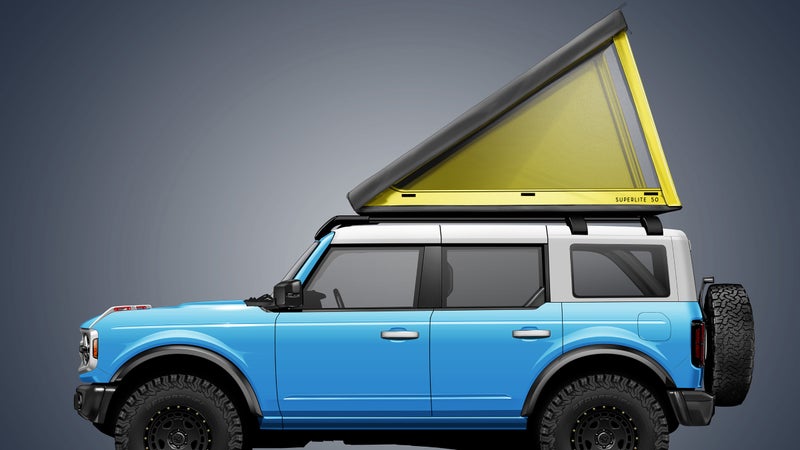 A Rooftop Tent for Everyone
The GFC team specifically developed the SuperLite to address the problems within the existing rooftop tent space. It offers everything that's good about rooftop tents, with virtually none of the bad.
The dynamic load rating for the roofs of most passenger cars and SUVs is around 150 pounds. It may be less on vehicles with complicated removable roofs, like the new Ford Bronco, which is rated to carry 100 pounds up top. The SuperLite 50 is the only hard-shell rooftop tent light enough to safely mount on a truck like that, and its 80-pound weight will also mean that one strong person, or two normal people, will be able to easily take it on or off. (A hard-shell tent is one that closes into a rigid, protective structure. Compared to bag tents, which fold into unsightly piles of canvas, hard shells tend to be thinner and more aerodynamic. They're slicker, more thoroughly-developed products that typically cost more money as a result.)
Not only is being able to take a rooftop tent off when you don't need it important for fuel economy and wind noise, but it makes it last longer, too. UV degradation will eventually bleach and wear out virtually any fabric or hard material used in tent construction. Being able to easily store the SuperLite in your garage when it's not in use is a major advantage. And thanks to its footprint, it shouldn't take up much more space than a card table, because the tent is just six inches thick when closed.
GFC is able to produce such a slim tent because it's come up with a new frameless hard-shell design that houses the plasticore roof and floor inside the tent body, reducing the number of parts used. The portions of fabric that house the roof and floor are a very strong 600-denier ripstop polyester, made from a fabric that's dyed before being woven for improved UV-resistance. The 300-denier tent body features a honeycomb ripstop pattern, and includes full-length doors on the sides and rear of the tent for panoramic views and maximized ventilation potential, complete with zip-open bug mesh. The tent's interior measures 50 inches across, 90 inches long, and is 40 inches tall.
The basic $1,199 model ships without a ladder or mattress. GFC assumes that some buyers will be experienced campers with established bedding preferences and equipment, so it doesn't want to sell you something you may not need. For an additional $279, GFC will include a very nice self-inflating mattress that's three inches thick, featuring a construction and level of comfort that reminds me of the Exped Megamat, the most comfortable camping mattress ever made. It includes fitted bedding, and the whole thing is sized specifically to the SuperLite 50. A ladder can be added for $100. Deliveries start in November; you can place a deposit right now.
I've been able to play around with, but not yet camp in, a SuperLite, and I have been extremely impressed with both the quality and overall execution of the tent. Simply being able to move it on and off the vehicle myself, not to mention store it flush with the wall of a garage, is a genuine innovation, while the fabrics and construction of the tent feel almost futuristic. Setting it up is as easy as lifting it open. Putting it away is as easy as closing it. Either action will take about as long to complete as it took to read this sentence.
Can such a lightweight tent hold up to extreme off-road abuse? GFC plans to find out. The company's founders—Wiley Davis (no relation to my dog) and Graeme MacPherson—plan to enter the NORRA Mexican 1000 in November and will be sleeping in the tent throughout the five-day race that runs the entire length of the Baja peninsula.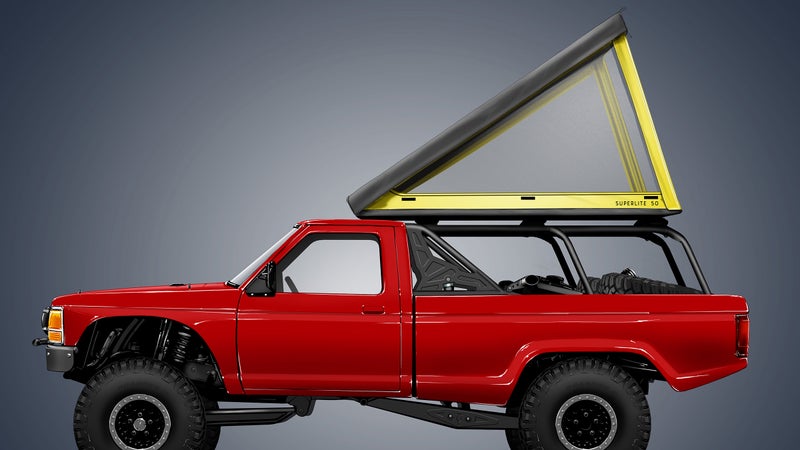 Corrections:
(05/05/2022) A previous version of this article stated incorrect specs on a Go Fast competitor. We regret this error.
Lead Photo: Stuart W. Palley