Indefinitely Wild
How to Build the Ultimate Overland Adventure Vehicle—For Less Than $10,000
Plus, it'll be more capable off-road than vehicles that cost 10 times as much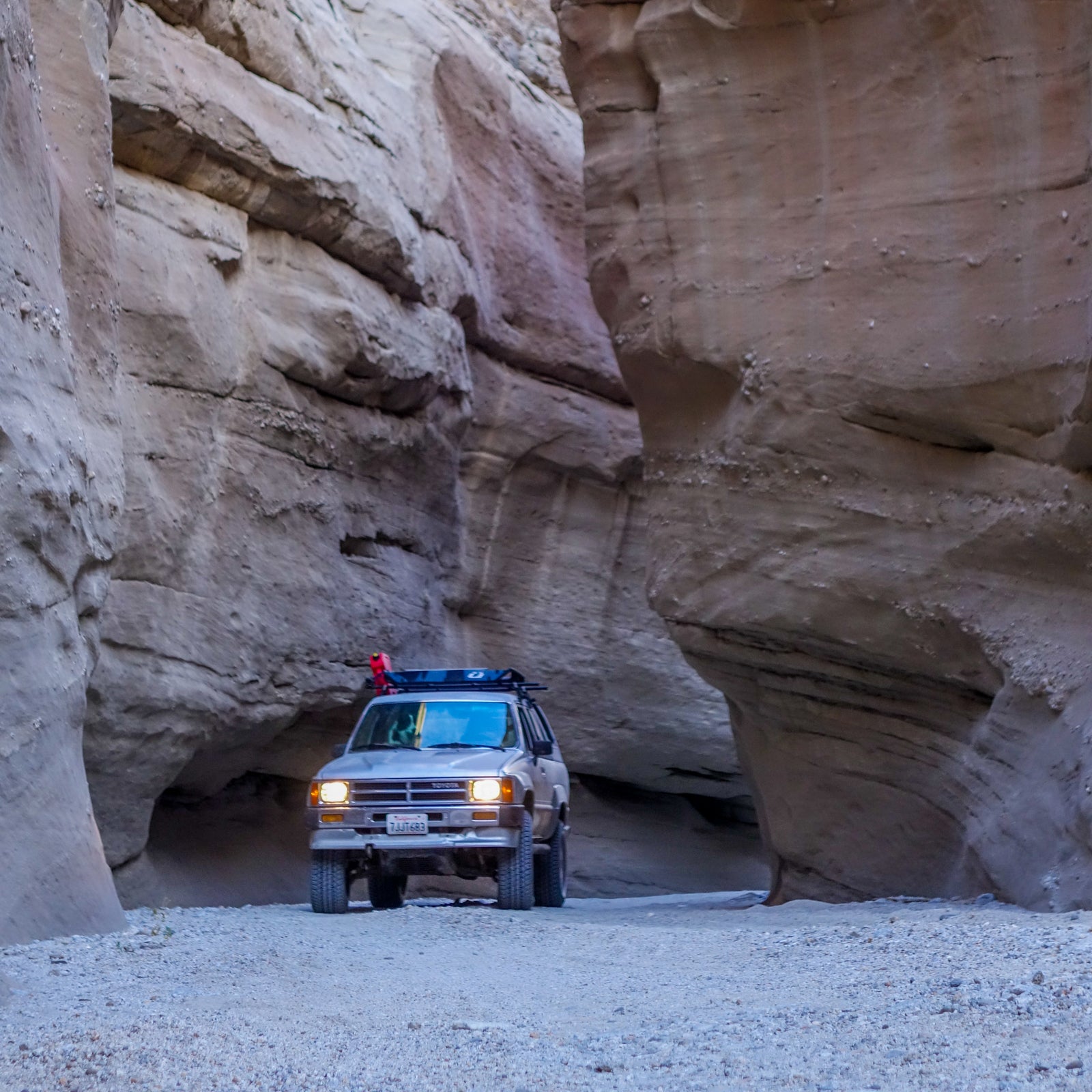 Heading out the door? Read this article on the new Outside+ app available now on iOS devices for members! Download the app.
Despite what glossy magazines (including us!) might say, you don't need to spend a fortune to go on amazing, long-distance off-road adventures. As proof, we built a vehicle that's as capable as anything out there and that's peerlessly reliable—for less than $10,000.
Overlanding is sort of like backpacking, but in a vehicle. You carry only what you need, and you need to know how to use all that equipment as you log big miles on backcountry roads. This puts some huge demands on your vehicle: You need a mix of capability, reliability, and usability.
First, we'll break down what makes a good overland vehicle. Then we'll show you how we built our own and put that vehicle to the test across Baja, Death Valley, and Tahoe, among other spots. Finally, we'll show you how to get into serious overland travel yourself—for very little money. 
---
What Makes a Good Overlander?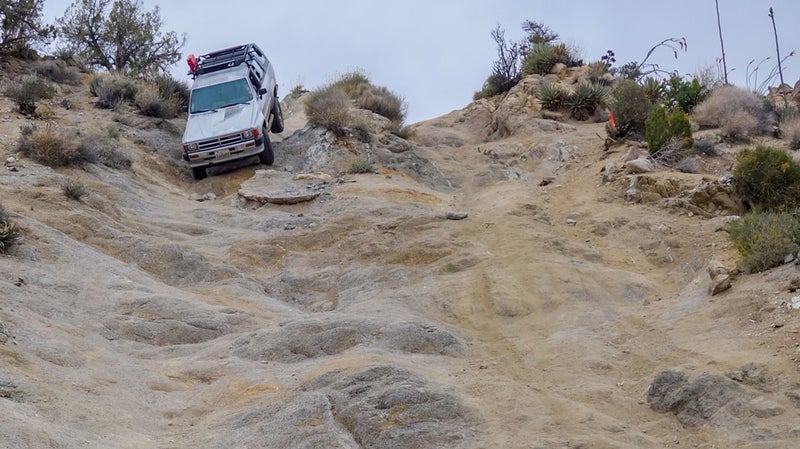 Cost
If you're like us, a normal person on a normal budget, then cost will likely be your biggest priority when shopping. There are two expenses to consider: cost of acquisition, and cost to maintain and repair. These are often bimodal—often the more expensive a vehicle is to purchase, the less expensive it will be to maintain and repair.
Engine
Durability, horsepower, fuel economy, and prevalence (in the area through which you plan to travel) should drive your decision. You'll want your engine to max out at least two of those factors. Engines like the 22RE found in our 1987 Toyota 4Runner can be found everywhere and almost never break down. They're also slow. Not everyone wants to go slow. 
Drivetrain 
Solid axles and manual transmissions are the default choice, but the stories of failure in independent front suspension (IFS) vehicles or automatic transmissions are overblown. When well maintained, they'll give you a much improved ride and an easier off-road drive. 
Open differentials are going to be a problem off-road. Find yourself on ice, snow, loose gravel, or with a wheel in the air, and you'll be using that shovel you carry in your trunk. At a minimum, you'll want a limited-slip differential (LSD) on the rear axle. If you can find—or afford—it, spring for a vehicle with electronic or air locking differentials. You'll want one on the rear first.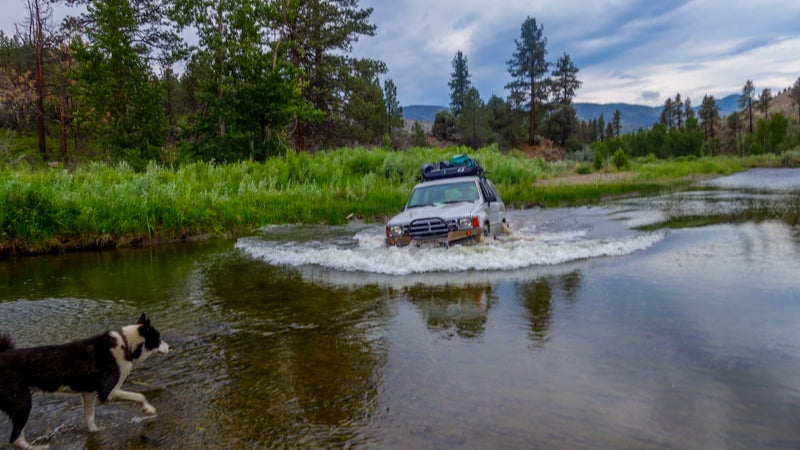 Suspension
Lifts are nice to have, but most of the vehicles considered for overland travel have adequate clearance for just about anything you'll encounter. But if you'll be schlepping heavy cargo, the stock suspensions likely won't be adequate. Prioritize the ability to handle this weight when upgrading your suspension—or don't overtax stock equipment. 
Aftermarket Support
This will dictate how easily and at what cost you can upgrade your vehicle. From lockers to lifts to bumpers to stereos, all this gear will be easier to acquire if the vehicle was or is popular in the United States. That's a good thing for both your vehicle's capability and your wallet. At the very least, you'll want a thriving owner's forum full of knowledgeable users. They'll save you money and headaches. 
Accessories
When traveling in the middle of nowhere, you'll need to carry water, shelter, and food. If you've ever car-camped, you'll know how to do this: you don't need to go fancier than a tent, a cooler, and a few bottles of water. You'll also need to carry extra fuel, a quality air compressor, a puncture repair kit, a full-sized spare, a quality jack, a shovel, and vehicle recovery gear. You need to be prepared to do basic repairs and have the ability to get your vehicle out of most sticky situations. 
Our Build and What You Need to Buy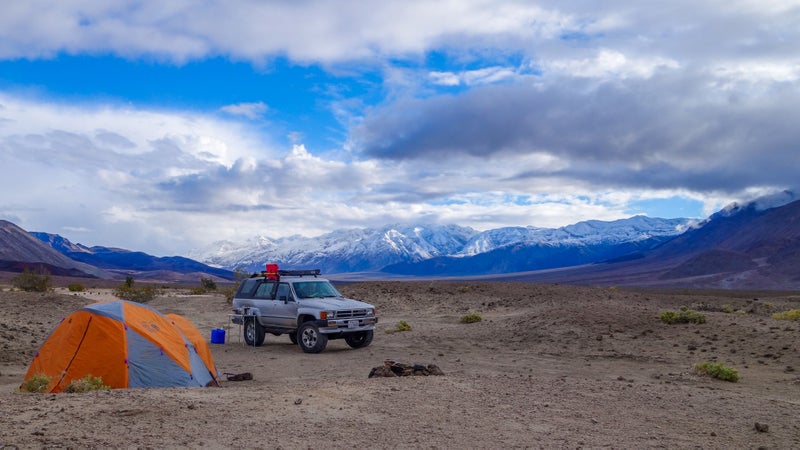 Vehicle
We started with a stock 1987 Toyota 4Runner with 167,000 miles on the odometer that we purchased for $3,200. If you want to do the same, the best advice we can offer is to look for one with a manual transmission, manual windows and locks, and a previous owner who took good care of it. Why? The automatics in these trucks don't work well. They are heavy, inefficient, unreliable, and remove control in technical off-road terrain. Also remember that this is a 30-year-old vehicle: electric motors, switches, and wires don't last forever. 
While Toyota 4Runners and pickups from this era are some of the most reliable trucks ever made, proper maintenance of the factory equipment throughout the vehicle's life is still important. At the very least, try to find one that hasn't been abused. 
The holy grail is the 1985 model year. It has both a solid front axle and fuel injection. It offers the additional off-road performance of the earlier trucks combined with the low-hassle nature of fuel injection.
Below, we detail the modifications we made to our truck. This general approach will apply to any vehicle you might want to outfit. 
Wheels
Sixteen-inch wheels from a 2008 Tacoma, which cost $200 on Craigslist. This size gives you a more modern tire choice than the 15-inch wheels that came stock. Research your bolt pattern and offset, and either find wheels with the correct dimensions or plan on finding an adapter kit. If you're lucky, you might even find a set of wheels with nearly new OE all-terrain tires still on them. 
Tires
Cooper Discoverer STT Pro (265/75-16), which cost $1,100 for five. Once you're moving, tires are the most important component of any vehicle. They're the only part that touches the road, so everything else—brakes, suspension, motor—can only ever be as good as your tires. After 15,000 miles on these, we're confident saying they're worth the investment. They're the best all-round expedition and daily driver tires you can put on a truck. Off-road, in loose terrain (mud, snow, sand), they're absolutely unstoppable, but they also ride well and are silent on the road. No other tire we know of does both so well. Going this large meant we needed to add tension to the torsion bars and fit 1.5-inch wheel spacers ($94), but the result is a wider, stabler ride.  
Suspension
I added new leaf springs and nitrogen shocks from Old Man Emu to support the additional weight of cargo and improve handling and ride. That upgrade cost $400, plus a few hours in the driveway. We opted for heavy-duty springs to compensate for the weight of heavy-duty bumpers, fuel, the hi-lift, and other odds and ends. Toyota 4Runners are notorious for saggy rear ends: The rear springs are the same as the pickup but have to support the fiberglass top and heavier, glassed tailgate.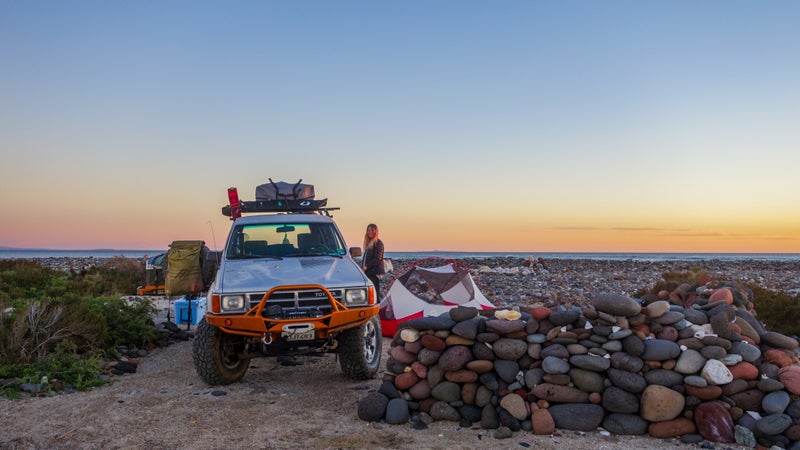 Differentials and Gearing
The 22RE is bulletproof but notoriously underpowered. With tires a full four inches bigger than factory spec and an additional 500 pounds of weight, stock gearing wasn't an option. We took the opportunity to install a new differential—a Detroit TrueTrac—and opted for the more affordable limited slip rather than an ARB air locker. An LSD sends power to the wheel with traction, working automatically to help you drive out of obstacles. It's not quite as capable as the locking alternative, but it is easier to use and cheaper. This cost a total of $1,900 with labor, because we had a pro do it, but do your own wrenching and you'll save a grand. 
Bumpers
People love custom steel bumpers because they look cool. If you're on a budget, do the rear first. You'll need it to haul your extra fuel, full-size spare, and hi-lift jack. You also get a solid recovery point. Our rear bumper was spendy: $1,300 for fab, shipping, and some frame reinforcements that were necessary when it showed up with the wrong spacing. If you have the budget for a front bumper and want a great experience and product, order from Addicted Offroad in Fort Collins, Colorado. Ours cost $700 shipped, complete with winch mount.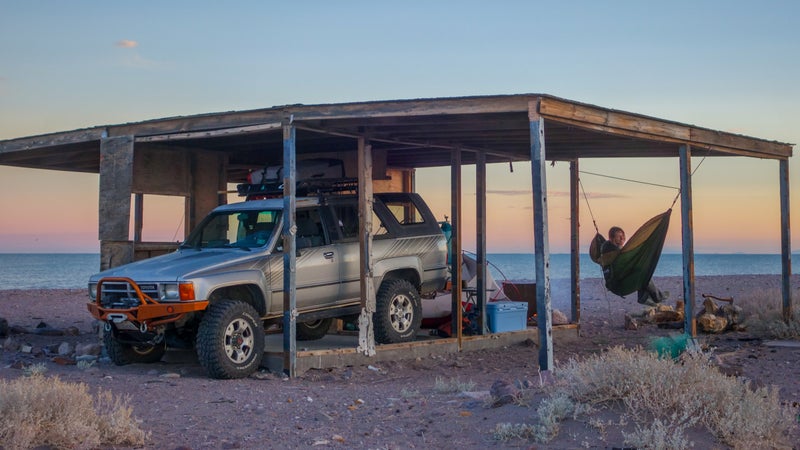 Winch
Spending $400 gets you enough winching power to hang your vehicle vertically. We purchased this Smittybilt X20 on Amazon, complete with a 10,000-pound capacity and a safer, stretch-free synthetic cable. 
Maintenance
We went ahead and replaced the radiator, water pump, alternator, belts, and battery—$500 is worth it for peace of mind. 
Other Essential Accessories
What's the grand total for a vehicle that has safely and reliably carried us through Baja, Death Valley, the Mojave Desert, Anza Borrego, Tahoe, and Colorado's San Juan Mountains and will get us to Patagonia later this year and all the highways in between? $9,984. You don't need a brand new SUV to do this stuff.