How can I haul a tandem on my Porsche?
What roof rack do you recommend for a Porsche Cayenne if I buy a Trek tandem? Are there any rear-mounted racks for tandems? Rich San Diego, California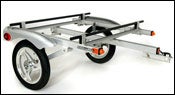 Heading out the door? Read this article on the new Outside+ app available now on iOS devices for members! Download the app.
Indeed, stick a tandem in a conventional rear rack and both ends of the bike are going to end up chasing cars. Not good in traffic, or when parking.

Gear Trailer

But I do see the back-story to your question: A tandem can be a heavy piece of equipment, and hoisting one to the top of a fairly tall car such as a Cayenne can be a challenge.
Good news is, you're not out of luck, Rich. A small California outfit called Badger Bike Racks sculpts a hauler specifically for those long tandems, the Tandem Bike Carrier (prices from $265; www.badgerrack.com). This aligns the bike vertically rather than horizontally, so the only hazard you'll need watch for are low-hanging bridges and trees!
You have two other choices, too. One is to get a top-mount rack specifically designed to handle tandems. Yakima, for instance, makes one called the Sidewinder Tandem Mount ($325; www.yakima.com). It has a pivoting front arm, and works this way: With the front wheel off the tandem, you lift up the front end and attach the front drop-outs to the Sidewinder's pivoting mount. Then with that secured, you lift up the rear of the bike, swing it over the car, and drop the bottom tube onto a tray-like device. The bike is then strapped down and you're good to go.
Thule makes a very similar product called the Tandem Carrier ($375; www.thuleracks.com), which also pivots out to help you position the bike. For both these products you may also need to drop around $200 on a series of hitch towers to equip the roof of your ride, so cost will come in around $550 for the whole shebang.
The alternative is to haul a lightweight trailer behind the Cayenne, attaching bicycles to that. And it so happens that I, your ever-observant gear sleuth, saw such a thing at the Outdoor Retailer trade show a few weeks back. It's called the RackandRoll Personal Gear Trailer (www.rackandroll.com). And while it costs a somewhat steep $2,000, it's truly a gear trailer for all seasons. Bikes, kayaks, gear boxes—it'll haul just about anything, plus takes a wide range of attachments. The beauty is that everything is at waist height or lower—no hoisting things up onto a car roof. And the load is also more aero because it's in the car's slipstream. Sure, this thing's pricey, but then you're driving a Porsche so maybe you've some dough burning a hole in your pocket.
For more expert reviews of the gear world's latest must-haves, check out Outside's 2005 Buyer's Guide
.