Indefinitely Wild
How to Survive a Road Trip with Too Many Dogs
Expert advice on keeping your pup calm, safe, and happy in the car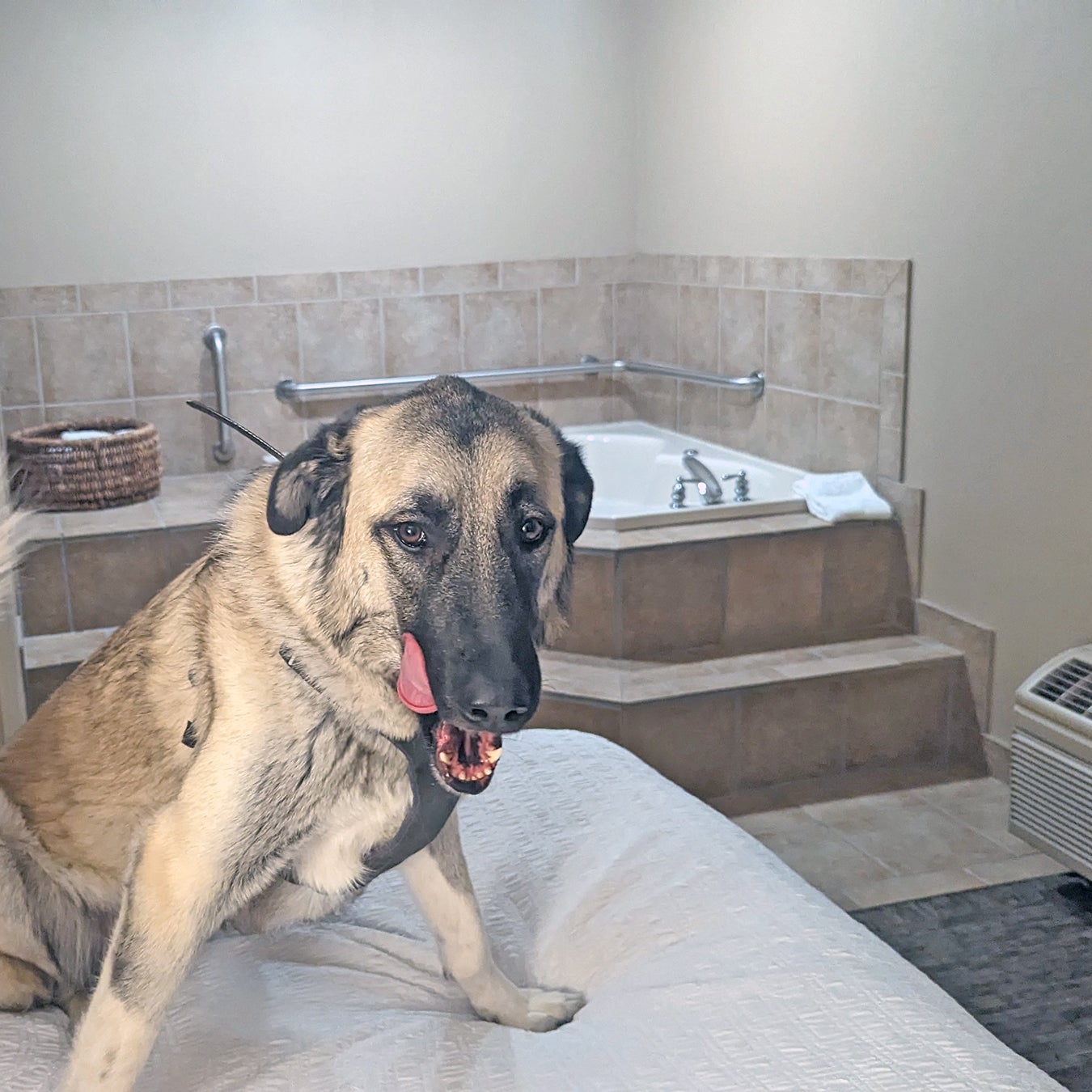 Wes Siler
Heading out the door? Read this article on the new Outside+ app available now on iOS devices for members! Download the app.
It all started when a pet sitter canceled on us last minute. No kennels or friends were available on short notice, and my wife and I had a family commitment in Cincinnati, Ohio, 1,600 miles away from our home in Bozeman, Montana, that we couldn't miss. So we threw all three of our big, rambunctious dogs into the back of the Land Cruiser and hit the road. Seven days, five hotels, and three blizzards later we made it home exhausted and sick, but in one piece. Here are the tools and approaches that made it possible.
Safety First
I tried to beat the ice storm out of town on the first day. But by the time I got all the dogs, luggage, and 28 pounds of raw chicken loaded up, we just ended up driving in it all day, racing east with the storm. The next day, another storm dumped freezing rain on South Dakota overnight before turning to heavy snow and high winds. On the last day heading home, a hail storm turned into a total whiteout blizzard for about 200 miles.
Making progress was possible not because we were in our modified, ultra-capable Toyota Land Cruiser, but because of our tires. The secret to driving safely across a diverse array of winter conditions—from dry pavement, to deep snow, to sheet ice—is simply winter tires. Drivers failing to run them struggled to maintain even low speeds safely, and we saw dozens of cars and trucks end up on roadside ditches.
Had we been in a crash, the dogs could have turned into lethal projectiles flying into the back of our seats with thousands of pounds of force. To prevent that and also keep them from causing a ruckus, I installed a steel dog barrier that bolts to our truck's frame over a set of practical storage drawers. There's plenty of room for the pups and to organize essential tools like our recovery gear, tire chains, and tire repair equipment.
While riding in the car, I also keep my dogs leashed up using my custom braided climbing rope leashes, Ruffwear Front Range harnesses, and real climbing carabiners. I can easily control them from the second the rear ljftgate opens, there's no risk from pulling on their necks as they leap into and out of the car, and I can quickly secure them to the vehicle, my belt, or basically anywhere. That level of control is essential any time you're around traffic.
Another Type of Accident
Riding in the back of a car for 12 hours or more per day, with only brief on-leash bathroom breaks every few hours, is tough on dogs. Especially ones used to running long distances off-leash. So it wasn't surprising, when on the first night at a Hampton Inn off some highway exit Teddy, our Anatolian Shepherd, peed on the carpet a few times.
I've always had success using Nature's Miracle to eliminate urine odors, but before this trip, all the pet supply had was an all-natural alternative called Skout's Honor. And while that's packaged in a cheap, leaky bottle that spilled all over our tote bag full of dog essentials, it actually seems to work better. It needed no time to totally get rid of the smell, and left behind zero staining. No extra charges on our credit cards on this trip.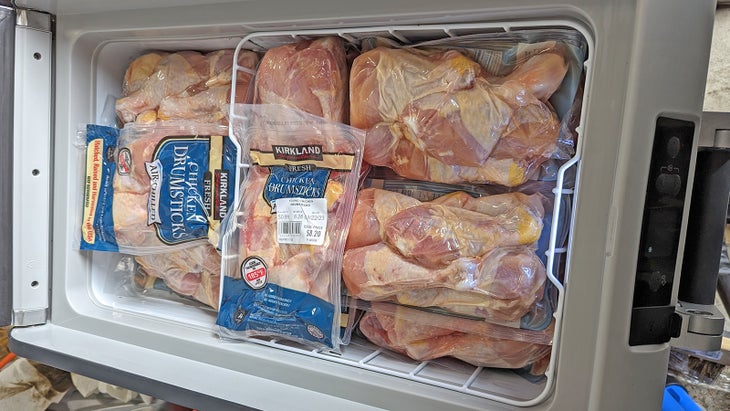 Healthy Food
I feed my dogs a healthy diet of human-quality raw food. But together the dogs eat four-pounds of chicken drumsticks a day, plus other ingredients. And transporting 28 pounds of raw chicken cross-country—safely—is no easy task.
Even if we started with a pre-chilled cooler full of deep frozen meat, it'd start thawing the second we loaded it up. The chicken would be difficult to defrost on the first night, then slowly turn into thawing, wet mess across subsequent days. So instead we use a portable fridge-freezer.
Plugged into a Jackery Explorer 2000 charging off the vehicle's auxiliary power outlet, our 35-liter Dometic CFX3 was able to retain a perfect 30-degree temperature for the entirety of the trip. All I had to do was strap both devices down in the flat cargo area created by folding the Land Cruiser's seats forward. It's safe and convenient. Every day, I just threw the chicken into the dog bowls and let them chow down.
Unfortunately, with no camp kitchen along this time, finding human quality food for us humans wasn't quite as easy. After a solid week of consuming junk, fried meat, and whatever passes for meals along major interstates, we were both beset by upset tummies and hunger pains. Passing through Peoria, and scrolling through restaurant options on our phone, we found a Korean barbecue joint tucked away in a random strip mall. It has rarely felt that good to cook up meat and veggies ourselves, just to our liking.
Dog-Friendly Hotels
Finding hotels that will allow dogs is actually pretty easy. Finding ones that will happily open their doors to 300 pounds of large, scary-looking ones is not. My wife and I rely on two solutions: we either find a Kimpton, or a chain hotel with external rooms or side entrances.
I once emailed Kimpton—an independent national chain of luxury hotels—a thank you for accommodating us. In response, a representative wrote to me that their pet policy is, "If they fit through the door, they're welcome." Nowhere have we encountered staff as happy to see the dogs, or as understanding of our unique needs. We try and stay at one of the company's hotels any time one is available, and on this trip even added a couple of hours to the drive in order to stay in one in downtown Chicago. It was worth it.
Elsewhere, even if a hotel says it allows dogs, attitudes vary widely. We leave the dogs in the car when we check in, try to win over the staff, and ensure the dogs remain on short leashes in hallways and stay quiet in the rooms. If you also travel with dogs who have guarding instincts, then chains like Hampton Inn and Embassy Suites, which provide multi-room accommodations where the bedroom is typically separated from the noisy hallway by a living room, might help deliver some peace and quiet.
But even that's not always enough for Teddy, our Anatolian. Her breed is famous for its strong guarding instinct and fierce barking. To keep a lid on that when it's really necessary, we use a Garmin Sport Plus training collar. The thing is so effective that, even when it ran out of charge halfway through the trip (we'd lost the charger), Teddy still understood that wearing it equals quiet time.
Once in hotels, with humans exhausted from driving all day, the dogs can still be full of energy. To help them get some of that out, without bouncing off the walls and disturbing other guests, I bring along food puzzle toys. West Paw is based in Bozeman, and its rubber Rumbl is quieter and bouncier than a normal Kong. Doggie Style gourmet treats are also made in Montana, using healthy ingredients that fit well with our dogs' raw diet. The pups love playing with that combo, allowing us humans time to wind down once we're in the hotel.
Dog Parks Are a Lifesaver
Most of our road trips are based around camping trips or other activities designed to make the dogs happy. But this time, there was no remote beach or mountain top at the end of the journey. To keep the dogs calm, we tried to look up an off-leash dog park on each day of the drive. Even giving them 15 or 20 minutes to run around off-leash, poop without parents watching, and make all the noise they wanted made a huge difference in how happy they were, and subsequently how well they behaved. So that time actually added to our ability to crush miles the rest of the day, relatively free of squeals and complaints.
Lead Photo: Wes Siler