Indefinitely Wild
The Hyundai Santa Cruz Is the Right Truck for Most Budget Shoppers
This crossover features clever packaging, self-leveling rear suspension, and standout design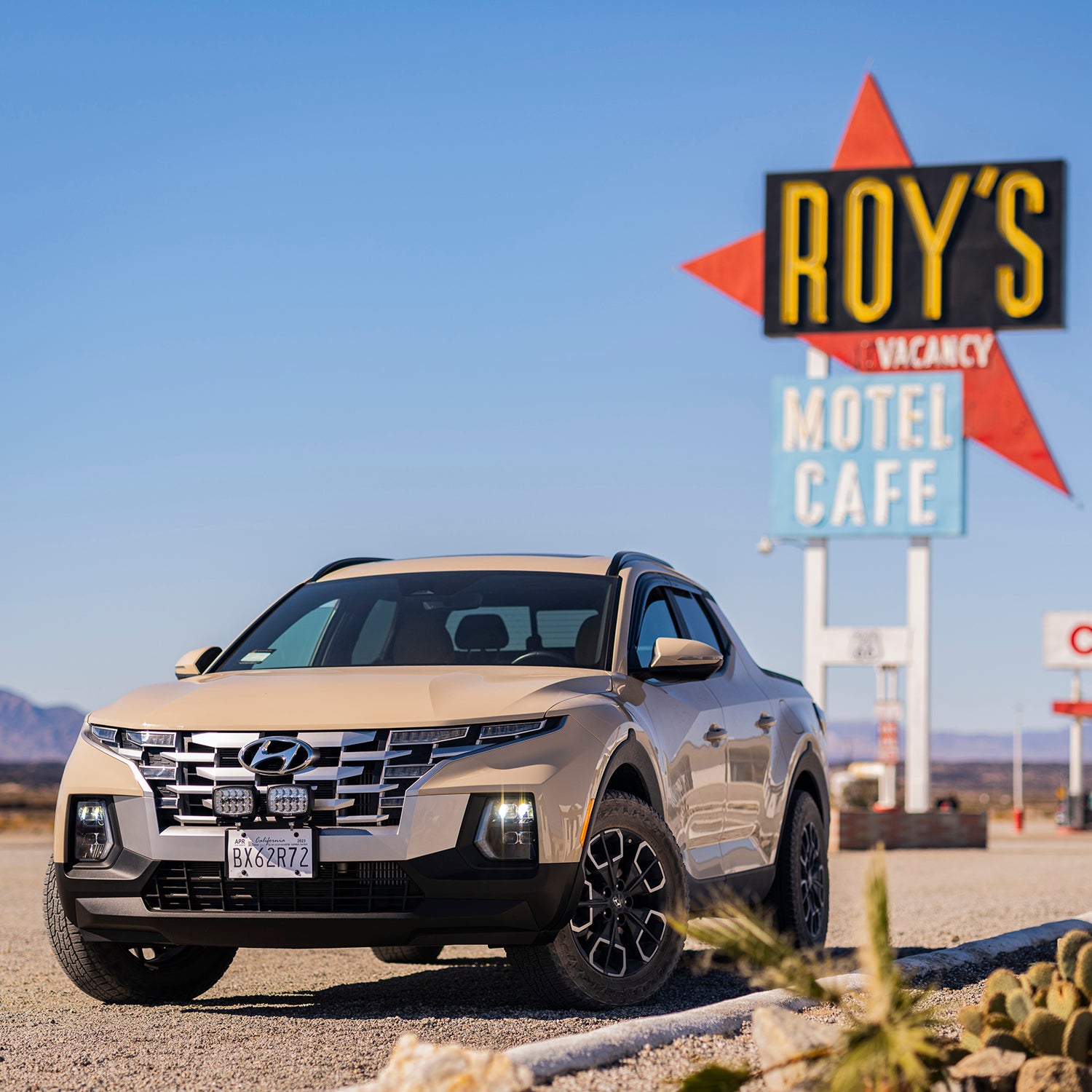 Stuart Palley
Heading out the door? Read this article on the new Outside+ app available now on iOS devices for members! Download the app.
Right now is a challenging time to buy a new car. Restricted materials supply is limiting production volumes, forcing automakers to focus near-exclusively on high-margin luxury cars. At the same time, pandemic-fueled interest in outdoor recreation has caused demand for adventure-capable vehicles to soar. Fashionable cars-of-the-moment like Ford's Bronco and Maverick are sold out for the foreseeable future, attracting huge markups, or both. And, on top of that, interest rates are high.
But there may be one worthy vehicle bucking those trends. The Hyundai Santa Cruz is widely available in both the new and used markets without any markups, finance rates for one are relatively low, and the truck itself starts at only $25,450. Plus, it's an appealing vehicle with a broad set of capabilities that will serve a diverse group of adventure-seeking drivers. If you need to buy a new or lightly used car right now, I think it might be the best option out there for outdoorsy types.
One of those adventurous drivers is my buddy Stuart Palley. He just paid $34,000 for a certified pre-owned 2022 Santa Cruz SEL Premium Launch Edition, with 11,000 miles on it, and got an interest rate of 6.44 percent from the dealer. Not only is that significantly lower than the average transaction price for a new car right now—$49,388—but the loan is much cheaper than the 9.34 percent that's currently average for used car sales. Plus, he really likes driving it.
"It's genuinely fun to drive around town, handles about 80 percent of the truck duties I need, and it performs admirably on washboarded dirt roads," Stuart tells me, hopping out of his Santa Cruz after an 1,100-mile drive from his cabin in Joshua Tree, California, to visit me in Bozeman, Montana.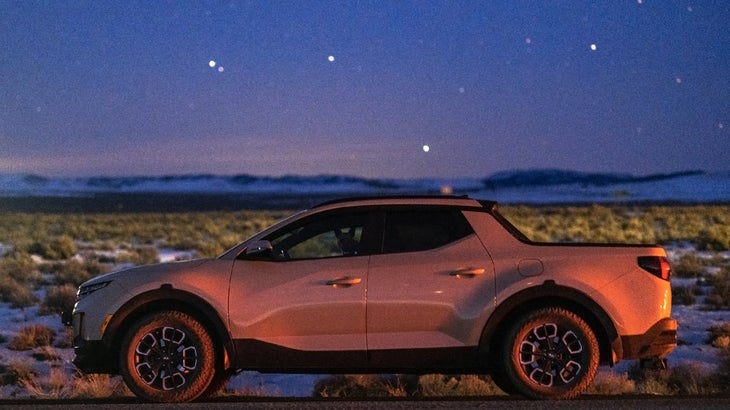 Working as a wildfire photographer while commuting between Newport Beach and Joshua Tree to fix up an old cabin, Stuart has very high, and often conflicting vehicle needs. His primary work and adventure truck is a Ford Super Duty, which he bought on my advice to haul his heavy Four Wheel Camper off-road. But that truck is too large and inefficient to make much sense commuting around SoCal, or living day-to-day life in congested Newport Beach. So, he needs a second car. Since he cares about the future of our planet, Stuart tried to make that a Chevy Bolt EUV, but found the day-to-day reality of charging an electric vehicle too frustrating.
"I loved my Bolt, but it was a pain to charge," says Stuart. The Home Owners Association at his condominium blocked attempts to install a fast charger there, and he found even SoCal's relatively prolific supply of public chargers too often obstructed by other drivers, or simply out of order.
"The EV tech is there, but the infrastructure is not," Stuart says. "I gave up after three months."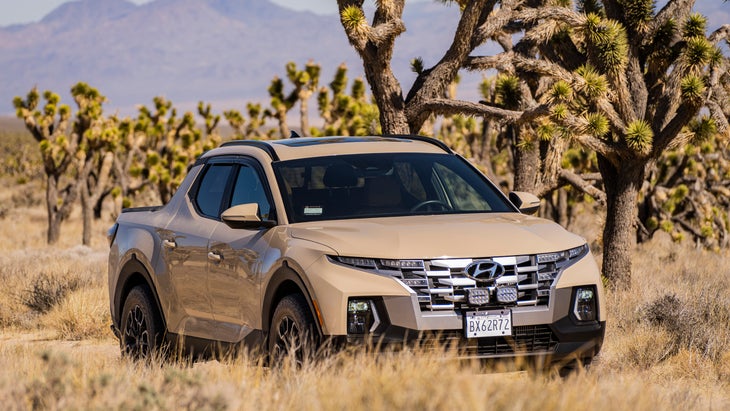 Like many people, Stuart needed an efficient, practical vehicle that would work just as well in a parking lot at Trader Joe's as it would on a road trip, or driving down a dirt road. That car needed to be able to haul everything from outdoors equipment to photography gear, handle a run to the hardware store for construction supplies, and he wanted that car to be affordable. Enter the Santa Cruz.
When it hit the market last year, the Santa Cruz was overshadowed by the stylish Ford Maverick. Like the Maverick, the Santa Cruz is a compact, economy car-based pickup that's available with either front- or all-wheel drive. Unlike the Maverick, there is no hybrid version of the Santa Cruz grabbing headlines with crazy impressive fuel economy. Over the Maverick, the Santa Cruz offers superior performance, more off-road traction, and a more versatile bed.
Where Ecoboost Mavericks make a decent 250 horsepower, high trim-level Santa Cruz's make 280. Both use eight-speed automatic transmissions. The Maverick's bed is a little longer at 54.4 inches, but the Santa Cruz's 48.4-inch bed features a waterproof storage area underneath, and high trim levels include a locking tonneau cover that rolls away into a hidden compartment when it's not needed.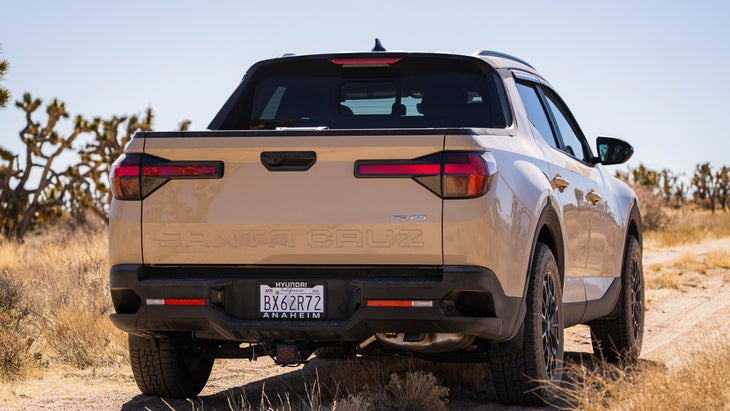 The story about payload is similar. At 1,400 pounds, the Santa Cruz is technically able to carry less weight than a Maverick, with its 1,500 pound capacity. But the Santa Cruz features self-leveling rear shocks that will make handling noticeably more confident when the truck is fully loaded. And, rather than a complicated and failure-prone air suspension design (as you typically see on luxury cars), that self-leveling feature instead operates using only hydraulic pressure within the shocks—a simpler design that should prove much more durable.
Stuart notes that the payloads both crossovers are able to safely carry are  higher than his old Toyota Tacoma.
And, like other AWD crossovers in the Hyundai and Kia ranges (Kia is owned by Hyundai Motor Corp), the Santa Cruz has one more really impressive trick up its sleeve: a center-locking differential. Where four-wheel drive locks the speeds of the front and rear axles together, doubling traction over two-wheel drive, all-wheel drive (in the absence of other technologies) sends all an engine's torque to the wheel (of four) with the least traction. Thusly, AWD should generally be thought of as enhancing safety, not capability, in slippery conditions. But, with that locking center diff, Hyundai and Kia crossovers can operate in true four-wheel drive in some conditions. And that will give them a real, tangible traction advantage when climbing out of an icy parking lot, fording a sandy wash, or crawling out of a snowed-in driveway. Other popular crossovers like the Maverick, and even popular AWD vehicles made by Toyota and Subaru, cannot claim the same ability.
There are a couple tradeoffs. That locking center diff operates electronically, not mechanically, and switches off at speeds above 25 MPH. So you're not going to be using a Santa Cruz to go mud bogging. Like other crossovers that use car-like unibody construction and fully-independent suspension, wheel travel and articulation are limited in comparison to that of any body-on-frame truck or SUV. And none of this capability means anything unless you're running a quality tire designed for the conditions you actually drive in.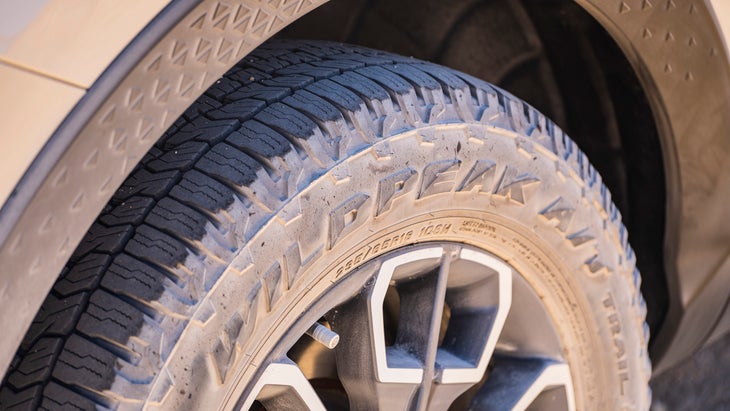 Driving around SoCal, and using his Santa Cruz to get down that rutted dirt road to his cabin and to access less crowded trailheads, Stuart runs the Falken Wildpeak A/T Trail. That and the Nitto Nomad Grappler are both all-terrain tires purpose built to suit the light duty needs of AWD crossovers without destroying their ride quality or fuel economy. Stuart reports he's seeing about 22 miles per gallon, on average, while using them. If you live somewhere north of the Mason Dixon line, you'll need to budget for a set of those and some Bridgestone Blizzak DM-V2s or Nokian Hakkapeliitta R5s to safely drive when it's cold out. Do yourself a favor and retain the stock tire size when installing any of those options.
As Stuart's MPGs suggest, the Santa Cruz is not the most efficient vehicle out there, especially when you consider its compact dimensions. Owners report an average fuel economy of just 23.8 MPG on Fuelly, a website that tabulates real world results from actual drivers. That same number for the similarly-priced Subaru Crosstrek is 26.7 MPG, while the FWD Maverick Hybrid is 37.5 MPG.
I ran all this past another friend, professional car reviewer Joel Feder, to make sure Stuart and I aren't jumping to the wrong conclusion. "The Santa Cruz is a shockingly compelling truck that seems to get overshadowed by others, but it shouldn't," Joel says. "It features clever packaging, self-leveling rear suspension, an available turbo-4 that's potent, and standout design. That's all before addressing the capability provided by the locking center differential."
If you need a new car right now, want that car to be cheap, and don't require a real 4×4, then all three of us agree: the Santa Cruz is your best option.
Lead Photo: Stuart Palley