The EV6 Is Kia's Entry into Electric Sporty Crossovers
The new Kia EV feels roomy, looks stylish, and can go for 274 miles per charge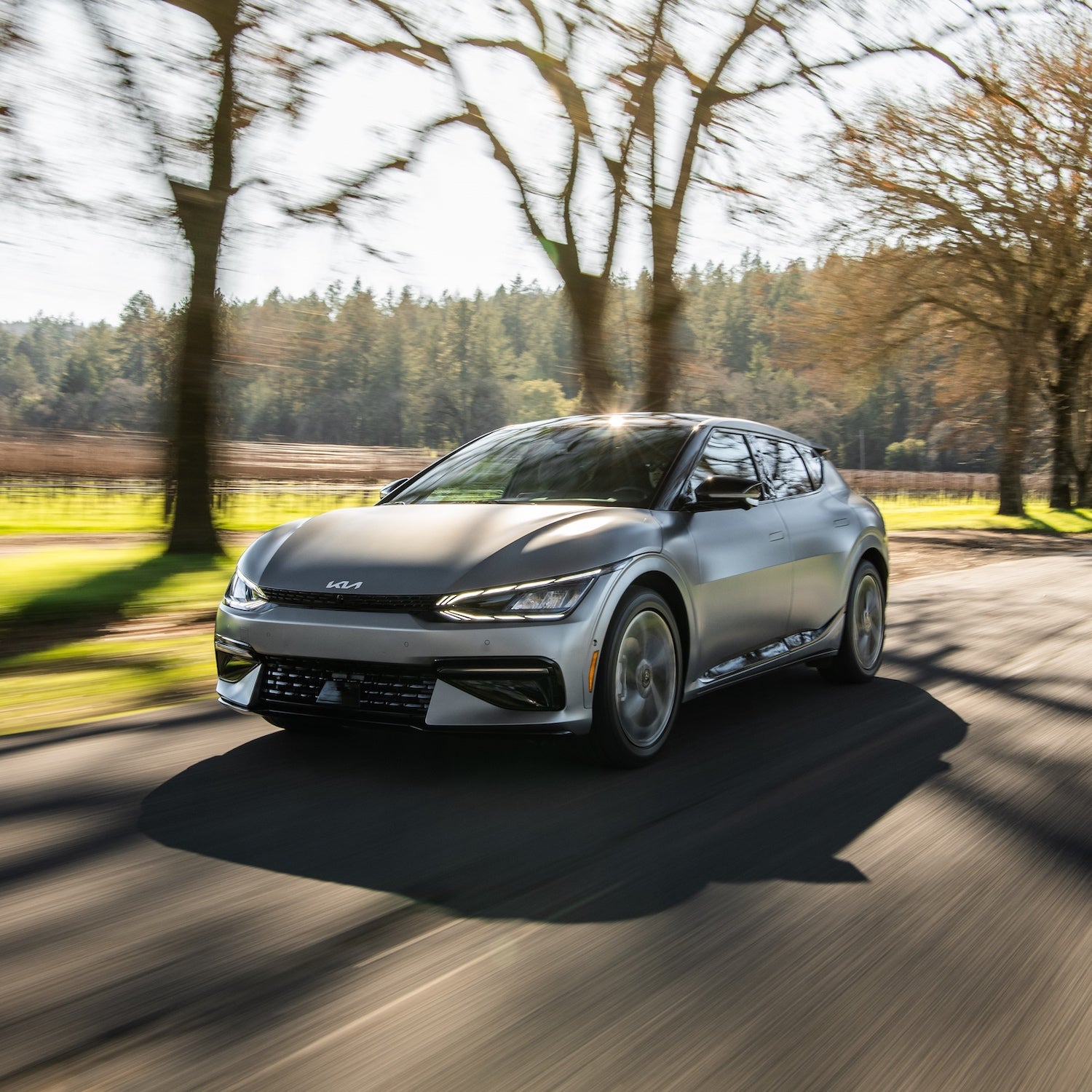 Heading out the door? Read this article on the new Outside+ app available now on iOS devices for members! Download the app.
Whipping down a narrow, undulating, streamside gravel road in the all-electric Kia EV6, I hit a rate of speed high enough to make my boyfriend clutch the seat bolsters. This is typically the penultimate step before he suggests I slow down, which, given my job test driving scores of sporty cars every year, he does with some regularity. Yet despite maintaining velocity, and sending a rooster tail spray of dust and pebbles worthy of a rally racer, he never felt the need to importune. There's a reason for this, and it's one that makes the Kia EV6—particularly the high-end $57,410 all-wheel-drive GT-Line I was driving—an excellent "soft roader."
This is mostly due to the fact that the EV6, like most electric vehicles, carries its motivational force way down in its body. Its motors, one driving the front wheels and one driving the rear, are on the axles, lower than a traditional gasoline-powered engine, whilst outputting a perky 320 HP and an even healthier 446 pound per foot of torque. And its power source—a 77.4 kWh battery, weighing 816 pounds, or about 20 percent of the vehicle's total mass—is in the floor. All of this lowers the car's center of gravity considerably over similar soft roaders like the Subaru Crosstrek or my own personal vehicle, the Golf Alltrack Wagon.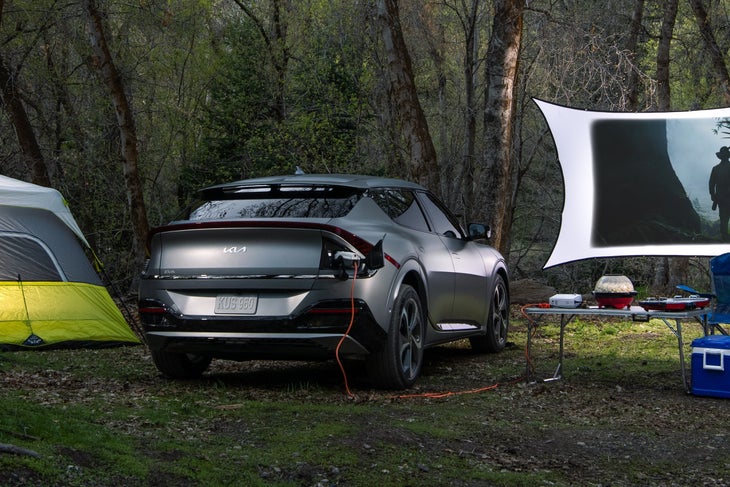 This makes the EV6 feel more planted and stable at speed, even if that rapidity is building on an unpaved serpentine, seeking the quickest line over a one-lane bridge.
The EV6 is Kia's entry into the sporty, battery-operated crossover market, and shares its general scale, profile, and cost with EVs like the Audi A4 e-tron Sportback, Volkswagen iD4, and Ford Mustang Mach-E, though its overall height is lower than any of those, giving it a swoopier profile. It also packs in more features for the money. In this, it's most akin to its cousin, the Hyundai Ioniq5—one of my favorites of the current crop—with which it shares its underpinnings. (Kia, Genesis, and Hyundai belong to the same Korean industrial colossus.) The EV6 has a couple inches less ground clearance than gas-powered competitors like a Subaru Crosstrek, more akin to the 7 inches of my Golf Alltrack. I would be nervous on craggy or deeply rutted forest trails, but I wouldn't necessarily avoid them entirely, and with the proper winter tires coupled with the all-wheel-drive, traversing some fresh powder shouldn't be a problem.
The Ioniq5 has a more cut muscularity than the brawny EV6, which appears bulbous and swole. But with a slightly shorter wheelbase, and sharper suspension tuning, the Kia feels a titch sportier. Though both accelerate from 0 to 60 MPH in a speedy 4.5 seconds, accompanied by piped-in soundtracks reminiscent of an eighties video game, the Kia holds the road with more aplomb and intent. It also sports an advantage in total range, providing 274 miles on a charge versus 256. But while it shares the same prodigious passenger volume as its stablemate—front and rear seats provide limousine-like legroom—and is a bit longer overall, its rounded and steeply raked rear end means it concedes some cargo capacity.
Sadly, even when relinquishing control to Apple CarPlay, which mirrored my phone on the central touch-screen display, I struggled with the Kia's infotainment system. A narrow, dual-function dash display sports a row of small virtual haptic switches that toggle between basic functions—like audio and navigation—and heater and air conditioning inputs. But moving between the two requires the push of a tiny arrow button. While the display can be set to default to one or the other function, regular access to both while driving is actually necessary, so finding and dealing with either requires taking one's eyes off the road for a frustratingly dangerous amount of time. The whole thing was unintuitive: I had to text a Kia rep to figure out how to access the volume knob.
In addition, the center console between the front seats, where one's hand rests naturally when poking the display, hosts an additional row of touch-sensitive buttons that activate the seat and steering wheel heaters and seat coolers. While these are welcome features at this price-point, I triggered them accidentally every time I made an adjustment. Being surprised by either when the external temperature doesn't warrant their activation is as startling as spilling a hot or cold drink in one's lap. These may seem like tiny details, but it's annoyances like this that can make someone fall out of love with a car.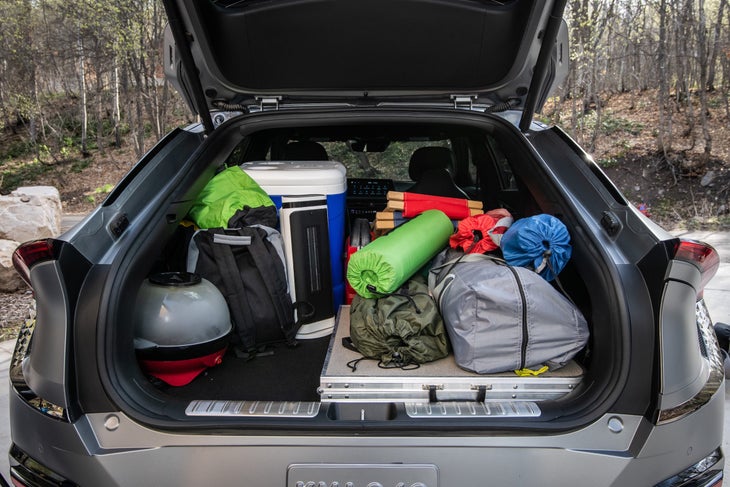 For those who enjoy or demand slightly less spirited driving, less grip, and more range, the EV6 is also available in cheaper single motor versions that extend a charge to around 310 miles. For those who want to pay less, a smaller 58 kWh battery is available in the base, rear-wheel-drive car. This costs just over $40,000, provides 167 HP, and will allow the car to travel 232 miles on a charge. And for those with a more leaden foot, a high-performance all-wheel-drive model will soon be available. Priced under $70,000, it will provide Porsche-like acceleration, screaming from 0 to 60 in just over three seconds. However, range suffers, falling to around 200 miles, as the battery pack depletes more quickly when powering more potent motors.
Fortunately, the EV6 comes equipped with ultra-fast DC charging, which allows power-ups at rates of up to 800 V, tempos typically found on EVs like the Porsche Taycan and Lucid Air, that cost twice or thrice as much. Kia claims that the EV6 can advance from 10 to 80 percent of battery capacity in around 18 minutes. Of course, this requires finding a 350-kWh fast charger that actually works, and charges at the posted rate.
This is akin to finding a Minotaur in a maze. The chargers closest to my house, in rural upstate New York, run at three kWh. The closest 350 is 75 miles away, precluding a trip just for juice. Instead, I worked at a friend's office whose parking lot sports a slow charger, and managed to fill up there, though it took two sessions more than 12 hours. If I had an EV of my own, I'd have a home charger, and this wouldn't be an issue, except on big trips. But that's another story.
Still, for a practical, stylish, comfortable, quick, relatively affordable electric vehicle, the EV6 stands out among competitors. Even my boyfriend agreed. By the end of our week with it, he still hadn't told me to "slow down." In fact, he even once said, "I like this car," a high compliment from someone conditioned to vehicular speed torture.
Lead Photo: Kia