Indefinitely Wild
The 2020 Telluride Is the Most Impressive Kia Yet
Plus, the three-row family crossover has got legit four-wheel drive. Competitors should take note.
Heading out the door? Read this article on the new Outside+ app available now on iOS devices for members! Download the app.
Kia sold its first car in the U.S. in 1994. The Sephia stickered for $8,495, its tiny engine made only 88 horsepower, and it did without most modern conveniences, including a radio. Speaking to the Los Angeles Times that year, a company spokesperson proudly proclaimed that it wasn't the worst car available, a point the paper took issue with. 
Twenty-five years later, things have changed. Not only is this new Telluride more than three times more expensive than that first Sephia, but it's absolutely as good of a three-row family crossover as anything else you'll find in that segment. It's also got one key feature that sets it apart from the competition and that will be uniquely useful for Outside readers: Full-time four-wheel drive. 
Like most of the competition, the Telluride comes standard with front-wheel drive, with all-wheel drive available as an option. FWD Telluride's start at $31,690; AWD adds $2,000. Add features like nice leather, a glass roof, LED headlamps, and other luxuries, and you can spec a Telluride close to $50,000. Not only does that make it the most expensive Kia ever, it brings it inline cost-wise with the other cars in this segment. The base model isn't quite as good of a value as a base Subaru Ascent, which starts at $31,995, with AWD as standard. That said, I'd still choose the Kia, for the simple reason that it's way better looking. 
Driving around in normal conditions, you'll notice no real differences between the Telluride, and the Honda Pilot, Toyota Highlander, Ford Explorer, and Ascent that make up the bulk of this market. These are do-it-all family haulers, not exciting vehicles. Kia's 291 horsepower V6 does its job without ever asking you to consider its presence. The handling is safe and responsive, but unremarkable. Encounter slippery conditions, and the Telluride's AWD system will respond to them by distributing some power to the rear wheels, just like all the cars mentioned above.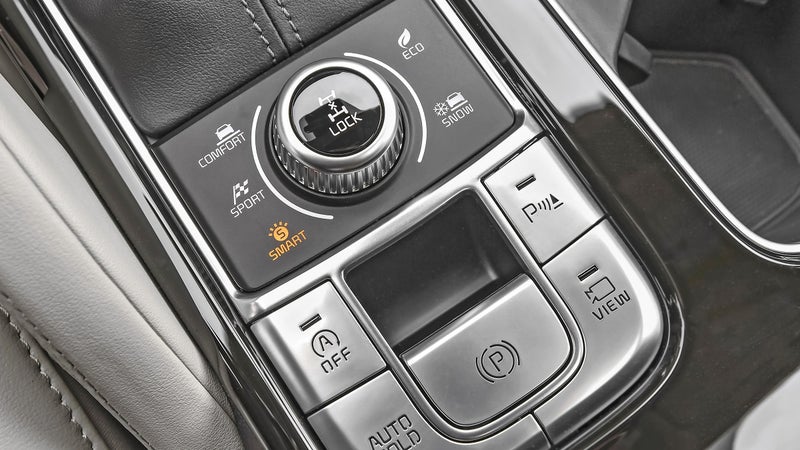 But push the diff-lock button nestled in the middle of the selectable drive modes on the center console, and something special happens. Just like a Land Rover, the Kia switches from all-wheel drive to four-wheel drive. I'll save you the incredibly long-winded explanation of how AWD and 4WD differ and simply state that all other things being equal, this Kia will be better able to make use of the traction provided by its tires than any of its competition, including that Subaru. 
Now, time for some caveats. Kia tells us that this lock is software-based, not mechanical, and it will automatically deactivate at 25 miles per hour. Above that speed, its AWD system will function in a similar manner to that of its competitors. 
This isn't to say that system makes the Telluride especially good off-road. It ultimately lacks the angles and low-range gearing necessary for that. What it will be uniquely good at is climbing a snowy hill or getting out onto a sandy beach. Its outright capability should closely match larger, heavier three-row family SUVs like the Chevy Tahoe. (As a note on unibody crossovers versus body-on-frame SUVs, the considerably less expensive Telluride has more space inside its much nicer interior than the Tahoe. Unless you're towing a boat, buy the Kia.)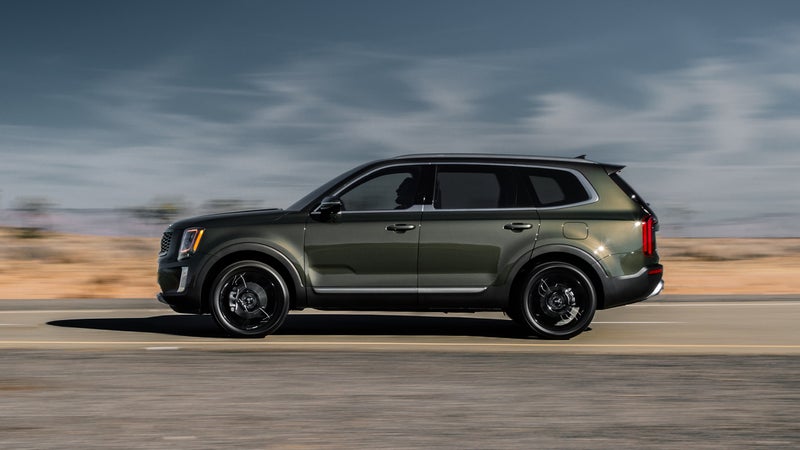 One thing that hasn't changed is Kia's stellar warranty—10 years or 100,000 miles, all-inclusive. In the 1990s, that was designed to reassure skeptical shoppers Kia was here to stay, and that it stood behind the quality of its products and prioritized customer satisfaction. If nothing else, you knew that your $8,495 would at least get you a decade of reliable motoring. That remains true today, just with the Telluride, you'll be spending that decade in a car that's as nice as anything else out there.