Sponsor Content: Hankook Tires
Overlanding Upgrades
Equip your rig with everything from a portable table to the right tires, and enjoy the best of four-wheeled adventure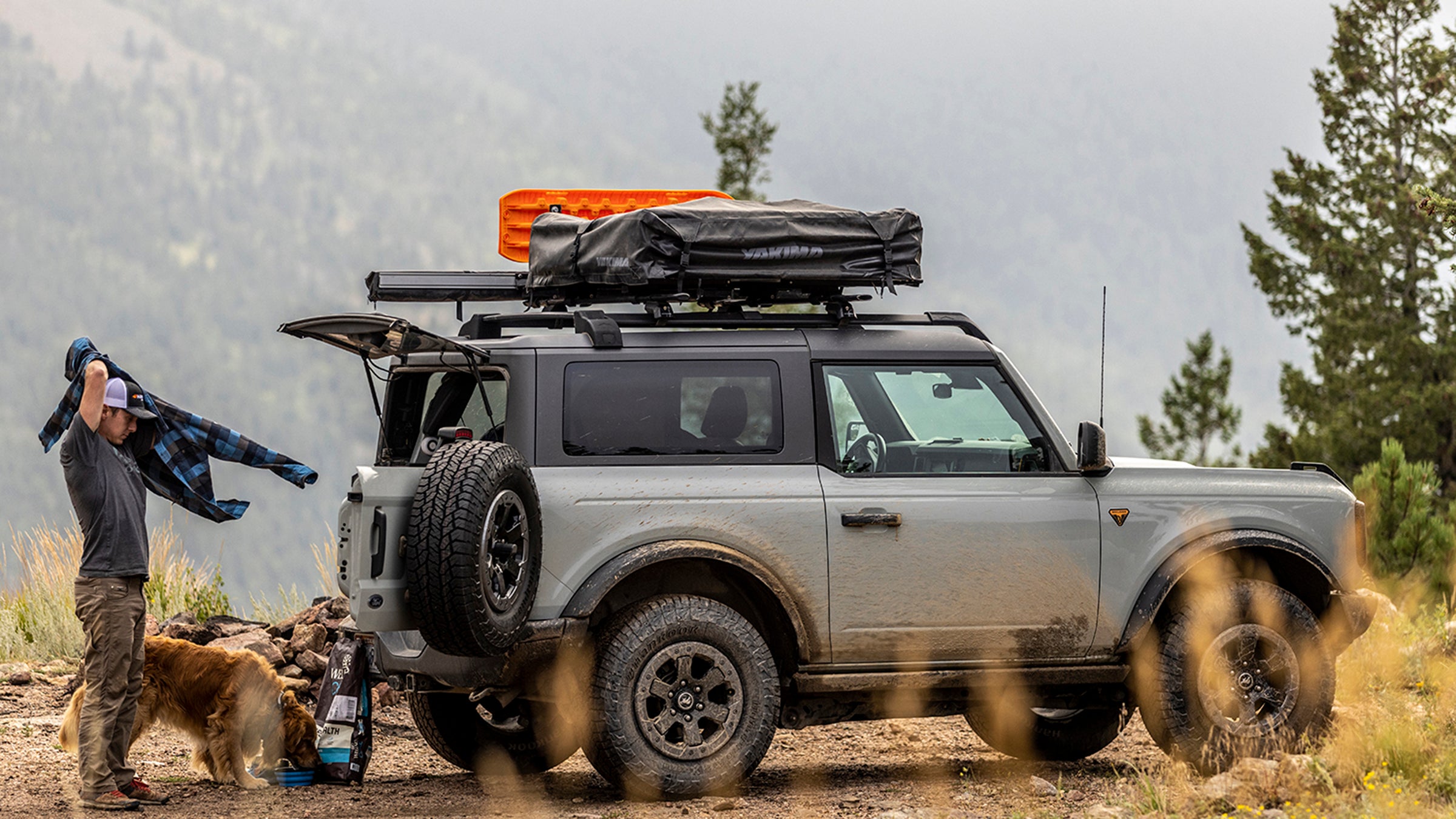 Hankook Tires
Why has overlanding boomed in the past few years? Simple: There's no better way to explore America's vast public lands. You can cover lots of ground, camp in remote sites with unmatched solitude, pack plenty of supplies to sleep and eat well, and the whole experience is accessible to anyone with a high-clearance, four-wheel-drive rig. "I started overlanding as a way to explore the places I love as affordably as possible," says Andrew Muse, an adventure videographer. "Now it's just a way of life. Right after I got my Ford Bronco Badlands, I headed to Baja for a three-month trip with my pup Kicker. Having the right vehicle with the right tires can take you a long way, and we made it to so some very remote places—we surfed, spearfished, paraglided, ate incredible food, and made memories that will last a lifetime!" 
So it should come as no surprise that Muse loves attending Overland Expo, where he can immerse himself in overlanding gear and culture. At Overlanding Expo West, in Colorado at the end of August, Muse caught up with Hankook and all the top makers of vehicles, gadgets, and camping products. "My favorite part of Overlanding Expo is the community," says Muse. "Whether you're a weekend warrior or a hardcore full-timer, the people here are just excited to share knowledge and stories. Of course, the gear is great too. Besides Hankook Dynapro tires, a couple of my favorite finds were an all-in-one multitool by Defiance Tools and a portable propane campfire from The Howl.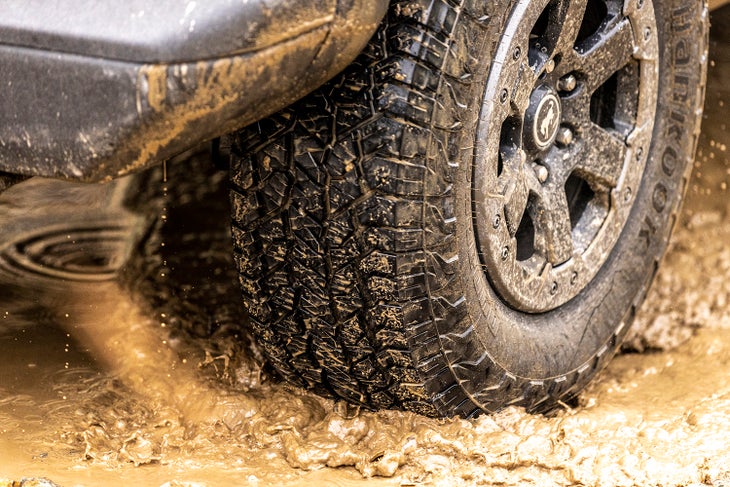 Like Muse, the more you get out, the more you'll want to go frequently and far, so you want to make sure you're prepping and packing for success. That's why we teamed up with Muse and Hankook, a maker of premium tires, on this complete guide to upgrading your kit. Here's how. 
Camping Essentials
"Every overlanding setup has to strike a balance between long-term living comfort and streamlined outfitting," Muse says. "For me, being able to eat well and sleep comfortably without having to spend too much time setting up my bed and kitchen is the most important. So I prioritize an electric fridge to easily store fresh food and a rooftop tent that turns my Bronco into an instant backcountry hotel. These upgrades allow me to maximize my energy for big adventures."
Following Muse's lead, you'll want to think beyond the basics, like a spacious tent, thick sleeping pad, and warm bag, plus camp chairs and table. In addition, you'll definitely want a power station and solar panels to juice your electronics. You can get away with a power bank alone if you have minimal electricity needs, like just recharging a phone and lantern for a week. But you'll want to add solar panels (100- to 200-watt range is a good target) if you have more power-hungry devices, like that electric fridge Muse recommends. With the right adapter or inverter, you can just plug them into the cigarette lighter or truck-bed plug while you're driving and into the power station when you're not and enjoy fresh ingredients on day seven—or beyond.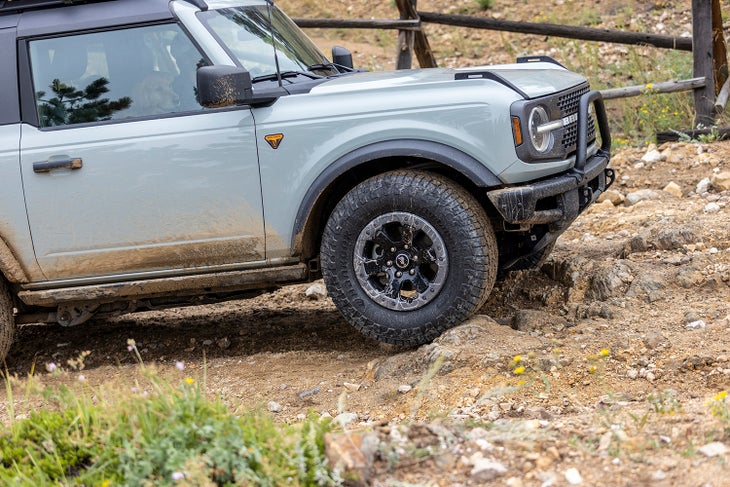 Other extras that take overlanding from good to great: a rooftop awning and a portable shower. The benefits of each cannot be overstated. Just imagine lounging in your camp chair, under the shade of your awning, after washing off the dust of the day with your sun-warmed shower, and sipping a cold drink plucked from your fridge. Enough said. (Bonus: Awnings also provide great protection from rain, so you can cook and eat in comfort. Some models provide shelter on two sides of your vehicle for ample kitchen, dining, and gear sorting space.)
Vehicle Essentials
A good overlanding rig starts with high clearance and four-wheel drive, but it definitely doesn't end there. Tires are the single most important upgrade you can make when prepping to leave the pavement. Superior traction and puncture resistance are critical on dirt, mud, and rocks, and nothing will serve you better than Hankook Dynapro tires. "In the world of overlanding, tires are the foundation of every great adventure; the Dynapro family of tires has the traction and reliability you need to explore with confidence," says Robert Nasca, product and marketing training manager at Hankook Tire America. The Dynapro family of tires is designed for all-terrain performance and durability, with three models that let you choose an option fine-tuned for your needs. 
"With my current Bronco build, my focus is exploring hard-to-access places," Muse says. "Having good tires is super important for that. I want a tire with great off-road traction but that's also not too loud during long days on the highway. Of course, I'm prepared to deal with a flat—everyone should be—but I would much rather have reliable tires and leave the repair gear packed away. I've been in a few situations with low-quality tires, and I will never make that mistake again."
To make the best use of your tires, you'll want a deflation device and portable air compressor. Lowering tire pressure increases the tire's footprint, which improves traction on soft surfaces like sand and snow. Just inflate your tires back to the recommended pressure when returning to pavement.
Recovery Essentials
You need to be self-sufficient when traveling in the backcountry, so you should carry equipment to extricate yourself in a pinch. You can buy a ready-made recovery kit or create your own. In general, you should have a recovery traction board, recovery straps, collapsible shovel, tool kit, and extra fuel. For even more security, pack a snatch strap so you can use one vehicle to tow another out of a sticky situation. (You'll need to install a shackle hitch receiver and hitch pin in your vehicle's rear receiver to use a snatch strap.)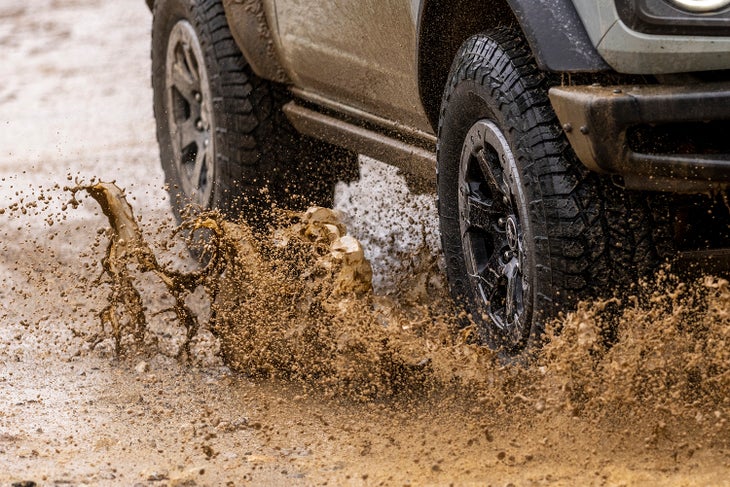 Safety Essentials
Finally, be sure to carry a GPS device or an app like Gaia GPS to research routes and stay on track. (Also consider a satellite communicator for emergencies beyond cell coverage.) Always carry basic safety gear like a first-aid kit, firestarter, water filter, and flashlight, and pack extra food and drinking water in durable jugs—be prepared to spend the night wherever you are. After a few trips, you'll dial in your kit and be ready for anything.  
---
Headquartered in Nashville, Tennessee, Hankook Tire America markets and distributes a complete line of high-performance passenger tires, light truck and SUV tires, as well as medium truck and bus tires. Hankook Tire America is a subsidiary of Hankook Tire & Technology Co., Ltd., a company headquartered in Seoul, Korea.
Lead Photo: Hankook Tires