This Lightweight Truck Camper Is the Best We've Tested
The Tune M1 is an impressive entry into the truck camper category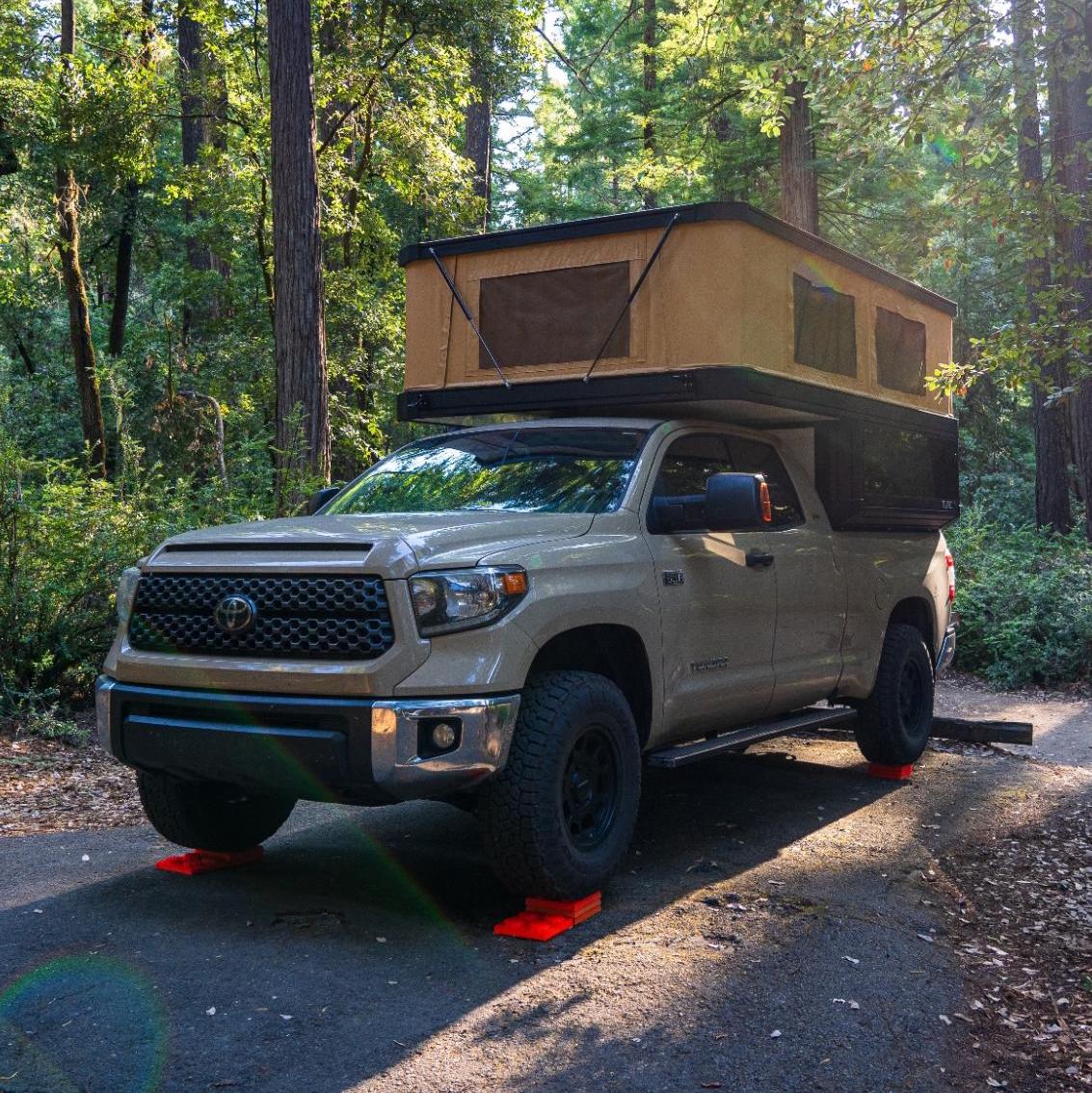 Bryan Rogala
Heading out the door? Read this article on the new Outside+ app available now on iOS devices for members! Download the app.
The M1, from Denver, Colorado-based Tune Outdoors, is one of the newest entries into the lightweight, pop-up  truck camper game, and I've been testing one on the back of my Tundra over the last two months. I've tested a lot of different truck campers for Outside over the years, and have owned both a Go Fast Camper (GFC) and a Total Composites slide in. I was intrigued with the M1 when it first popped onto the scene in 2022, but it wasn't until I saw one in person at their shop in Denver that I realized just how unique this camper is. 
About Tune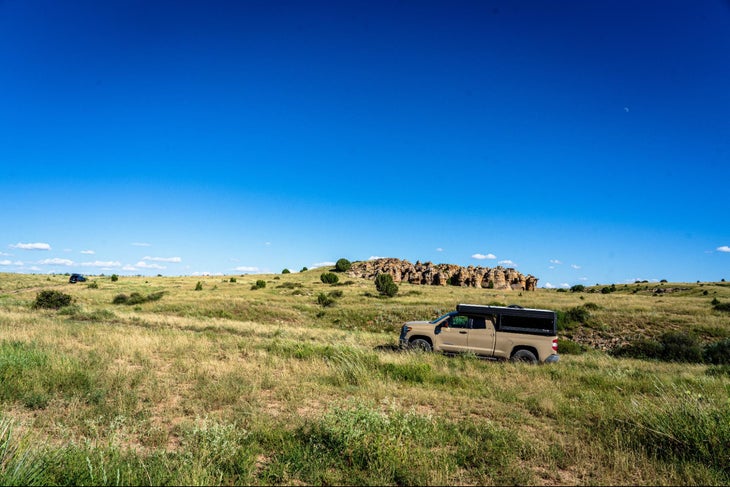 Like many good ideas, this one started when Tune co-founder Kristian Arnold couldn't find exactly what he wanted in a truck camper. He wanted something that was simple, comfortable, and lightweight, but still offered tons of space and quick access to outdoor gear in the back of his Toyota Tacoma. 
Yes, options like GFC, Super Pacific, Vagabond, and others already existed, but none of them met all of his requirements. His background in industrial design and engineering led him and fellow designer Broc Patterson to design the M1. 
Besides the design chops, Tune has serious business credentials behind it, too: Sean Kepler, former The North Face and VF Outdoor executive, and Bruce McGowan, co-founder of Backcountry Access, joined once they saw the hole in the market that the M1 would fill.  
What does that mean for you, a potential customer? Tune isn't building one-off campers in their garage. This is a company in it for the long haul, making a camper with serious design cred and engineering behind it. They've invested in CNC routers and all the manufacturing goodies, but the big takeaway is that the way these campers are constructed means a quality product, shorter wait times for consumers, and support for more truck makes and models.
What Makes the Tune M1 Different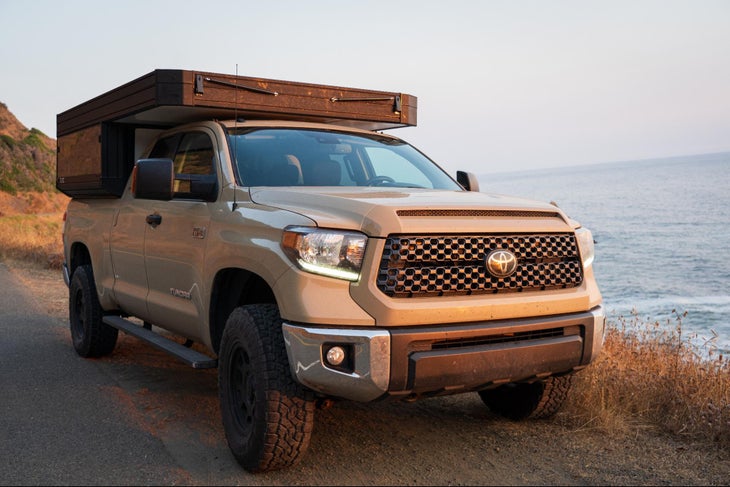 The best way to describe the M1 is a shell-style pop up camper that sits on your truck's bed rails. Its closest competitor is probably Four Wheel Camper's Project M, but you can think of it as a sort of cross between a Project M, a GFC, and a Super Pacific camper, taking some of the best features from each and adding their own to create something entirely new. 
The most unique features of the M1 are the flared sides and optional glass doors. Those side walls stick out farther than your truck bed and provide more space inside the camper. The aluminum side panels come standard and open to provide full, uninhibited access to the inside. You also have the option of choosing quarter-inch, tempered smoked glass side panels. Choosing glass obviously allows for more light in the living area of the camper, but it also lets the driver see out of the back of the truck, offering far more visibility than any other camper I've seen. While the aluminum panels look great and are probably the better choice if you're worried about security, the glass sides give it a sleek and modern look that really set the M1 apart—of all the campers I've owned and tested, this one got by far the most compliments.
To me, the M1's best feature is its spaciousness. The flared sides combined with the full pop-up roof mean that on a five-foot bed Tacoma, you get 60.75 inches by 72 inches of space in the lower living area, 78 inches of headroom, and a 60- by 72-inch  sleeping area (you can also opt for an 80- by 72-inch sleeping area with a bed extension). And despite the cavernous interior, an M1 for the same size Tacoma weighs just 360 pounds. 
On my Tundra with a 6.5-foot bed, the M1 is downright palatial. The extension turns the sleeping area into an 80- by 78-inch bed—bigger than a king-sized mattress. Even with the extension in place there's still more than enough room for camp duties in the living area. Unlike a wedge camper, where you have to remove panels to get out of bed, or push a platform out of the way in order to access the full living area of the camper, the M1 gives you full access to the bed of your truck. That means you don't have to wake your partner up to get out of bed in the middle of the night or make coffee in the morning. 
Cavernous space aside, the M1 has some other really cool standard features. It comes with 360-degree, dimmable "halo lighting" around the entire interior roof, six windows in the tent, and an average of 440 feet of T-Track integrated into the camper. That T-Track means you can easily bolt anything you want to the outside of it (like awnings, propane tank mounts, fly rod holders, etc.), or create a custom interior without drilling through anything or permanently installing heavy cabinets.
Testing the Tune M1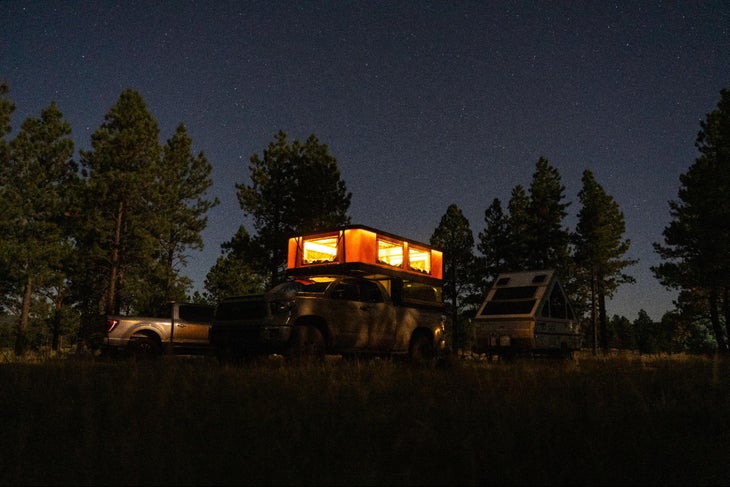 Over the two months I tested the M1 I took it on a 4,000-mile road trip, two hunting trips, and lived with it everyday, and I've thoroughly enjoyed every single minute of using it. It's by far the most spacious truck camper I've spent time in. 
I loved not only the camping comfort it offers, but also how functional it is as a shell in daily use. The M1's massive rear door, tall height, and flared sides provide way more space than a standard camper shell—I can load mountain bikes into the truck bed without removing the front wheel, haul furniture, and make runs to the dump much easier than with the fiberglass topper I had on my truck before. At six foot, three inches tall, I can easily get into the truck bed with the M1's top down to load or unload gear, or grab snacks out of a cooler.
I haven't found many downsides to the M1. The fit and finish is excellent, and the attention to detail in construction really shows. I've driven it down some very gnarly roads and it's no worse for the wear. It's extremely quick to set up and take down. It's gorgeous. It only lowered my fuel economy by about two or three miles per gallon, and while it definitely has a larger profile than a smaller wedge camper like a Topo Topper Mesa or GFC, I haven't found that to be an issue on trails or on the highway. 
It is heavier than the two previously mentioned campers, but that's comparing apples to oranges. I'd argue that an extra hundred pounds or so of weight over a wedge camper is well worth it for the extra space this thing offers. 
My only nitpick with the M1 is that because of how far the cabover portion extends, rain tends to drain off the roof of the camper and right onto the front doors of my truck. This is only an issue if I have to enter or exit the truck in a downpour, or am at a drive thru with the window down in the rain—but I also live in New Mexico so it's not a big deal. If you lived in the Pacific Northwest it might be more of an issue.  
Price Comparisons
The base price for a mid-sized M1 is $12,999, and $13,999 for full-sized models. That's a lot of money no matter how you slice it, but when you start running the numbers it's actually extremely competitive in the market. 
Let's compare it to a Four Wheel Campers Project M, which has a base price of $10,995 for a five-foot bed Tacoma. That's slightly misleading, because the base price is actually $11,790, since their "Bolt Down Installation" option is actually required. By the time you add on the other options needed to get it closest to a base model M1, you're looking at a $15,700 camper that weighs 462 pounds and still doesn't have as much side door access or T-track, not to mention interior lighting. AT Overland's Atlas starts at $14,300, and a similarly specced OVRLND camper comes in at $10,675 (but without any lighting or interior T-track, a smaller bed, and less side panel access).  
The point here isn't to disparage any of those campers—I've been inside each of them and they're great options. It's simply to point out that every camper worth considering is expensive, and Tune's base price actually includes a lot of features that are add ons with other brands. Simply put: you're getting a lot of bang for your buck with the M1. 
Final Thoughts
Overall, Tune's first camper is a big winner in my book. If you're looking for a topper-style camper that won't bog down your truck, appreciate high-quality construction and great aesthetics, and want more space than a wedge camper provides, take a hard look at the M1. 
Lead Photo: Bryan Rogala
Trending on Outside Online