Chasing the Dream: How to Live the Ultimate #Vanlife
For a certain breed of adventurous souls, the key to happiness is a road machine that forever stokes their desire to chase fun. Looking at these seven dream rigs, it's hard not to want to play along.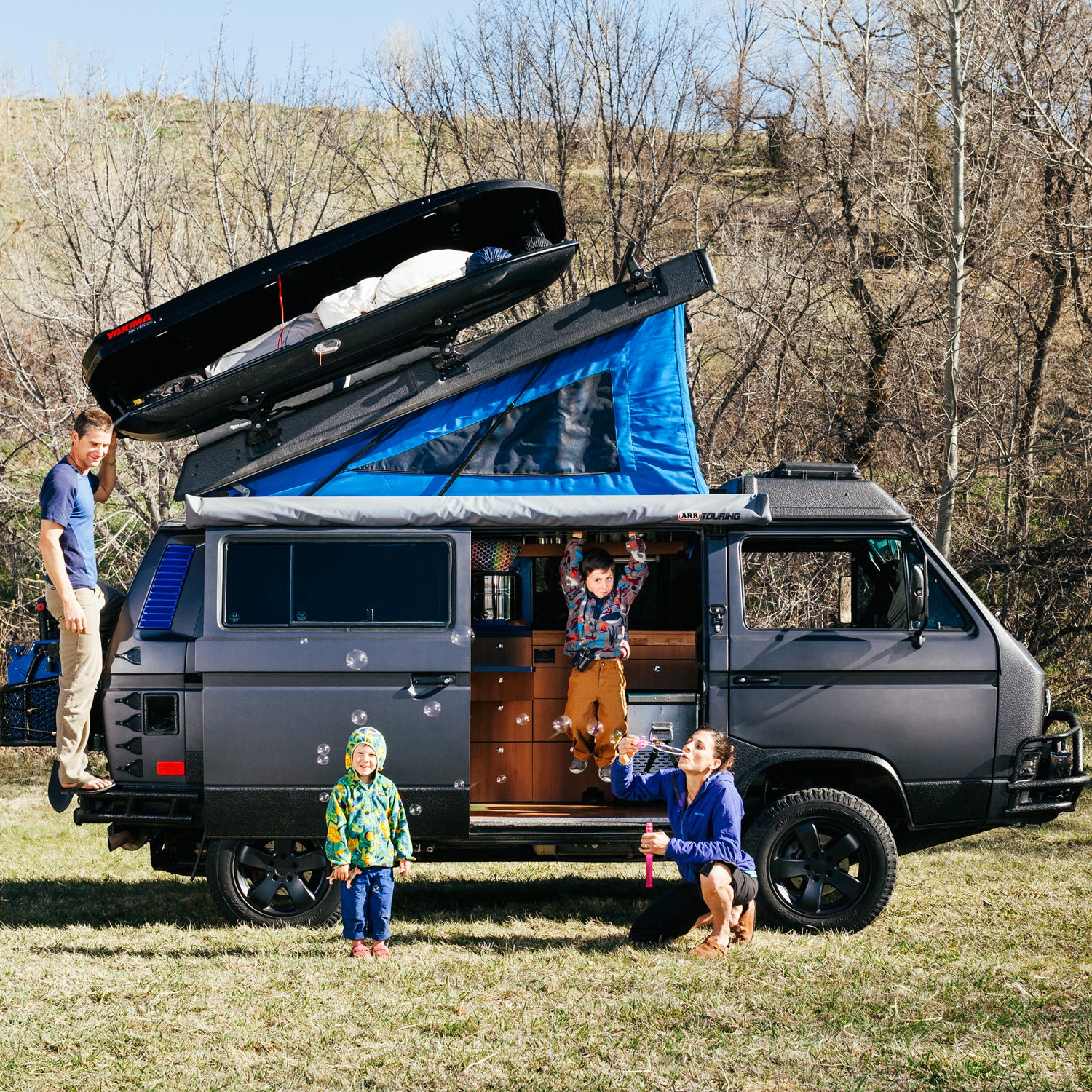 Morgan Rachel Levy
Heading out the door? Read this article on the new Outside+ app available now on iOS devices for members! Download the app.
Many of us dream of hitting the open road in the perfect adventure vehicle—a vintage Land Cruiser or a tricked-out Westfalia. Customizing your machine takes dedication, but as these obsessives can attest, once you go all in, you never look back.
The Overlander
Mike Sandone; 1986 Land Rover Defender 110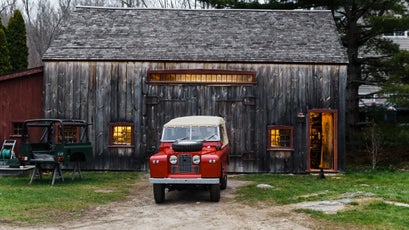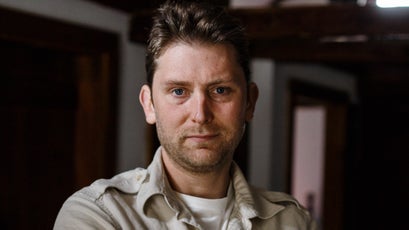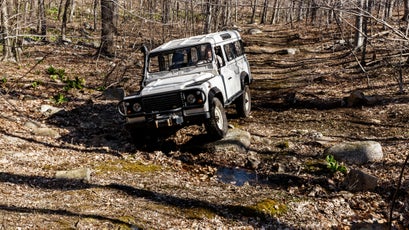 In 2009, Sandone and his soon-to-be wife, Sofie, took an epic road trip across the mountains, beaches, and salt flats of Sonora, Mexico, in an old Jeep Wrangler. They wanted to be highly mobile, so most nights they slept in the cramped car. Sandone kept a checklist of what he'd want in his ideal overlanding vehicle: a higher payload capacity to avoid stressing the driveline, Lego-like interchangeable components, and a simple turbo diesel engine that wouldn't require dealer software to fix. "And we wanted more room," he says. "No rooftop tents or anything—just enough to be able to comfortably sleep in the back."
He found all these features in the Land Rover Defender 110 series, so named for the length, in inches, of the wheelbase. Problem was, only around 500 were ever imported into the U.S., all of them in 1993. But 110's are common in much of the rest world, and vehicles 25 years or older can be brought over without much hassle.
After buying one in England and restoring it, Sandone, who had been making his living refurbishing vintage cars, founded North America Overland, a business dedicated to old Rovers that he runs out of his 18th-century farmhouse in rural Connecticut.
Sandone offers left-to-right-hand drive conversion and installs stock British turbo-diesels, but he urges his customers to skip aesthetic "upgrades" such as oversize tires and lift kits that can tax the vehicle and be difficult to repair in the field. "People don't realize how capable these already are," he says.
---
The Pop-Top
Brendan and Chloe Couvreux; 1990 Volkswagen Westfalia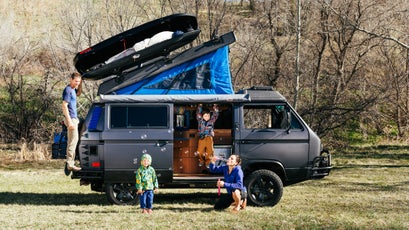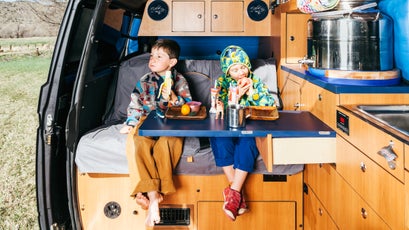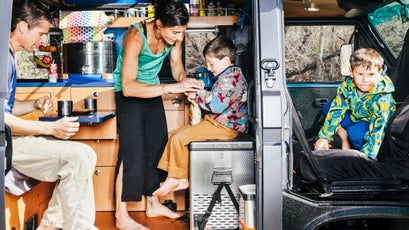 It was the day before Halloween in 2013, and the Couvreuxs were cruising through rural Nevada in their 1987 VW Westfalia Syncro. Chloe was behind the wheel, while her husband, Brendan, was in the back with their two young boys. The couple had purchased the van two years earlier and arranged their work schedules as an ER nurse (her) and a paramedic (him) so the family could spend weeks at a time exploring climbing routes across the West. They were doing about 70 miles per hour when the wheels kissed an off-camber gravel shoulder and the van rolled.
No one was hurt, but Chloe was traumatized. "I almost killed us," she says. "Then, after we'd all recovered, Brendan said, 'This is what we do. The risk of being on the road is the risk of being on the road.' I told him, 'I'm not ready for another van.' He said, 'Don't worry. It'll take forever to build out a replacement.'"
They had their Westy towed to Sacramento, where Vanagon guru Stephan White stripped it and grafted all the useful bits—including four-wheel drive—onto a hard-top 1990 VW passenger van, then pimped it out with a rugged aftermarket suspension, skid plates, and a welded-on Westfalia pop-top. Brendan had spent half his childhood sailing the world with his parents, so they added yacht-inspired touches like wooden cabinetry and a foot-pumped sink. "You can be conservative with water, and it doesn't use any electricity," he says.
By the time they picked it up 18 months later, the family was jonesing to resume their road-tripping ways. "It's exactly what we wanted," says Brendan. "We didn't need a huge vehicle to hang out in all day. Getting outside with the boys is the whole point."
---
The Playhouse
Janna Irons and Johnny Stifter; 2009 Dodge Sprinter 2500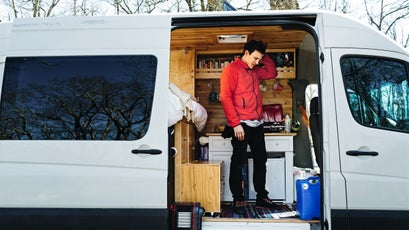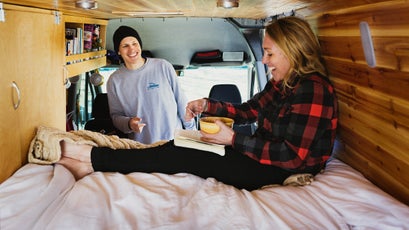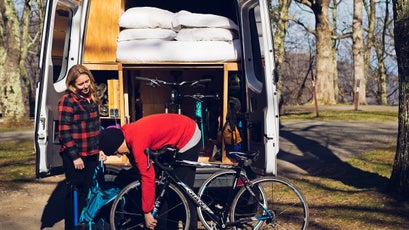 Last summer, Irons and her boyfriend Stifter realized a couple of things. One: they were probably in it together for the long haul. Two: after years of working in the Southern California outdoor-sports media industry, they were in the mood to travel—a lot.
Irons, a cousin of the late surfer Andy Irons, had been an editor and writer at Surfer before switching to a creative agency. Stifter was heading up the production studio at Powder magazine. They considered backpacking across Asia but didn't want to abandon their jobs. "You can only stay in hostels for so long," Irons says. "So we looked at the #vanlife thing and realized we could work from the road."
An Inside Look at #Vanlife
Watch for a tour of Irons and Stifter's Sprinter 
They found a 2009 Sprinter cargo van on Craigslist with 100,000 miles on it and set about converting it into a mobile surf, ski, and bike shack, with help from Sprintervandiaries.com. "We'd never built anything," Irons says. "But there were details down to the size of the screws." Among the upgrades is a Goal Zero solar generator and rooftop panels to power their fridge, interior lights, and fans.
Beginning last July, they made their way from Big Sur to Banff to the Tetons, all the while hitting their work deadlines. After holing up in a New England cabin for the winter, they started rolling down the East Coast in search of good surf and singletrack.
"Originally, we thought, Let's do this for a year," says Irons. "Now the conversation is, Do we really want to live in a city at all, ever? It seems harder to get back to real life than to just keep going."
---
The Beach Hut
Stephan Shay; 1966 Clark Cortez Coach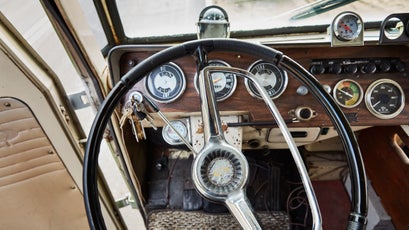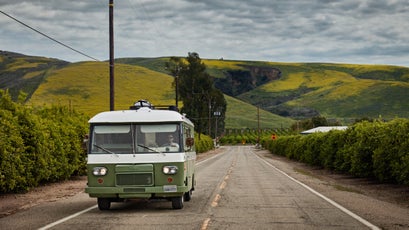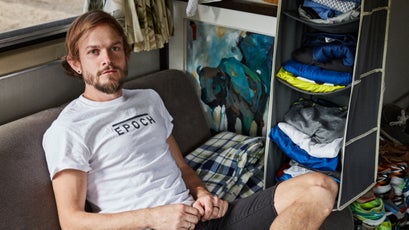 On November 2, 2014, then 28-year-old Shay ran the toughest race of his life. Not only was the New York City Marathon freezing cold and rainy, but eight years earlier, Shay's older brother Ryan died from a heart attack on the same course during an Olympic Trials race, also at the age of 28. Shay finished fourth among Americans and sixteenth overall.
He returned home to Huntington Beach, California, and endured a brutal couple of months: he was laid off from his job, his girlfriend left for medical school on the East Coast, and his brother announced that he was moving out of their shared condo. "I said, well, if I'm gonna live in California, I might as well find a way to keep living by the beach," says Shay.
He had been ogling the classic campers patrolling the Pacific Coast Highway when he saw an ad for a 1966 Clark Cortez Coach, a tough-as-nails, metal-hulled rig made by a company better known for its forklifts. It was rough around the edges but mechanically solid—and at 19 feet long, it was just under the 20-foot limit for legal street parking in California. Shay was smitten. For $5,200, he scored a beach hut on wheels. He's since put around $5,800 into restorations, including a paint job and new flooring.
"It's got a bathroom, a shower, a three-burner stove, and the original fridge and freezer, which works amazingly well," says Shay. "I can open the curtains, sit on my foldout bed, and watch the ocean."
In addition to running and doing contract marketing work, he recently launched Epoch Restorations and Adventures, which reboots vintage campers.
"Around here it's easy to see a Ferrari," he says. "But if one pulls up next to me, I still get more head turns from people walking by."
---
The Lane Splitter
James Crowe; Touring Motorcycles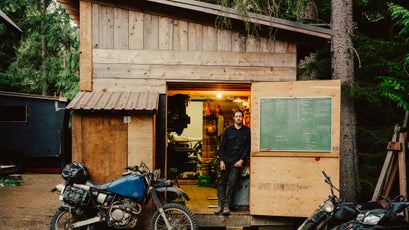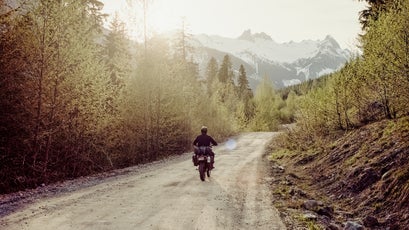 Crowe didn't start out a motorcycle guy. After a childhood filled with romping around the British Columbia backcountry on skis and mountain bikes, he became fascinated with combustion-powered vehicles and landed an apprenticeship at Steve's Auto Restorations, a legendary shop in Portland, Oregon, in 2006. "They taught me everything I know," he says.
Crowe eventually grew frustrated with the high expense and glacial pace of fixing up classic cars that got only eight or nine miles per gallon. He set his eyes on vintage motorcycles, choosing a chopper for his first project. It was a beautiful bike but entirely incapable on the remote dirt roads he longed to explore. He launched Crowe Metal Co., focusing on seventies and eighties BMW R-series touring bikes. "They're like the diesels of motorcycles," says Crowe, who eventually moved back to his hometown of Whistler. "They're heavier, but you can load 'em up the way you want. And the engines are smooth and reliable."
His custom Camper Special has greater ground clearance for off-road exploration, a modified rear frame that carries as much gear as you can strap to it, and a beefier front fork and suspension. He has since broadened his line to feature even burlier bikes, like a modified Honda XR600r with an engine snorkel for stream crossings.
"Camping by motorcycle, you can go anywhere you want," says Crowe, who has ridden from Whistler to southern Argentina. Of course, you're limited in what you can bring, but Crowe considers that another advantage. "It adds an interesting element," he says.
---
The Craftsman
Jay Nelson; Custom Campers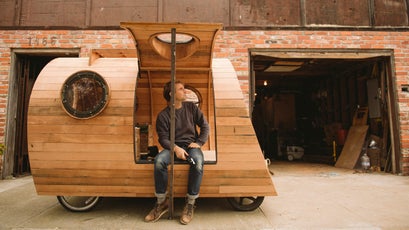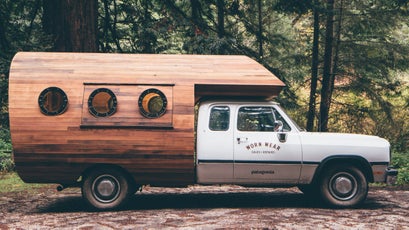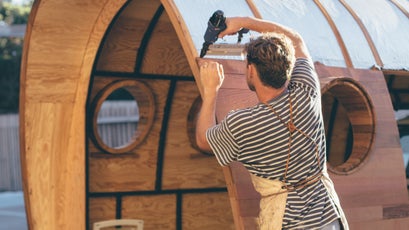 Nelson contracted the road-trip bug in the 1980s when his parents took him and his sisters on a romp across Europe in a VW Vanagon. Afterward they shipped the van back to California so they could keep rolling across the American West. "Those are some of my best childhood memories," says Nelson.
He also inherited a building gene from his father, an engineer who left piles of timber lying around that Nelson used to construct skate ramps and treehouses. Nelson went on to study art in San Francisco, where he surfed whenever he wasn't working.
Ten years ago, Nelson cobbled together his first mobile camper, a wooden snail shell that sat on the back of a Honda Civic and served as his home while he chased swells at Ocean Beach. Living in a car got old after a few months, but campers became central to his art, and he began earning commissions to build them. In 2015, he created the Golden Gate 2 (pictured above; it's also on a view at a Patagonia store in New York City). It features a bed and storage cubbies, is powered by an electric motor and bicycle components, and has a top speed of 15 miles per hour. You drive it sitting cross-legged. "I designed it more as a living space than a car," he says.
Currently, surfers for several brands are rolling around in some of Nelson's more road-appropriate campers. "I built Patagonia the best one I ever made and just handed over the keys," he says. "The guys were like, 'Thanks, dude! Later!' "
The next one he's crafting for himself. He has in mind a Toyota pickup with a flip-top camper for trips with his wife and their two-year-old daughter. It'll have only a basic kitchen. Says Nelson, "It's pretty sweet to travel in a camper but go out and have a nice dinner."
---
The Warhorse
Tim McGrath; 1966 Toyota FJ45 Land Cruiser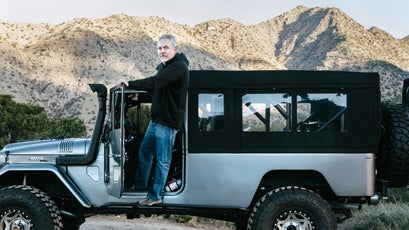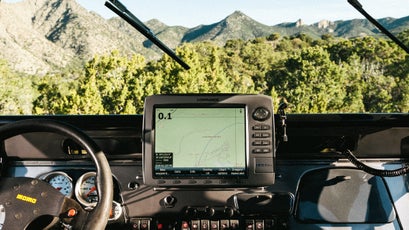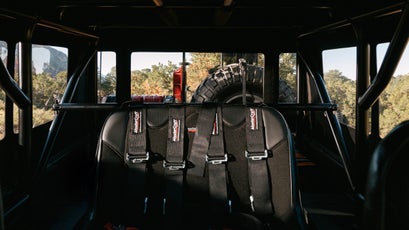 Back in the eighties, vintage Land Cruisers were fetish objects to McGrath and his buddies at Albuquerque's Eldorado High School. During his junior year, McGrath was ecstatic to find a dark green 1974 FJ40 decaying in a barn. He scoured out the mud, mice nests, and chicken shit, then spent weekends testing the truck on camping excursions in the local mountains. He kept it through art school in Laguna Beach, then sold it. "Everyone told me, 'You're gonna regret that,' " he says. "They were right."
After settling into life as an advertising art director back in New Mexico, McGrath and his wife, Jennifer, tracked down a rare 1966 FJ45 long-bed pickup truck. "It was cool," he says, "but we couldn't even go across town without worrying about it breaking down." They eventually brought it to a shop in Colorado for a full rebuild. Their vision: a truck that was ready for the gnarliest off-road duty, but could also support a comfortable road trip for a family of four.
The shop removed the truck bed and replaced it with a shortened "troopy" cabin (so named because it's made for carrying military troops). This created a truncated rear hang-over for off-roading and a spacious interior with room for a backseat. To power taller tires, they installed a 5.7-liter, 351-horsepower Chevy Ram Jet 350 engine and a reinforced five-speed transmission. They also added a twin-stick transfer case, front and rear locking differentials, and an A/C unit.
McGrath says the FJ was a work in progress for a long time, but the effort was part of the pleasure—though not the best part. "I'm just amazed at what this thing is capable of," he says. "Whenever I think we've gone as far as we can go, she just keeps on going."
Trending on Outside Online