Indefinitely Wild
How to Ski Tahoe Without Totaling Your Car
What we can learn about winter safety from drivers behaving badly in California and Nevada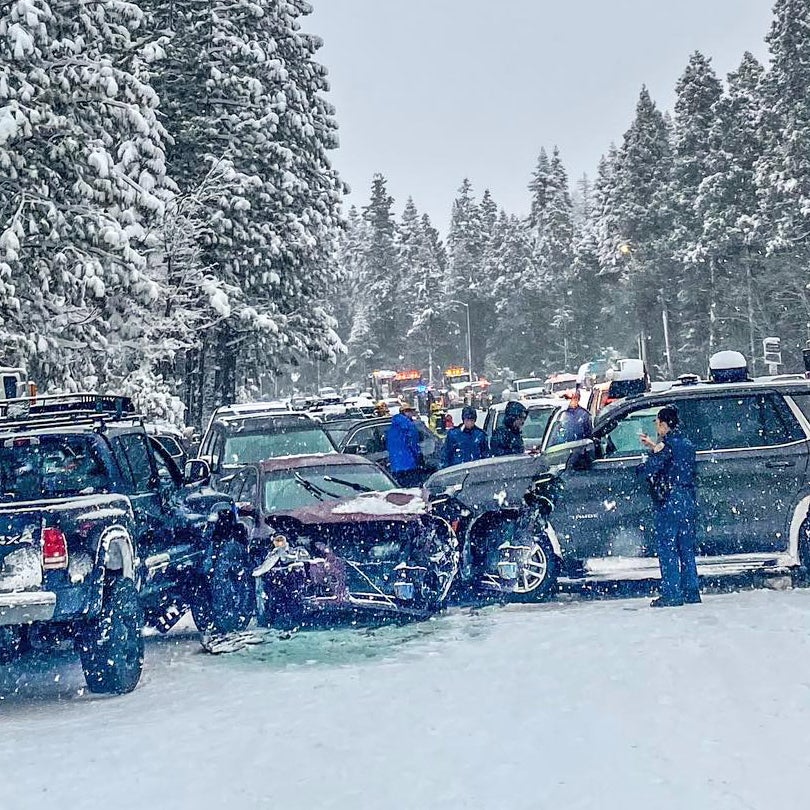 Heading out the door? Read this article on the new Outside+ app available now on iOS devices for members! Download the app.
Lake Tahoe, and surrounding areas in California and Nevada, have gotten a little snow this year, 48 feet since October to be exact. The skiing is great, but the weather also created some harrowing road conditions. With another storm currently inbound, here are some of the more egregious examples of drivers in Tahoe behaving badly—and what they can teach us.
What the heck? Many people are expressing befuddlement at what the driver of this Jeep is attempting to pull off here, so allow me to explain. Rounding a corner or cresting a hill behind the video shooter (my friend Chris Brinlee Jr.), the Jeep unexpectedly encountered a steep, icy hill with many vehicles already disabled at its bottom. By the time the driver realized they were in trouble, it was too late—the hill was simply too icy to recover traction and come to a stop.
Why this happened: Mistaking M+S (mud and snow) tires for the real deal. Also, a whole lot of bad decision making.
How could this crash have been avoided? To drive over snowy mountain passes, California dictates that drivers hoping to forego fitting chains (you still need to carry them) must be equipped with four- or all-wheel drive, and something the state ambitiously refers to as "snow tires." As we can see here, what California calls "snow tires" are actually woefully inadequate in winter conditions.
The driver of this Jeep is actually in compliance with California's requirements. That Wrangler is equipped with four-wheel drive, and is wearing a set of Dick Cepek Trail Country EXPs, which wear the M+ S stamp on their sidewall.
The problem is, M+S doesn't represent an actual designed, tested, or intended winter traction capability. To earn an M+S stamp, all a tire needs to achieve is a tread pattern that is made up of at least 25 percent void. That's it.
In addition to M+S, some tires may also wear a Three Peak Mountain Snowflake on their sidewall. Unlike M+S, this mark does require an actual test, but that's performed by the tire makers themselves with no third-party verification, and is extremely basic. The 3MPSF test requires a tire to demonstrate acceleration traction that's at least ten percent better than a reference tire on packed snow. That reference tire is a budget highway all-season designed in the early 1990s. No tests are performed in conditions other than packed snow, and no performance must be demonstrated during any condition other than acceleration.
In contrast, actual snow tires are capable of safely gripping any surface a driver may encounter during the winter, from bare pavement, to sheet ice, and anything in between. But confusingly, there is no sidewall mark signifying a tire is capable of this performance—instead, drivers must rely on tire-maker marketing or third-party information. I use and recommend the Bridgestone Blizzak and Nokian Hakkapeliitta ranges of winter tires. Any driver equipped with a set of those would have been able to safely and simply navigate this icy hill.
What the heck? A Land Rover LR4 attempts to climb an icy hill, before losing traction, and pirouetting back down it into a pile of already crashed cars.
Why did this happen? Failing to understand the limitations of four-wheel drive.
How could this crash have been avoided? Four-wheel drive locks the speeds of the front and rear axles together. This doubles traction over two-wheel drive. But, like any other system on your vehicle, four-wheel drive is only able to work through your tires. This Land Rover driver made the same mistake as the Jeep, and failed to run a tire appropriate for the conditions. Traction may have been doubled, but two times zero remains zero.
What the heck? Farther south in Big Bear, the driver of a 5th generation Ford Explorer has waited until they got stuck to try and fit snow chains, and is struggling to fit chains to his rear wheels while impeding the flow of traffic, putting themselves and other drivers at risk. That vehicle's owner's manual clearly tells drivers to only fit chains to its front wheels. Meanwhile, people on appropriate tires are simply driving past, while dodging other cars that are disabled completely.
Why did this happen? Chains only work in one very specific circumstance—deep snow—can be challenging to fit, and must be put on before entering that deep snow. Most drivers have never, or only rarely use chains, and wait until an emergency to try and figure out how they work.
How could this have been avoided? Because California and some other state governments present chains as a panacea for winter conditions, many drivers understandably jump to the conclusion that chains will help them safely drive in those winter conditions. Generally speaking, this is not the case. As is being demonstrated by all the other vehicles easily passing the Explorer, even though they're not wearing chains.
The subject of tire chains involves much nuance. If you are driving in an area that requires chains, you should absolutely carry chains. But you must also know how to use them and how they work. Here's a quick rundown:
-Chains only add traction in deep snow.
-Chains only add a very small amount of additional traction in deep snow over that provided by a true winter tire.
-Chains reduce traction in all other conditions.
-There are different types of chains. Ones that work better tend to be more difficult to use.
-Most modern vehicles are unable to safely run chains on their front wheels. Consult your owner's manual.
-To maximize traction, a 4WD vehicle should run chains on all four wheels. But most modern 4x4s cannot run chains on their front wheels.
-You must run chains on your vehicle's driven wheels. But if those are your rear wheels, chains will impair your braking ability above walking speeds.
-Cables may satisfy a legal requirement, but they don't add much traction at all.
-Typical chains and cables do not add traction on ice. V-bar chains might, but they can only be safely used at very low speeds.
– If you must use chains, you should plan to put them on before entering deep snow, then take them off as soon as those conditions end. Just driving around with them on will reduce traction everywhere else and risks failure, which will cause all sorts of expensive damage to your vehicle.
-Driving in winter involves tackling a diverse array of ever changing conditions. To navigate those safely, drivers need something they can rely on to work in all of them, not a single, very narrow circumstance. That something is modern winter tires, not chains.
The Real Cost of Winter Tires
Winter tires cost money, and many of the drivers seen here likely live along California's coast and are just visiting Tahoe to ski for a few days. It's easy for them to dismiss the need to run winter tires for those trips.
How do you justify the cost? Bro, you are paying $269 a day to ski Palisades on a weekend. Your skis, boots, helmet, goggles, and clothing probably total $3,000, if not more. The cheapest hotel room I can find in South Lake Tahoe this weekend is $200 a night.
Financing a Tesla Model X costs about $1,500 a month. Your insurance deductible is likely $500 to $1,000, if not more, and a crash will increase the price of your monthly premium. The price of a tow in Tahoe starts at $300 an hour, and goes up depending on how stuck you might be. And I don't need to remind you how expensive emergency health care is in this country. Will the nearest emergency room be in your insurer's network if you're visiting from out of state?
In short: you can afford a set of winter tires. Buy an extra set of wheels (don't forget the spare) at the same time, store the mounted tires in a corner of your garage, and put them on before your next big ski weekend in Tahoe or anywhere else.
Or don't. But stay home if you're unwilling to prepare to drive in winter conditions. Then maybe social media will be filled with videos of people actually enjoying skiing, instead of crashing their cars.
Lead Photo: California Highway Patrol