Indefinitely Wild
Tackling Moab in a $120,000 Range Rover
And how you can do it, too, for $120K less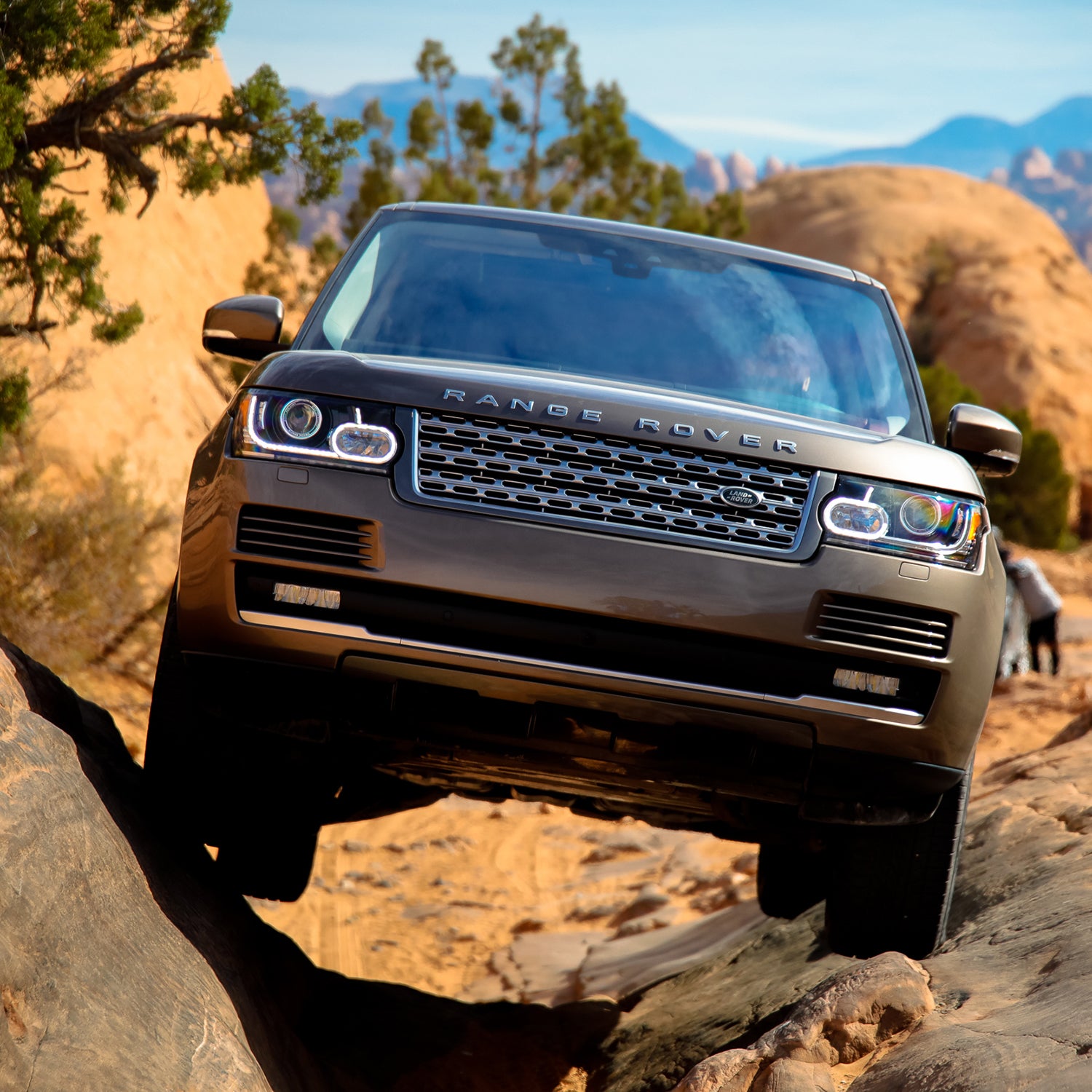 Heading out the door? Read this article on the new Outside+ app available now on iOS devices for members! Download the app.
"Did y'all use a chopper to get those in here for a photoshoot?" the driver of a highly modified Jeep asked me. I was sitting on the tailgate of a brand new Range Rover, sipping a cup of tea, perched atop Moab's famous Hell's Revenge 4×4 trail. For the record, the answer is no, we didn't.
To drive Hell's Revenge, vehicles have to overcome steep climbs up slick-rock, then brave gnarly descents down the other side. They have to straddle splits in the rock and cross steep side slopes along precipitous drops. Late last year, I managed to do all that in a stock Range Rover—without sustaining an inch of damage.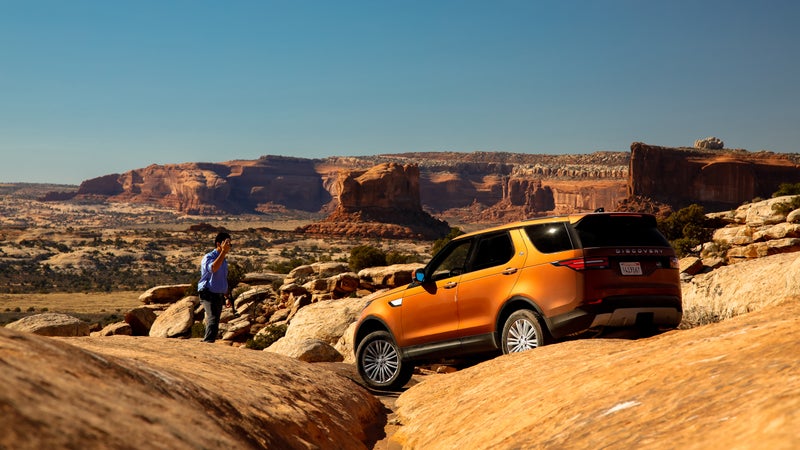 How You Can Do It
I was in Moab as part of one of Land Rover's Experience Tours. If you've ever drooled over the ambitious trips under the #overland hashtag on Instagram, now is your chance to safely venture off-road in someone else's really expensive 4×4. They're conducted in different destinations around the world, and run from $275 for an hour's drive to $1,200 per day for the bigger expeditions. 
They're a great opportunity for Land Rover owners to learn what their vehicles are capable of. Despite their price tags, their powerful engines, and their on-road comfort, the brand's SUVs are still capable of tackling extreme off-road terrain, with stock parts. And the company employs the best driving instructors in the world to teach its customers how to do that. You don't need to be a Land Rover owner to join, but after seeing what these trucks can do, it might be hard for you not to buy one after.
As as experienced off-road driver (I used to be the editor of Australia's Unsealed 4×4 magazine), I was worried that the tour would stick to Moab's easier trails. But I walked away impressed by the degree to which they let us push the vehicles' limits. The stiff suspension of a Range Rover Sport made it easier to control on Seven Mile Rim, though the 22-inch wheels and low-profile tires required some strategic planning to prevent flats. The Discovery's impressive approach and departure angles came in handy on Poison Spider, where the three-row SUV handled the Wedge and Waterfall with ease. But that vehicle lacked the absolute luxury of the supercharged Range Rover that I took on Hell's Revenge.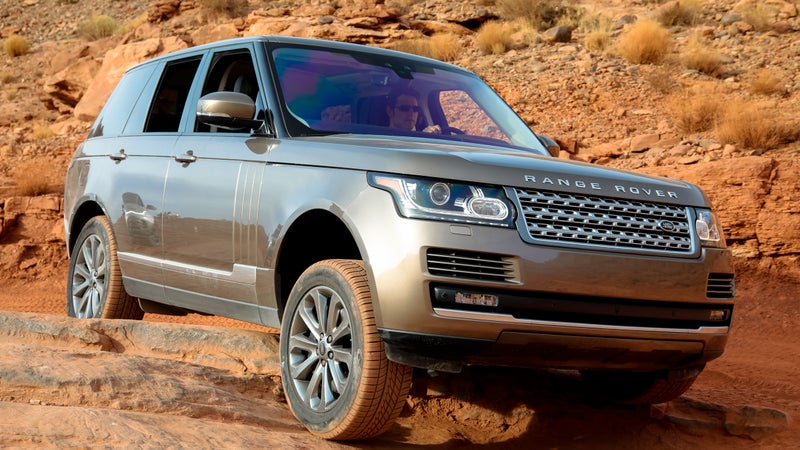 The Range on Slick Rock
Underneath the Range Rover's glitzy exterior lies legitimate off-road components and construction. There's a proper low-range gearbox, true four-wheel drive, a locking rear-differential, and height adjustable four-wheel independent air suspension. The vehicle's computers modulate all those components, as well as the stability control system, optimizing performance and enabling smooth progress over big obstacles. 
But this isn't the easiest vehicle to drive on technical terrain. The long wheelbase that helps maximize interior space also creates a limited breakover angle, which means there's a limit to how high the stuff you drive over can be. Luckily there are factory skid plates to absorb any underbody hits—I was grateful for them several times. The aerodynamic bumper that helps facilitate the truck's 155 mile-per-hour top speed requires care when approaching steep obstacles. It just barely missed rock in a couple places.
Splitting 510 horsepower and 461 pound-feet of torque between all-four wheels, with a crawl ratio of 45.5:1 and a stability control system that independently tweaks all four brakes, the Range Rover doesn't lack for motive force—or the traction to employ it. Even the steepest climbs are no problem. Land Rover invented Hill Descent Control, and now with 20 years of development behind it, the electronic system still takes the hard work out of hair-raising descents. 
At the end of the the slick rock on Hell's Revenge, you're thrown into a series of rubble-strewn descents as you drop of the mesa. This is where the Range Rover truly excelled. Where the majority of the trail is solid rock and predicable (albeit with extreme angles), these lesser obstacles can be trickier, with unstable rocks tossed around under the vehicle's wheels. This is where the Range Rover's terrain response system beats out the manual controls of a traditional 4×4. Rather than fumbling with turning lockers on and off, in the Range, you simply have traction. Always.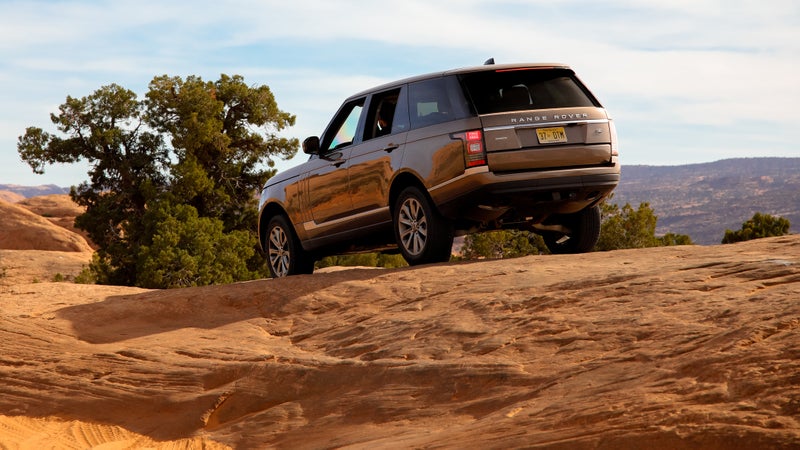 Should You Try This?
Should you take your $120,000 SUV to Hell's Revenge? While the Range Rover is still phenomenally capable, it's wrapped in an expensive-to-repair, damage-prone body. At a minimum, you should be an experienced off-road driver with a great spotter, and have most of a day to kill if you want to give it a try.
That's the beauty of doing it with the Land Rover Experience. Not only are you driving someone else's truck, but their expert instruction will be capable of getting a driver of any skill level to do the stuff you see in these photos. It'd be a phenomenal way to get someone interested in off-roading, and give them the confidence to set out on their own the next time.
Lead Photo: MATTHEW SCOTT