Did the Tesla Cybertruck Really Just Enter Production?
"First Cybertruck built," claims Tesla. But here's what's really going on with the Tesla Cybertruck release date, among other issues.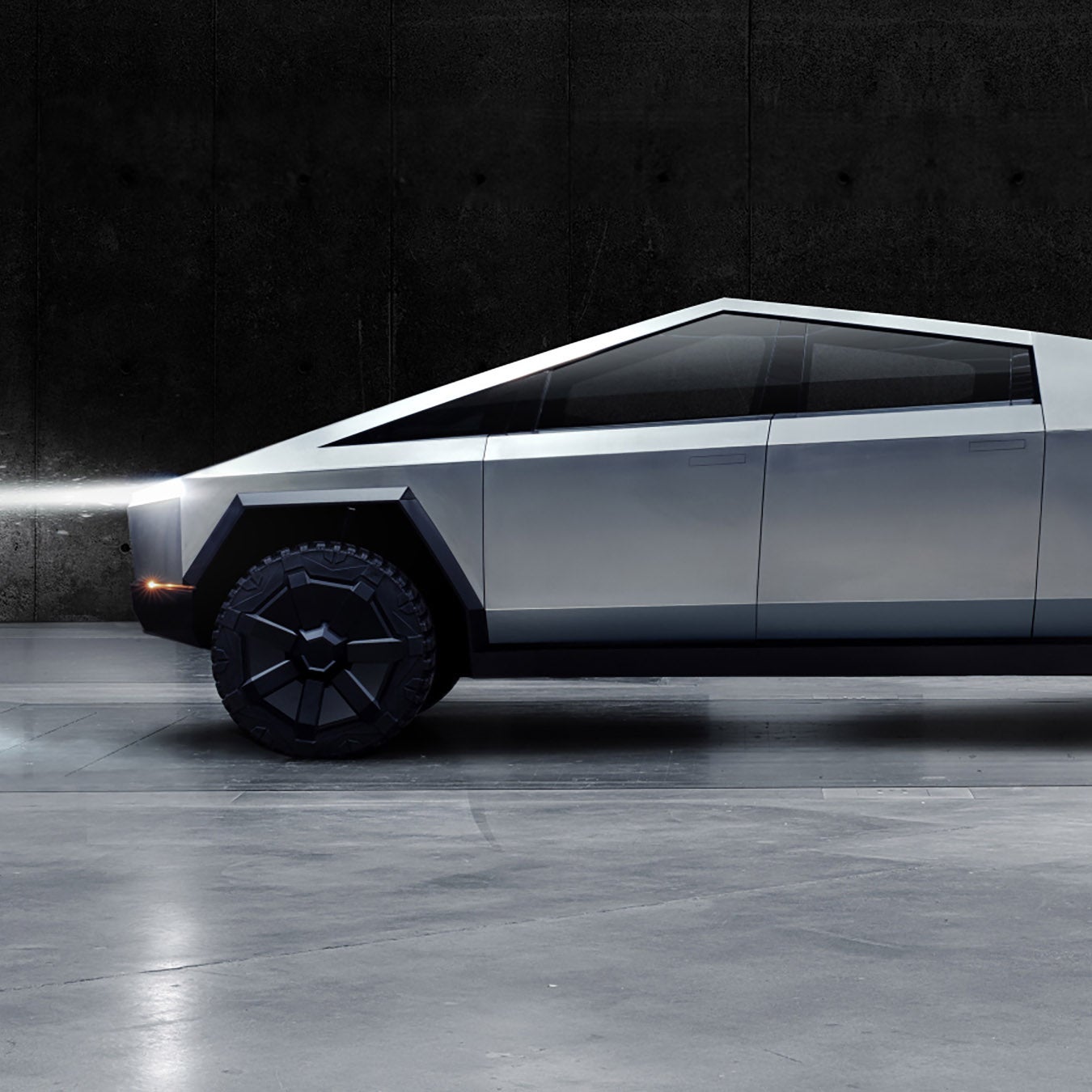 Tesla
Heading out the door? Read this article on the new Outside+ app available now on iOS devices for members! Download the app.
43 months and three weeks ago, I wrote an article titled, "Is the Tesla Cybertruck Real?" This weekend, over three-and-a-half years after first unveiling its electric pickup, Tesla tweeted a photo of what it claims is the first Cybertruck to be built at the company's new factory in Texas. But my original question remains unanswered: is this thing real, or vaporware?
"First Cybertruck built at Giga Texas!" Tesla tweeted early Saturday morning, along with a cowboy hat emoji and a photo of dozens of workers posing in such a manner as to obscure nearly the entire vehicle's body.
First Cybertruck built at Giga Texas! 🤠 pic.twitter.com/ODRhHVsd0t

— Tesla (@Tesla) July 15, 2023
When Is the Actual Tesla Cybertruck Release Date?
This asks even more questions. Has Tesla now entered serial production of its much-hyped new truck? When will the more than 200,000 people who have put down a deposit on one start taking deliveries? What changes has Tesla made to the grossly illegal original prototype to make it safe to drive on public roads? How much will it cost? How fast will it be? How much range will it have?
Beyond the heavily-sloped windshield and a glimpse of a seriously enormous sideview mirror, there is no further detail. But, in the absence of actual information from Tesla, we only have third party data points, none of which point in an encouraging direction.
Development Issues with the Tesla Cybertruck
In May, German newspaper Handelsblatt published thousands of internal Tesla documents provided by a whistleblower, detailing problems at the company. Among those were indications that Tesla's Cybertruck development is not going well.
"The report, dated January 25, 2022, which Wired has examined, shows that the preproduction 'alpha' version of the Cybertruck was still struggling with some basic problems with its suspension, body sealing, noise levels, handling. and braking," reports Wired Magazine. "Handling was also a concern for the alpha Cybertruck. The report noted a number of issues, including 'excessive mid-speed abruptness and chop,' 'high head-toss accelerations,' and 'structural shake.' It said that the truck experienced 'excessive lateral jerk during low-speed maneuvering' and that it needed to address problems with steering refinement and body roll. The EV's strafe mode, a feature that allows the wheels to turn to allow the car to 'crab walk' sideways had 'only basic functionality.'
So… I'm Still Asking: Is This Thing Really Happening?
The Cybertruck is an ambitious product. If it ever does achieve volume sales, it will be be Tesla's first ever pickup truck. One Tesla CEO Elon Musk claimed back in 2019 will have a range of up to 500 miles, and be capable of sprinting from zero to 60 miles per hour in 2.9 seconds. That's on large, heavy 35 x 12.5-inch mud terrain tires. And the fantastical nature of those performance claims is eclipsed by the vehicle's architecture. The Cybertruck unveiled in 2019 was constructed using an exposed stainless steel monocoque chassis, something no other automaker has ever managed to put into volume production.
That original vehicle also lacked even the suggestion of compliance with either domestic or international standards. It featured no sideview mirrors, no windshield wiper, a single lightbar rather than the required separated headlamps, an no energy absorbing crash structure (a bumper) on the front of the vehicle. Glass Musk claimed to be "armored," was quickly shattered by a ball bearing during a subsequent demonstration of its alleged strength.
All of that will have to change before the vehicle can be registered for road use. It's not even clear if any hypothetical production Cybertruck will retain the steel monocoque, or switch to a more conventional painted aluminum unibody. If that change is made, then the angular shape will be retained for styling purposes only, rather than the functional load triangulation of the original prototype.
Meanwhile, other automakers have been busy producing and selling their own electric pickups. Fellow startup Rivian delivered its first R1T to a customer in September, 2021. Ford has sold tens of thousands F-150 Lightnings since that vehicle went on-sale in April, 2022. The $112,500 GMC Hummer EV also wears 35-inch mud terrains, and is capable of doing 0-60 in 3.3 seconds according to third party testing conducted by Car and Driver, while its enormous 205 kiloWatt-hour battery gives it a range of 314 miles. When I drove the GMC Hummer EV back in April, 2022, its crab walk mode proved fully functional.
The Bottom Line: Who Cares?
And even while we still don't have any solid details on what form a production Cybertruck might take, Musk appears to be doing his level best to discourage people from buying one. Following his court-ordered, financially disastrous acquisition of Twitter last year, the billionaire's public image has nosedived amid an embrace of far-right politics, and troubling public behavior like the "literal dick-measuring contest" he's proposed with Meta CEO Mark Zuckerberg. CNN reports many customers are moving away from Tesla as a result.
No longer the first electric pickup—by a long shot—still without any firm information, or even a future date at which that information may be released or for deliveries to begin, and hyped alongside hate speech, the question hanging over the Cybertruck increasingly appears to be, who cares?
Lead Photo: Tesla