Four Ways to Instantly Increase Your Vehicle's Storage Capacity
Need to haul a bunch of gear? These devices make it easy.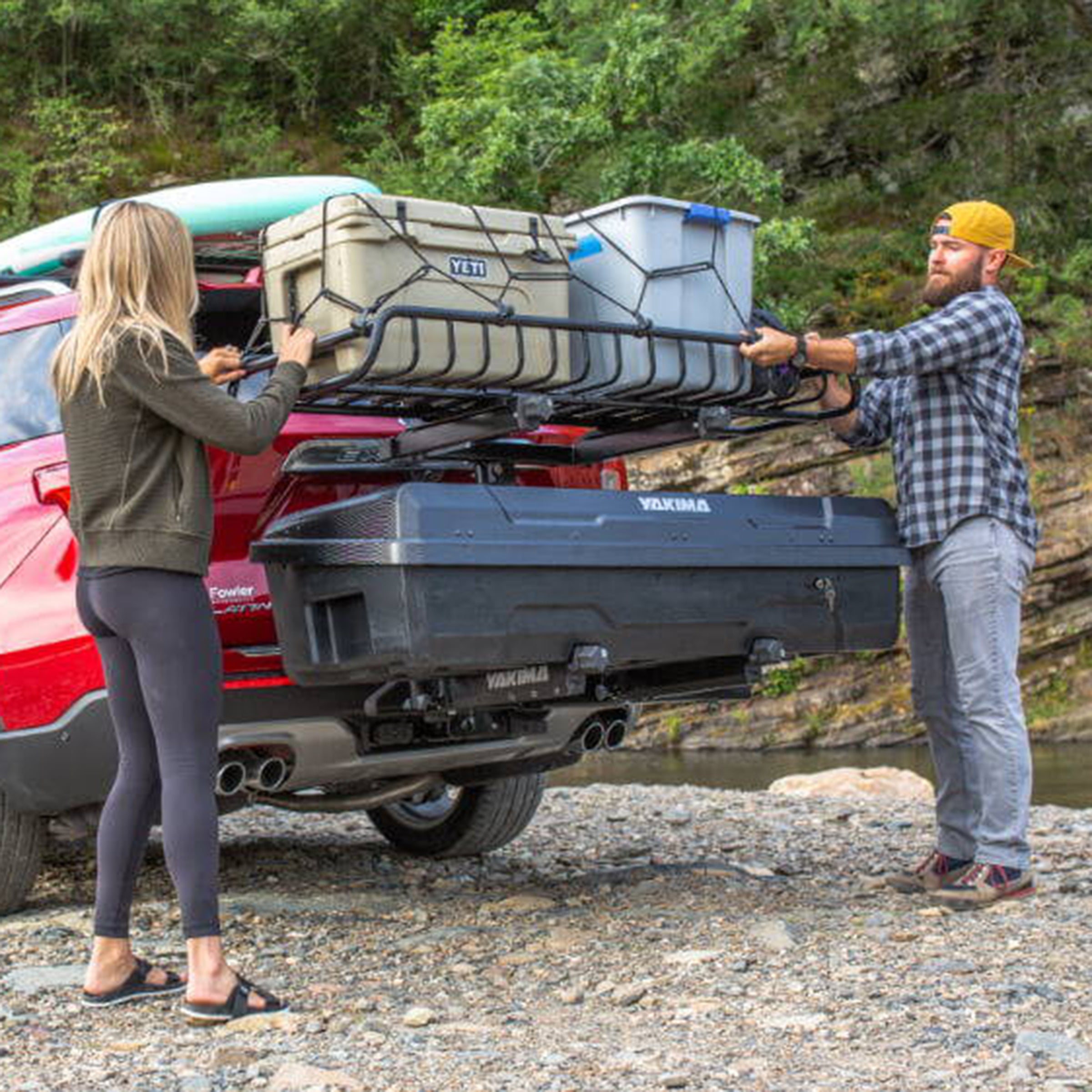 Courtesy Yakima
Heading out the door? Read this article on the new Outside+ app available now on iOS devices for members! Download the app.
My wife and I have four kids, plus two big dogs, and the whole crew loves to play outside. As you can imagine, packing the car for any trip is an absolute beast: there's So. Much. Damn. Gear. As a result, I've spent years testing various contraptions that add storage to a vehicle. What follows are the four devices I think do the best job of easily and cleverly expanding a car's capacity. Even if you don't have a big family, these devices create extra room for long trips, expand what you can bring in a small or midsize car, and help you stay organized.
Yakima Exo System (Starting at $580)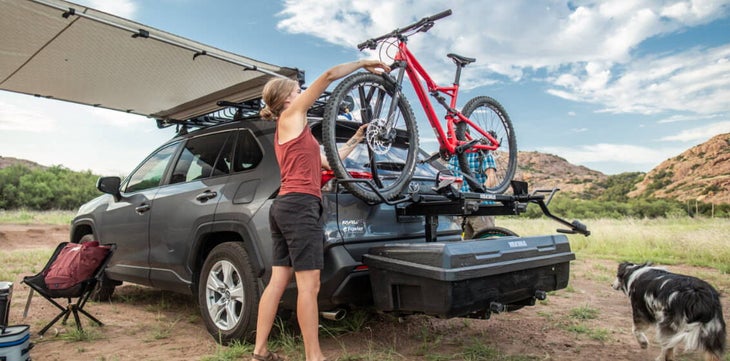 The Exo System, which just launched, is a swingout rack that fits into a two-inch hitch receiver. Two arms stick out from the base that can hold almost anything: a cargo box, tray, bike rack, or ski rack. You can also add an extension bar for a second level of arms directly above the first, effectively doubling your carrying capacity and configuration possibilities: you could attach a cargo box to the bottom arms and then a ski rack to the top set, or fasten a tray to the bottom and a bike rack to the top. Everything that's mounted then swings out of the way when you need to open the rear hatch or tailgate.
The downside: only expensive Exo-specific Yakima products work with the swingout (your old Yakima bike rack won't fit). I still think the investment is worth it because you get a huge amount of hauling capacity, and it's significantly more convenient to have your cargo box and bike rack on the back of your car instead of on the roof. Those of you who don't have a two-inch receiver (looking at you, Subaru owners) can easily get one installed at a U-Haul location.
---
PakMule Sway-Back Tray ($945)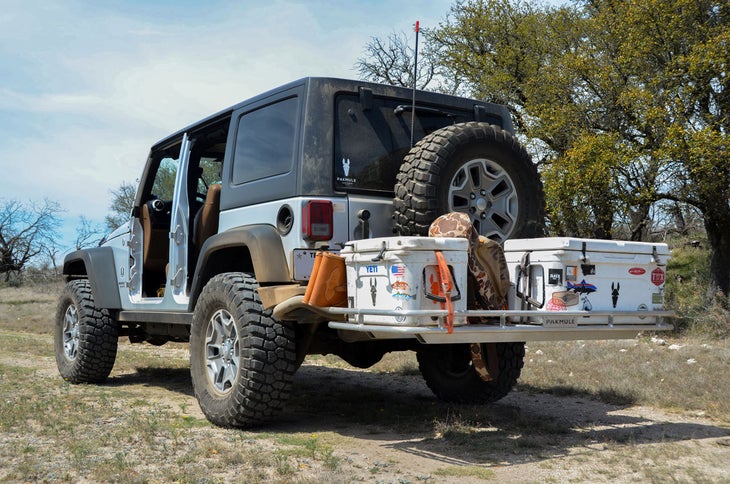 The PakMule tray is not modular nor does it swing out like the Yakima Exo system, but it has other advantages. Namely, it's rated to carry up to 500 pounds of gear, nearly double what the Yakima tray will carry. Warning: check your vehicle's vehicle's tongue weight rating before you overload it. I use the tray most for overland trips, when I'm carrying heavy gear that can withstand a rainstorm, such as coolers, firewood, and even a spare tire. I also plan to use it for an upcoming hunting trip because it's perfect for hauling home an animal that I won't want in the back of my car. As with the Yakima Exo system, I appreciate that the PakMule mounts on the back of my car, where it's significantly easier to access than a roof rack and doesn't affect my gas mileage quite as much.
The price is steep, but for good reason. Instead of using steel that will eventually rust, the PakMule is made from a high-quality TIG welded aluminum that will last decades. PakMule also designed the tray's locking mechanism to prevent rattling, even if you're charging down bumpy dirt roads. The Sway-Back model that I have has a lower rail height than the original, so it slides under the rear-mounted tire on my Toyota Sequoia. The Ridgeline model is a foot narrower and has an eight-inch rise from the hitch for better ground clearance.
---
Blue Ridge Overland Gear Vehicle Attics (Starting at $75)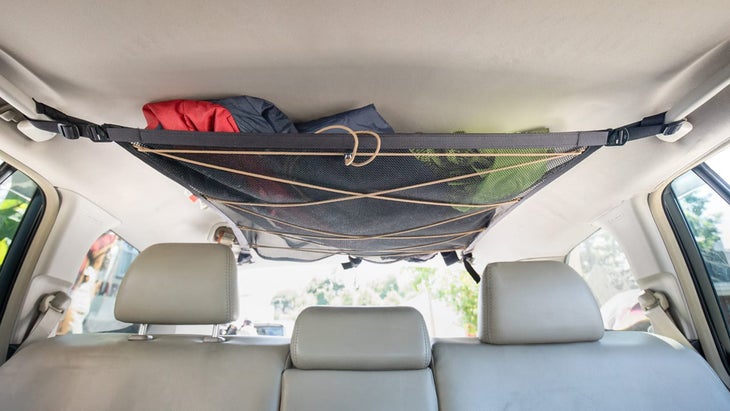 I've always found miscellaneous gear to be the most difficult to organize on road trips. Where do you put your rain jackets, snacks, iPads, books, pillows, and other grab-and-go items you might need during the drive? Usually, this stuff clutters up the seats and floors and often gets lost. Then I came across these vehicle attics that get everything organized and out of your way on the interior roof of your car.
Made from webbing, the attics sit above the rear seat and trunk space, and hang down only a couple of inches so they won't interfere with your kids' headroom or your visibility. On most vehicles, the front part attaches to the second-row grab handles, and the rear part attaches to the clothes hangers that sit over your trunk area. Blue Ridge only makes attics for a few models, but Tacoma, Jeep, and Outback owners are in luck. When we owned a Subaru, I used the attic to keep track of my kids' stuff, but they're also big enough to store a tent and a few sleeping bags.
---
American Adventure Lab M.A.S.S. Spare Tire Platform ($400)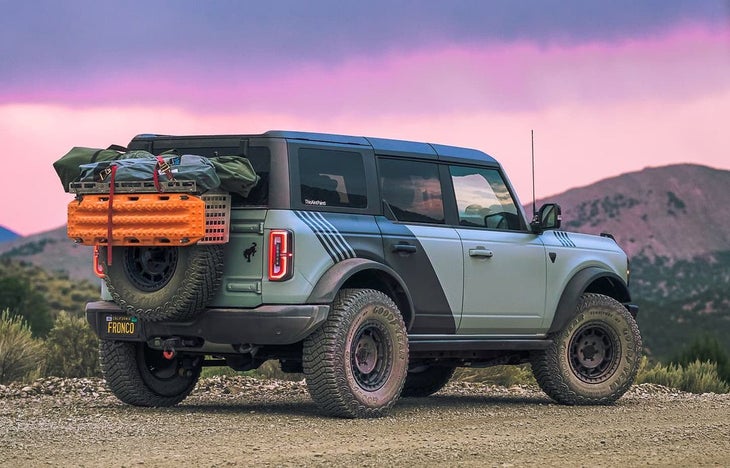 I'll admit that I haven't tested this platform myself. But I know people who have, and they say it's a genius way to add storage to a rig with a spare tire mounted on the back. About half the size of the PakMule tray, the spare tire platform is made from high-quality aluminum and weighs only 18 pounds. It mounts with two ratchet straps (sold separately) and it's the perfect place for an extra cooler, a pile of firewood, or anything you can strap down that weighs 100 pounds or less.
Overlanders will be keen to know that the company also makes brackets for each side of the platform to mount Maxtrax recovery boards and Rotopax jugs for extra water or gas. The company is currently designing more mounts for carrying an ax and shovel.
Lead Photo: Courtesy Yakima