Indefinitely Wild
What It's Like to Off-Road a $231,000 Bentley in Iceland
With a top speed of 187 miles per hour, the Bentayga is the fastest SUV ever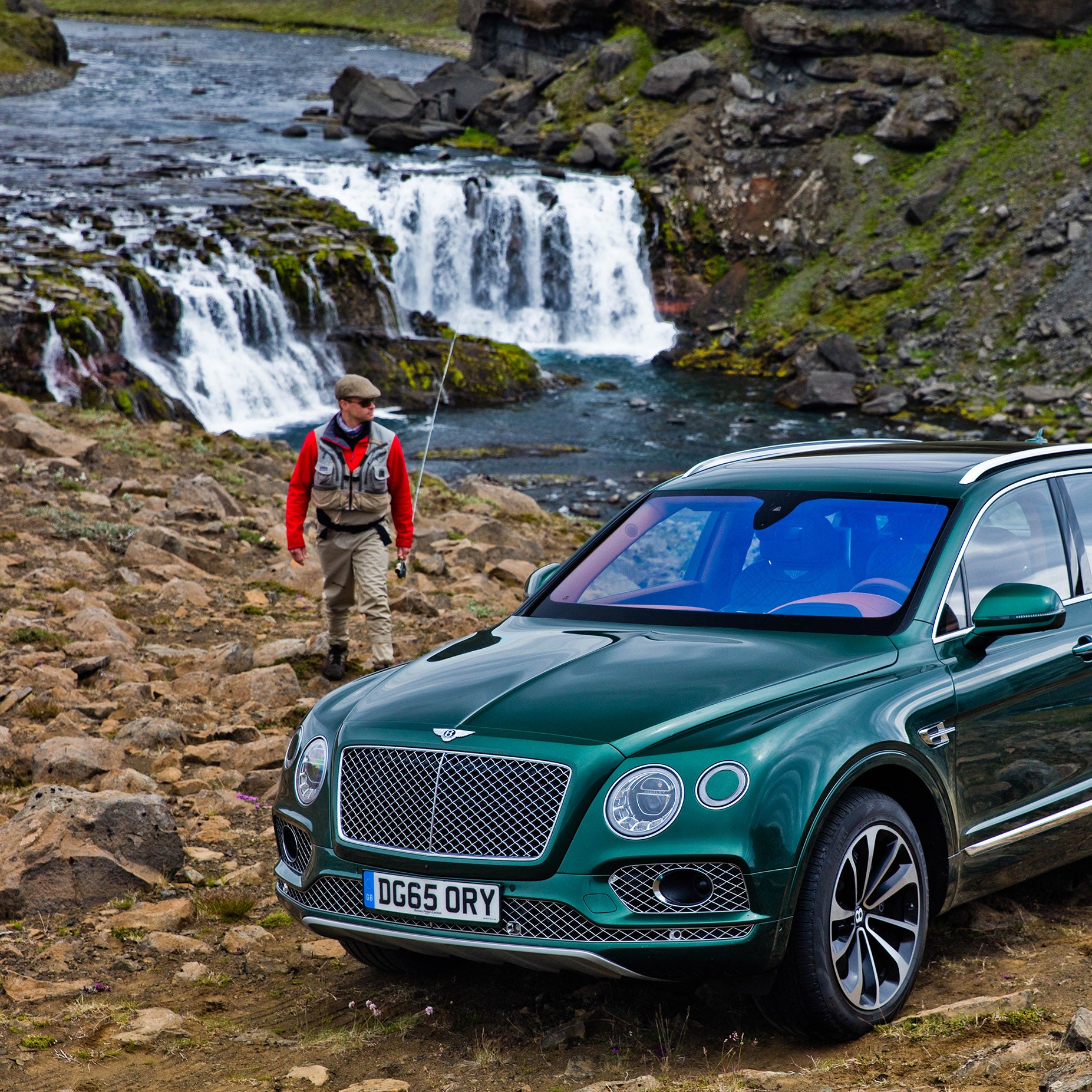 Heading out the door? Read this article on the new Outside+ app available now on iOS devices for members! Download the app.
In April, Icelanders forced the resignation of their prime minister after it was revealed in the Panama Papers that he was hiding money abroad. Last year, the country imprisoned bankers complicit in the crash of the country's currency. Read: Iceland is not a place where conspicuous wealth is en vogue, but it's where we flew to test the Bentley Bentayga—a luxury SUV with a $231,000 starting price. 
Aside from the Bentayga flown in for our drive, there's actually only a single Bentley in Iceland. Something that's not surprising given that the country spends much of the year covered in snow and most popular activities involve heading into the mountains. Lifted SUVs on balloon tires are more common here than Camrys. That's actually the disparity that the Bentayga was created to address. The kind of people who buy Bentleys are also the kind of people who then need to go buy a Range Rover or Land Cruiser when it's time to go on a family road trip, or for any activities that involve leaving a paved road. Not only are those existing customers being lost to other brands, but it's also a lost opportunity to give the kind of people who can afford these things the high-dollar experience they'd prefer, in a vehicle capable of keeping up with their lifestyles. 
And keeping up is not something the Bentayga will have a problem doing. Its bespoke 6.0-liter, twin-turbo W12 produces 600 horsepower and 663 pound-feet of torque—enough to propel the 5,340-pound SUV to 60 miles per hour in four seconds flat, and onto a top speed of 187 miles per hour. To put that acceleration into perspective, this SUV reaches 60 miles per hour 2/10ths of a second faster than the famed Ferrari F40. And it will do that while hauling your dog and family.
Put your foot down in the Bentayga, and you're overwhelmed by its vast, immediate acceleration. No matter what speed you're traveling, its eight-speed transmission will instantly find the right gear, and you'll start reeling in the horizon. You're pressed back into your seat with the kind of force that'll only be familiar to super-car drivers, but the usual drama accompanying such massive acceleration is otherwise absent. The deep growl of the engine is just loud enough to let you know it's there, but the SUV otherwise remains a serene, comfortable environment. Winning a stoplight drag race in a Bentayga wouldn't wake an infant sleeping in the back seat.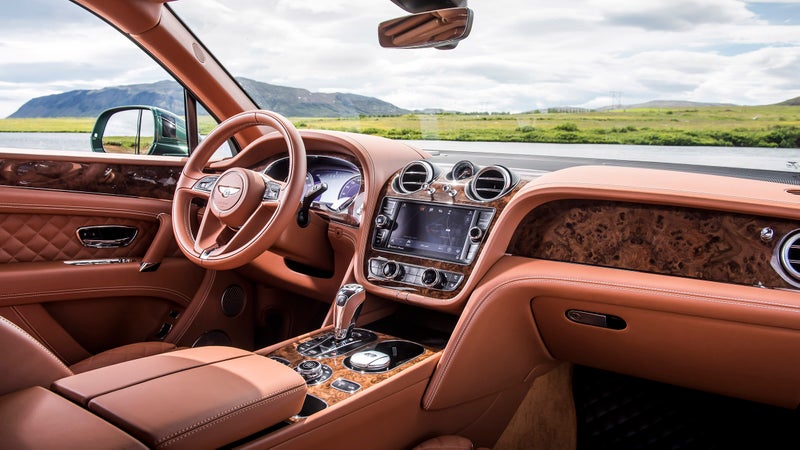 The Bentley is 1/10th of a second faster to 60 miles per hour than the $158,000 Porsche Cayenne Turbo S, and nine miles per hour faster in its top speed. But it's not performance with which Bentley hopes to justify the Bentayga's $73,000 premium. Where the Cayenne is simply a faster version of a vehicle which is accessible to the merely successful, the Bentley caters to an altogether different class of expectation. The model we tested was fitted with the optional rubber floor mats: in your own truck, you probably use Weather Techs to catch snow, mud and sand, but here the mats are quilted, in a pattern which exactly replicates that of the hand-stitched leather seats. They keep dirt from invading the wool carpet. Seven different species of tree are offered as interior paneling, standard of course, and the company's in-house coachbuilder, Mulliner, can swap those for any other material you desire—even real stone. Again, of any type of rock you can come up with.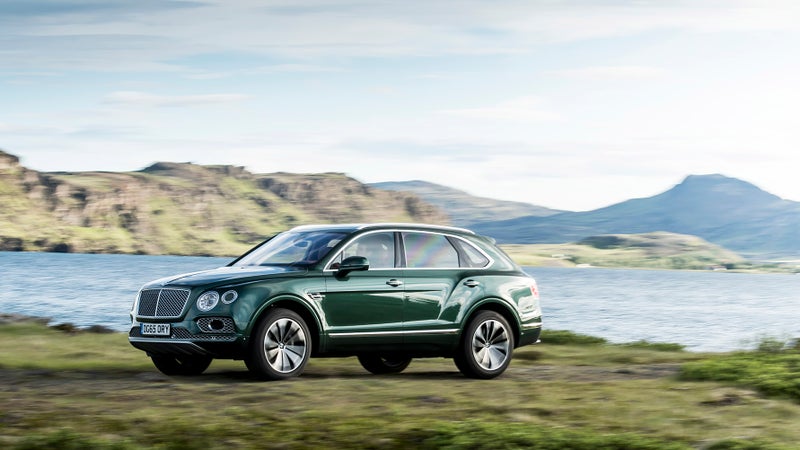 Objectively, ultra-luxury vehicles like this one have always done a poor job justifying themselves. But the Bentayga is actually surprisingly practical. Set to its maximum height off-road, it has nearly 10 inches of ground clearance—1.5 inches more than a basic Jeep Grand Cherokee. To save fuel, its W12 is capable both of deactivating some of its cylinders and disconnecting itself from the transmission while coasting. At 29 miles per gallon, it returns the same highway fuel economy as my old 174 horsepower Subaru Outback. At 202.4 inches long and 78.7 inches wide, it's a huge vehicle, but it's a cinch to park thanks to cameras which surround the entire SUV, and offer drivers a high-resolution, top-down view of obstacles. It can tow 7,700 pounds. 
One thing the Bentayga excels at over all other SUVs is ride quality. Plush damping you expect on a high-end luxury car, but the way Bentley achieves that throughout this vehicle's impressive performance envelope is unique. Selectable drive modes that alter throttle response, traction control, and suspension height and damping rates are nothing unique. Put a Range Rover in "sport" mode and it tightens the dampers to offer improved steering, and less body roll in corners. Do the same in the Bentayga and it's not the dampers that stiffen, thereby worsening the ride, it's the roll bars. That way, the plush ride quality is retained, while keeping the SUV almost totally flat. Its a novel solution, and one that requires a lot of electrical power to instantly actuate. As a result, the Bentayga runs a 48 volt electric system. The rest of the luxury car world only just upgraded from 12 to 24 volts.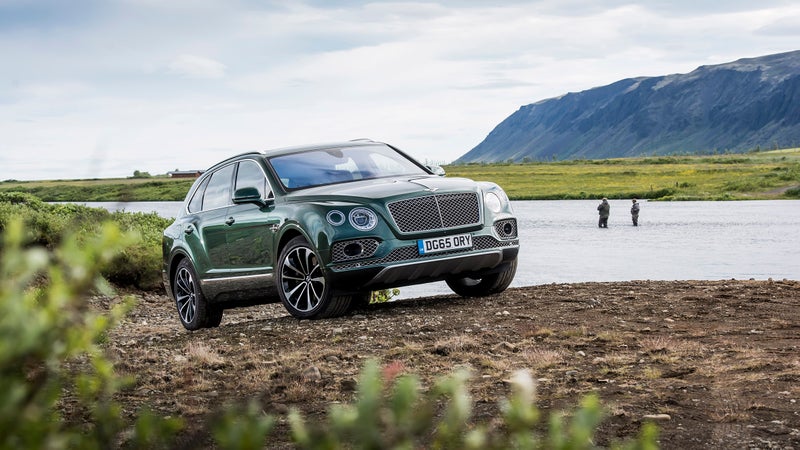 It's that same ability to alter the ride height, ABS intervention threshold, damping rates, roll bar actuation, and other factors that grants the Bentayga the "surprisingly capable" plaudits you've read about in first drives printed elsewhere. I'm not sure what's so surprising about an SUV's ability to tackle a rough dirt road or pull itself out of a sticky situation, but this Bentley is able to do both. As you should have also read in our 4WD vs AWD explainer, the latter (which the Bentley uses) is prone to sending power to whichever wheel lacks traction the most. To counter this, Bentley has spec'd some very impressive hardware. A Torsen center differential apportions torque front to rear, helping it to find the axle with the most traction. If that's the rear, then both wheels on it can be locked together through the standard electronic locking differential. If that's not enough, the traction control system can mimic a locking effect on all four wheels. 
The Bentayga doesn't have quite the maximum ground clearance, and subsequently quite the approach and departure angles, of a Range Rover, but like that vehicle, it uses cameras to help drivers navigate obstacles that may threaten body damage. In off-road mode, at low speeds, the center screen displays a forward view from a fisheye camera mounted low in the front bumper, while the parking sensors are also deployed to warn of obstacles you may still be unable to see. 
Together, all that is enough to confidently navigate the Bentayga down very rough dirt roads. But, also like the Range Rover, true off-roading will ultimately be limited by the owners' willingness to accrue body damage, and how much time they want to spend repairing tires. Like most road-biased SUVs including anything that could vaguely be considered competition for the Bentley, it's ultimately the lightweight, low-profile tires that will be the biggest limiting factor once you leave pavement. The Bentayga may be fast on the road, but you need to creep around slowly off it or you risk punctures. 
That same AWD system would make the Bentayga a sure-footed, exceptionally safe companion in winter weather. Thanks to that e-locker, it'd be more capable in snow than any Subaru or Audi, especially if fitted with winter tires.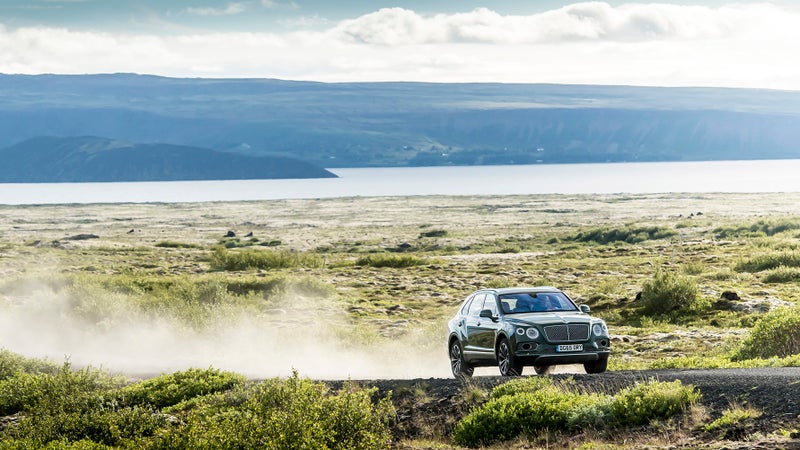 We used the Bentayga to travel from Reykjavik out to a remote river in the highlands of eastern Iceland to do some salmon fishing. As you'd expect, it was calm and cosseting on the highway, and made navigating what little traffic Iceland's only city can muster a breeze. While it was a novel experience to deploy that vast torque on the mountainous back roads, ultimately the vehicle's immense size limited our outright pace. One-lane bridges threatened to scrape both sides of the SUV, and oncoming traffic pushed us uncomfortably close to the shear drops on the road's right edge. In empty, well sighted corners, the Bentayga achieved impressive cornering forces, but its electric power-assist steering doesn't manifest much feel even in the sportiest of settings, and the driver is never truly involved in the experience. 
It proved a practical support vehicle for fishing, able to easily navigate the crushed volcanic rocks from which Iceland's dirt roads are made, and even navigated smooth, loose river rocks down to the water's edge. Ours was equipped with Mulliner's custom fly fishing system, which turned the boot in the world's fanciest (and extremely useful) tackle box. 
Back in Reykjavik, surrounded by rusted out Land Cruisers, the Bentayga had one last surprise in store. SUVs have long been the stealth conveyance of choice for the world's elite, but you don't expect the fastest or most expensive one ever to blend into traffic. We caught one or two surprised thumbs-up from car enthusiast teenagers, but everyone else just seemed to ignore the Bentayga in the same way they've learned to ignore Range Rovers and Cayennes. We made a couple of wrong turns, blocked traffic for a second during an awkward three-point about face, but no one seemed annoyed that the $231,000 Bentley on foreign license plates was getting in their way. For its mega-wealthy buyers, this ability to remain anonymous in an ultra-luxurious, extremely capable vehicle is probably going to be the Bentayga's biggest draw.