Indefinitely Wild
What Thule's Acquisition of Tepui Means for Overlanding
Is the massive rack-maker's investment in rooftop tents a good thing?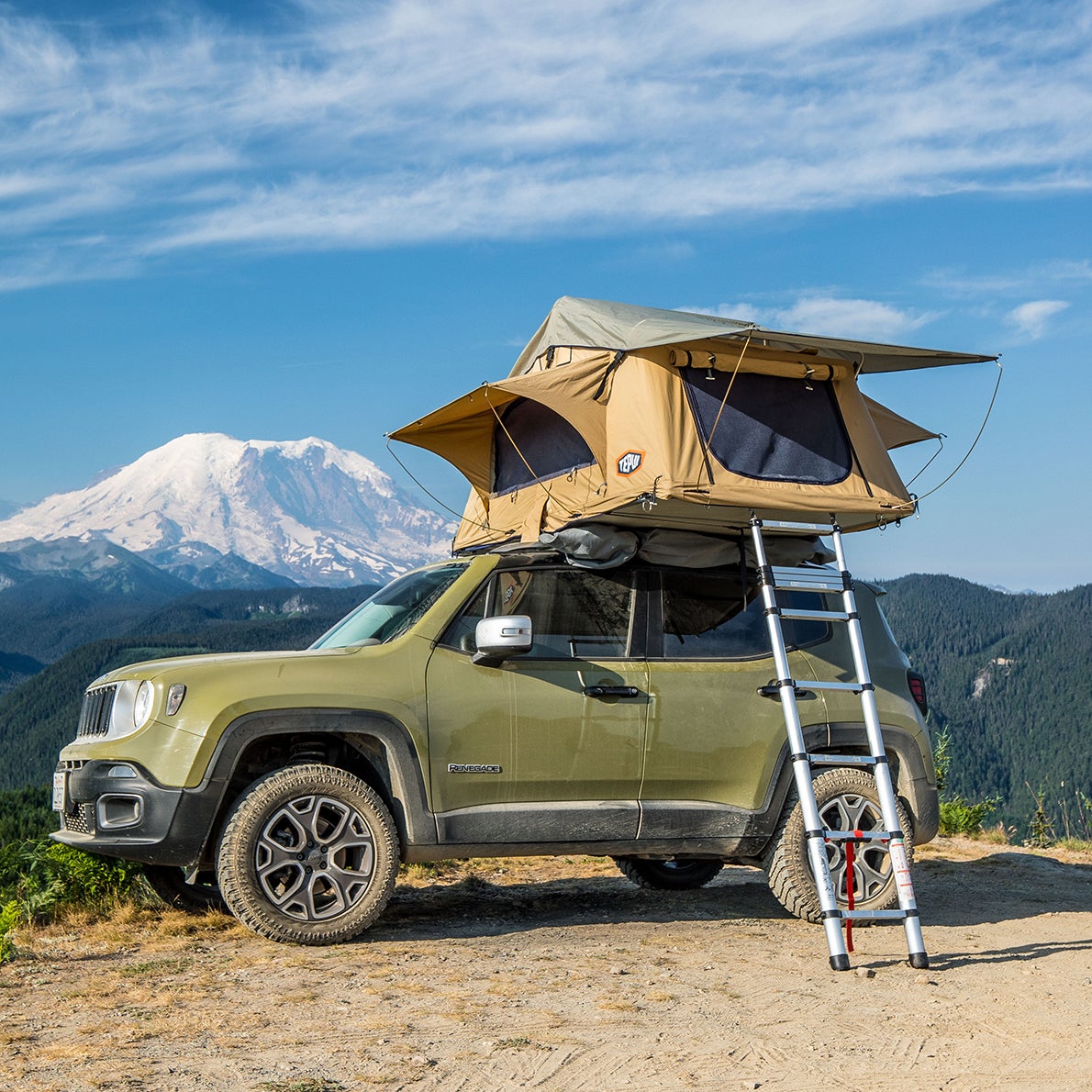 Heading out the door? Read this article on the new Outside+ app available now on iOS devices for members! Download the app.
Late last year, the biggest name in roof racks acquired one of the most recognizable makers of rooftop tents. Does this mean high-end car camping—often called overlanding—is poised to become a mainstream trend? 
You've heard of Thule. If you carry bikes, skis, or plain cargo on the roof of your car, then odds are you use one of the company's expansive range of racks, boxes, or carriers. The Swedish company sells over $650 million of car accessories, baby gear, and luggage every year. 
But unless you really care about modifying trucks, then driving them to far away places, you probably haven't heard of Tepui. The formerly family-owned company was launched in 2010 in Santa Cruz, California, and was acquired by Thule in December for $9.5 million, based on just $6.5 million in annual sales. They make those giant canvas sacks you see bolted to the top of all those trucks that are so expensive all of a sudden. 
Spending too much money fixing up an old Toyota or Land Rover, or just bolting so much stuff to your brand new Tacoma that you destroy what little performance it may have had to begin with has become something of a trend lately. Just as the Fast and Furious movie franchise inspired people to bolt giant wings to the back of front-wheel drive cars in the 2000s, driving an Instagram-perfect FJ80 on 35s is currently the thing to do with your disposable income. The big question is: Will this trend have legs, or like all those modified Honda Civics, will it simply be replaced by the next big thing? People involved in making or selling 4×4 accessories are abuzz with hope that a giant brand like Thule investing in Tepui might just mean overlanding is here to stay. 
"It's unlikely that Tepui had any intellectual property that Thule couldn't have developed itself," says Graeme MacPherson, who owns another small company operating in the overland space—Go Fast Campers. He's also watched the acquisition closely, and thinks it's likely that the main value to Thule is Tepui's existing recognition, combined with its talent. Tepui founder and president Evan Currid will stay with the brand in his current role and bring several other key staff members along with him. That should speed Thule's ability to understand what rooftop tent buyers want and how that segment might expand. 
You need a rack in order to mount a tent to your roof, and the design of said rack and the way it bolts to the tent have been the cause of many inherent problems with rooftop tents. So it makes sense for a rack maker to also design and produce the shelters. In a best case scenario, Thule acquiring Tepui will result in the integration of the rack and tent, thereby cutting weight, and allowing tents to be mounted closer to the roof in a more aerodynamic and secure fashion. It's also likely that Thule will be able to access economies of scale unavailable to small brands, bringing down the price of these hopefully better rooftop tents. 
"I don't think Thule is copying Yakima, I think both just identified an obvious opportunity," says MacPherson. Yakima, which has an estimated annual revenue of $75 million, developed its own range of rooftop tents a couple years ago. It also targeted the issues of weight and cost, but did so with its own designs. They've since been plagued by quality issues (just read the many negative reviews on REI's site for details). Customers complain of leaks, cheap mounts, and manufacturing errors. Thule's acquisition of Tepui may have been influenced by a desire to avoid Yakima's mistakes. MacPherson himself is also chasing the goal of a lighter, more affordable, more user-friendly rooftop tent with his company; it's simply where the market needs to go if it's to appeal to more people. 
In many ways, Tepui is actually emblematic of the issues inherent in rooftop tents. Its canvas tents aren't terribly spacious when open, yet pack away into an unsightly sack that's so heavy, users typically don't bother removing them from their trucks when they're not in use. Mounted so high up, those couple hundred pounds of unused tent then raise the vehicle's center of gravity, reducing its ability to tackle both high-speed corners, and off-road obstacles. Those giant, unsightly lumps of canvas also destroy your fuel economy, and cost from $900 on up to $4,000. 
"What the market needs is a lighter, cheaper option," says MacPherson. He speculates that Thule will likely set about developing Tepui's new HyBox design into something that will reach a lower price point. That would make sense. The HyBox attempts to integrate an aerodynamic storage box—something Thule already has much expertise in—with a removable tent body. The design enables buyers to choose the utility of the cargo box for day-to-day use, then zip-in the tent before a camping trip. It's a neat solution that gives users regular utility, but it also remains very heavy—175 pounds without a rack—and way too expensive at $2,895. 
Thule's challenges with Tepui are almost an exact microcosm of the challenges overlanding faces as it attempts to reach a wider audience. At its best, overlanding enables more people to better enjoy the outdoors. Products that add genuine utility enable people to do more with their vehicles, more safely. Maxtrax come to mind as a good example of a functional product with wide applicability. And products that add comfort make going camping with your vehicle easier and more fun. Portable fridge-freezers have taken my camp cooking to new levels.
But, at its worst, overlanding is just one more way to charge people way too much money for something they don't need. I'd argue that rooftop tents are currently the worst example of overlanding's excesses. They offer nothing but negatives over a well-chosen and expertly used ground tent, and are primarily sold to novice campers who don't know any better. If overlanding is going to stick around, then it needs to focus on enabling adventures, not simply selling people on an image. And, if Thule wants to be successful at selling people rooftop tents, it has to find a way to make its newly acquired product range more functional. 
Trending on Outside Online