Which bike rack works well on a sedan?
I need to transport two adult bikes from Ohio to Vermont on a 1996 Honda Civic Sedan. One bike is an old-fashioned cruiser style that doesn't have a detachable front wheel. I'd prefer not to spend a fortune on a rack. Any suggestions? Sarah Columbus, Ohio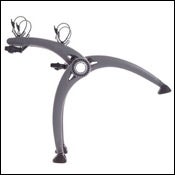 Heading out the door? Read this article on the new Outside+ app available now on iOS devices for members! Download the app.
You have two choices: Put a rack on top of the car, or on the back of it. The trouble with the back rack is that the Civic is so low to the ground, it's going to take some work to ensure the bike wheels aren't scraping the ground behind you. The trouble with a top rack is expense. By the time you get the crossbars and the bike trays and everything, you're into it for $400 or so (maybe more than the Civic is worth).
Saris Bones 2-Bike Rack

Bones 2-Bike Rack
So I'd get a trunk mount and hope for the best. Performance's XPORT Porter Trunk Rack ($60; www.performancebike.com) is pretty much as its name implies—a two-bike rack that attaches to a sedan trunk with various nylon webbing straps and cushioned contact points so you don't mar the paint. The Saris Bones 2-Bike Rack ($120; www.saris.com) is a little more elegant-looking, with a design that arches from the trunk lid to the bumper, and the capacity for (duh!) two bikes.
Alternatively, you can check in with your local tow-hitch outfit and see what it would cost to have two-inch receiver hitch bolted or welded to the Civic. It's doable, I know that, and likely will cost $150 or so. Then you can get a receiver hitch, which has the advantage of allowing the trunk to be opened and closed without taking off the bikes and the rack. Performance to the rescue here, too, with the XPORT Free Loader, a three-bike hitch rack for the budget price of $80 (it's on sale now, regularly $100).
Check out this year's more than 400 must-have gear items, including a comprehensive biking section, in the 2006 Buyer's Guide.