Why You Need Winter Tires Next Season
We put two of the industry's leading snow tires to the test. They made all the difference when snow totals measured in feet.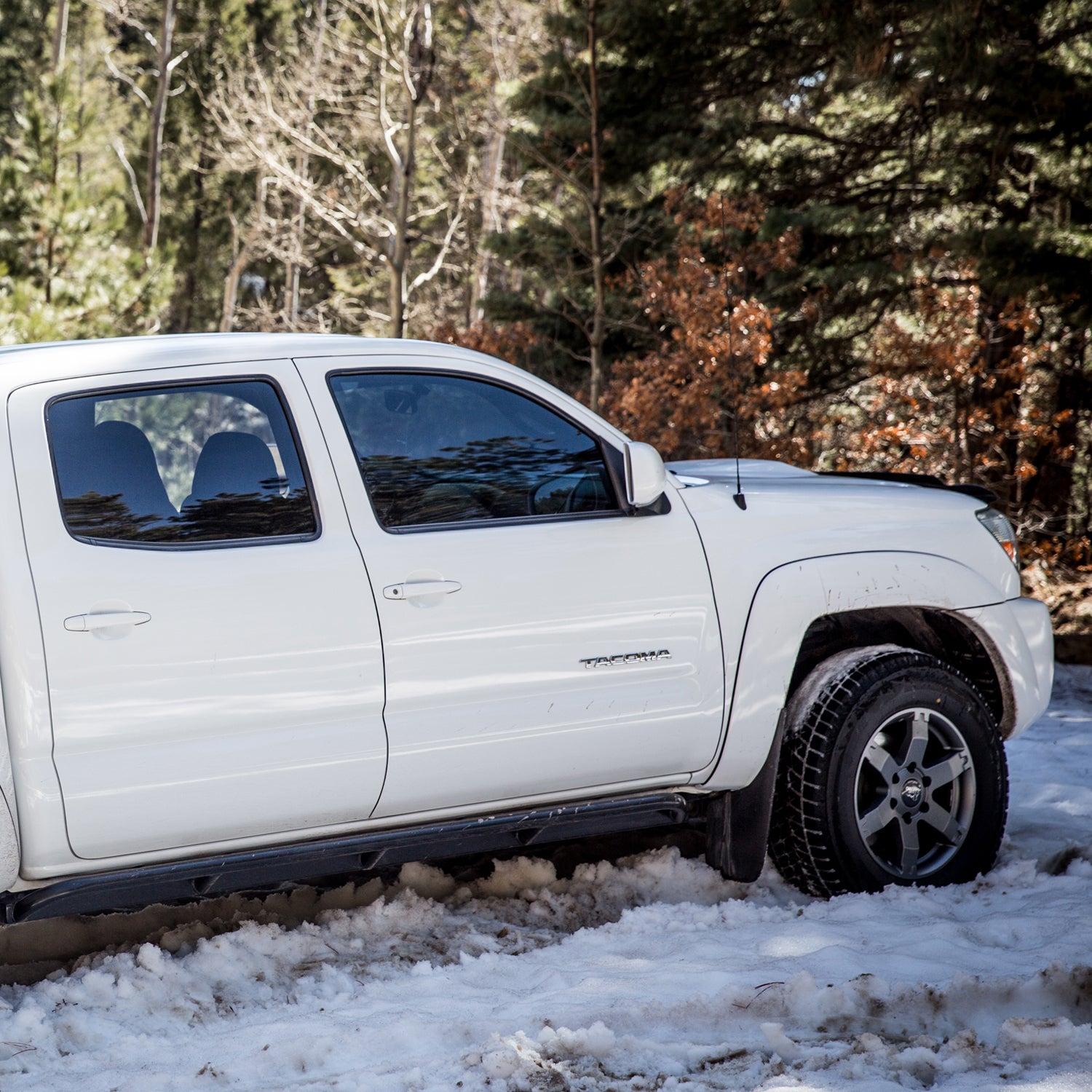 Heading out the door? Read this article on the new Outside+ app available now on iOS devices for members! Download the app.
Tires have a huge impact on car performance and safety, but most of us rarely give them any thought—until they quit working. That's what happened in November when our headquarters in Santa Fe, New Mexico, got hit with the first major El Niño storm of the season. On the storm's biggest day, most of the office drove up a local hill and proceeded to get stuck in the more than two feet of snow that had fallen overnight.
I had to abandon my Subaru Forester, with its regular all-season tires, in a snowbank and hop into a friend's Toyota. After skinning up the resort and skiing all-time powder, that same friend gave me a ride back down, where we dug out my car, which I then white-knuckled back to town. I resolved never to drive a snowy road without the proper treads again.
---
The Tires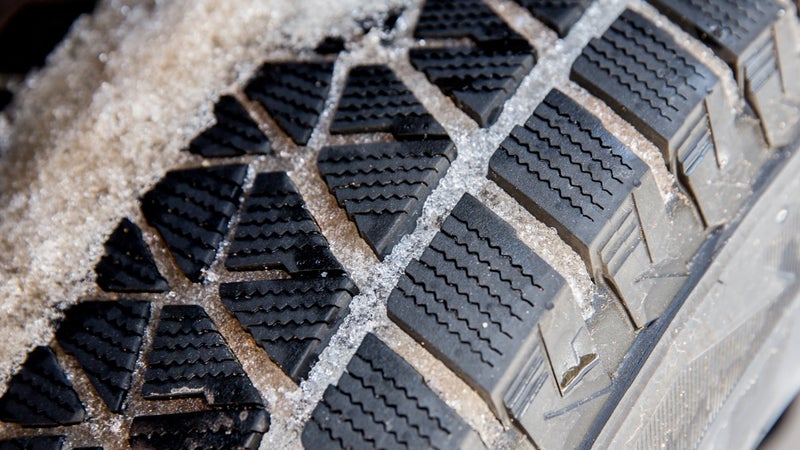 For a snow tire recommendation, I called Tire Rack, the country's largest consumer-direct source for tires. The company sent over a set of wheels and Michelin X-Ice Xi3 tires for my Forester, plus a set of wheels and Bridgestone Blizzak DM-V2 tires for my co-worker's Toyota Tacoma. (Note: We highly recommend the Winter/Snow Tire & Wheel package because the tires arrive mounted and balanced, which means you can easily swap them on yourself.) Both sets are studless, so we didn't need to worry about excessive noise or wear and tear on our vehicles.
The Michelin X-Ice Xi3 is specifically designed for a car, wagon, or small crossover. They're lightweight and a little less aggressive, but they're still made to churn through snow, with a winter-specific tread pattern and a silica-based tread compound that stays firm at moderate temps for dry-pavement handling but softens when it gets cold to help with traction. The tread pattern also includes lots of siping—those little slits in the tread blocks that split apart while you're driving—plus tiny holes called micropumps that help with traction when the road gets slick.
The Blizzak DM-V2, made for trucks like the Tacoma, has many of the same features, including microscopic holes that bite into snow or ice for traction and help wick away any water on top. This tire is just a bit burlier, with an aggressively siped tread that stays soft even when temps drop below freezing and an extra-deep, rugged tread pattern.
---
The Results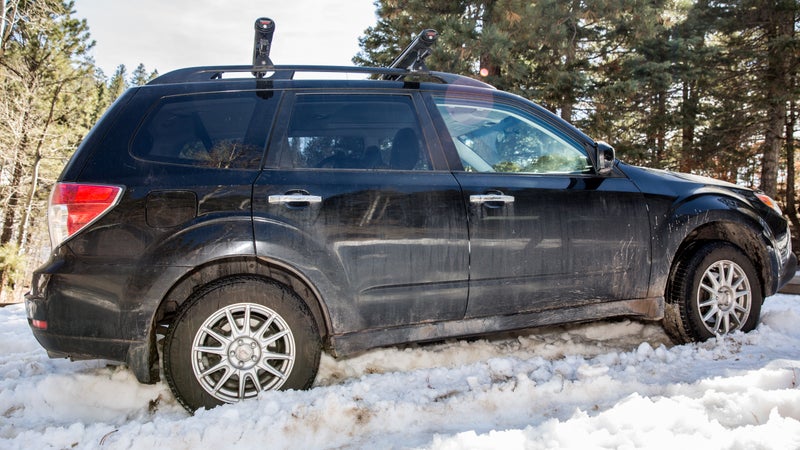 I was worried the X-Ice Xi3 would be loud, burn gas, and ruin my handling. None of the above happened. In the snow, they made an enormous difference. Stopping distance on ice and hard-packed snow decreased dramatically, and I had to work hard to get the tires to break free while cornering in snow or accelerating from a dead stop. I never completely spun out and was able to drive at normal speeds during snowstorms that left other vehicles inching down the road. In the end, I was blown away by how confidence-inspiring these tires were in nasty conditions.
My co-worker noticed similar improvements on his Tacoma with the Blizzaks. He lives an hour away in Albuquerque and says the tires gave him much more confidence while cruising at high speeds on packed snow up the interstate to Santa Fe. There was no slippage up the main climb and no swerving on ice-packed bridges. His stopping distance also went down, even when the truck was loaded with gear. On the way to the ski hill, he drove the truck onto a dirt road with several feet of snow and plowed through spots where he used to get stuck with regular tires.
There were a couple downsides. My co-worker noticed that his fuel mileage decreased slightly, and he had to change the tires in March as temperatures in Albuquerque climbed. If you live in a spot like Crested Butte, Colorado, or Bozeman, Montana, you likely can install the tires in November and keep them on until April. In other areas, you'll need to swap them out when temps stay above 40 degrees since the warmer asphalt will ruin the soft tread.
And neither set is cheap. My X-Ice Xi3 tires, plus rims and shipping, were $1,100, and my co-worker's Blizzaks with rims and shipping were $1,300. That's a lot to pay for rubber that lives on your car for only a couple months per year, but if you treat them right, they should last for several seasons.
---
Bottom Line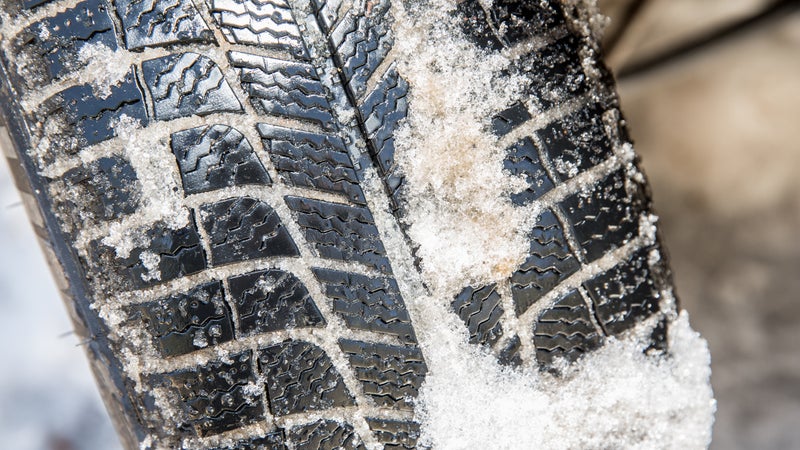 New Mexico isn't the snowiest spot in the United States, but these tires made a huge difference all winter, especially on the way up to the ski hill. We never got stuck again. We've written before about the benefits of terrain-specific tires, and the same thinking applies here: a winter tire will always perform better in the snow than an all-conditions tire. If you live in a really snowy spot—say, Jackson Hole or Lake Tahoe—these tires will make an even bigger difference in your day-to-day drive, and it'll be easy to justify the extra cost. No snow tire will save you if you drive recklessly, and they aren't going to work like a set of snowcat treads, but your winter commute will certainly be a lot easier and safer.
Trending on Outside Online