The 4WD Winnebago Revel Is a Breakthrough Camper Van
The first mass-produced, off-road-ready camper to be sold in the U.S. in decades is a winner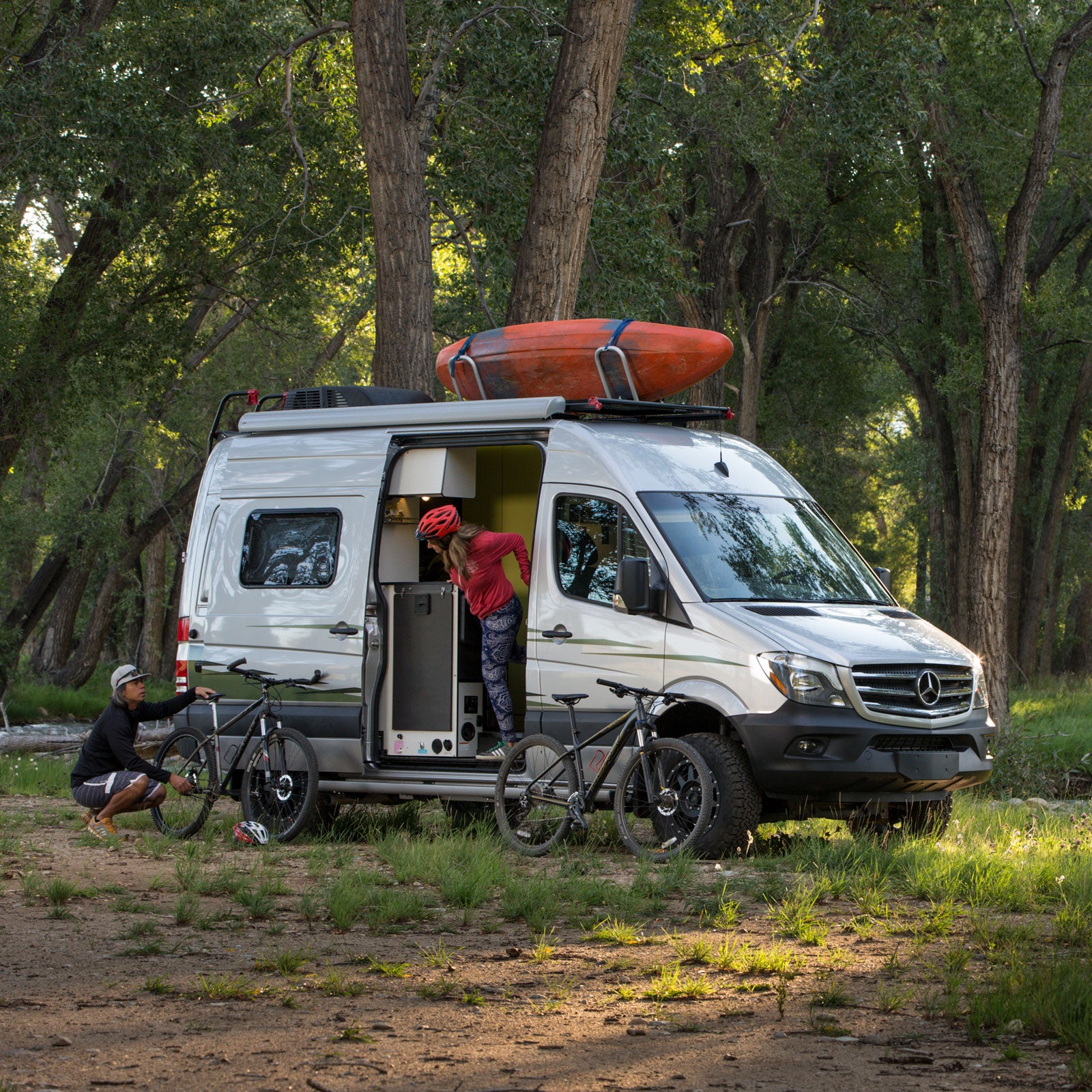 Courtesy Winnebago(Photo)
Heading out the door? Read this article on the new Outside+ app available now on iOS devices for members! Download the app.
Perched at the bottom of a muddy, off-camber, and leaf-slicked North Carolina fire road, I'm mildly unnerved by Chris Bienert's confidence. "Just ease off the brakes," he says. "It'll climb right up."
With a small tap on the accelerator, Bienert's $130,000 pride and joy—a brand-new, four-wheel-drive Winnebago Revel 44E camper—begins a slow, steady, and remarkably sure-footed ascent up a road very few factory-built American RVs would have any business attempting. After a half-mile of climbing, Bienert, the guy who designed the camping upfits for this Winnebago-modified Mercedes Sprinter van, instructs me to set the cruise control at around three miles an hour. With Mercedes's downhill-assist control engaged, we begin an equally and eerily stable descent.
I've been particularly interested in the Revel since Winnebago revealed its first four-wheel-drive Sprinter van camper concept in 2016. My favorite toy as a six-year-old was a burly Tonka Winnebago Indian. I've owned seven VW campers, including two Syncros and my current rig, a 2003 Eurovan Winnebago, modified for light off-roading—a van, ironically, designed by Chris Bienert. I've also overseen build-outs of a Syncro and a pair of veggie-oil-powered, four-wheel-drive Sportsmobile Ford Econoline campers for Jimmy Buffett. I'm a geek for this stuff.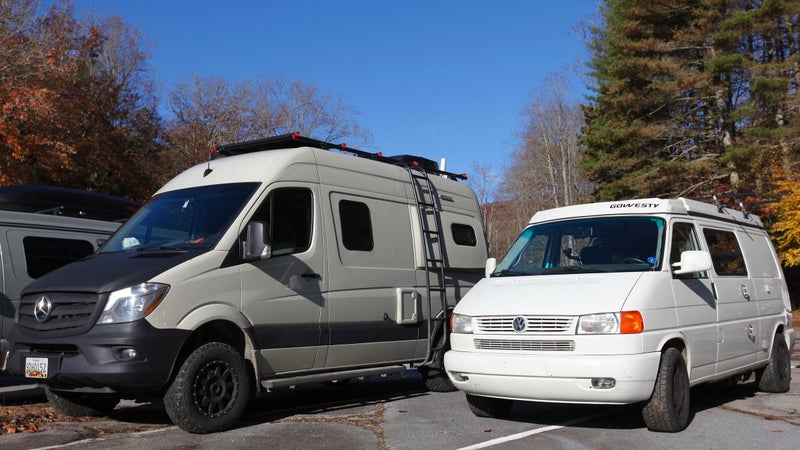 I took the wheel of this Revel in November at Overland Expo East, an annual gathering outside Asheville, North Carolina. Ogled at by a stream of gawkers, dreamers, and buyers ready to pull out their checkbooks, the sleek, mud-splattered camper looked right at home amid the Tacomas, Land Cruisers, Sportsmobiles, and half-million-dollar EarthRoamers. Starting at the rear doors, Bienert, a longtime product designer for Winnebago, began a detailed tour. "The basic philosophy behind the van is: it's not about the van," he said. "It's about getting into the outdoors."
The Specs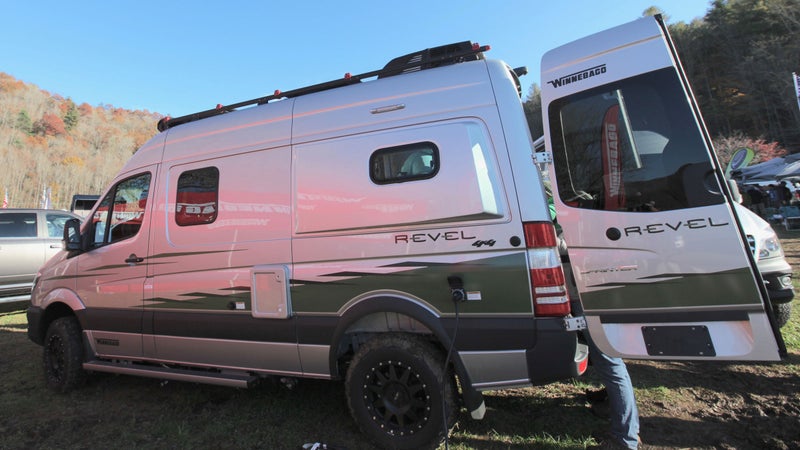 The Revel begins life at Winnebago's factory in Lake Mills, Iowa, as an empty and unmodified Sprinter cargo van equipped with Mercedes's factory four-wheel-drive system. Winnebago adds the camper interior and copious electronic life support.
Though he's supremely confident in the capabilities of Winnebago's #vanlife fetish object, Bienert admits that he was terribly nervous when Winnebago began selling the Revel last year. It's easy to understand why. This is the first full-on adventure rig that Winnebago has ever built. It's also the first mass-produced, four-wheel-drive camper to be sold in the U.S. since the last VW Syncro Vanagon Westfalia was built, in 1992.
Taking a detailed tour, I found a lot to like. At ground level, the Revel is shorn with 245/70 R17 BF Goodrich T/A KO2 tires mounted to a burly set of black aluminum rims. Highly capable thanks to its stiffness, legendary all-terrain tread, and a quiet highway ride, this tire is perfect for the backcountry or motoring along at 80 miles per hour. The 19.4-foot-long Revel rides on a stock Sprinter's short-wheelbase chassis. Coming in at around 7,200 pounds laden with a galley, bathroom, rear bed, plumbing, furnace, and solid wooden cabinetry, it can carry an additional 1,360 pounds of people and gear while offering around eight inches of ground clearance. This isn't Ford Sportsmobile high, but with a short 144-inch wheelbase, it'll cross rutted fire roads and low berms without bottoming out. Powered by a torquey (325 foot-pound, 188-horsepower), three-liter turbodiesel engine that delivers 15 to 18 miles per gallon, the Revel will tow a remarkable 5,000 pounds—enough for a good-sized boat.
Four-wheel drive is on demand, activated via a switch on the dash. It features a low gear range to aid with steep hill climbs and descents and slippage detection, which directs torque away from free-spinning wheels in favor of those still planted on terra firma. The system delivers 35 percent of engine power to the front wheels and 65 percent to the rear, sufficient to pull the van through the kind of off-road conditions most of us will encounter. Enabling this tall van to resist buffeting winds and reduce roll in turns is Mercedes's stability assist, which subtly adjusts the braking and torque to certain wheels. On a curvy, wind-blasted Asheville road, the Revel felt glued to the pavement.
Power, Storage, and Bedding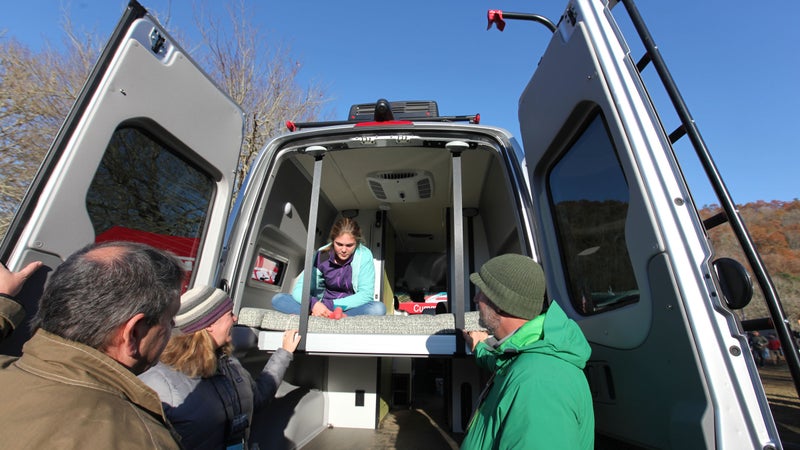 Outside, Bienert showed off a neat detachable rear ladder that can be hung from the roof rack and all along the driver's side for roof access. In addition to a standard RV gray-water-tank purge and shore-power input, there are multiple electric outlets and even a socket that allows you to plug in your own external solar panels. Up top, the Revel bears a full Summit roof-rack system and two 100-watt solar panels. You can add more solar, but 200 watts is sufficient—and it leaves room for surfboards or kayaks. You'll also find LED lighting at the rear, side, and running boards and a powered, lighted ten-foot side awning that automatically retracts if its built-in sensors detect too much wind. To keep the bugs out, Winnebago offers zippered, snap-in rear and side-door screens. These are adequate, but a better option would be a sliding system like the one offered on the Travato camper.
Inside the rear doors lays a pull-out outdoor hot-water shower, tie-down anchors for bikes and gear, and 110-volt, 12-volt, and USB outlets. The 140-cubic-foot rear bedroom/garage is also well lit. The Revel makes wide use of Ram Tough Tracks for holding electronics, additional lights, and other accessories. The tough wood-grain vinyl flooring sloughed off gobs of mud tracked in by expo attendees.
The four-foot-wide rear double bed is trick. It ascends to the ceiling via a motorized lift, creating a five-foot-tall room (regular standing height elsewhere is six feet three inches). Winnebago created bed extrusions where the rear side windows would go, expanding the horizontal sleeping width to around six feet seven inches. With the bed raised, you can fill the room with chairs, storage bins, mountain bikes, whatever.
Be aware, though, that when the Revel's rear bed is fully lowered (and unless you're pretty short, you'll need it fully lowered for sleeping), you only have around 26 inches for gear from the floor to the bottom of the bed. You'll have to lay bikes sideways. The video below breaks down the vehicle's exact measurements.
On the driver's side, you'll find the bathroom/closet. The layout seems strange, but there is a logic to it. Any small camper has to make trade-offs between storage and living space. Here you'll either have a small bathroom and shower with a European-style cassette toilet, or a big closet with easily removable bamboo shelves and, importantly, a floor drain for soaked gear.
Cooking and Climate Control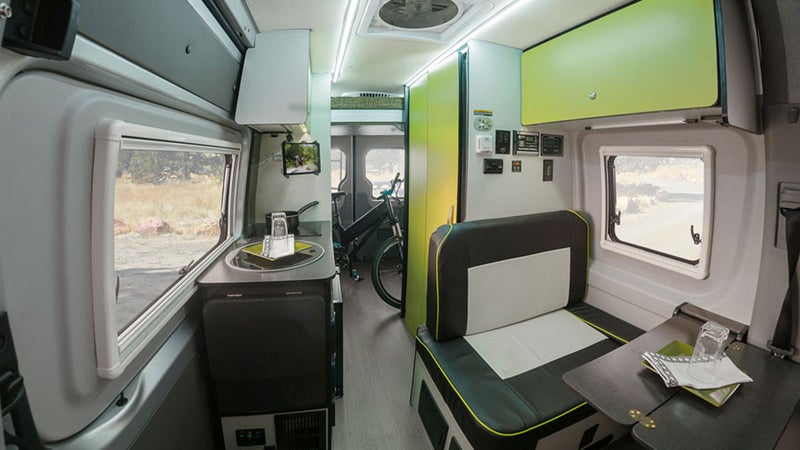 Across from the water closet is the Revel's galley. It's Westfalia-ish in its function, with a nice stainless-steel sink and a vertical pantry with adjustable shelves. The single-burner induction cooking stove is very efficient but useless with aluminum cookware, since it generates heat via by creating an iron-and-steel-friendly magnetic field. There's also a nice foldout galley table and another extension that creates a great outside table. For cooling, the Revel relies on an efficient, compressor-powered, 2.5-cubic-foot fridge. It will basically run forever as long as the Revel's coach batteries can be charged by the sun.
There's no propane canister for heat or cooking, and thus no flames inside the coach at all. The heating system is a diesel-fed Espar hydronic system that not only heats cabin air and water but, because it's snaked into the the Revel's extensive insulation system, protects basically every spot where a pipe or freshwater or wastewater tanks could be exposed to the elements and freeze. This means happy camping even in subzero conditions—risky in most RVs. It's ingenious. Coupled with European-style insulated and screened acrylic glass windows that open from the top to keep out rain, you're remarkably protected from the elements. Slide-down shades on the acrylic windows and insulated panels that cover the front, side, and rear windows offer privacy.
For air-conditioning while camping, Winnebago opted for an RV-standard 120-volt rooftop A/C. You'd either run this via shore power or with an external generator. For boondocking in hot weather, this is not as outwardly ideal as the newer lithium system found in Winnebago's Travato or Hymer's Aktiv campers. On those on-road campers, an engine generator and lithium batteries beneath the hood power the roof A/C, and an hour of idling recharges the system for several more hours. The Revel's coach is powered by three traditional AGM lead-acid batteries, which are heavier and don't store as much electricity as lithiums. But there's, again, logic at work for an off-road RV. AGMs are less expensive, can be replaced at auto-parts shops, and are less sensitive to temperature and impacts. Additionally, you're not supposed to idle a diesel for much more than a half-hour at a time. If you're off the grid and it's only marginally hot, the Max fan that also comes standard in the roof will cool just fine.
Seating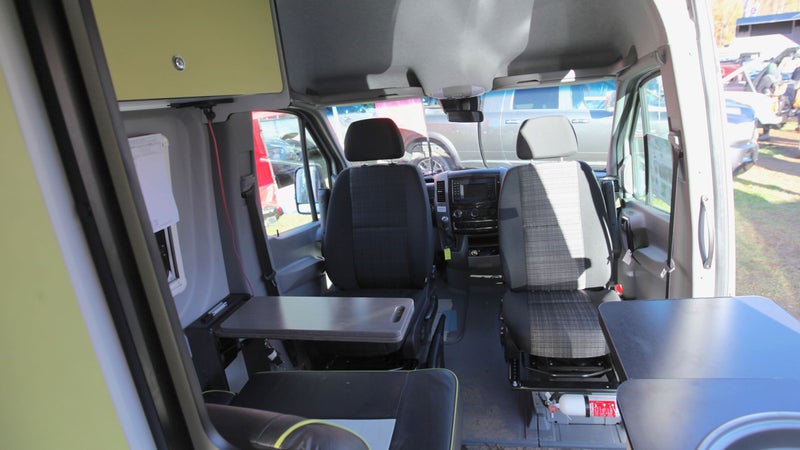 Up front, the Revel is essentially stock Sprinter, aside from its comfortable and supportive front seats, which rotate 180 degrees, creating a dining room or office when coupled with the nifty fold-down table at the rear seat. But this brings me to my major gripes: for all that's great, Revel's rear seat reveals three glaring shortcomings. First, it's tight for two passengers. Second, and more importantly, it features lap-only seat belts. For parents of kids now out of car seats, the lack of a shoulder belt system makes the Revel a nonstarter. Third, Revel's rear seat only converts into a single bed, most suitable for one kid. Even my smaller 2003 Eurovan Winnebago has shoulder belts for a rear seat that still manages to fold down to a near double-width bed, which, combined with the pop top, allows my van to sleep four. Winnebago did copious research before building the Revel, but I wish it had spoken to more outdoorsy parents. It's tough to believe that there aren't at least a few thousand more families like mine who would consider this camper were it better set up for four people.
I brought this concern up to Bienert. He replied that while the lap belts in the Revel do meet Department of Transportation standards, "We have heard the message."
The Takeaway
Winnebago has built a winner with its first real overlanding camper. The Revel is a terrific rig for two people that, with a little tweaking, could become a great overlanding camper for a small family. Coupled with the fact that you can finance an RV like this for 20 years, an average human can get one with manageable monthly payments. I'm looking for a car just like this to replace my old Eurovan, use as a remote office, and travel the highways, back roads, and beaches of North America with my small tribe. Add in those shoulder belts and I'm in.
Corrections:
(09/26/2023) A previous version of this story had the incorrect location of Winnebago's factory in Iowa. Outside regrets the error.
Lead Photo: Courtesy Winnebago