2023 Summer Gear Guide
The Best Climbing Harnesses of 2023
Climb on with confidence with these tester approved harnesses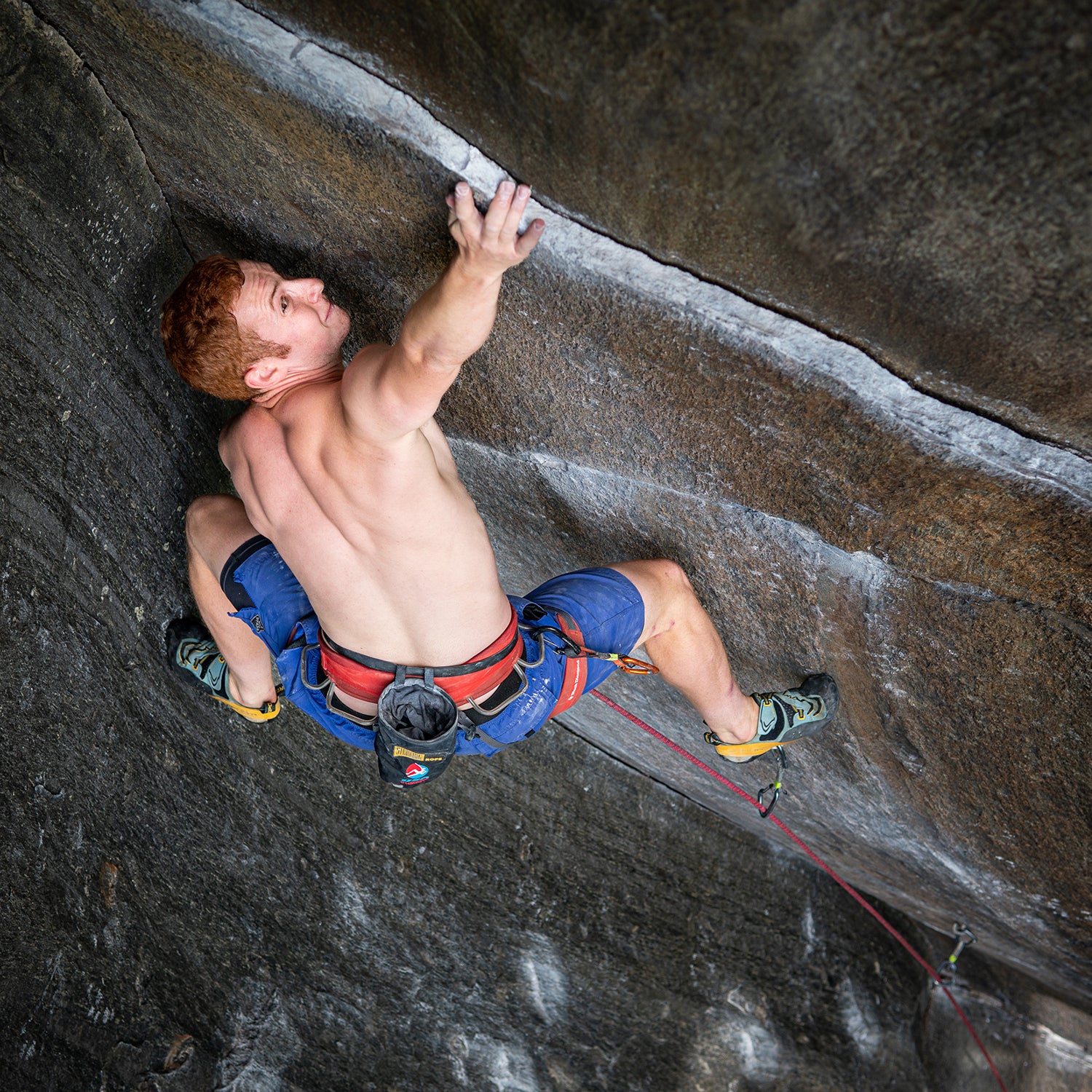 Heading out the door? Read this article on the new Outside+ app available now on iOS devices for members! Download the app.
The explosion of climbing has yielded a progression and specialization in gear beyond our wildest dreams, even when it comes to the humble climbing harness. Looking for an ultralight skimo rig under 100 grams? Easy. Fixed leg loops? You got it. Fully adjustable waist and legs? Espresso and steamer? Done. Done. And Done. (Well except the espresso function, but surely that's coming.) Whether you're looking for a hyper-specific climbing harness for your most outrageous adventure yet, or a jack-of-all-trades that will serve you on rock and ice, you're sure to find what suits you in today's market. Here are our favorite climbing harnesses of the year.
The Winners at a Glance
Black Diamond Long Haul
Wild Country Mosquito
Black Diamond Technician
Black Diamond Solution/Solution Guide
How We Test
Number of Testers: 8
Number of Products Tested: 12
Number of Miles/Vertical Feet Climbed: Immeasurable
We rated each harness individually for comfort, utility, and durability for an assessment of a harness' overall performance, then weighed that metric against price for a final determination of value. For example, a moderately performing harness with a high price would not get our recommendation here; whereas the same harness with a moderate price likely would because that represents a solid value product.
Meet Our Lead Tester
Harnesses can be a tough "fit," so we assembled a broad roster to evaluate this year's bundle of padded nylon. Ranging from thickly built lead tester Maury Birdwell, a lawyer and "weekend warrior plus;" to the lean and svelte Max Barlerin, a former NPS climbing ranger with first ascents from the Rockies to Patagonia; to crack phenom and dirtbag extraordinaire Brittany Goris. They put in the vertical meters and whippers to separate the sweet from the chaff.
The Reviews: The Best Climbing Harnesses of 2023
Black Diamond Long Haul ($140)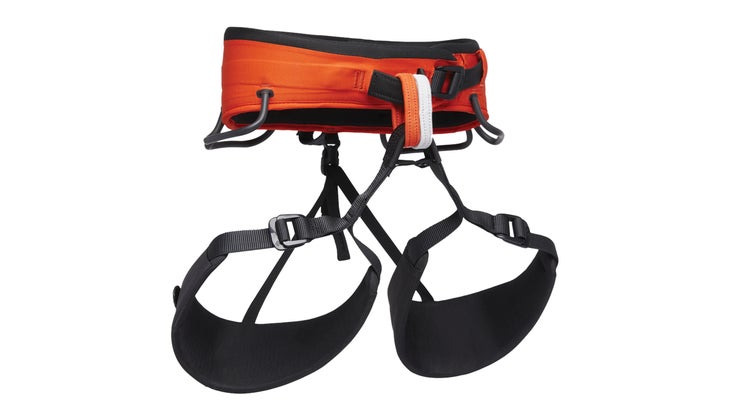 Weight: 1.4 lbs
Size: S-XL
Pros: Comfortable; 5 super roomy gear loops; Adjustable leg loops
Cons: Heavier and bulkier (granted that's purposeful)
The trend has consistently been to make climbing gear lighter and faster, and while in many cases we appreciate that, it certainly can come with compromises. The Long Haul represents a different approach: instead of stripping it down in the name of weight savings, Black Diamond prioritized comfort and a full feature set for a specific use-case that sees lots of time hanging in your harness. Technically, this new harness is part of Black Diamond's revamped Big Wall climbing line, but our tester found himself reaching for it even on regular cragging days. In reality, the Long Haul's ~300 extra grams over standard rock climbing harnesses is just over half a pound, and let's be honest: how many of us are sending at the cutting edge where half a pound makes that big of a difference? Especially when you factor in the extra comfort the Long Haul offers while at a hanging, semi-hanging, or even hangdogging belay (which equals saved energy and calm)? We found the benefits of the extra padding (and weight) outweigh the cons 90% of the time. What began as a specialized product is now, in our minds, a harness for every climber to consider, whether tackling The Nose or just enjoying some comfort at the local single pitch crag. BD Athlete Dave Allfrey wore a prototype Long Haul on his new route in the Kichatna Spires of Alaska last year and had this to say, "From wall routes in the Alaska range to developing sport routes in the desert, this is what I'm in if i want comfort and movement."
Bottom Line: While aimed at big wall climbing, the Long Haul is for any climber looking for a comfortable, versatile option when they aren't counting grams.
Wild Country Mosquito ($110)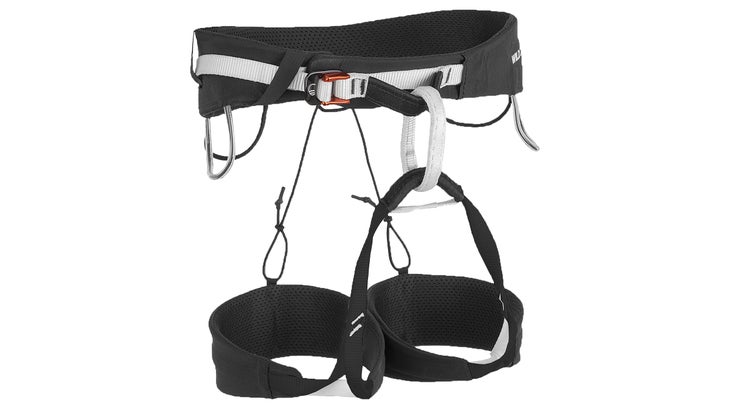 Weight: 7.8 oz (men's) / 8.5 oz (women's)
Size: XS-L (men's) / XS, S, M (women's)
Pros: Lightweight, trim and streamlined; Relatively comfortable; Moderate price
Cons: Finicky buckle
Swinging to the other end of the spectrum from Black Diamond's Long Haul is Wild Country's Mosquito, an excellent choice for those desiring a super light harness that retains a surprising amount of comfort. While aimed more towards sport climbers, the molded plastic front and minimal, bare nylon rear gear loops can still hold a decent bit of kit, giving the Mosquito decent crossover versatility for longer routes without many hanging belays. The one drawback is that the waist buckle requires manual feeding in and out with both hands, versus the typical one handle cinching and loosening seen on most other "speed buckle" designs. Though slightly annoying, the buckle wasn't enough to keep our testers from enjoying the harness overall once they had it on, with a sleek, low profile fit that moves well with your body and is barely noticeable from clip to clip as you send your project.
Bottom Line: The Mosquito is ideal for weight conscious single pitch rock climbers.
Black Diamond Technician ($90)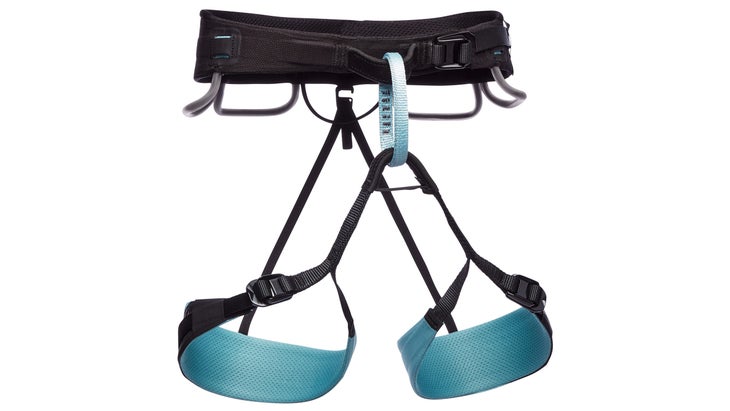 Weight: 13.3 oz
Size: S-XL (men's), XS-L (women's)
Pros: Comfortable; 4 roomy gear loops plus haul loop; 4 ice clipper slots; Adjustable leg loops
Cons: Jack of all can mean master of none
The Solution line of harnesses has been a go-to rock climbing favorite for years: Climbers of all stripes love how comfortable, lightweight, and affordable they are. The Technician utilizes the same svelte, comfortable waist and leg loop construction of the Solution line while adding more bonuses: adjustable leg loops, wider gear loops, and trimmer webbing and belay loop make for an impressive all-arounder. Our male and female testers agreed their respective models were the standout of this year's lineup. High praise for the women's version: female testers agreed their version proved to be more than just an afterthought with a different color scheme; it's well adjusted for more feminine sizing and dimensions, beating out other women's specific models in our testing. But perhaps most impressive when it comes to both versions: how affordable this fully-featured harness is. If you're looking for a single-quiver harness that will get the job done across all disciplines, it's hard to compete with the Technician.
Bottom Line: The Technician is a solid, fully adjustable all-arounder for ice and rock.
Black Diamond Solution/Solution Guide ($80 & $100)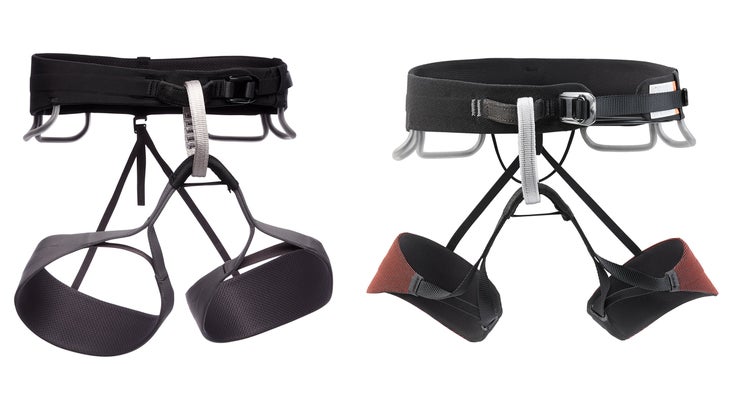 Weight: 11.6 oz / 13.9 oz (Guide)
Size: XS-XL
Pros: Good general fit; Comfortable; Affordable
Cons: Not the lightest or slimmest option on the market
While not new for this year, we've chosen to include the Solution and Solution Guide as a bit of a "standard" for bang-for-your-buck performance. At $80, the Solution has for years been a solid choice for all-around rock climbing, and is as comfortable and lightweight as other harnesses twice the price. Introduced a few years ago, the Solution Guide added larger gear loops (plus an additional fifth loop), wider waist and legs for even more comfort, and Black Diamond's Super Fabric, which makes the harness even more durable than previous iterations—all for a $20 price bump and only 64 added grams. Each comes in women's versions as well, and even a Honnold Signature Edition, which donates a percentage of sales to the Honnold Foundation's work on solar energy access.
Bottom Line: A broad range of sizes and styles to cover any gender of rock climber at a friendly price.
How to Buy
Try. It. On! We really can't stress this enough, because every harness differs in fit and proportion—even within the same manufacturer. Often European companies and/or sport climbing oriented models have thinner leg loops, but you never really know till your butt is in the seat. Most good climbing shops will have a setup allowing you to hang in the harness for a few minutes, the only real way to know how it will feel when you actually hang in the harness on the rock.
Lead Photo: Kiff Alcocer