2023 Summer Gear Guide
The Best Climbing Helmets of 2023
Our favorite hard hats of the year are so light and comfortable, there's no excuse to climb without one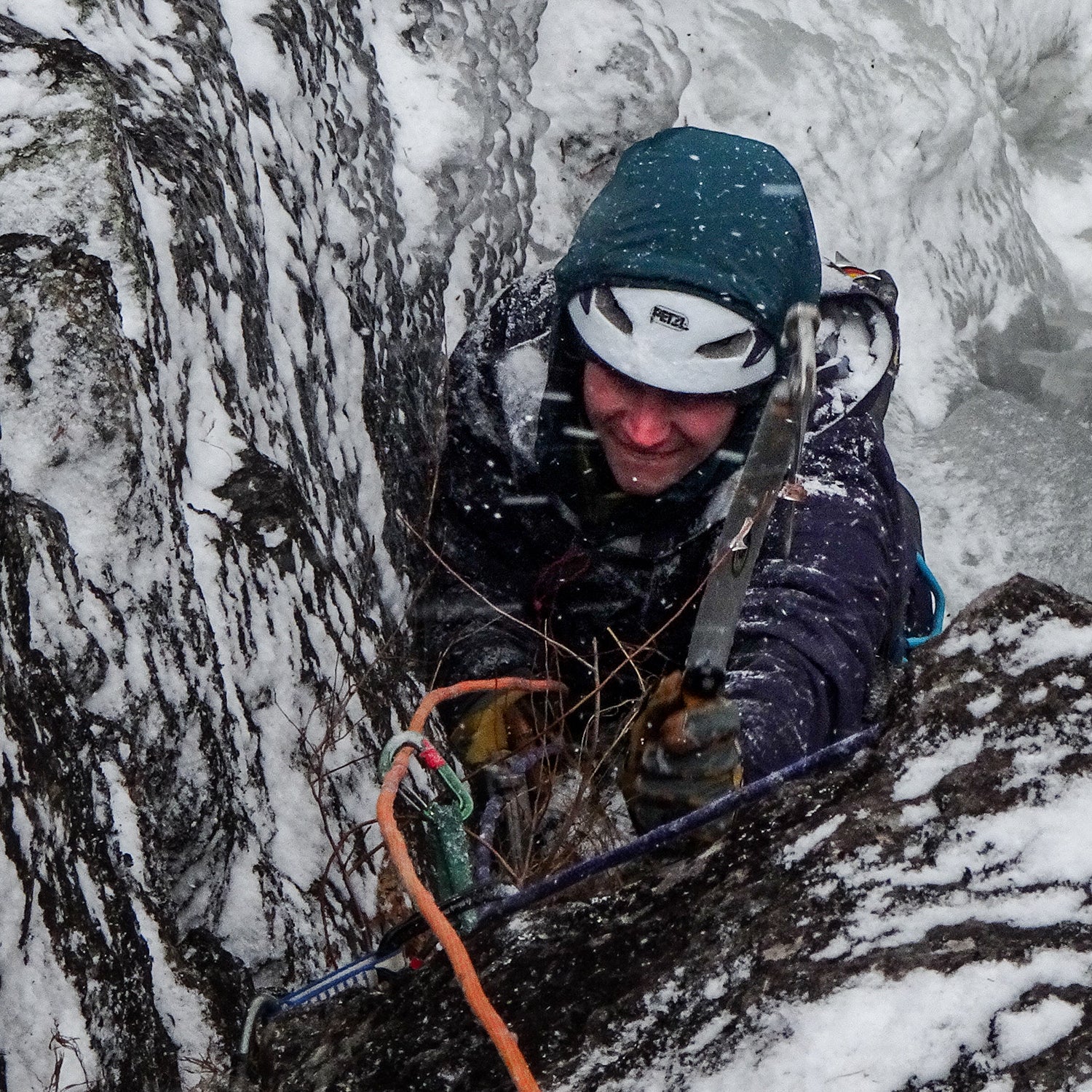 Heading out the door? Read this article on the new Outside+ app available now on iOS devices for members! Download the app.
Climbing helmets were once cumbersome and uncool, and it was thought that with proper technique, you could avoid having to wear one if you climbed carefully enough and avoided an upside-down lead fall (newsflash: even careful climbers have found themselves dangling heels over head). With today's helmets, however, there really aren't any excuses for not wearing one. They're so lightweight and low-profile that you often forget there's one on your head. "For me, a good helmet is like a safety blanket," one of our testers noted. "It gives me the confidence I need to rip the heck out of a climb without soiling my diaper." We put seven of the year's newest climbing helmets through their paces—these are the three that stood out as the best of the batch.
Winners at a Glance
Black Diamond Vapor
Edelrid Zodiac 3R
Trango Halo
How We Test
Number of Helmets: 7
Number of Testers: 7
Total Number of Pitches Climbed: 119
Total Vertical Feet Climbed: 10,760
Range of Temps Climbed In: 40-80ºF
Range of Head Circumferences: 54-60cm
Number of Times We Were Grateful for Head Protection: No major incidents; but we're happy to be protected every time we go out.
We recruited climbers in Reno, Nevada as well as Climbing magazine staff in Boulder, Colorado to put the newest climbing helmets on the market through their paces. Our test crew included climbers with varying head shapes and sizes—one tester even wears kids helmets sometimes. Testers hopped on routes of all types, from single pitch sport to multi-pitch trad in Lake Tahoe, the Eastern Sierra, Boulder, and Yosemite. They tracked how many pitches they spent wearing the helmets, while keeping notes on how breathable, comfortable, adjustable, and functional each helmet proved to be.
Meet Our Lead Tester
Our category manager is Ula Chrobak, a freelance journalist and climber of 12 years. Based in Reno, Nevada, she has access to some of the country's best granite—from Donner Summit to Tuolumne Meadows. She's also part of a network of multi-sport adventurers, which she tapped into to take the helmets out on their journeys. That means the helmets went through the wringer—one tester, Peter Throckmorton, managed to rack up 33 pitches in two weekends.
The Reviews: The Best Climbing Helmets of 2023
Black Diamond Vapor ($140)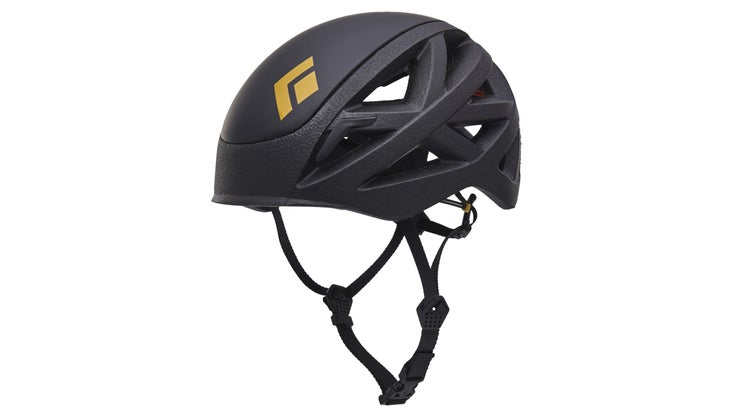 Weight: 186 g (S/M) / 199 g (M/L)
Size: 53-59 cm (S/M)/ 58-63 cm (M/L)
Construction: Softshell
Pros: Lightweight; Breathable
Cons: Strap system irritated ears of one tester; One tester with a 54-centimeter head circumference found the S/M too big
Black Diamond's updated Vapor is one of the lightest helmets on the market, which takes away the biggest excuse climbers have to not protect their noggins. The 18 triangular cutouts provide superior breathability, with one tester, Anthony Walsh of Climbing magazine, finding it comfortable enough to wear on 12-mile glacial approaches in British Columbia. Despite it being an ultra lightweight foam construction helmet—and thus generally more fragile—another tester, Nathaniel Dray, noted that after tripping and falling backwards onto the helmet attached to his backpack, it only had a small dent in the polycarbonate crown. Walsh liked that the bright red color option stood out in photos, and both testers thought it was stylish. No trade-offs between good looks and safety here.
Bottom Line: A lightweight helmet for any climbing adventure, though, as with any foam helmet, extra care is needed to keep it in good shape.
Eldrid Zodiac 3R ($85)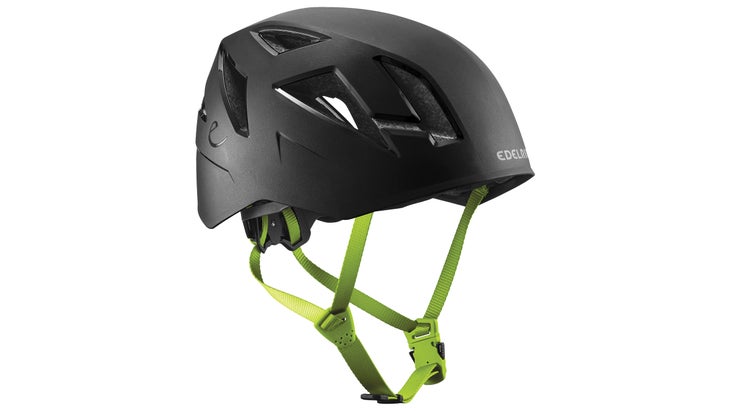 Weight: 370 g
Size: One size, 55-61 cm
Construction: Hybrid
Pros: Durable; Comfortable; Easy to adjust
Cons: Only comes in one size; Our tester with a 54-centimeter head said it fit her head awkwardly
The new 3R looks surprisingly sporty for a hardshell helmet, with black and green colors, angular design, and a lower-profile fit to the previous Zodiac. It's also ten grams lighter. One tester noted that the wheel adjustment at the back is intuitive and the buckles are nice and snappy. But what's most unique about the 3R is that it's made entirely of recycled materials—in fact, the polyamide shell is sourced from rope production leftovers. Overall, it's easy to wear, easy on the eyes, and easy on the environment. That said, the one size might not fit everyone.
Bottom Line: A solid option for a durable, long-lasting helmet that gets extra points for its impressive sustainability chops.
Trango Halo ($100)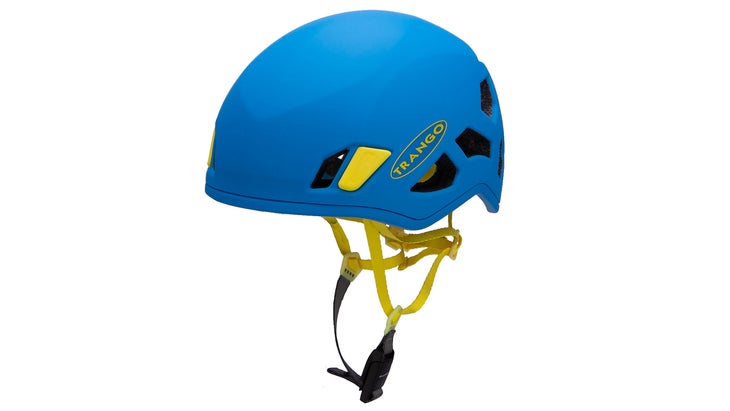 Weight: 220 g (S/M), 225 g (L/XL)
Size: 48-56 cm (S/M), 54-62 cm (L/XL)
Construction: Hardshell
Pros: New S/M option accommodates smaller heads; Comfortable; Good ventilation
Cons: Magnetic buckle can be fussy
This season, Trango added another size option to the Halo lineup. The new small-medium comes in a trendy lavender color and was a hit with our tester, Natalie Bladis, who thought it was the best fit she's ever found for her small, 54-centimeter head. "I loved it, it's the only helmet I've tried that is more comfy than my Smith cycling helmet." However, she found that the magnetic chin clasp was tricky to undo one-handed. Still, the hardshell helmet performed well on the wall, providing Bladis peace of mind on a traverse pitch directly below a roof on the Jelly Roll Arch at Donner Summit. "I was super grateful to have a well-fitting, lower-profile helmet as I crouched below the roof traversing," she said.
Bottom Line: A lighter-weight hardshell helmet that's comfortable, yet more durable than soft foam helmets. The new S/M offers smaller sizing than some other helmets.
How to Buy
Hardshell vs. Softshell
The main two categories of climbing helmets are hardshells—with a foam core that's fully wrapped in a layer of hard plastic—and softshells—which are mostly foam to shed ounces. While they can weigh about half that of hardshells, softshells tend to be more sensitive to abuse. Meanwhile, a hardshell is tougher and generally lasts longer, but can feel heavier and may get sweaty on hot days if the venting system isn't well designed..
Budget and Weight
The main buying considerations are your budget and how you intend to use the helmet. Hardshells start around $60 and can be thrown around the crag, while softshells are generally more expensive and require some extra care. While you can use either type for your preferred style of climbing, softshells really shine where weight matters—long alpine days or projecting sport routes at your limit.
Feature Set and Fit
Other aspects to keep in mind: the presence of headlamp clips for climbers that start early or stay out late, how the helmet fits over a beanie for climbing in cold temps, and of course, whether it's the right shape and size for your head.
Lead Photo: Kiff Alcocer