Giulia Delladio Is Taking Over La Sportiva
The 33-year-old is next in line to be CEO of the company her great grandfather founded in 1928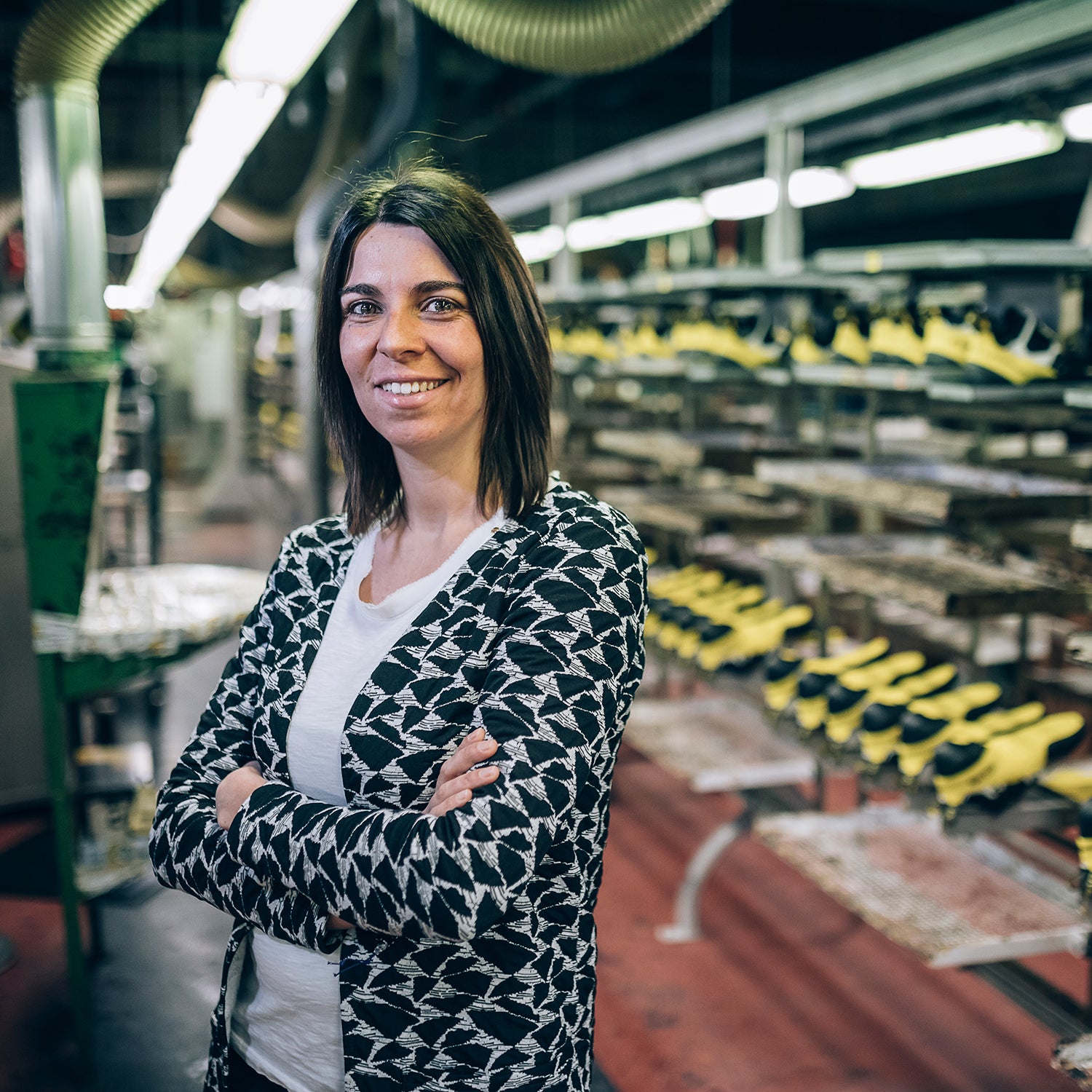 Heading out the door? Read this article on the new Outside+ app available now on iOS devices for members! Download the app.
Giulia Delladio is remarkably calm. It's a Wednesday evening in May 2018 in Trento, Italy. In an hour, more than 3,000 people will converge outside the MUSE Museum of Science to celebrate the 90th anniversary of La Sportiva, the Italian outdoor footwear and apparel company. Right now, there are about 350 VIPs hobnobbing at a cocktail party, among them Reinhold Messner, mountaineers Tamara Lunger and Simone Moro, ultrarunning phenom Anton Krupicka, and climber Adam Ondra. Giulia, the woman poised to take the helm of La Sportiva, looks relaxed and radiant in a silk dress and black heels, a glass of sparkling water in her hand.
At 33, Giulia is six months pregnant and in line to take over as president and CEO of La Sportiva when her father, Lorenzo Delladio, retires. Though she has grown up in this company, literally living in an apartment above the original factory and "playing" at writing invoices when she was just four years old, her rise represents a massive achievement. She is the rare female to climb to the top in a male-dominated industry and she's based in Italy, a country with a traditionally patriarchal culture.
Yet Giulia Delladio sees her ascent less as a feminist triumph and more of continuum put in motion 90 years ago by her great grandfather, a cobbler who wanted to make better boots for traveling the massive mountain passes and peaks that dominate Val di Fiemme, a verdant valley at the foot of the Dolomites.
"My mother taught me to write and read at age four because I was relentless in asking to learn," says Gulia. "It's been the same with working for La Sportiva. I've always wanted to do it, and my grandfather told me I inherited the family entrepreneurial spirit."
There's a saying in the family, Lavorare di piú!, that roughly translates into "Work harder!" It's made sense to her for as long as she can remember. As a child, Gulia was allowed to shadow her grandfather and father in the factory and company offices as long as she made herself useful. She didn't like kindergarten because all her classmates wanted to play; only after the teacher gave her the job of taking attendance did school become tolerable.
"Narciso [the founder of La Sportiva] wanted to be outstanding among the other shoe repairmen at the time," says Gulia. "He changed shoes so people could enjoy the mountains—even though no one had time to enjoy the mountains then. He had a vision and could see change coming that no one else saw. I share his mindset."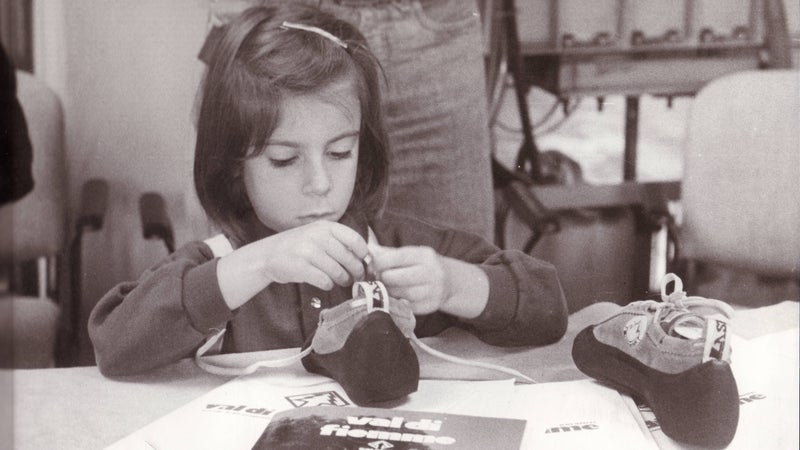 After graduating from high school at the top of her class, she attended university in Modena, where she studied economics and international marketing. Her father made her pay her own way, so summers were spent earning money as a nanny and by working at the La Sportiva company store. In her twenties, she spent two summers at La Sportiva North American headquarters in Boulder, Colorado, and nearly five years in Squamish, British Columbia, working with the climbing apparel and accessories brand, Blurr, for which La Sportiva was the European distributor.
When Giulia joined La Sportiva at its Italian headquarters about seven years ago, she quickly moved up from planning events and sales meetings to her current job as Strategic Marketing Manager. In this role, she manages everything, from guiding all product line plans—footwear, apparel, ski boots, and accessories—for future seasons to ensuring collaboration and communication between sales and marketing, and research and development.
"I consider being a woman an opportunity," says Giulia. "I try to bring to the company alternative interpretations or different ideas. This doesn't mean that my feelings and my opinions are more important or more useful than those of my male colleagues, but simply that mine are a different way of looking at things."
Her impact is evident in all of the company's products, which today sport eye-popping colors with a European flair. They weren't always so lively. La Sportiva's brand colors are yellow and black, and that color palette dominated before Giulia began to exercise her influence—on both women's and men's lines.
"As she has become more integrated in the product development, Giulia has worked closely with the designers to use more color in all of the categories to bring a much more vibrant and youthful feel to the products," says Jonathan Lantz, president of La Sportiva North America.
But she's not just focused on how products look. Giulia understands the technical aspects as well as the product developers do (she climbs, runs, bikes, and skis), has her own relationships with the company's sponsored athletes who provide critical feedback during the product development phase, and is a diligent student of the outdoor market, comfortable analyzing trends and anticipating what people will want next season.
"The team knows I need the design to be perfect, even if that means moving a logo just a few centimeters," says Giulia. "I weigh in on everything, from the color to really technical issues, and they listen to me."
Women make up roughly half of outdoor participation in the U.S., and La Sportiva expects that sector will grow. The company spends significant time and money to develop women-specific styles and technical wear, says Giulia, and it sponsors women in every sport it's involved in: skimo, climbing, running, and mountaineering.
That said, alpinism—past and present—still skews male. At the 90th anniversary party, there were more men than women, a reminder of alpinism's male-dominated roots, particularly in Italy and the rest of Europe, where most alpinists acquired their skills in the military. Sexist jabs have long been a reality for many women who work and recreate in the sports in which La Sportiva trades.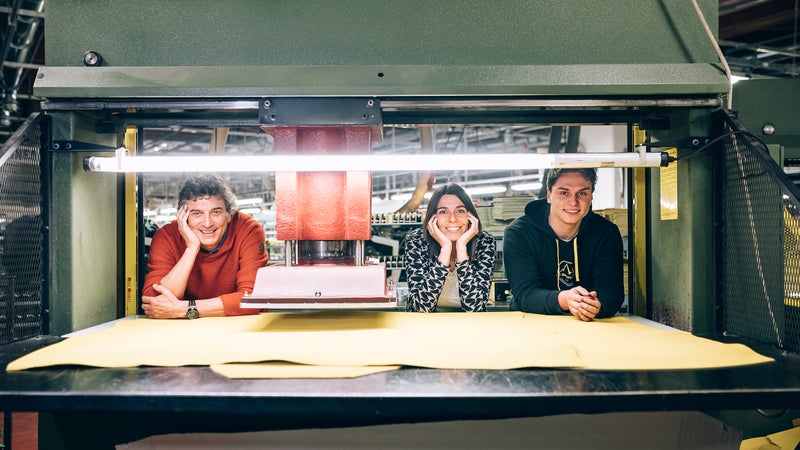 Yet change is evident. More women are logging first ascents and earning the respect of their peers for athletic achievements and unimpeachable skills. Tamara Lunger, a La Sportiva-sponsored Italian ski mountaineer, earned a standing ovation at the 90th anniversary party when she recounted how she retreated from the summit of Nanga Parbat 70 meters from the top because she felt that pushing on would mean death. La Sportiva climbers Margo Hayes and Babsi Zangerl are widely recognized as some of the most accomplished climbers in climbing today. Hayes is the first woman to send a 5.15a when she crushed La Rambla in Siurana, Spain, in February 2017. And Zangerl sent her first 5.14d in late May 2018, when she conquered Speed Intégrale in Voralpsee, Switzerland.
Blatant misogyny is becoming intolerable in ways unthinkable even a year ago; in May this year, La Sportiva dropped climber Joe Kinder after he acknowledged using social media to bully female climbers. "Despite supporting Joe for many years and our admiration for his talent as a climber, his choices and actions on social media do not meet the standard of behavior we set for our ambassadors," said La Sportiva in a statement.
And Gulia strives to embody those standards, which include excellence, fairness, and commitment to doing the job at hand. The daughter of Lorenzo, granddaughter of Francesco, great granddaughter of Narcisco, and the soon-to-be mother of the fifth generation, she is as much a product of La Sportiva's innovation as she is a driver of it. When asked what she envisions for the future, Giulia recounted something her father said the night of the anniversary party: "Without dreams, an idea cannot grow."
Her job now, she says, is to keep dreaming big.
Lead Photo: Courtesy La Sportiva/Federico Ra