The Women Behind MtnLogic's Awesome New Mountain Wear
When professional mountaineers design adventure apparel, good things follow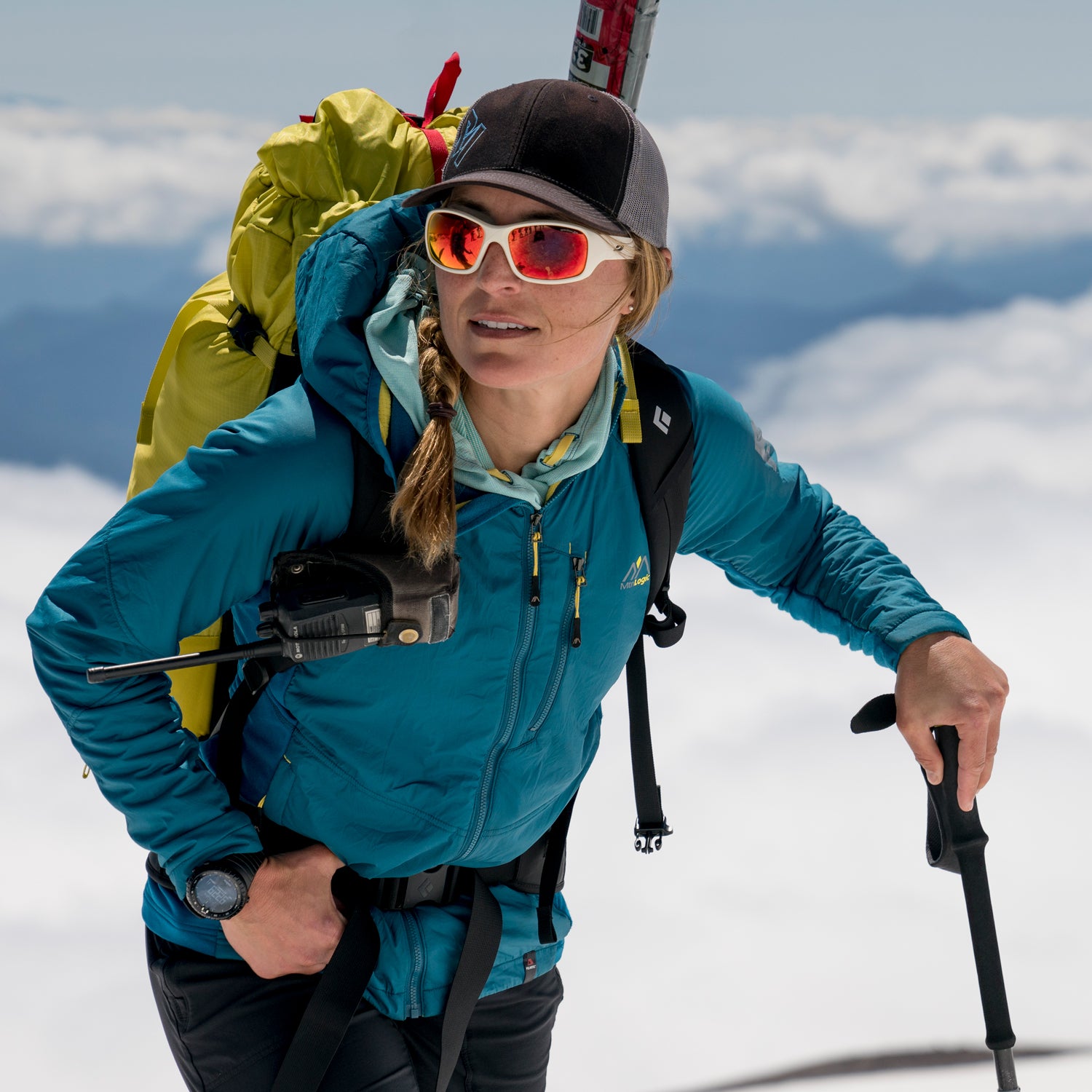 Heading out the door? Read this article on the new Outside+ app available now on iOS devices for members! Download the app.
Dog-walking doesn't generally push a waterproof jacket to its limits. But climbing Mount Rainier—especially as a working guide—has a way of revealing flaws in the gear. "Those details may seem like no big deal when you're only wearing stuff occasionally," says Jess Matthews, a guide at Rainier Mountaineering Inc., operated by legendary climber Peter Whittaker. "But when you're wearing things day in, day out, the problems really become noticeable."
To fix those persistent problems, Whittaker created the new MtnLogic apparel brand, which hit the market last month. It's not his first apparel rodeo: Whittaker has designed Buck knives, collaborated with Mountain Hardwear, Jansport and Timberland, and launched Eddie Bauer's First Ascent line of Whittaker-approved mountaineering gear. 
What's different about the MtnLogic project is that its designers were never tasked with making sure that their creations sell well at retail. The sole goal was to build the base layers, insulation, and outerwear that the guides needed. MtnLogic's initial launch of 19 styles was developed and tested by the 60 guides on RMI's roster, who dictated the clothing's performance requirements: each MtnLogic piece received at least 100,000 vertical feet of RMI guide testing. The women's line was prioritized as highly as the men's.
The MtnLogic line is divided into three categories: Wick (base layers), Insulate (midlayers), and Protect (outerwear). Polartec has partnered with Whittaker to create MtnLogic, so all the pieces feature Power Wool, Alpha, Neoshell, and other Polartec fabrics. "First, we had to justify that the piece needed to be in the line," says Matthews. "Then we went feature by feature, discussing everything from zipper garages to the optimal placement of seams and pockets."
What excited Matthews was an opportunity to solve some of the "pain points" she typically experiences with technical apparel. For example, many jackets' cuffs are too tight to let her pull the sleeve up and see her GPS watch. Some put hardware where her backpack's hip belt must sit, driving the buckle into her pelvis. Not only do most women's climbing pants fit poorly, says Matthews, but they typically sag after a few days' wear. "It's awful how they lose their shape when you're on Denali for two to three weeks," she says. 
 
Her favorite MtnLogic pieces solve those problems. "They're designed to stack on top of each other, so that if you're wearing two pants—or three pants, on Denali—the wasitbands layer comfortably," she explains. Witness the Women's Glacier Pant ($250), which features an extra-wide, yoga-style waistband that avoids conflict with packs and harnesses. 
Matthews also loves the Women's Alpha Ascender Hoody ($279). "All the women guides were frustrated with boxy-looking jackets," she explains. But strips of Polartec Power Stretch Pro (interspersed with panels of Alpha synthetic insulation) make this hoody body-hugging yet elastic enough to allow for functional freedom of movement. The men's version has Power Stretch Pro on the back, but only the women's has the full Alpha back panel, for more warmth. The women all wanted this, says Matthews. 
I've been liking the Solstice Hoody ($99), which is destined to become my daily uniform for spring ski mountaineering. The drawcord in the hood lets me cinch it tightly enough to stay on in windy conditions, the long drop tail doesn't ride up when I'm wearing a backpack, and the high crossover neckline provides excellent sun protection, without feeling chokingly restrictive. 
Nothing in the women's line is overtly feminine. "We discussed that a lot," says Matthews, who prefers simple, clean lines. Styling never superceded function, so it's color, more than anything, that differentiates the women's pieces from the men's. And fit, of course. 
"I'm a professional guide and athlete, with the same job expectations as the men I work alongside," says Matthews. "But I'm also a woman. So what excites me is that we've taken some big steps toward bringing those two things together. We've made stuff that's functional and durable, but that also looks good."