Long-Term Review: One Year in Patagonia's R1 Air Hoody
It breathes and wicks sweat better than any other midlayer I've tested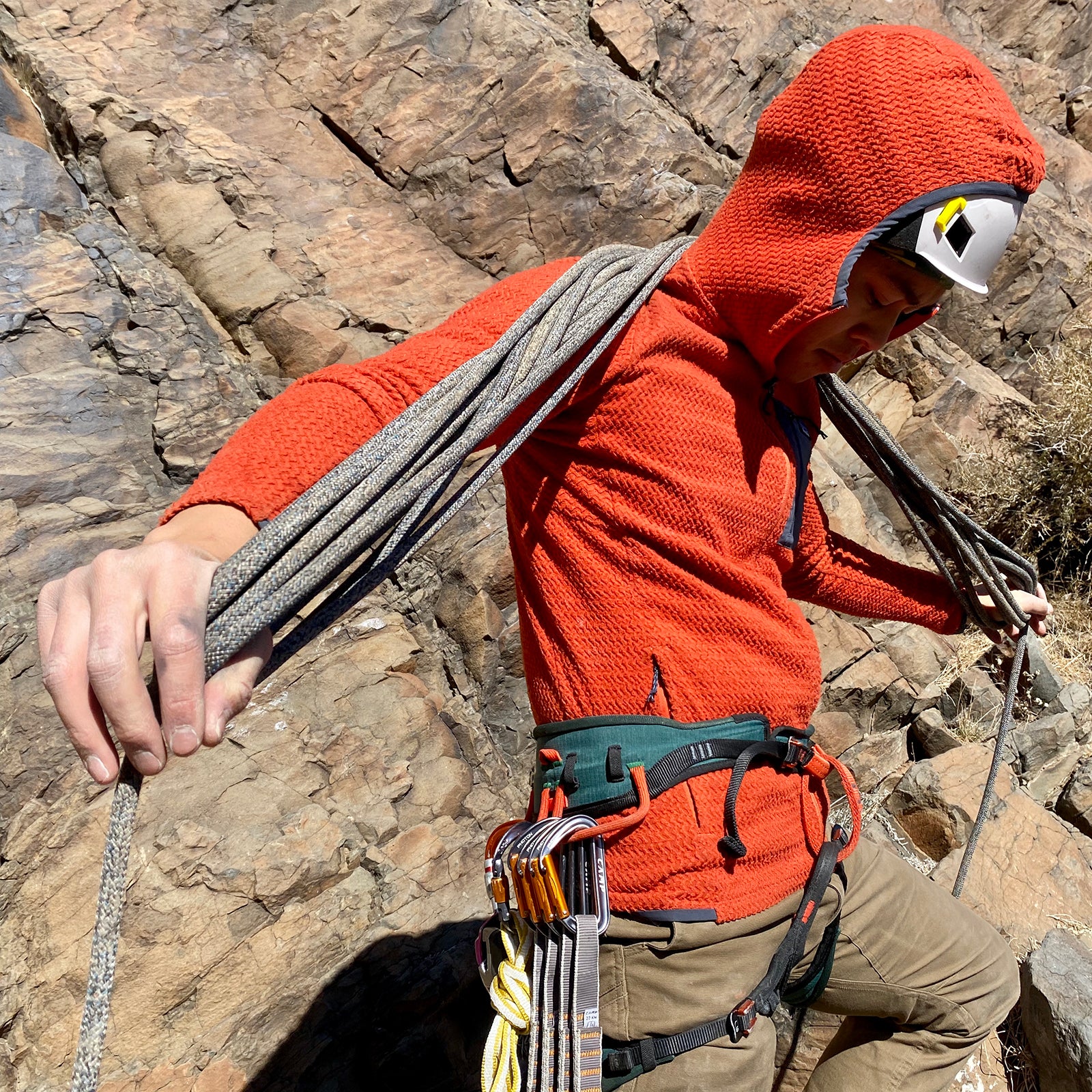 Heading out the door? Read this article on the new Outside+ app available now on iOS devices for members! Download the app.
At Outdoor Retailer's 2020 winter show, Patagonia announced its new R1 Air line of layers—the first big update to its flagship fleece in two decades. As my colleague Ariella Gintzler wrote, its new design meant it would be "warmer yet also more breathable than any iterations before it, without sacrificing packability or the ability to keep it on all day."
I received a testing sample of the R1 Air Full-Zip Fleece Hoody ($159) in January 2020, and I've beaten it up on adventures across four seasons. After a year, it's become one of my most used layers for moving in cold weather.
What Makes a Good Midlayer
Contributor Hayden Carpenter wrote in his 2020 review of men's midlayers that "A good layering system is like a quesadilla. You have a simple tortilla on the bottom and another on top, but it's the beans and queso and carne in between that really matter." I couldn't agree more, and the original R1 fleece is a favorite midlayer among uphill athletes for the beans and queso it provides: a lofted grid structure that retains heat but keeps you dry by wicking sweat, plus its shell-like outer material. The R1 Air forgoes that hard exterior for a fuzzy fabric on both sides.
Before testing the R1 Air, my most frequently used midlayer also came from the R1 collection: the TechFace Hoody ($179). It has a stretchy, abrasion-resistant outer layer that's great for brushing up against rough rock. I also wore other midlayers, like the Black Diamond Factor Hoody ($73) for more relaxed climbing sessions and the Mountain Hardwear Kor Strata Climb Jacket ($225) for longer alpine missions because of its warmth and harness-friendly design. But the R1 Air accomplished something that these other layers couldn't do quite as well: it kept me from overheating during high-intensity activities on chilly days.
How I Tested
I wore the R1 Air Hoody for climbing and bouldering in northern New Mexico; multi-pitch climbing in the Sandia Mountains; trail running in Santa Fe, the Tetons, and the Front Range; plus road running around town—in temperatures ranging from the low teens to the high sixties. I tested it in light snow, on windy alpine ridges, and during cloudless days. I wore it mainly as my outermost layer on top of a base layer, but I also wore it under a shell and warmer down jackets.
Fit
The R1 Air has a snug, athletic fit. On me, it was tight on the forearms but less restrictive around the shoulders and chest. The sleeves are close-fitting, and as a result my T-shirt base layers would occasionally bunch up in the armpits. (That's why I preferred wearing a thin long-sleeve base layer underneath, which doesn't ride up as much.) I was able to comfortably wear a harness on top of it, thanks to the slim cut around the torso. The hood covered my ears and cheeks, and it extended over a climbing helmet. My range of motion never felt limited; its polyester construction provides plenty of stretch.
Breathability and Insulation
As someone who runs hot, I was comfortable in the R1 Air during most of my climbs and runs in the spring, fall, and winter. Its ability to vent heat during shoulder-season jogs and shady climbs was a highlight of my testing notes. I also found that breathability helpful while huffing it on long approaches—it kept my upper body dry before and upon reaching the crag. The trait that makes it incredibly light (12.9 ounces in a men's medium) and breathable—its porous structure—didn't do much to block strong gusts of wind; I still felt them bite my skin, but that was only a problem on frigid climbs when blasts of cold air were unwelcome.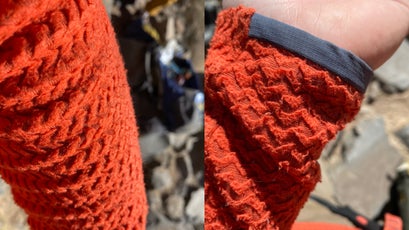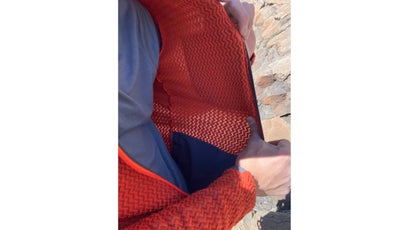 But this layer's calling card is how well it wicks sweat. Its hollow-core fibers did a fantastic job of sucking moisture away from my skin. I told my colleagues that I think it wicks too well: on high-output days, any layer I wore over the R1 Air became damp in hot spots. This combination made my skin feel clammy, particularly on my lower back and around my shoulders, where my pack rested. Because of this, I found that the R1 Air excelled in dry, 30-plus-degree conditions when I didn't need a protective shell—or any other layer—over it. That said, there were times when I needed more warmth than the R1 Air could provide. For aerobic situations where breathability was most important, a soft-shell jacket on top was ideal. For less intense sessions, like long standing belays, I found it cozy to layer under a puffy.
The Upshot
The R1 breathes and wicks sweat better than any other midlayer I've tested. This is a must-have for the uphill athlete moving in cold weather—especially if you are someone who runs hot, like me. But as I mentioned above, some folks might complain that it breathes and wicks sweat almost to a fault. I could also see this being a reliable three-season layer for those who live in more temperate climates.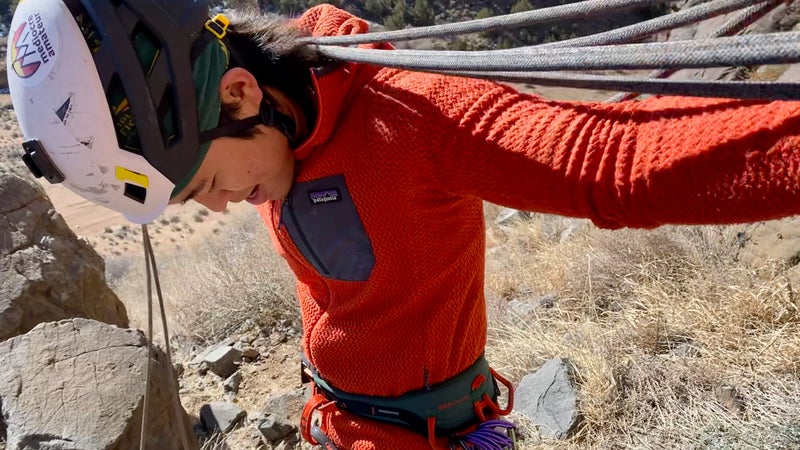 Because of the hoodie's fuzzy exterior, it did not fare well against rock. I often cringed as I reached and pulled on sharp holds, for fear of fraying or ripping its soft polyester face. But the damage hasn't amounted to much, except for noticeable pilling on the forearms, which have seen the most contact and abrasion.
The only other complaint I have with the R1 Air is with its zippers. With the hood on and fully zipped up, the jacket's front zipper closure is rough against the lips, and it chafed my mouth and chin after a long, windy day climbing in the Sandias. I also wish the two front zip pockets sat higher up on the torso to be more harness-compatible (like Mountain Hardwear's aforementioned Kor Strata Climb hoodie), but I was able to open the tops of those pockets for sliding in my phone or pulling out a granola bar.
As for how it compares to other R1 fleeces, I found the R1 Air to be warmer than the original R1 but not as durable as the R1 TechFace. Yet the latter lack is a small price to pay for its warmth-to-weight ratio and its versatility of use. When the weekend mission calls for chilly weather, this will be the first layer I grab.