The Ultimate Guide to Rock-Climbing Balms
Save your climbing hands with these four salves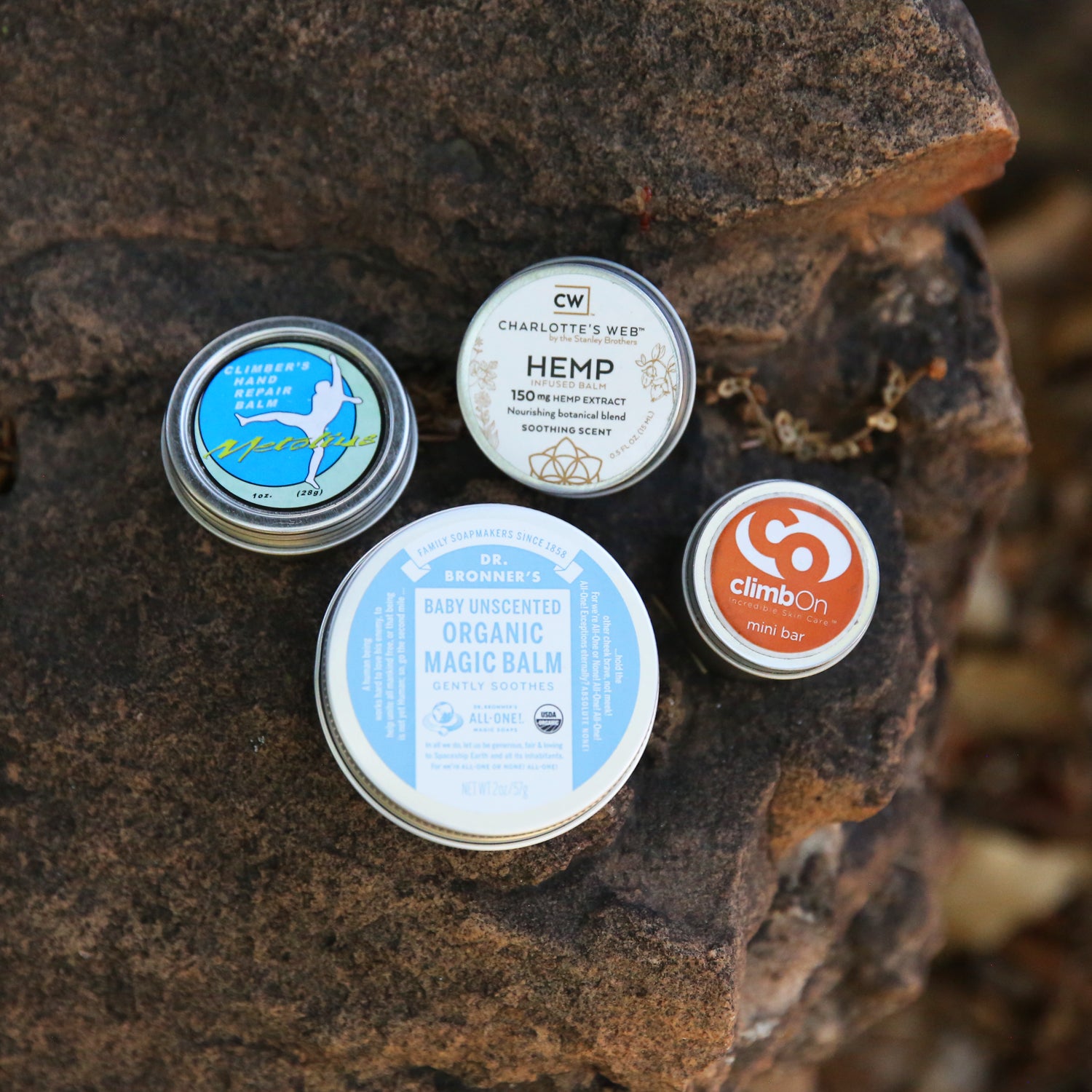 Heading out the door? Read this article on the new Outside+ app available now on iOS devices for members! Download the app.
I was the queen of flappers—until recently. I've been climbing on and off for over six years now and I feel I'm just learning how to take care of my hands properly. The secret of my success (which isn't a well-kept secret) is filing down my calluses when they protrude too much and applying balm regularly. I haven't had a flapper in months and I'm no longer ashamed to shake hands. But not all balms are created equal. These are the four I would recommend.
ClimbOn! Lotion Bar ($9)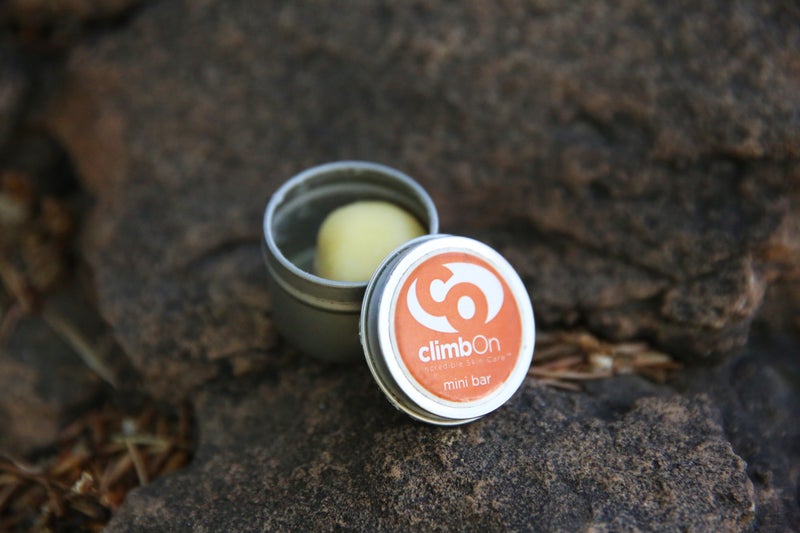 What I like: Delightful herby lemon smell; doesn't absorb too quickly; the bar itself lasts longer than other balms. 
What I don't like: Bar design can be hard to use; thick consistency is not ideal for the workday.
I've had this bar for nearly four years, as you can tell by the battered metal case. It is by far my number-one pick for climbing balm. The lemon-herb smell has become quite nostalgic for me, and the lotion bar is the best for really getting into the small cracks in my hands. The balm stays on my hands longer than others I've tried and has a thicker consistency, which helps its healing powers but isn't ideal for workdays. That's why I mainly use this balm right before bed at night as an ultra-deep moisturizer, or other times when I don't mind my hands being all greased up. The lotion bar design can be unwieldy to use and I have to give the metal case a good shake to get the bar out in hot temps. Overall, this is the balm I reach for when my hands are in dire shape. 
---
Metolius Climber's Hand Repair Balm ($10)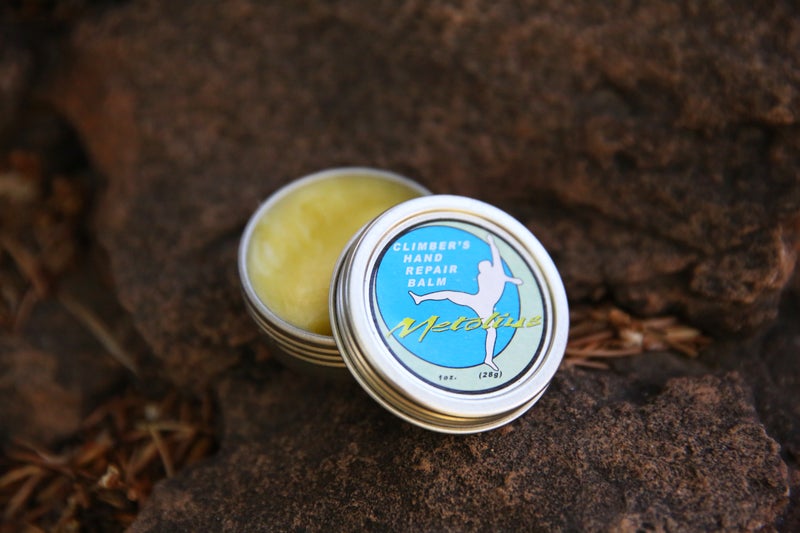 What I like: Not too oily; small tin; solid consistency.
What I don't like: Off-putting smell; melts easily in hot conditions.
This is the balm I grab during the workday or other situations where I need clean, non-greasy hands. The formula is the least oily of the bunch and settles into the skin quickly without leaving much of a residue. It's easy to get as much as I need without overloading. But buyer beware: I did leave this balm in my climbing bag on a particularly hot trip in the desert and it melted fast—requiring me to wash my bag afterward. Leave this balm at home for best results. The smell is supposedly lavender and tea tree but I find it a little reminiscent of gasoline.
---
Charlotte's Web Hemp Infused Balm ($15)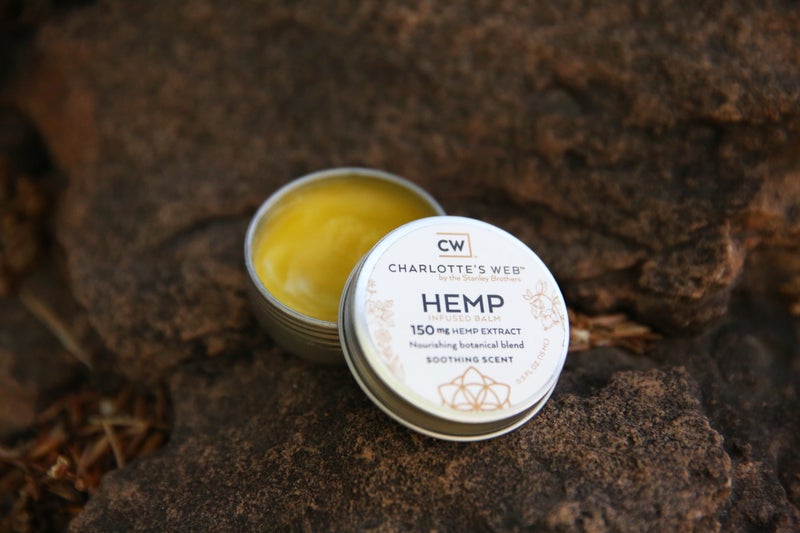 What I like: CBD-infused; small tin; a little goes a long way.
What I don't like: Greasy formula; overpowering scent; small amount in tin.
CBD-infused products are all the rage these days, with some athletes even ditching ibuprofen for the extract, and some studies have found CBD to have anti-inflammatory, anti-anxiety, and pain-relieving properties. This topical is my go-to balm when I have an open wound that won't heal or inflammation in my joints or muscles. It has a thinner consistency than other balms in this review and can be quite greasy, so I use it only at home. The smell is an overpowering mix of menthol and cinnamon that can be too much sometimes, but it can have an aromatherapy effect when I'm in the right mood.
---
Dr. Bronner's Organic Magic Balm ($10)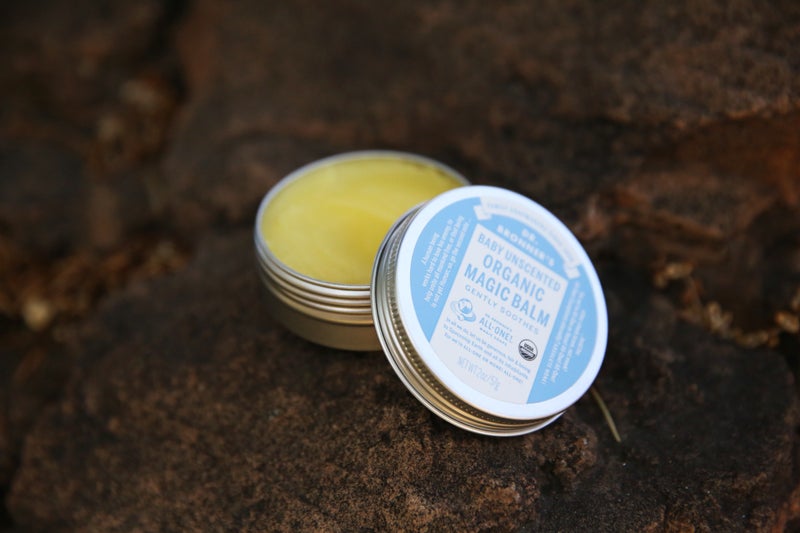 What I like: The most bang for your buck; scentless; made from all organic ingredients.
What I don't like: Very loose consistency; the bigger container takes up more space in my pack.
If you're looking for quantity, Dr. Bronner's Magic Balm has you covered. For the same price as others in this review, you get twice the amount with very a similar formulation. I love this balm because it has no noticeable smell and only a few ingredients. The balm has a very loose, almost buttery consistency but that means a little goes a long way. Unlike other balms, this one can be found at most drug stores so it's easy to replace when you run out. The larger size means I don't usually carry it with me to the crag.