Indefinitely Wild
How to Layer for Outdoor Dining This Fall and Winter
Stay warm, dry, and comfortable while eating outdoors, without sacrificing style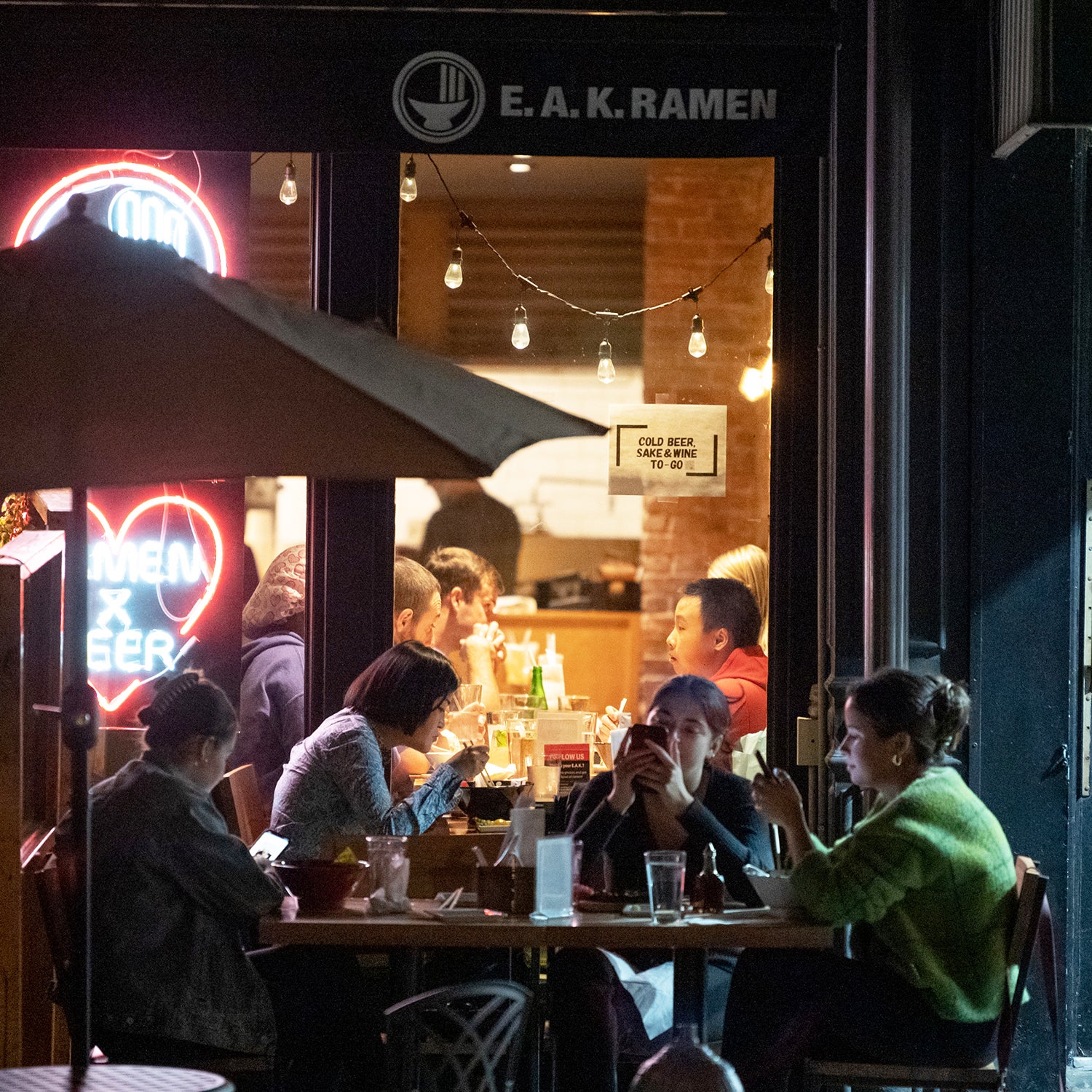 Alexi Rosenfeld/Getty(Photo)
Heading out the door? Read this article on the new Outside+ app available now on iOS devices for members! Download the app.
Planning on going out for dinner anytime soon? Plan on sitting outdoors. New York City just extended its outdoor dining program indefinitely, establishing a model for other cities but also creating a conundrum for both diners and restaurants. How do you make sitting outside comfortable when it's cold, dark, and wet? I think I've got the answer.
The Problem
As of the end of September, restaurants in New York City have reopened indoor seating but only at 25 percent of normal capacity. Similar measures are in place elsewhere. Even if all of those seats are full all of the time, such a limited capacity likely doesn't provide enough income to enable restaurants to cover their costs, let alone make enough money to justify remaining in business. To expand the number of available seats and offer another option for diners who don't feel safe eating indoors, restaurants have been adding tables outdoors, and local governments have changed regulations to expand outdoor dining options. New York recently closed 85 streets to vehicle traffic to free up space for outdoor tables.
Eating on a patio or sidewalk is easy during the summer months, but as the days grow shorter and temperatures begin dropping, keeping the experience enjoyable becomes difficult. Restaurants have been experimenting with awnings, heaters, and even plastic domes covering individual tables. But the boom in demand for those products is intersecting supply-chain issues created by the pandemic, and many restaurants are unable to acquire the materials they need to cover and heat their new alfresco spaces.
Those who want to visit their favorite restaurants this fall and winter may find themselves exposed to inclement weather. The way to deal with that? Start thinking about dressing for dinner like you dress for the outdoors. The right layers will enable you to remain comfortable throughout both seasons.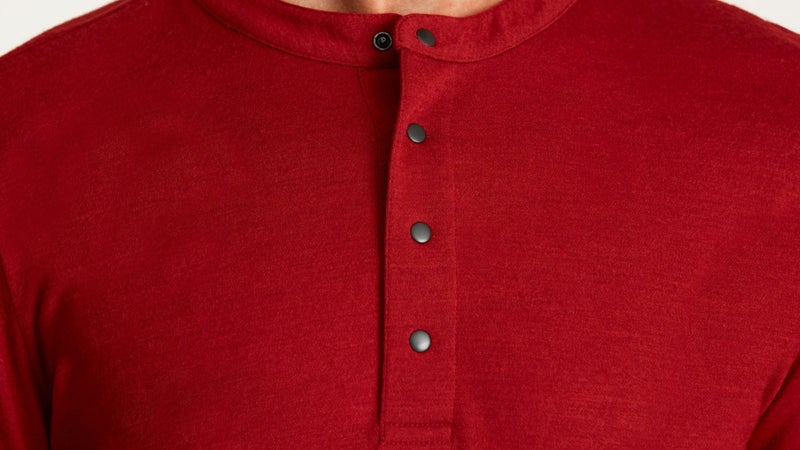 It Starts with Base Layers
By wicking sweat away from your skin, base layers help keep you warm by keeping you dry. They can also provide a small amount of insulation.
Factors to consider: Sitting down to enjoy a meal is a static activity, so you want to focus on retaining body heat. Because dressing fashionably often precludes bulk, base layers, particularly on the bottom half of your body, may be your best chance to add warmth.
Materials to choose from: You'll find base layers made from silk, wool, or synthetics. Silk offers an exceptional amount of warmth for its thickness and can most easily be layered under garments like tight jeans without adding bulk. Synthetics are better able to manage moisture and dry much quicker. Wool tends to be a good middle ground between the two, while providing a level of thermal regulation that the other materials can't match. While silk or synthetics can become unbearably warm indoors, wool is capable of remaining comfortable across a broader range of temperatures. The finer the size of the wool fibers, the softer it will feel next to your skin; this is what varieties like merino are known for.
The best options: REI sells silk base layers that are affordable, create an appreciable amount of warmth, and should fit under your existing clothes. Those will get you through fall weather, but when temperatures really begin dropping as we enter winter, you're likely going to want something a little thicker. Smartwool's Intraknit range is woven without seams and with integrated ventilation. That makes its pieces more adept at responding to changing temperatures and activity levels. While you're active, the 200-weight Intraknits remain as cool as 125-weight base layers made using traditional technology, but they remain much cozier when you're not moving. The warmest items in its range are pieces made of 250-weight merino wool. You'll likely struggle to layer those under your normal, fashionable clothing, but you'll be wearing the warmest base layers possible.
Stylish alternatives: If you want to stay warm without looking like you're on a ski trip, pull on some silk base-layer bottoms before getting into your jeans, and add a merino Henley on top. I've been making good use of Aether's Merino Henley this fall. It offers a ridiculously cozy next-to-skin feel and looks as good on its own as it does layered under a collared shirt.
Add Midlayers for Warmth
By trapping warm air next to your body, midlayers add warmth.
Factors to consider: It's going to be hard to predict what kind of conditions you're going to find at restaurants in the coming months. Tent and awning walls may not be allowed at all or only with limited coverage. Even if the place has propane heaters, it may not have enough to provide even coverage for all tables. Midlayers you can shed and add as needed will allow you to adapt.
Materials to choose from: Let's talk about shirts, sweaters, and the like. Where possible, try to avoid cotton. Even though eating dinner is a stationary activity, any moisture from sweat or precipitation that enters a cotton garment is going to make it feel cold. For that reason, wool is your best choice here, with synthetic fleece materials coming in a close second.
The best options: For button-down shirts, real wool flannels are ideal. I covered the reasons why and presented multiple options in this article. Sweaters are the other obvious choice. Naadam sells ethically sourced cashmere items starting at just $75. Layering a wool sweater over a wool button-down (or athleisure top) will allow you to easily respond to changing temperatures.
Stylish alternatives: Fleeces don't tend to be terribly stylish (although some of my colleagues may disagree), but Houdini, a Swedish outdoors brand, sells a variety of options in good colors that are designed to flatter athletic bodies.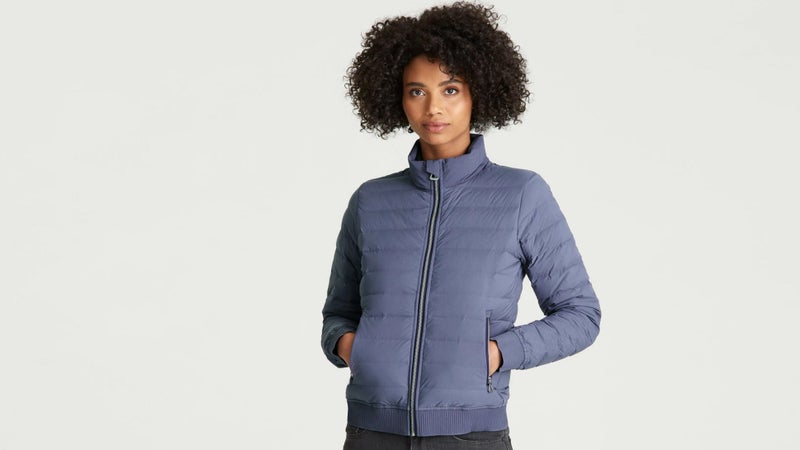 Puffies—Without the Markup
Puffy jackets (and puffy pants) are able to trap a high volume of warm air, providing more warmth than heavier materials.
Factors to consider: The merits of the materials involved in puffies are commonly misunderstood, and people end up paying more for a logo than they do for function or style. Regardless of materials used, the warmth of a puffy layer is based on its thickness. Puffies can be worn as a midlayer or an outer layer. Thin puffies may provide little to no additional warmth beyond that offered by a sweater, but they can easiliy be layered under additional garments. Very thick puffies, on the other hand, can cope with the coldest temperatures yet prove difficult to layer under a shell. An outer face fabric that's treated with a water-repellant coating or equipped with a water-resistant or waterproof membrane can eliminate the need for an additional shell layer, but it typically hinders breathability.
Materials to choose from: Duck down is usually gathered. Goose down is normally plucked. Because geese are larger, they also produce larger down clusters, and larger clusters create higher fill-power numbers. Look for the ratio of clusters to feathers on an item's labels; in all cases, a higher ratio of down is better. Fill power defines the packability of the insulation used, not its warmth. Listed as a three-digit number, fill power is the volume (in cubic inches) that one ounce of down can expand to fill. Down clusters lose their ability to loft, and therefore provide warmth, if they get wet. In recent years, some companies have treated down with durable water-repellent (DWR) coatings to prevent that. This is important not just for rain and snow but also if your perspiration enters the down. DWR-treated down cannot yet perform as well as synthetic insulations when wet, but synthetic insulations are only just now getting close to the compressibility of down. Down is also capable of outlasting synthetic alternatives, and garments made from it can be worn for decades.
The best options: Unless you're a dogsledder, a big down parka made from low-fill-power down is typically a poor choice for activewear due to its bulk and lack of breathability, but sitting down at a restaurant is a situation that actually merits wearing one. Direct-to-consumer brand Triple F.A.T. Goose sells parkas just as warm as others on the market and just as nice as anything else out there—but typically at half the price.
Stylish alternatives: There's much more nuance involved in the creation of lightweight, packable puffy items. And layered appropriately, a lightweight, packable puffy will better allow you to respond to changing conditions.
Aether recently sent over one of its new Senna jackets for my wife, Virginia, to try. Made from an ultralight, pre-baffled shell material and 800-fill down, it looks smooth and has a feel that sets it apart from most technical layers—without sacrificing breathability or weather resistance. Cut like a bomber jacket, the Senna is fitted with a stretchy hem that holds the jacket tight to the wearer's body. Together with a spot-on cut, it's the most flattering puffy I've ever seen anyone wear. At $375, it's actually reasonably priced for such a nice piece of clothing, and it's also available for men.
Meanwhile, I've been loving Mountain Hardwear's new Stretchdown shacket. Cut like a button-down shirt, it features a stretchy face fabric that facilitates total freedom of movement. It's also equipped with 800-fill down, which means it can easily be stuffed into a bag during the day without taking up much space. And unlike many puffy jackets made for men, it's cut for flat stomachs, not Santa Claus bellies. At $200, it represents exceptional value.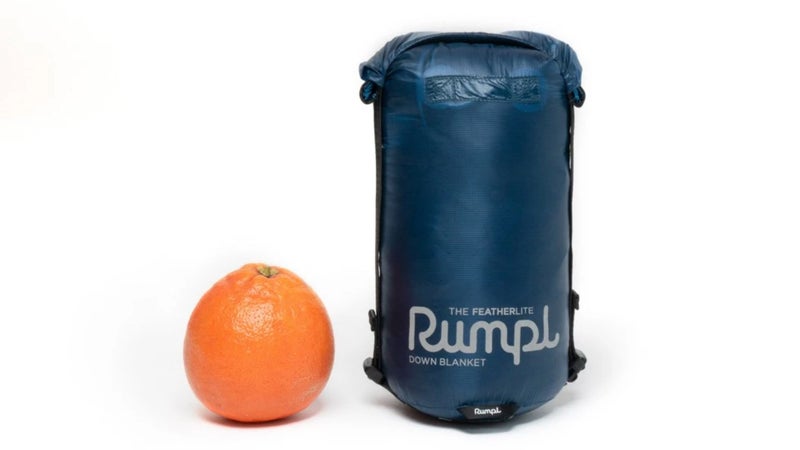 What About Pants?
It's really difficult to find pants capable of keeping you warm and dry in inclement weather without greatly sacrificing style. Most of us likely have long-running loyalties to certain brands that we know fit our bodies just right, and most of those nontechnical brands make their jeans or trousers from cotton or similarly suboptimal materials. Semi-technical options, like Patagonia Performance jeans, are an excellent choice as they combine synthetic fibers with cotton to provide a very small amount of stretch and weather resistance. But those will still wet out in pouring rain, then hang on to that water for long periods of time, keeping you cold.
Rather than suggesting you show up at dinner wearing hiking pants, one solution might be to bring along a blanket. Rumpl's new Featherlite Puffy packs down small enough to fit into a purse or a small backpack, weighs one pound, and will keep your legs warmer than any pair of dayglow shell trousers. The DWR-treated synthetic shell fabric is also capable of shedding light precipitation and blocking the wind, making it the perfect insurance against unexpectedly cold conditions or a table without adequate weather protection.
Lead Photo: Alexi Rosenfeld/Getty
Trending on Outside Online