66° North Tindur Technical Women's Jacket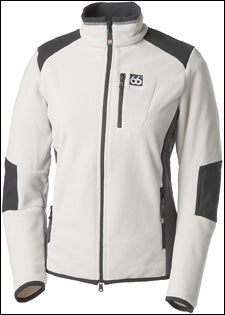 Heading out the door? Read this article on the new Outside+ app available now on iOS devices for members! Download the app.
I had hoped, when given the chance to test a fleece from 66°North—the Tindur Technical Women's Jacket—that I would get to do something cool with it. Like take it to a mountaintop or, at the very least, traipse it around some autumn-kissed New England forest. But, given that I work 50 hours a week and spend an extra ten commuting on a train (no way to live, I know; I'm working on it), Fifth Avenue was as far as I made it. And, actually, that turned out to be far enough—don't underestimate the harsh factor of fall in New York City.
66° North Tindur Technical Women's Jacket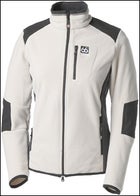 66° North Tindur Technical Women's Jacket
It's a stylish little thing, the Tindur Technical. As someone who opts for the safe colors in big fleecy buys—deep grays, navy blue, black—this creamy-white coat with its slick black side and shoulder panels gave me a turn at first. But then I thought, Yeah, I can go chic, too. The jacket looked even better on: Its slim, fitted cut flattered the contours of my upper body without flaunting them, and its crisp, zip-up collar teased my chin just so. I looked, in a word, sharp.
Back to Fifth Avenue. My Tindur debut was impromptu. Leaving to do some shopping with a friend on a chilly Sunday afternoon, I threw the jacket on last-minute over my long-sleeved cotton shirt. 66°North claims this fleece—thanks to its special Polartec WindPro fabric ("proprietary yarns and a very tight construction")—blocks the wind four times more effectively than traditional fleece. Did I notice this? Actually, I think I did. When the wind picked up and my friend (who was wearing a heavy winter sweater) cursed out loud and I expected the bite… it didn't come. In fact, I even unzipped the collar a few inches to let in some extra cool air.
The Tindur made it to Fifth Avenue a second time—now as a middle layer, over a light cotton sweater and under my rain parka—on a very windy, very rainy morning. The wind kept flipping the rain sideways and spitting it into my face, and my ten-dollar umbrella had a busted spoke, but I felt, well, comfortable. Toasty but not hot. Bundled up and buffered but still limber. That's another nice thing about the Tindur Technical: Those slick black side panels I mentioned are made from a stretchy material (WindPro Stretch) that makes it easy to move around.
Style and specs aside, the Tindur Technical is just a good all-around jacket. I wear it all the time—inside and out; with a light layer or by itself. It's an under, over, or in-between deal that promises to keep me comfortable wherever I go, be it the streets of Manhattan or those elusive New England woods. $220; www.66northus.com
(New Yorkers: 66°North has just launched its first temporary retail store, at 158 Mercer Street. It will remain open through December 30.)
Trending on Outside Online