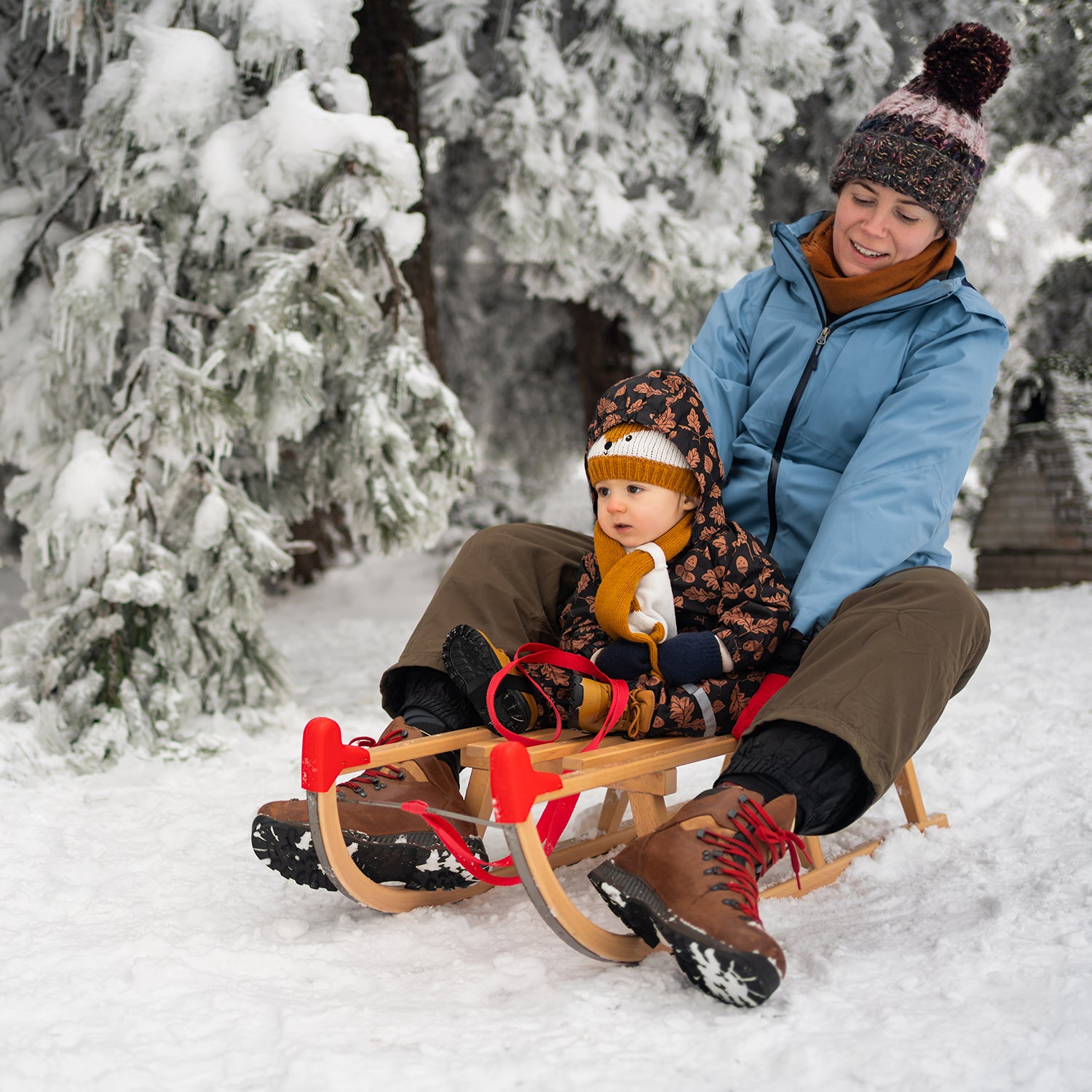 Heading out the door? Read this article on the new Outside+ app available now on iOS devices for members! Download the app.
Those who live in northern climates know: the wrong footwear at the wrong time can lead to dire consequences—even for something as simple as apres bar-hopping or grocery shopping. But, as our favorite casual winter boots, shoes, and slippers have proven, real warmth and serious style don't have to be mutually exclusive.
Gear Fix
Sign up for our gear e-mail newsletter for in-depth reviews, first impressions, industry news, and pro DIY tips.

Looking to host some top-notch aprés-ski parking lot hangs this season? Check out our reviews of the best winter tailgating gear.
Reviews: The Best Snow Boots for Women and Men
Icebug Pace3 Bugrip GTX ($220)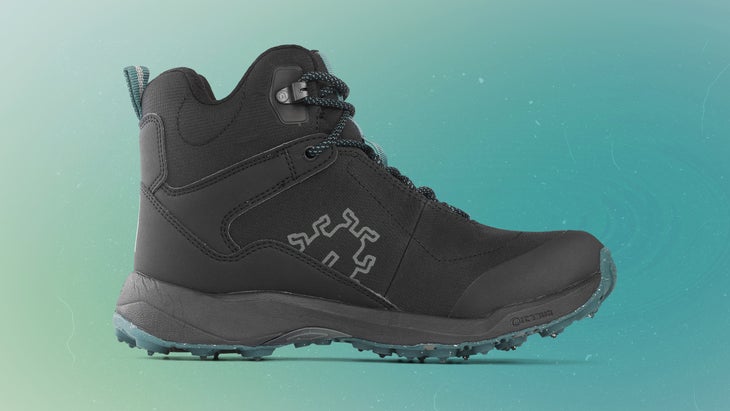 Ice is the enemy, especially while navigating a treacherous ski area parking lot in the dark on tired legs. Enter the Pace3, a mid-cut winter boot that has 16 steel studs embedded in its partially-recycled rubber sole that act like miniature crampons. The studs actually retract into the soft sole on hard surfaces like asphalt—similar high-end snow tires—allowing for more stability while walking off of the snow and ice. The boot's waterproof, breathable Gore-Tex membrane kept our testers' feet warm and dry during a five-degree winter trudge along Minnesota's Superior Hiking Trail.
Size: Men's 7-15 / Women's 5.5-10.5
Bottom Line: Like studded snow tires for your feet.
---
Deckers X-Scape SPSK Mid ($200)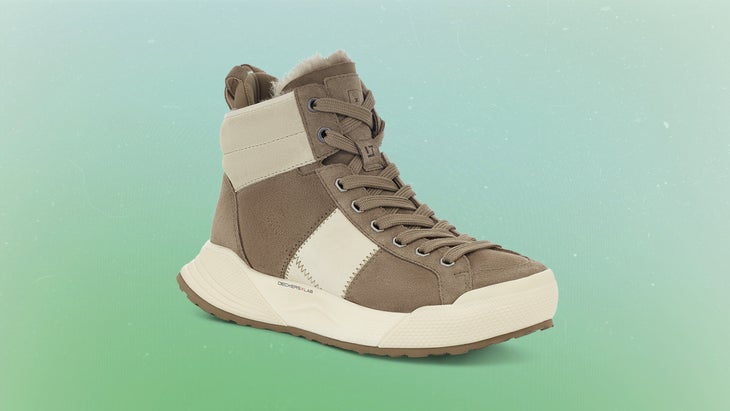 It's billed as a stodgy "recovery" shoe, but this suede sneaker is absolute luxury, with a DWR-finished sheepskin upper and a cozy shearling interior. All-day comfort is thanks to its ultralight polyurethane foam midsole wrapped in protective TPU. With dozens of honeycomb-shaped lugs on the ultralight EVA-rubber blend outsole, this funky urban lace-up shootie kept us upright on hard-pack snow and icy trails. While we wouldn't recommend its mid-cut for deep lunges through thigh-high snow, these deluxe winter high-top sneakers are ideal for resort-town bar-hopping.
Size: Men's 8-13 / Women's 5-11
Bottom Line: Opulence with real-world utility.
---
Forsake Lucie Boot ($170)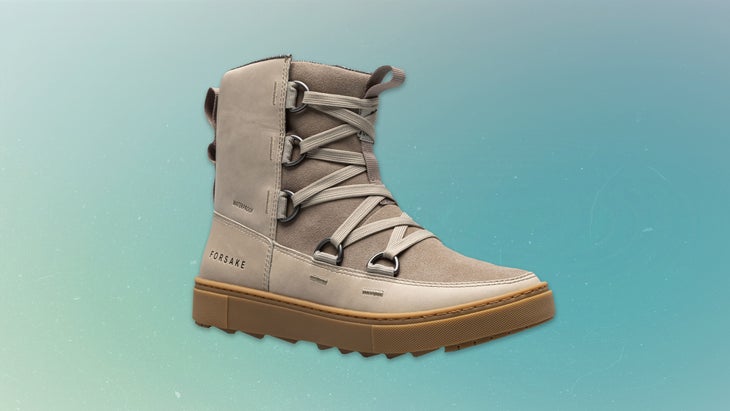 Sometimes bulky boots are overkill, especially on milder days when all you need are some kicks with a little style to get you to your car. This waterproof, full-grain leather and suede sneaker-boot is low key, classy, and easy to get into thanks to the faux front lacing with a reliable side zipper that's easy to use with light gloves. A cushioned EVA midsole and stable rubber outsole offer just enough traction to handle icy parking lots and moderate snowbanks. Even our Minnesota-based testing squad preferred these for quick trips to the co-op or for a mellow after-ski aperitif at a local distillery.
Size: Women's 6-11
Bottom Line: The perfect everyday winter boot when mukluks are overkill.
---
Amundsen Winter Mucks ($350)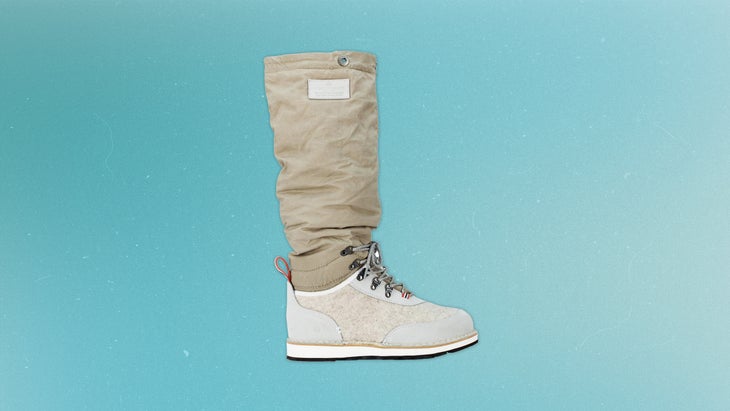 Designed in Oslo and handmade in Italy, these retro lace-ups were a favorite of a fashion design student tester, who was especially impressed with how functional these beautiful boots are. The wool loden—a type of woven, boiled yarn—and suede outer naturally sheds water, while a soft and insulating nylon mesh inner liner is removable for speedy drying times. (Bonus: this removable insert has a grippy sole, so it doubles as a house slipper.) All that, plus a sticky Vibram Arctic Grip sole, meant our tester could handle everything a Minneapolis winter threw at her.
Size: Unisex 37-46
Bottom Line: A functional fashion statement with bonus indoor slippers.
Reviews: The Best Slippers of 2023
Rab Down Hut Slippers ($65)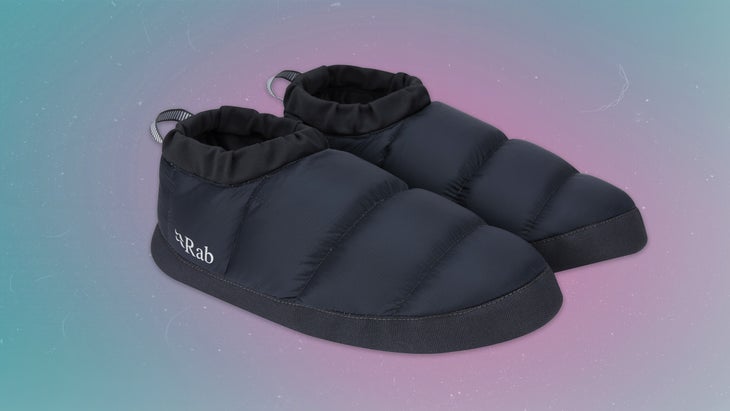 The "like-pillows-for-your-feet" analogy may be an old saw, but it's spot-on for Rab's dreamy slipper. It's stuffed with 700-fill recycled down with a Nikwax hydrophobic finish, and encased by a 30-denier DWR Pertex fabric with an elasticized fleece-lined cuff. Some testers reported keeping them on for a full day and night. While this is decidedly an indoor slipper, we also tested it on quick trips to the mailbox down a long, icy driveway. Spoiler: even there, it performed, thanks to a grippy polyurethane outsole and a 600-denier nylon edge. Weighing a mere seven ounces per pair, the Hut Slippers are ideal to stash in a backpack for winter camping or a carry-on headed to an alpine resort. They even come with their own carrying case.
Size: Unisex XS-XL
Bottom Line: Down kicks for inconsolably numb feet.
---
Oboz Whakata Puffy ($100)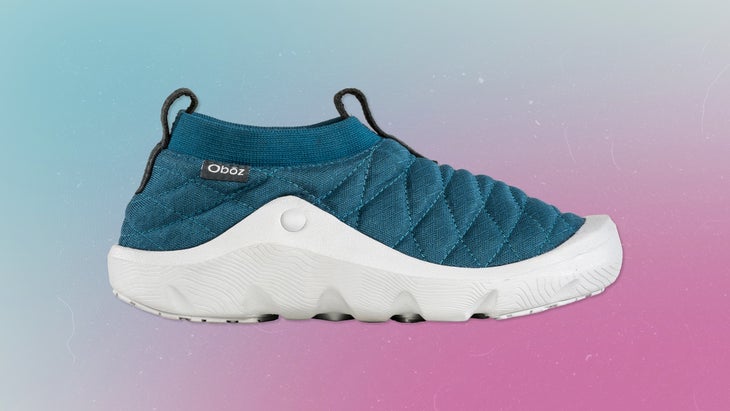 Of all the slippers we tested, this pull-on moccasin feels the most shoe-like, thanks to its beefy molded rubber outsole, structured arch support, and a tightly woven Cordura upper filled with 100-gram Primaloft Bio (100 percent recycled and biodegradable.) We found the Whakat to be an ideal transition shoe, like when changing from sweaty winter fat biking boots to run errands around town. The rugged outsole tread has solid grip for icy parking lots and the crushable heel makes for easy slip-on access when you're in a hurry. It's also one of the most eco-friendly slippers on the market, thanks to an algae-blended resin used in the footbed and midsole.
Size: Women's 6-11
Bottom Line: Eco-conscious moccs with winter grip.
---
Bioline Kappa Rosso 3004 ($145)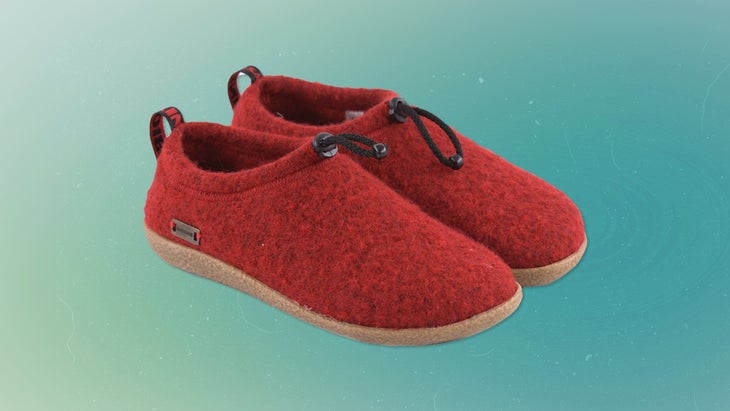 Bioline might be new to Americans, but variations of these slipper shoes have been handmade in the foothills of the Italian Dolomites since the 1930s. Made from a boiled wool upper with a removable leather-wrapped footliner, a cork insole, and a grippy thermoplastic outsole, the Kappa Rosso has the support and traction of a shoe and the plush comfort of a slipper. We used it as an indoor-only shoe slide, but there's a back heel with a generous loop to quickly secure it to the foot. Bright red, yellow, and blue dyes make the Kappa Rosso a rustic eye-catcher.
Size: Unisex 34-48
Bottom Line: Snazzy Italian booties with slip-on comfort.
---
Kyrgies Nomads ($119)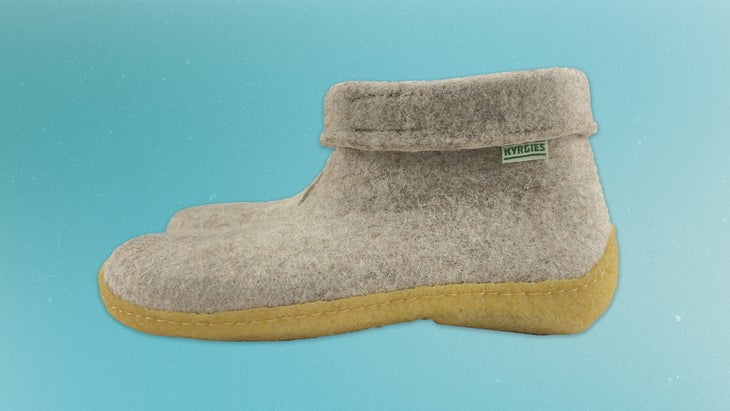 This slipper is backed by history: Made by hand in the mountain community of Bishkek, Kyrgyzstan, it's modeled after the classic Russian Valenki, the traditional winter footwear worn by nomadic Russian people for centuries. The flexible boiled wool upper, cinched by an elasticized band running around the ankle that replaces lacing, can be flipped up or down depending on how warm you want your ankle to feel. With vulcanized rubber soles and the naturally water repellent wool upper, these simple, durable slippers can handle real snow (stay away from slush) let alone a mild night around the campfire.
Size: Men's 7-15.5 / Women's 5-14
Bottom Line: If it worked for nomads on the frozen Russian steppes, it can definitely handle some light aprés duty.
More 2023 Winter Gear Guide Reviews
Lead Photo: SrdjanPav/Getty