2023 Summer Gear Guide
The Best Sports Bras of 2023
We wore a dozen different bras for hours of high- and low-impact activities. These were our favorites.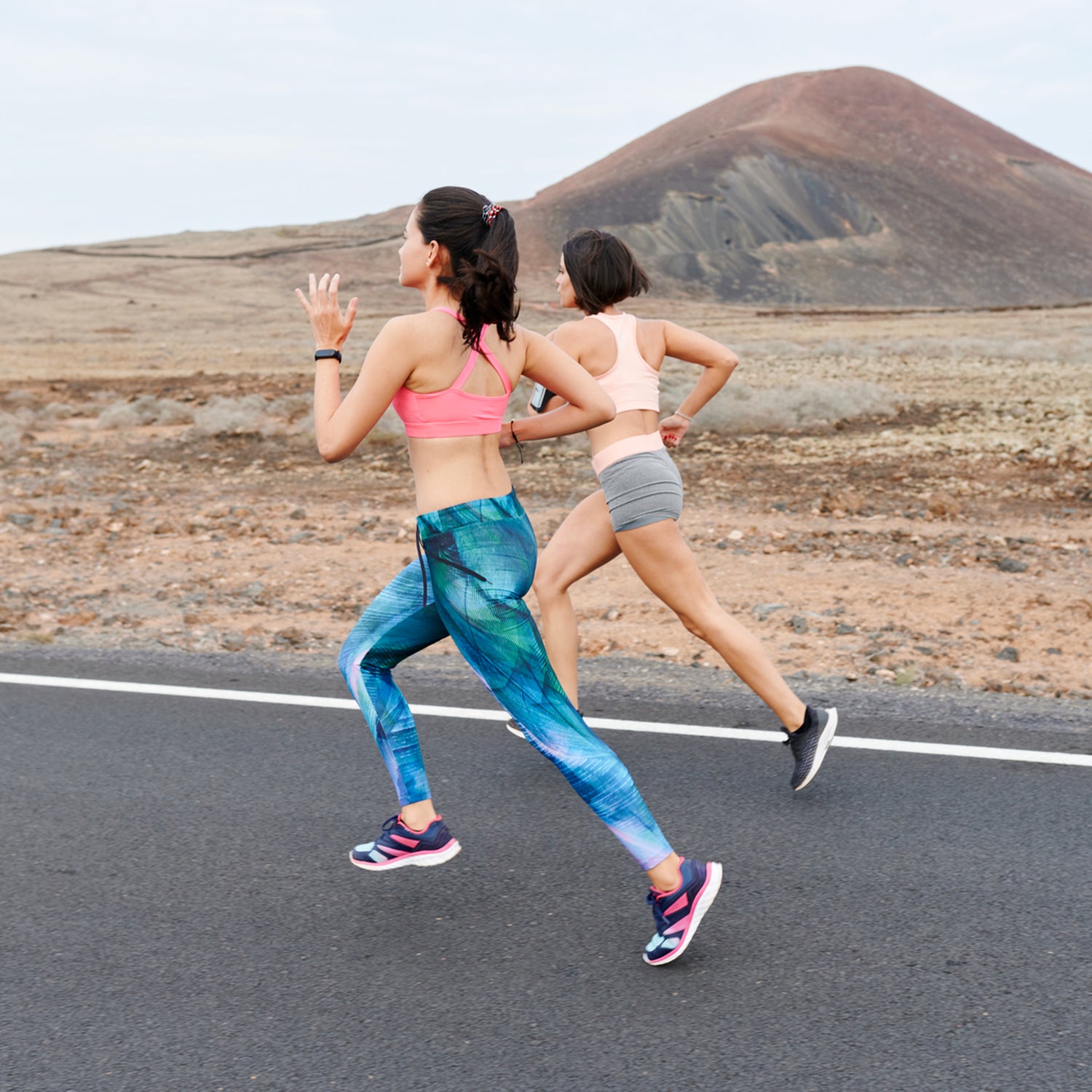 Heading out the door? Read this article on the new Outside+ app available now on iOS devices for members! Download the app.
Olympic distance runner Alexi Pappas frequently advises her fans to take their sweaty sports bra off immediately after their workout to avoid chills and nasty bacteria buildup. It's good advice, and we follow it often, but there are occasions when schedules or circumstances make that unfeasible. For those times, the search continues for bras that can handle tough training sessions and the aftermath of those sessions equally well—bras that dry instantly and aren't so compressive that we're dying to get out of them as soon as we stop moving. We found a few that fit the bill.
The Winners at a Glance:
Best for Comfort in the Heat: Janji Groundwork Ascend bra
Best for High Impact: Rabbit UtiliBRA-vo
Best for Wearing All Day: Tentree InMotion Double Scoop
Best Value: Quince Ultra-Soft Performance Bra
Best for Low Impact: Title Nine Handful Bra
How We Test
Number of Testers: 4
Number of Bras Tested: 12
Hours Working Out in Test Bras: 180
Longest Time Worn Post-Workout: 8 hours
We wore these bras for running, yoga, hiking, dog walking, and going to work. Every tester wears a different size, ranging from 36B to 32DD. If at least two testers agreed that a bra was comfortable and functional, it made our short list. Then we narrowed down the contenders based on style, price, and versatility.
Meet Our Top Testers
Svati Kirsten Narula is a writer and editor in Santa Fe. She tested all the bras on this page while running, doing yoga, hiking throughout northern New Mexico, and driving and flying long distances in between. She still hasn't found a bra that she can run in and bear to wear for more than six hours after, but hey, six hours is pretty good.
Stefanie Hausner is a working parent in Santa Fe, New Mexico. Her relationship with running and with bras has transformed quite a bit since becoming a mom. On ambitious days, she carves out time between work and daycare pick-up to hit the trails and enjoy fresh air, and she is no stranger to a nursing break while on a stroller run.
Aleta Burchyski is a writer and outdoorsmom who loves keeping her mental and physical batteries charged with yoga and stroller jogging. This summer she tested bras while doing prenatal fitness, and welcomed her second son at the end of October. One of her top picks—the Tentree InMotion Double Scoop—was so good she almost opted to give birth in it. (She went with an Alden nursing bra instead of the athletic choice, but it was a close contest.)
The Reviews: The Best Sports Bras of 2023
Best for Comfort in the Heat: Janji Groundwork Ascend bra ($76–82)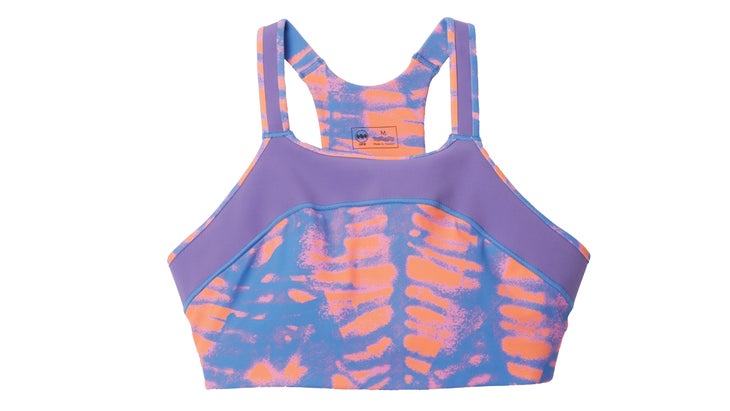 Sizes: XS-XL
Pros: Lightweight, sustainable (Janji's Groundwork Knit fabric is bluesign certified), stylish
Cons: Expensive
This bra was a tester favorite thanks to its wide, highly elastic underband, which fits securely without pinching or constricting. Every one of our testers said it offered the right amount of support for running, without being overbuilt or difficult to get on and off. The cut of the bra minimizes material contact near the armpits, which one tester said creates "a lighter, more unencumbered feeling." The stealthy phone pocket on the racerback band is a plus, and the nylon-spandex fabric isn't too slippery or heavy. This is the ideal choice for hot summer runs where you don't want to feel anything—neither bouncing nor extraneous fabric.
Best for High Impact: Rabbit UtiliBRA-vo ($55)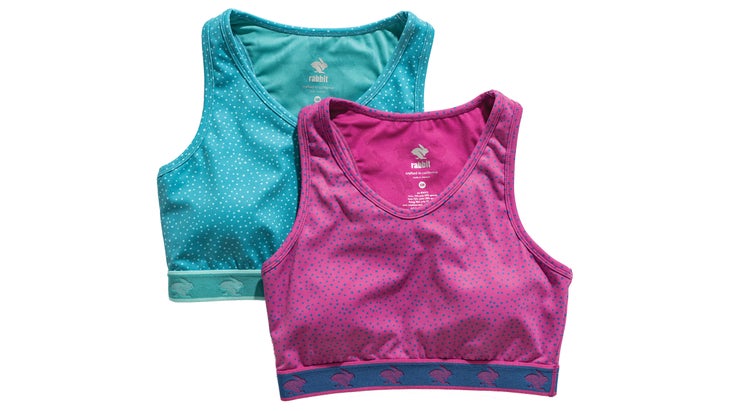 Sizes: XS-XL
Pros: Über-secure phone pocket and classic racerback fit
Cons: Not the most breathable
If you love classic racerback bras, add a few of these to your stable. Chances are good they'll fit and support you well, as one of our testers raved, "The fabric hits a sweet spot of compression that I think will please 85% of runners—not too much, not too little." This bra also has the most secure back phone pocket we've ever used, without being over-designed. "Most phone pocket bras try to be all fancy and featured and space-agey," another tester said. " This is the first one I've tried that's basically just a regular old racerback, both in terms of fit and looks." The polyester-spandex fabric is slightly thicker than the other favorites, making it a great choice for high-impact activities year-round.
Best for Wearing All Day: Tentree InMotion Double Scoop ($48)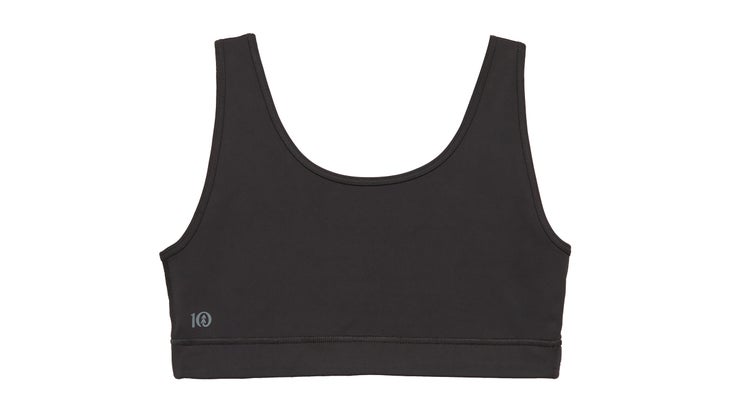 Sizes: XS-XL
Pros: Flattering scoop neck, made of 79% recycled post-consumer polyester
Cons: Wide straps are visible under many of our favorite summer shirts
"It's like the little black dress of sports bras," said Aleta—need we add more? We found this bra incredibly versatile for both low- and medium-impact activities thanks to the flattering scoop neck. It works just as well for yoga inversions as it does under a button-down sun shirt on long hikes, and some of us wore it multiple days in a row without it getting stiff or stinky. "The band was even comfortable on my third-trimester bump," Aleta added. We also liked that all of the polyester (79 percent with 21 percent elastane) in the super-soft fabric is recycled.
Best Value: Quince Ultra-Soft Performance Bra ($30)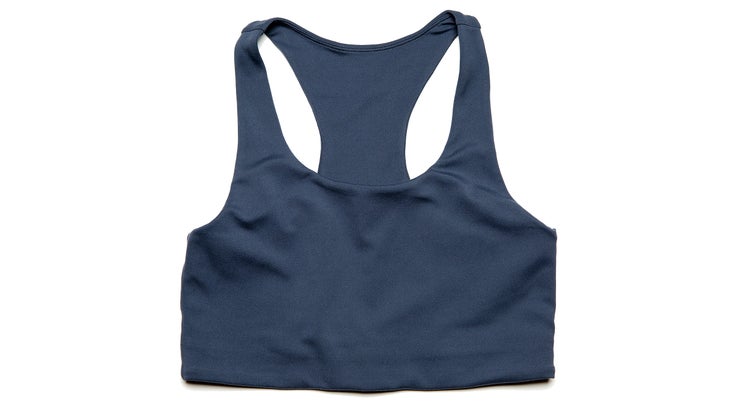 Sizes: XS-XL
Pros: Supreme comfort at a low price
Cons: Not supportive enough for high-impact activities
"I nearly cried when I first tried this on," said Svati, so happy to have finally found a low-impact bra that she can wear for 12 hours without wanting to tear it off at some point. Don't be fooled by the bargain price: the recycled polyester-spandex blend feels as soft and performance-oriented as bras that cost double what this one does, and dries surprisingly quickly. We wore this comfortably from the office to the trail to cross-country plane flights—for days in a row without washing.
Best for Low Impact: Title Nine Handful Bra ($62)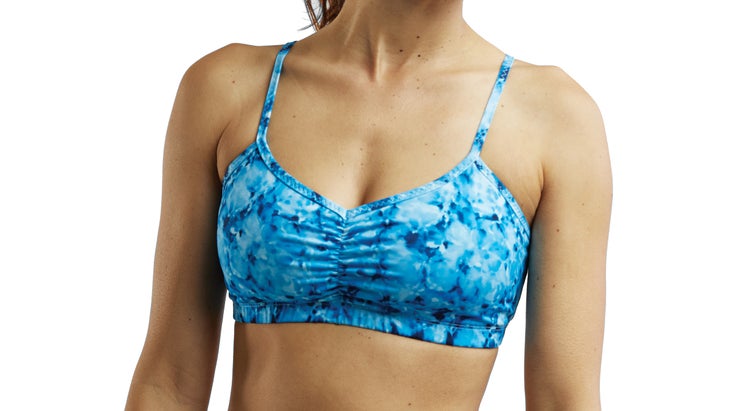 Sizes: XS-XL
Pros: Loose cup fabric is supremely comfortable for low-impact activities
Cons: Adjustable straps can chafe
Testers were impressed by the combination of the compressive chest band and loose cups on this bra, which provided a balance of support and flexibility. "I found myself reaching for it over and over," said Stefanie, who liked that the shaping avoided the "uni-boob" effect. She also appreciated how it supported her as an active mom. "This bra was really comfortable for breastfeeding!" she reported. "Some of the more fitted bras made it tricky or impossible to pop a boob for a hungry baby." We also like that the thin straps and lower cut of this bra make it easy to wear under all sorts of tees and tanks.
How to Buy
Each brand sizes their bras differently, so try on a range of sizes when shopping for these. There are three factors to consider: comfort, support, and breathability. Comfort is personal. When it comes to support, different categories like "low impact" and "medium support" can be confusing because different brands define them in different ways. In general, bras marketed for low-impact activities like yoga or hiking will offer less support and technical features than those for high-impact activities, like running or HIIT classes. On the flip side, bras designed to offer higher support may be less breathable or comfortable.
If you have a small cup size, you may find that low- and medium-support bras work perfectly well for high-impact activities, but women with larger cup sizes often need those "high support" bras even for some low-impact activities. Whatever you choose, know that the bra's underband—the most important part for support—should fit securely but not so tightly that you can't breathe. The straps should not dig into your skin or leave red marks when you take the bra off.
Sports bras are made with fabric designed to hold up to sweat, but some of the synthetic polyester-spandex blends in popular bras were recently found to have elevated levels of BPA, which freaked a lot of consumers out. If that worries you, look for sports bras made with merino wool, which has been spun into some fabulous low- and medium-support options by Ibex, Ridge Merino, Oiselle, and more.
Lead Photo: Ivan Gener/Stocksy