The Best Sports Bras for D Cups and Over
I'm tired of doubling up old sports bras—aren't you?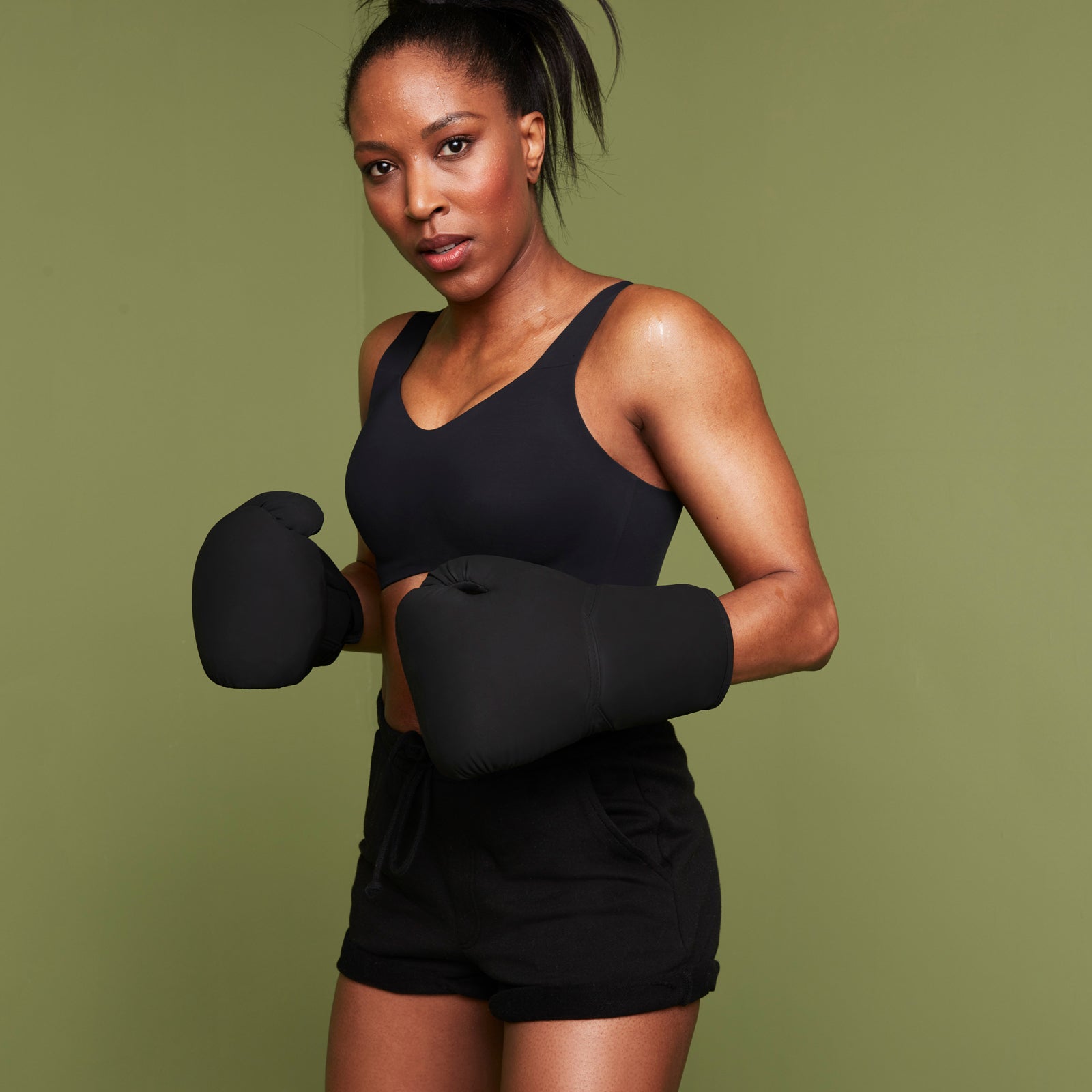 Heading out the door? Read this article on the new Outside+ app available now on iOS devices for members! Download the app.
We've said it before: high-impact sports bras are having a major moment. Rigorous testing in university labs, back-to-the-drawing-board redesigns, and, on occasion, entirely new fabrics (see Reebok's PureMove and Lululemon's Ultralu) all mean that bigger-busted women have better options than ever before. And those options are coming at a crucial time. In a 2015 study, researchers found that nearly one in five women say their breasts can be a deterrent to exercise, and not finding the right sports bra was listed as one of the most common deterrents. (Though more data is needed, there's even proof that female runners wearing a more supportive sports bra run with better form.) Worse, according to a new study, as a woman's cup size gets larger, her likelihood of particpating in physical activity declines.
Jenny Bruso, founder of Unlikely Hikers and an Outside contributor, says she's seeing more brands, including her sponsors, Columbia and REI, coming out with well-fitting plus-size clothing. But for many, high-impact sports bras in larger sizes are lacking. For women with plus-size breasts, it's personal. When first partnering with brands, Bruso had to reckon with the irony of pairing up with companies that made clothes that didn't fit her right. "You get to a place of feeling like [you have] to acknowledge the fact that, you know, these companies just don't see you," she says. "[Plus-size customers] have money, too."
"I think diversity became a thing that you check off in a box," says Joanna Griffiths, founder of Knix, a women's intimates company. "Like, oh, here's a photo of 20 people, and we have our plus-size person. Check—inclusivity."
That's not ideal when the average breast size in America is among the largest in the world, at 34 DD. Women with larger cup sizes need to improvise. Bruso, for example, makes do with the most tried and true method of busty women: an old sports bra over a ratty regular bra for added support.
"I get tired of the questions of justifying the involvement in sport," says Sarah Dwyer-Shick, founder of the Sports Bra Project, an organization dedicated to donating sports bras to underprivileged athletes. Dwyer-Shick says that women should be getting outdoors simply because they want to—and to do that, they need access to necessary gear.
At a 34 DD, I sure as hell want to be getting outside, and I'm tired of doubling up sports bras Bruso style. I tested five bras over three months for three activities—running, hiking, and martial arts—as well as for everyday wear, to see if there actually are quality high-impact bras on the market for women with D-plus breasts. This is what I discovered—and which bras came out on top.
The Anatomy of a Good Sports Bra
Every body is different, so the bras I tested and felt supported by may not necessarily fit your frame. Dwyer-Shick can attest to this from her experience sorting through sports-bra donations. "The inconsistency of sizing has been shocking, to say the least," she says. Take, for example, a 38 D: while it's labeled as large at REI, Brooks and Patagonia label it as XL, and at Champion, it's XL/XXL.
Picking the right size takes some trial and error, but over months of testing, I pinpointed a few specific design elements worth noting.
Straps Without Slide Adjustments: Slide-to-adjust shoulder straps, the kind you find on your regular everyday bra, aren't designed to withstand impact—they're designed to slide. When I ran with some of the sports bras I tested, the ones with slide straps loosened, eliminating any semblance of support.
Defined Cups: Breasts move separately from each other, separately from your body in motion, and in multiple directions (up and down, side to side, and forward and back), according to Griffiths. One of my least favorite things about wearing a sports bra is the dreaded uniboob, so my favorites in this test had separate cups that kept each breast relatively apart from the other.
Back Clasps: High-impact bras are naturally tight, and taking them off is basically a postworkout workout. Sometimes after a run I just leave my sports bra on because I don't want to deal with peeling it off. A back clasp, like those you find on a regular bra, is a must-have for me. After sweating, there's nothing more satisfying than simply popping the clasp and letting 'em breathe.
The Only Two Sports Bras You'll Ever Need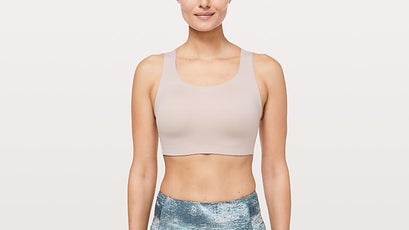 Lululemon Enlite Bra ($98)
Lululemon has had a fraught relationship with plus-size offerings. But for women who wear up to a size 14, this bra is it. Made from Lululemon's breathable, sweat-wicking, Lycra-blend Ultralu fabric, the Enlite has separate cups and thick straps that lay flat and cross in the back, meaning more air flow to ward off back sweat and a cuteness factor rarely seen in high-impact bras. This bra has no harsh underwires or framing fabric, and it features the ever important back clasp. I wore this bra running. I wore it to Krav Maga self-defense class. I wore it postworkout to see if I would stay sweaty and uncomfortable all day. I did not; the fabric dried in an hour or two. I basically forgot I had breasts, even while jogging with my dog and kneeing the crap out of my Krav partner's pads. The Enlite kept bouncing to a minimum and felt molded to my body when I put it on. The downside: while the Enlite comes in 20 sizes, it tops out at 40 D. And after a couple of washes (yes, I machine-wash my sports bras, sue me), the cups got a little wrinkly, so make sure to care for this bra with real affection.
---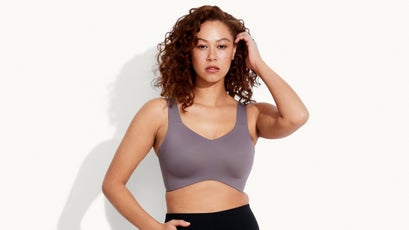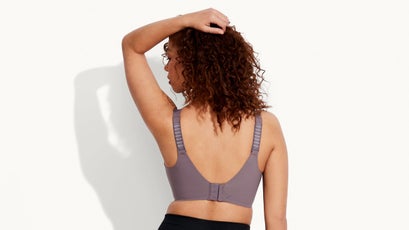 Knix Catalyst ($89)
Knix designed the Catalyst specifically to beat its competitors. It's a product of three years of research, 22 design sketches, 42 prototypes, rigorous testing from three university partners, blind testing against 800 bras on the market, and active testing against three leading competitors (Lululemon, Nike, and Under Armour). The results? The Catalyst is said to reduce bouncing by 76 percent and muscle exertion in removal (how easy it was to take it off) by 44 percent. I'm no scientist, but I can attest that this bra succeeds in hardcore support and ease of removal. I wore it during road runs, and my chest stayed firmly in place. The bra's ventilation holes in between its separate cups made boob sweat more bearable. It's important to note that the Catalyst features very high coverage—the cups shield my entire breasts; the straps, which adjust with hooks, are thick and durable; and the back is wide with ample fabric that spans most of my rib cage before it comes to a clasp. For that reason, I wouldn't exactly call it sexy. But if you're looking for a high-function, high-impact bra, the Catalyst comes out on top.
Lead Photo: Courtesy Knix