Indefinitely Wild
8 Layers That Will Take Your Summer Backpacking Trips Further
The latest pieces of clothing and knowledge that'll help you get the most from this season's excursions in the backcountry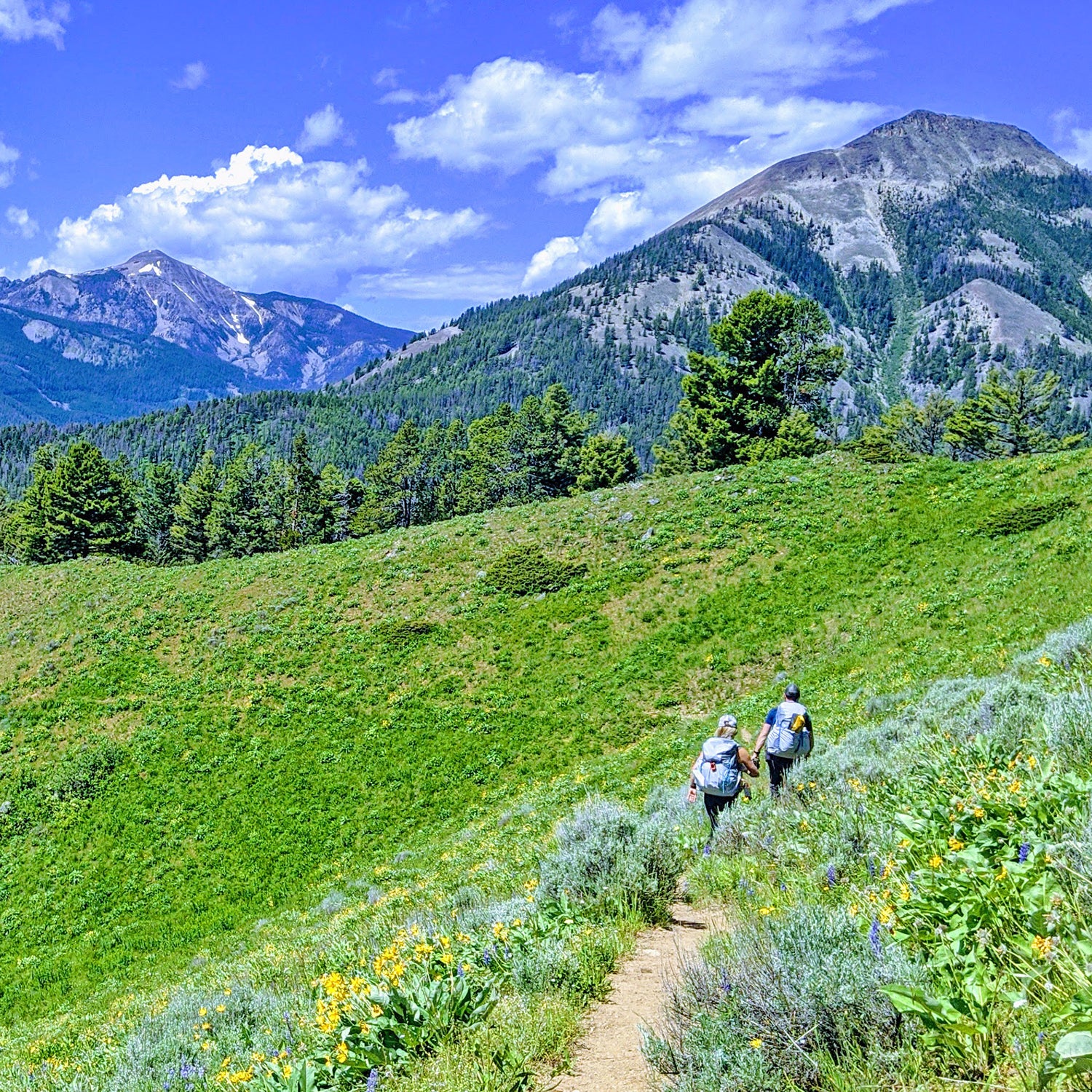 Heading out the door? Read this article on the new Outside+ app available now on iOS devices for members! Download the app.
It's almost summer, and in my house, that means one thing: it's time to go backpacking. Because gear is such a major factor for comfort, I set out to find the highest-performing clothing possible. 
For help I reached out to John Barklow, an Alaskan, former Navy diver, former wilderness survival trainer for Special Operations Forces, former gear designer for SOF, current product developer for Sitka, a high-tech hunting apparel brand that's recently been making more mainstream gear. Barklow has used, designed, or commissioned any clothing technology worth talking about, and his new monthly newsletter, Knowledge From Storms, is a master class in getting the most out of your gear. 
Barklow has a magic number for layering systems: eight. "It doesn't take a lot of layers to stay warm and dry in the wilderness," he says. "Eight pieces are the foundation for outdoor pursuits." 
Alpine summer backpacking exposes us to extreme, rapidly-changing weather. Mountain elevations mean nighttime temperatures may fall below freezing, even in July and August, while the hottest parts of the day can exceed 80 degrees. Storms can come out of nowhere, producing heavy rain, high winds, and even snow or hail. The key to dressing for those conflicting extremes is a layering system designed to handle all of them. But, since you have to carry it on your back, weight and space compete with performance for priority. 
With Barklow's guidance, here's what you want to look for in each of those eight pieces, along with our product recommendations that meet those standards.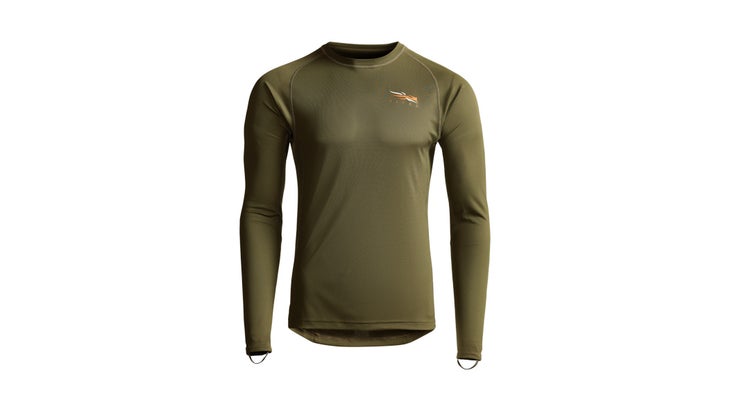 Layers One and Two: Base Layer Top and Bottom
"The baselayer's job is to manage moisture on the skin," says Barklow. "When our skin is dry, we are comfortable, and our bodies are efficient at keeping us warm or cool, as environmental conditions dictate."
Baselayers should make even contact across the areas of your body that they're designed to cover. But if they're too tight, they can restrict blood flow, which interferes with your body's ability to regulate temperature. So choose sizes that fit snugly without being constrictive.
Merino wool or synthetic fibers are the most common materials used in baselayers. "Wool does an excellent job of managing body odor, but doesn't dry super quick," says Barklow. "Synthetic dries quickly but doesn't manage odor as efficiently." In either case, choose the lightest, thinnest fabrics possible. 
My favorite baselayers, for any condition, are the Sitka Core Lightweight items that Barklow developed. They dry so fast that you can wade through rivers in them and they'll evacuate all moisture in mere minutes. They're thin enough that they regulate temperatures in both cold and hot conditions. I wear a five-ounce long sleeve T-shirt ($79) year round, which keeps the sun off when that's my only top, and I pair it with the matching four-ounce tights ($79). 
In very hot weather, I've also been wearing a long-sleeve T from a new company called LifeLabs, which is leveraging innovative fabric designs to boost insulation or cooling effects without added bulk. The CoolLife T ($59) claims to reduce body temperatures by three degrees, and I do feel noticeably cooler while wearing it. I have not yet had the opportunity to test its performance in cold temperatures.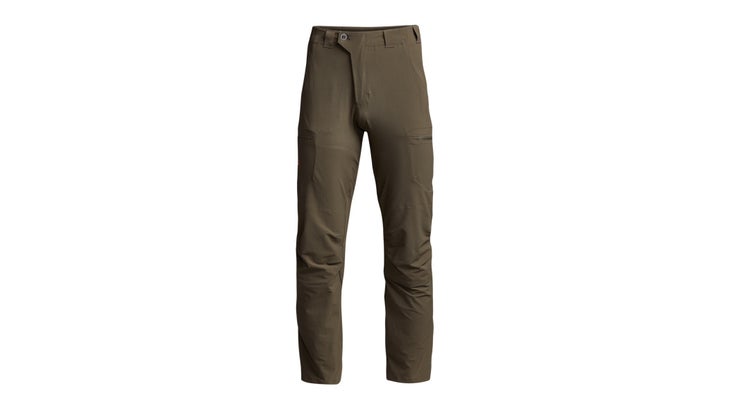 Layer Three: Soft-Shell Pants
Soft-shell pants should shield you from the sun and the elements, but they must also protect against abrasion and penetration. Look for the lightest-weight, quickest-drying items available. Most soft-shells are made from nylon or polyester; Barklow says nylon is slightly more durable.
I wear the Sitka Ascent Pant ($199), which is made from a blend of 60 percent Cordura, 30 percent nylon, and 10 percent spandex. Weighing only 12 ounces in a size large, they feel like they're barely there—which also means they don't absorb much water either. Plus, they're surprisingly robust. A pair I acquired five years ago is still going strong without holes or significant wear.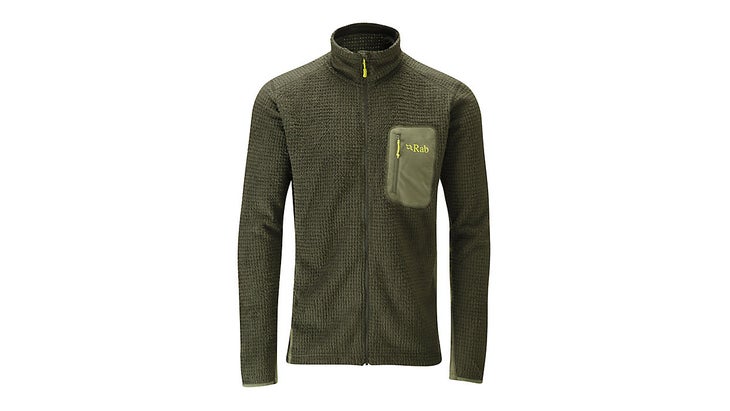 Layer Four: Active Insulated Jacket
"Active insulation provides both warmth and breathability during movement," says Barklow. "Fleece is a basic form of active insulation, but active hybrid insulations provide additional performance over fleece by being highly breathable and durable."
Barklow participated in the creation of Polartec Alpha during his time as a clothing designer for the military. He recommends the ten-ounce Marmot Alpha 60 Jacket ($165) because it has a lightweight soft-shell face that blocks some wind and moisture. I prefer the ten-ounce Rab Alpha Flash Jacket ($125) because it doesn't have a face fabric, which maximizes breathability, especially when layered. But it obviously must be paired with a shell layer if you hope to keep out wind and rain.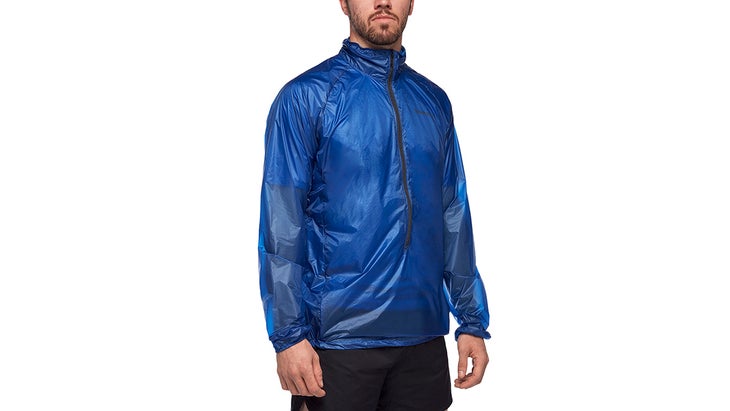 Layer Five: Windstopper Jacket
Soft-shell jackets typically lack a membrane, and as a result are wind-resistant but not windproof. Barklow recommends going with a fully windproof item to prevent convective heat loss. 
"Jackets equipped with the Gore Windstopper membrane breathe better than any rain jacket and are generally less expensive and quieter," he says. "Windstopper jackets shed light precipitation allowing you to wear them until rain or snow overwhelms the layer."
The windstopper-equipped Sitka Jetstream Jacket ($350) is legendary in hunting circles for its soft hand, quiet fabrics, and solid breathability. But at 25 ounces in size large, it's probably too heavy for a layer that will often be carried in a pack. As a lightweight alternative, Barklow recommends the Black Diamond Deploy Wind Shell ($180) which weighs just 1.7 ounces. It won't be as durable, quiet, or cozy as the Jetstream, but it will block the wind without weighing you down.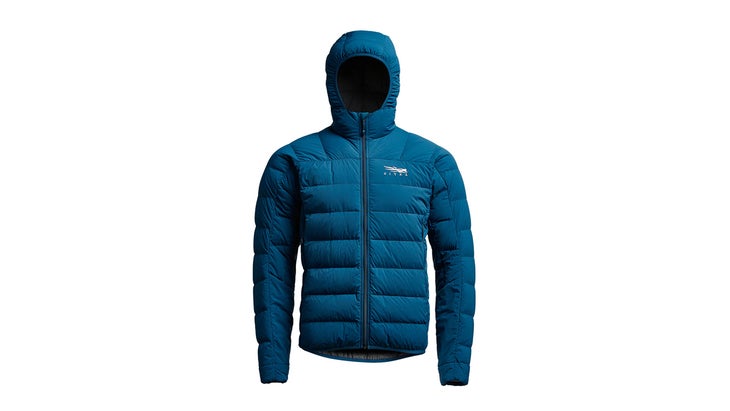 Layer Six: Puffy Jacket
"The puffy jacket is a critical clothing layer that captures our body's heat when stationary," says Barklow. Puffies are typically available with either synthetic or treated down insulations. Barklow calls synthetic materials the "workhorse of lofted insulations," because they can be trusted to keep you warm in all conditions. Downs treated with a water repellant coating are lighter and more compressible, but while they strongly resist clumping if they get wet, they will lose their warmth if saturated. As a result, Barklow says treated down "requires more experience to manage than synthetic insulation."
Fully considering the ways in which moisture and compression can impact a puffy's ability to insulate, Barklow designed two of the most advanced lofted insulation jackets currently available. The 16-ounce Sitka Kelvin Aerolite Jacket ($309) is made from fibers that incorporate Aerogel, which enables them to continue to trap warm air even when compressed or saturated. The much warmer, 17-ounce Sitka Kelvin Lite Down Jacket ($359) uses an innovative combination of treated down and synthetic fibers, with the latter serving as a sort of scaffolding to force the down to loft even when it gets damp. 
I wear the Aerolite in cold, wet conditions where I'll mostly be laying it under a shell. I grab the Kelvin Lite Down when I expect drier, colder weather.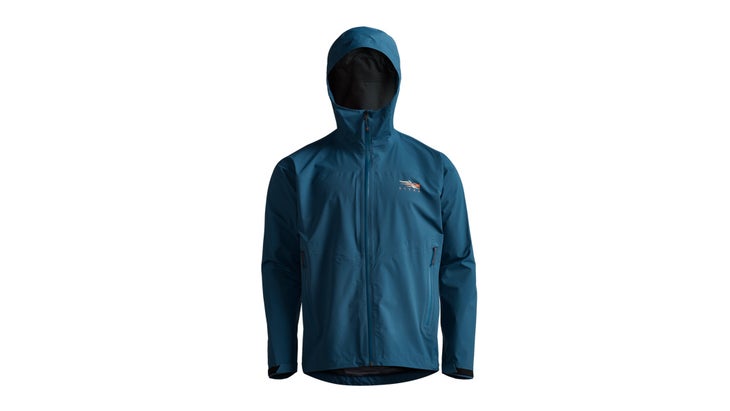 Layers Seven and Eight: Rain Jacket and Pants
Nothing else will totally block precipitation like a waterproof hardshell. But, nothing breathes as poorly as a waterproof hardshell. So, for summer backpacking trips, plan on carrying these layers more than you'll wear them. Which means you want them to be light and compressible. 
"More than any other layer, you get what you pay for in rain gear," says Barklow. "Higher priced rain gear provides a better fit, is more durable, and often has more features." Those features being quality zippers, adjustable hoods, useful pockets, Velcro cuffs, and similar quality-of-life improving stuff.
Barklow designed the 12.5-ounce Sitka Dew Point Jacket ($339) and 10.5-ounce Dew Point Pant ($309) for just that role. Made using a traditional three-layer construction (the Gore-Tex membrane is sandwiched between a nylon ripstop outer and woven liner), the Dew Point items remain fairly robust. 
If you're looking for a lighter, more affordable option, Barklow recommends the 11-ounce Marmot Precip Eco Jacket ($100) and eight-ounce Precip Eco Pants ($80). They're made from less durable two-layer fabric, that employs a lighter, crinklier outer and a laminated interior. 
Lead Photo: Wes Siler