Moncler Makes the Sleeping Bag High Fashion
Our beloved puffy took on a very different look at Milan's Fashion Week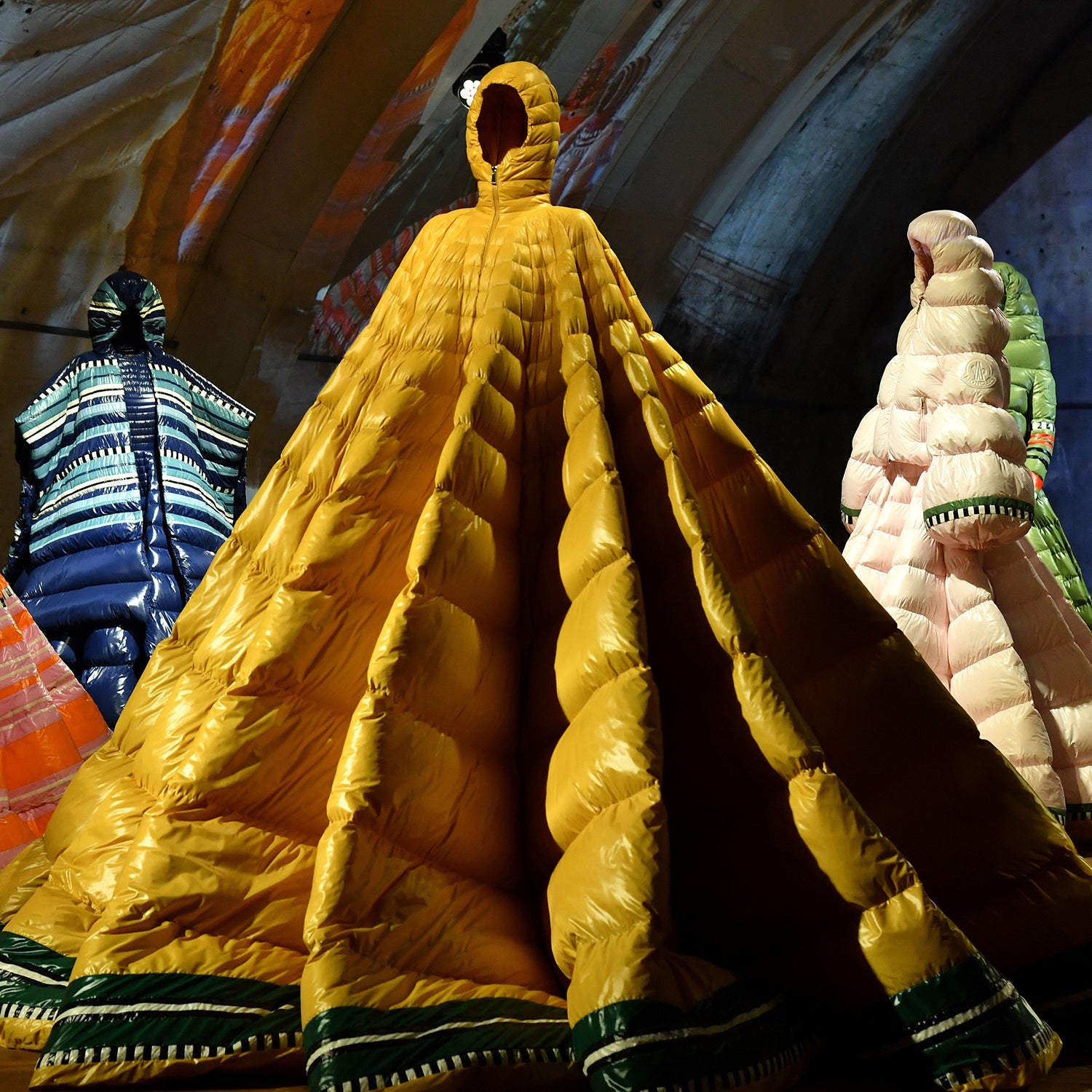 Heading out the door? Read this article on the new Outside+ app available now on iOS devices for members! Download the app.
It's official: the humble sleeping bag, along with other iconic outdoor gear like the fanny pack and the fleece jacket in years past, has finally been inducted into the extravagant world of haute couture.
At Milan's Fashion Week, models donned Moncler's fall 2019 Genius collection—a collaboration between designers Pierpaolo Piccioli and Liya Kebede. The line consists of whimsical pleated gowns made out of ridiculous amounts of down. The ensembles are basically our beloved puffy rendered in its most flamboyant forms, the very definition of goose-plucked eleganza. The gowns are striking not only for their famous Piccioli silhouettes, but also for their colorful Ethiopian textile graphics from Kebede's line called Lemlem.
The collection has earned headlines at fashion-focused publications like The Cut, W, and Paper, for its inclusive innovation. But it's also generated Twitter buzz for the gowns' relationship to a stuffable winter accessory.
In the recently released lookbook, one of the models has her head tightly hooded in pink down, as if it were a sub-zero night and she had pulled her zipper up and cinched the garment's draw cords. The aesthetic is almost comically similar to memories of friends on backpacking trips with their small faces engulfed in their Big Agneses, Marmots, and Sierra Designs.
As a sleeping bag owner, gear nerd, and writer with a few fashion bylines to my name, I have spent a lot of time thinking about this collection and I have a few questions. First: Do these ensembles come with a stuff sack? How many grams are they? Would it be an acceptable replacement for my down quilt? Would any of them (particularly the lovely creamsicle colored one) pair well with my Thermarest? Is the down responsibly sourced? And what about the models? How much did they sweat while wearing them inside that Milanese villa for the photoshoot? How breathable is the material?
Moncler didn't return my request for comment on any of the above questions at the time of writing, but I got some insight into the puffy gowns while speaking over the phone with popular fashion commentator Luke Meagher of Haute Le Mode.
"I think the down jacket material is not something that fashion has been experimented with all that much," he says. "I know we've had the Norma Kamali sleeping bag moment and the Giambattista Valli Gamme Rouge moment, but I think there is a real beauty in taking something that is very normalized and utilitarian to us like the down puffy that we use everyday in cities, on the slopes, and to make sleeping bags out of and transforming it into something avant-garde."
Meagher, who is notorious for being impressed hardly ever, first spoke affectionately on the Moncler line after actor and fashion icon Ezra Miller wore a piece of the collection to the Paris premiere of the Fantastic Beasts sequel. Up until that point, the line had only been worn by women. Miller arrived in the sharp black down floor-length coat, complete with cape, hood, and gloves that matched the actor's jet black lipstick. The appearance came not long after his profile in The Hollywood Reporter, in which Miller said, "I don't identify as a man. I don't identify as a woman. I barely identify as a human."
Various writers compared Miller's look to that of Darth Vader, No-Face (the ghost from Miyazaki's Spirited Away), the caterpillar from Disney's Alice in Wonderland—and a black Klymit 20-degree mummy sleeping bag.
"I think that the real significance of Ezra wearing the gown to a public premiere is that he began to break down so many barriers on gender," Meagher says. "We're beginning to no longer put these strict binaries on clothing and Ezra really brought the conversation to the forefront with the help of the Moncler puffy and Pierpaolo."
Lead Photo: Andreas Solaro/AFP/Getty