Gear Guy
Everybody Needs a Good Pair of Mud Boots
These four are my favorites for messy yard activities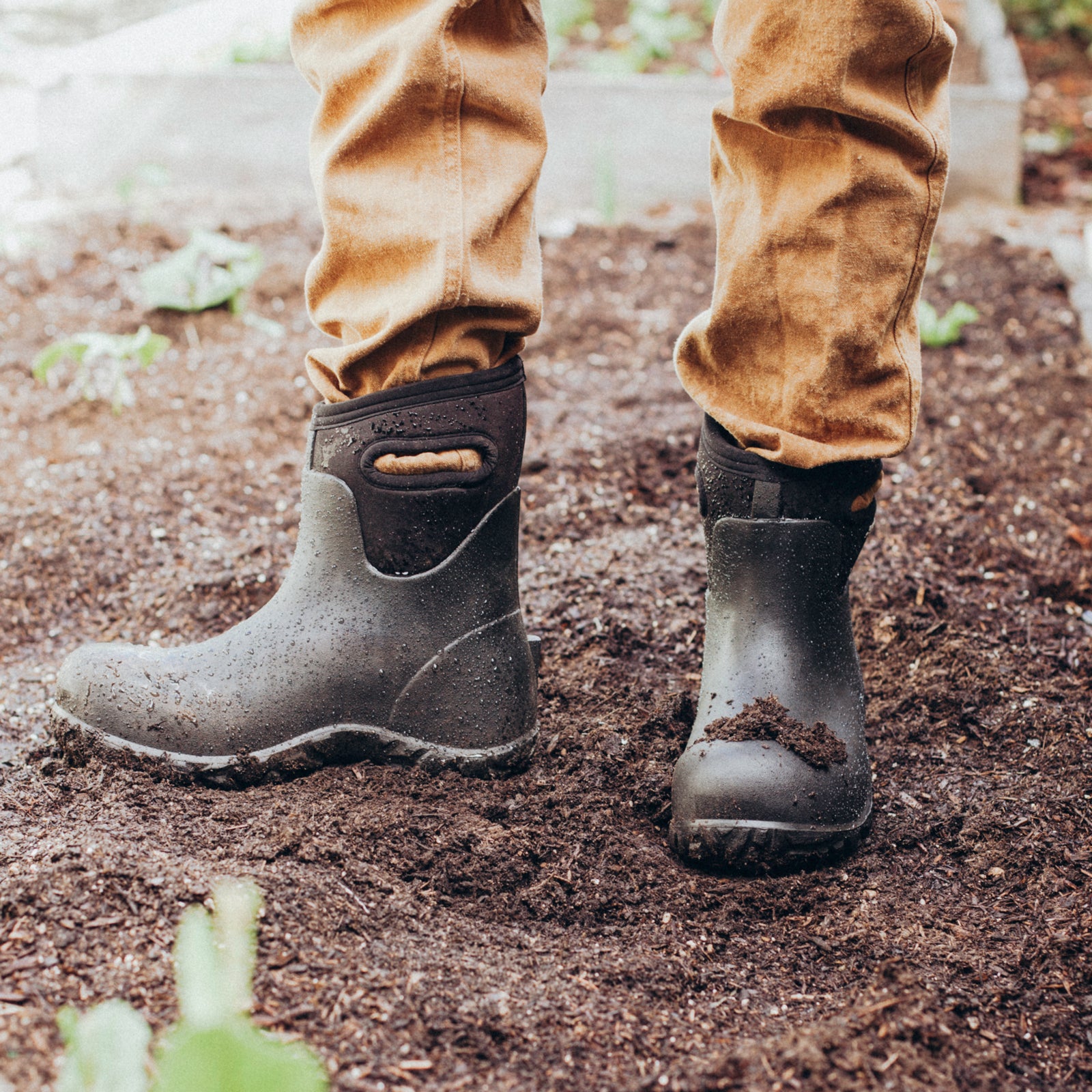 Heading out the door? Read this article on the new Outside+ app available now on iOS devices for members! Download the app.
The right mud boots are the unsung heroes of spring. These modern neoprene and rubber numbers remove any excuse from getting outside and doing garden work or going for a walk when it's raining. With a lot of us focused on leaving the house in safe ways, it might be a good time to look into buying a pair of these utility boots—especially since they're so handy that you'll wonder how you ever lived without them. I put four pairs from top brands in a head-to-head test to help you choose the right ones.
The Test 
I worked in my yard in each of these mud boots during a rainy day this spring and took notes. My tasks ranged from trimming an unruly photinia bush to pulling weeds. They all involved trudging through muck. 
I also created an obstacle course in the two raised beds in my backyard. I haven't planted veggies in them yet this season, so I used my hose to turn the dirt into mud. I jumped with one and two feet and sidestepped across the beds. A two-by-four borders the beds, and I walked along its edge like a tightrope. I hopped from bed to bed (a distance of about three feet ) into mud on both sides five times. I also stood in thick mud up to my ankles and quickly pulled my feet up to see if the boot would stay on or if my foot would come out.
I hiked a half-mile on a 65-degree afternoon with each of these boots to gauge breathability and comfort, then I jogged laps on a muddy mess of a 200-yard hill.
In order to see how easy they were to get on and off, I put the boots on and removed them ten times in a row with a no-show running sock to determine if it was possible to get my foot out with the sock in place.
The Winner: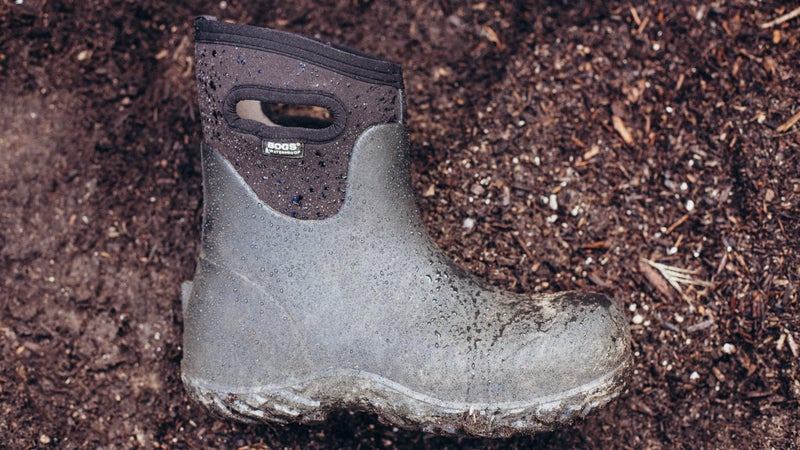 Bogs Workman Mid Comp Toe ($145)
Protection: 5/5
Comfort: 5/5
Walkability: 5/5
Usability: 5/5
Dexterity: 5/5
These Bogs look clunky with their extra hefty toe and wide silhouette, but they proved anything but. I wrote "sneaker-like" half a dozen times in my notes. The flexible footbed, coupled with a hugging heel cup, kept the Workman Mid absolutely snug on my foot while climbing the muddy hill and performing parkour in my raised beds. They were the most comfortable boots to wear all day. They were extremely easy to get on and off, thanks to their handles (my two-and-a-half-year-old can operate a similar pair on her own). And they never let a drop of water in as I splashed in a soaked and unruly bamboo patch.
---
Lacrosse Alpha Range ($130)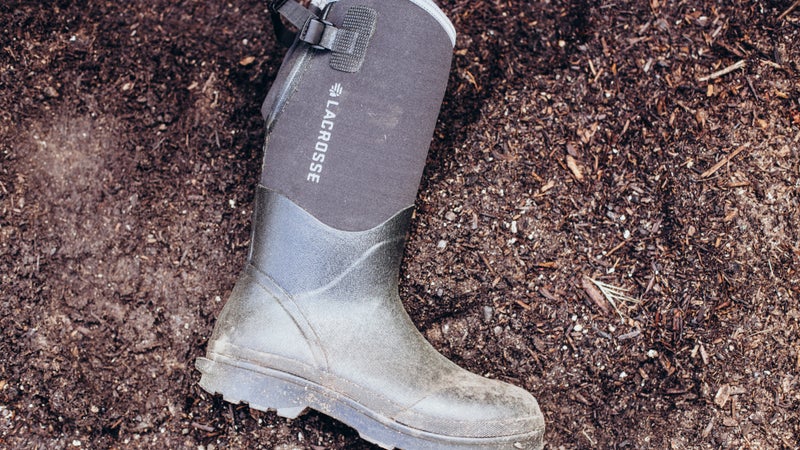 Protection: 5/5
Comfort: 3.5/5
Walkability: 4/5
Usability: 3/5
Dexterity: 4/5
These boots and the Stormers (reviewed below) were in such a tight running for second place in this test that I copied and pasted the text for both in different orders four different times while writing this. Both are excellent boots at a fair price, but the Alpha Range offered a much better fit, which made it easier to get around in. They didn't slip up at all when I tried to get mud to suck them off my feet or during my sludgy hill climb. That fit also translated into more dexterity during my tightrope walk. They were a little clunky to get in and out of (they were the tallest boot in this test), but once they were on and strapped down, they were the second-best movers of the bunch.
---
Cat Stormers 11" ($125)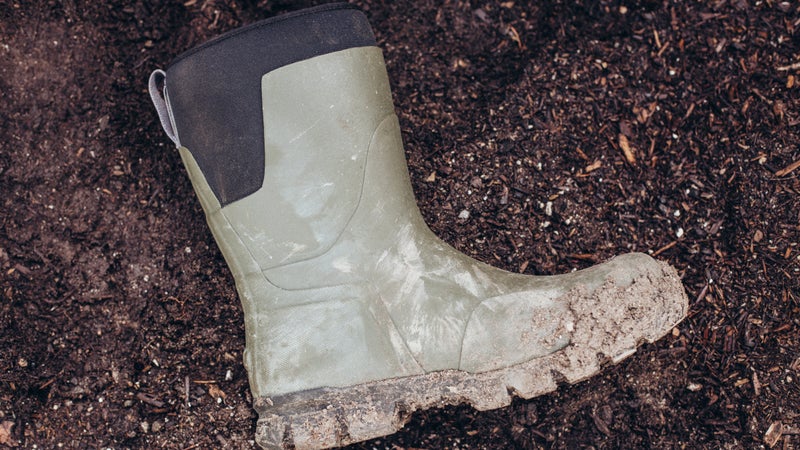 Protection: 5/5
Comfort: 3.5/5
Walkability: 3.5/5
Usability: 4.5/5
Dexterity: 3.5/5
The Stormers had the best traction of these four pairs. With their best-in-test lugs, they really gripped the mud on the uphill climb. They were also the second easiest to get on and off. I was very impressed as I slipped my no-show sock-wearing foot out of them without losing it—something I could only do in these boots. Plus, they didn't come close to slipping off when I yarded my leg up as quickly as possible in the deep-mud test.
---
Muck Boot Company Muckmaster Mid ($135)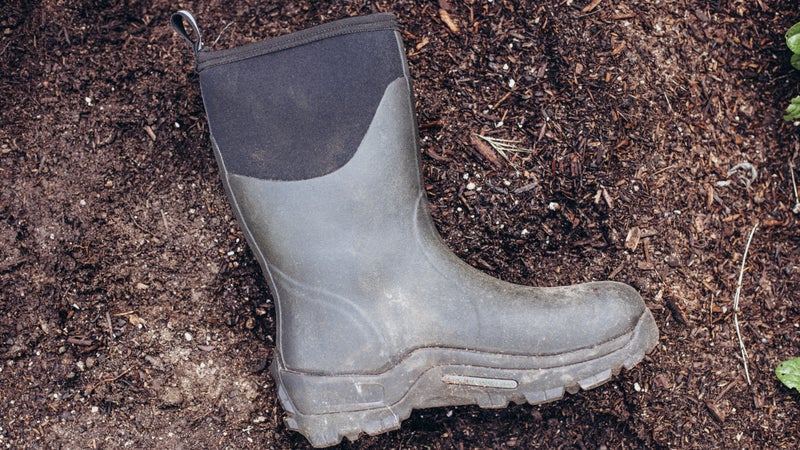 Protection: 5/5
Comfort: 3/5
Walkability: 3/5
Usability: 3/5
Dexterity: 2.5/5
While these boots are fine, a few small issues plagued them throughout the test. One was a slight wrinkle that kept forming on the back of the boot that kept poking and rubbing at my calf near the end of most of my steps. I don't foresee this being a huge deal for a work boot, but I did find it annoying on the hike and jog. The Muckmaster Mid offered plenty of durability and protection for all of my tests and never came off or let a drop of water in—it just didn't offer the precise fit or comfort level the other boots did. My feet slid around in them during the climb, and they felt clunky on the obstacle course.
Lead Photo: Sarah Jackson