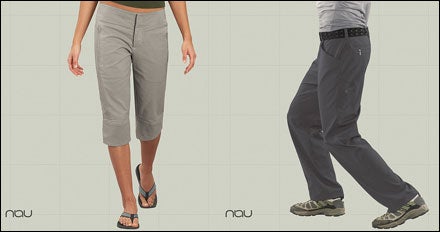 Heading out the door? Read this article on the new Outside+ app available now on iOS devices for members! Download the app.
In Outside's February, 2007 issue, writer Andrew Tilin reported on a new, sustainable outdoor apparel company, Nau (And Nau for Something Completely Different). The Portland, Oregon-based start-up launches their web sales this February, and will open four stores in the spring of 2007 in Boulder, Colorado, Portland, Oregon, Seattle, Washington, and Chicago, Illinois. Although we loved the idea of their corn-based fibers and all-recycled polyesters, we had to see if the clothes could take a licking. So, we got decked out in Nau, and went climbing, hiking, traveling, and even to a swanky holiday party. Here's the scoop on how shirts, skirts, jackets, and more—all made from recycled soda bottles or corn fabrics—perform in the field.
Women's Twill Snap Capri ($90; nau.com)

Testing Ground: Indoor and outdoor climbing around Santa Fe; out to breakfast.
Data: Thanks to their double-weave fabric and hint of spandex the Snap Capri were both durable and flexible. A contoured waist, sleek lines, and buttoned cuffs give the just-above-the-knee pants a feminine, urban style—the kind that would work in Los Angeles or Joshua Tree. And with four zippered pockets there's plenty of room for carrying necessities like cash, keys, or Luna Bars.
Downside: The heavy, organic cotton pant felt too thick for a warm day.
Men's Acoustic Pants (Price unavailable; nau.com)

Testing Ground: A bus ride to Denver; a plane trip to Washington D.C.; an ultra-hip dinner at Mie n Yu in Georgetown.
Data: Talk about versatile. Take these pants everywhere, without feeling over- or underdressed. The design is stylish with outdoor flairs like waterproof, zippered pockets on the rear and slanted hems that cover the back of the shoe without causing bunching on the front of the foot.
Downside: They weren't as breathable or waterproof as we expected, but given the softshell-like fabric, they did keep us warm during late-night winds and low temperatures.
Women's Bouldering Woven Capris, Women's Roundhouse Dress
Bouldering Capri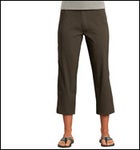 Women's Bouldering Woven Capris
Roundhouse Dress

Women's Roundhouse Dress
Women's Bouldering Capri Pant ($98; nau.com)

Testing Grounds: A holiday tree trimming party in Bel Aire, California; a hike near Santa Fe, New Mexico.
Data: The stretchy, recycled polyester repels dirt and moisture, yet remains breathable. We spilled fancy French cheese on these mid-calf pants at a high-end soirée, and it wiped right off. Same for dirt. The fitted-waist pants worked as well under a backpack or harness as they did with a pair of heels. Plus, they rolled into a ball in our suitcase and didn't wrinkle.
Downside: No belt loops, so be sure to get exactly the right size.
Women's Roundhouse Dress ($135; nau.com)

Testing Grounds: A plane to LAX; to the office.
Data: The most comfortable dress we've worn that didn't look like a potato sack. With an asymmetrical hemline and tailored bodice, this is a cocktail dress that also travels well. It's made from 88 percent recycled polyester, and topped off with a durable water repellent and abrasion-resistant finish. We spilled wine on it, walked in the rain in it, and shoved it into our carry-on—and it came out looking dry-clean fresh.
Downside: The high-neck cut on the top felt a tad conservative.
Women's HS2 Urbane Jacket
Women's HS2 Urbane Jacket

Women's HS2 Urbane Jacket
Women's HS2 Urbane Jacket ($248; nau.com)

Testing Grounds: A hike in the rain; bike commuting; to a dinner party.
Data: The compliments never stopped while wearing this jacket. It's a stretch rain-shell that feels and looks like a stylish pea coat. The sweeping hemline was longer in the back and didn't ride up while wearing a pack on a bike ride to work. The hood snapped off entirely for a trip to a friend's house for dinner, and an inside pocket, with a cord routing system, perfectly stored an iPod and cell phone for a day around town.
Downside: Although the waterproof shell and the zippers kept us dry in a light drizzle, it wasn't bullet-proof in heavy rain and snow.