The 10 Best Jackets of Summer 2012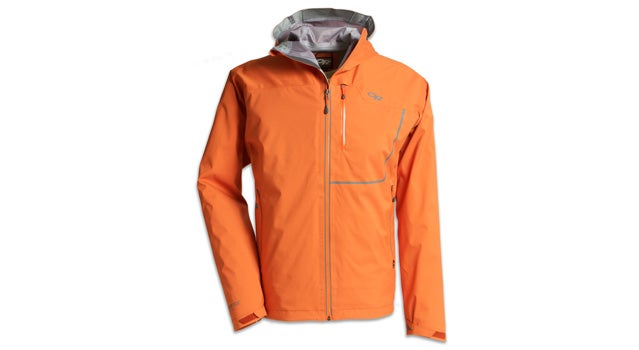 Heading out the door? Read this article on the new Outside+ app available now on iOS devices for members! Download the app.
Outdoor Research Axiom
Gore stipulates that all jackets using its new waterproof-breathable Active Shell fabric must weigh less than 14 ounces, which has spawned a lot of minimalist shells. The Axiom is the exception, tricked out as it is with three pockets, a three-way adjustable hood, Velcro cuff closures, and a waist cinch strap. And it still makes the weight cut at a nimble 13 ounces. It lacks pit zips, but you'd never know it looking at testers' field notes. "I usually can't wear a waterproof jacket when hiking hard uphill, but I wore this piece all day," said one, a testament to how breathable Gore's new membrane is. The Axiom is designed primarily for alpine climbing—the hood is trim, the hand pockets sit out of the way of harnesses, and the fabric has a bit of stretch. But we found it's up for just about every mission, from backcountry skiing to backpacking. 13.3 oz
BREATHABILITY:4
WEATHERPROOFNESS: 5
UTILITY: 5 (OUT OF 5)
Adidas Outdoor Terrex Hybrid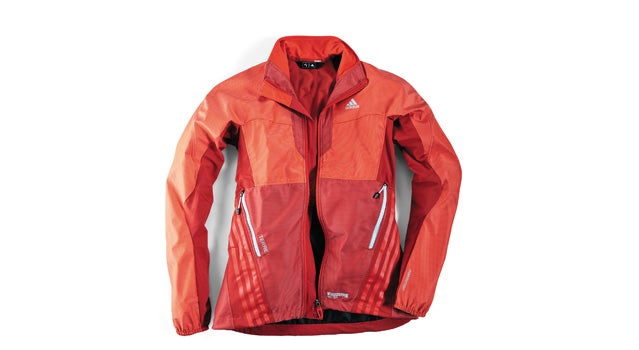 BEST FOR: Moving quickly in cool weather. THE TEST: Don't let the tracksuit styling and snug fit fool you. The Terrex is built for fast-moving athletes, not retro-loving hipsters. Using body maps based on thermal imaging and moisture sensors, Adidas sought to create a jacket that offers the widest range of comfort possible. The resulting jigsaw puzzle—protective Gore Active Shell Windstopper panels in the front, shoulders, and lower back; stretchier, more breathable soft-shell material in the upper back, front of the arms, and sides—is impressive. "I was just as comfortable at 55 and wet as I was at 32 and windy," said one trail-runner. THE VERDICT: Burly enough for foul-weather runs, with styling that won't embarrass you around town afterward. 11.8 oz
PROTECTION: 4
VERSATILITY: 4.5
Brooks-Range Brisa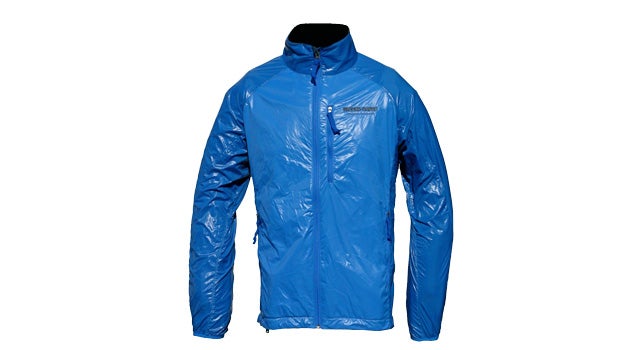 BEST FOR: Your first line of defense. THE TEST: You'll either love or hate the wet, plasticky look. But even testers who weren't wild about the style had to admit that the Brisa is a performer. What everyone liked best was the simple design. There's a soft polyester liner in the body, but the arms are unlined. It's a new twist on the classic Marmot DriClime–style wind shell, and it makes for a versatile layer. On trail runs and fast-paced hikes, the liner sucked up sweat and wicked it away lickety-split. On slower jaunts, that same layer added a bit of warmth. THE VERDICT: The unlined sleeves can feel a bit clammy when you start sweating. We liked the Brisa best when we wore it over a lightweight base layer on cool-weather adventures. 9.8 oz
PROTECTION: 4
VERSATILITY: 4
Mountain Hardwear Ghost Whisperer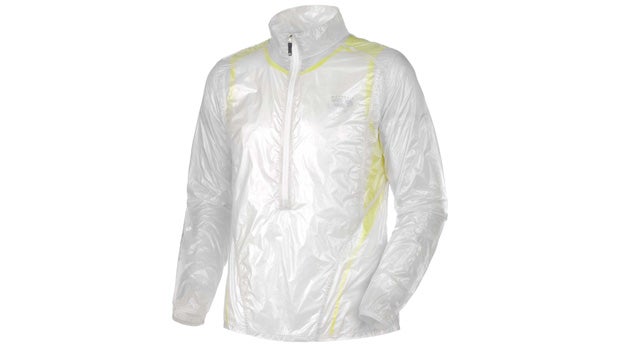 BEST FOR: Ultrarunners or anyone looking for a just-in-case backup shell. THE TEST: At a ridiculous two ounces, the Ghost Whisperer is one of the lightest wind shells we've ever tested. Though translucent and basically weightless, its DWR-coated, ultrathin nylon fabric still managed to cut even the stiffest of breezes and hold off a 20-minute shower without a leak. Of course, that's about all it does. The wafer weight comes at the cost of convenience: there are no pockets and only a quarter zip, and if you're broad shouldered or inflexible you may find getting this jacket on tougher than doing an asana. THE VERDICT: A fine city runner (it has reflective logos) or the ultimate backcountry featherweight friend. 2 oz
PROTECTION: 3.5
VERSATILITY: 4
The anorak is back. The partial-zip pullover style from your youth is trendy again, especially for lightweight, minimalist, and highly packable shells like the Ghost Whisperer. Stoic's Vaporshell comes in an anorak version, too.
The North Face Alpine Project WS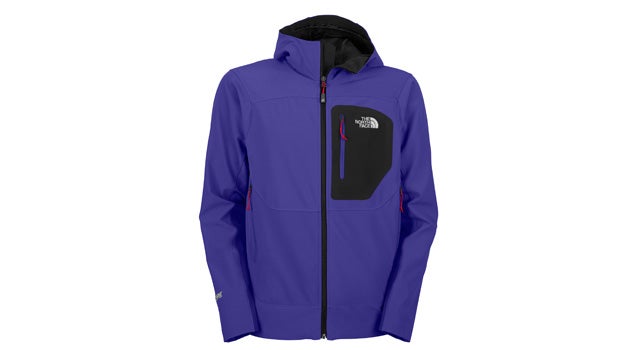 BEST FOR: Climbers and hikers in need of moderate protection. THE TEST: There wasn't much this shell couldn't do. On an alpine climb it layered over a fleece during the chilly approach, deflected wind on an exposed ridge, kept us from overheating on difficult pitches, shrugged off a summit shower, and then, when it really started dumping, slipped smoothly under a raincoat. Hood-to-tail stretchy Gore Windstopper fabric provides the protection, and three pockets (two for hands and one on the chest) zip open for ventilation. Our only beef: the hood barely fits a helmet and doesn't cinch down as snugly as the Marmot. THE VERDICT: Our go-to shell in the mountains until it starts to pour. Could easily double as your backcountry ski jacket. 18.2 oz
BREATHABILITY: 4
WEATHER RESISTANCE: 4
VERSATILITY: 5
Dynafit Breath DST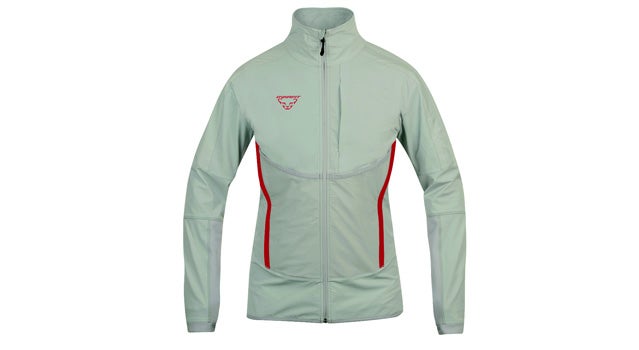 BEST FOR: Not stopping. THE TEST: The most distinctive feature of the athletically cut Breath is its front double pockets, which have standard zippered compartments as well as external, stretchy mesh pouches. The combo works great. Gloves, hats, lip balm, sunglasses, map, snacks … testers reported throwing just about everything imaginable in them. "I liked that I didn't have to take my pack off or even unzip to stash stuff," noted one. Large swaths of mesh on the back of the jacket help prevent overheating when we charged uphill, while the textured face fabric is as stretchy as it is tough, with not so much as a scuff after a combative chimney climb. THE VERDICT: You might think the front mesh pockets are bizarre, but there's no denying their usefulness. 16 oz
BREATHABILITY: 5
WEATHER RESISTANCE: 3
VERSATILITY: 4
Marmot Vapor Trail Hoody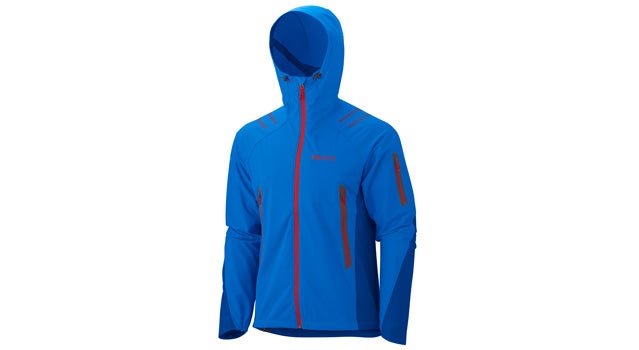 BEST FOR: One-jacket budgets. THE TEST: Testers hiked in the Rockies, mountain-biked in Canada's Northwest Territories, backcountry-skied in New Mexico, ran in the rain in Utah… We could go on, but you get the picture. The keys to the Vapor Trail's versatility are its stretchy fabric, loads of pockets (four), and smart allocation of materials. Breathable back and side panels vented on uphill efforts, while the windproof front and sleeves baffled breezes. But what really sets the Vapor Trail apart from all the other midweight soft shells on the market are the little things, like a three-point adjustable hood and low-profile wrist closures that are easy to layer over. THE VERDICT: Wear it alone on aerobic outings, stretch it over a puffy, or stack it as a midlayer. 14.1 oz
BREATHABILITY: 4.5
WEATHER RESISTANCE: 2.5
VERSATILITY: 4.5
Marmot calls it body mapping. Adidas calls it hybrid design. The idea is the same: mixing and matching materials to create the ultimate combination of light weight, comfort, breathability, and protection.
Westcomb Switch LT Hoody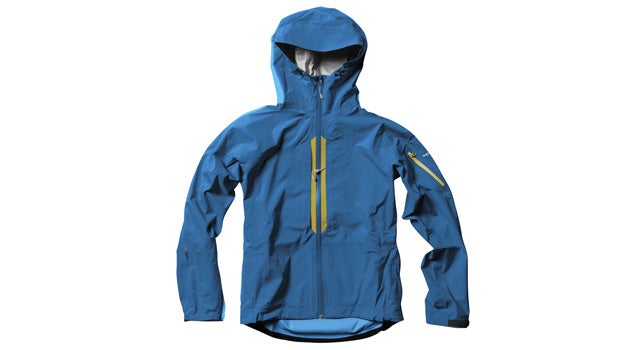 BEST FOR: Multisport hardmen. THE TEST: We've long loved this Vancouver-based company's innovative, functional jackets, and the Switch LT is its best yet. Designed for climbers, backcountry skiers, and cyclists, it's cut long in the arms (for added range of motion) and the tail (for coverage in a tuck). Polartec's new NeoShell fabric sloughed off the elements but was still plenty breathable, especially with the well-designed pit zips open. The hood is helmet-compatible, and pockets are ample and high—one biceps and three chest—so there are no zippers to pinch under a hipbelt. The only minor grumblings were from a few testers who wished there were hand pockets. THE VERDICT: A stellar all-rounder, the Switch LT very nearly got the nod for this year's Gear of the Year award. 15 oz
BREATHABILITY: 4
WEATHERPROOFNESS: 5
UTILITY: 4.5
Stoic Vaporshell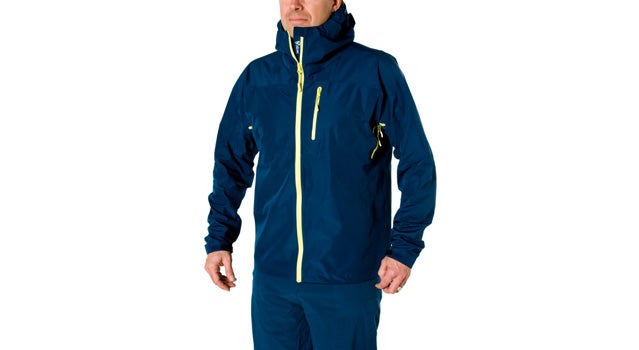 BEST FOR: Minimalists pinching pennies. THE TEST: The Vaporshell is made with Stoic's proprietary polyurethane membrane, which testers found to be every bit as breathable as all the name-brand stuff. On a soaking weekend in the Cascades, the pit-zip-equipped Vaporshell never got damp inside, and rain still beaded off the exterior after two straight days of downpours. Testers gave it props for the trim cut (buy one size up if you're on the cusp) but were less impressed with the unusually large hood, which was tough to cinch down because of inconveniently placed and insecure toggles. THE VERDICT: While it's not as full-featured (there's just one small chest pocket) as top-of-the-line jackets, it's tough to beat the Vaporshell's combo of performance and price. 13.6 oz
BREATHABILITY: 4
WEATHERPROOFNESS: 5
UTILITY: 3
To improve breathability, Stoic's Vaporshell and Westcomb's Switch LT fabrics permit air permeability. By allowing air to pass through microscopic holes in the membrane—big enough for water vapor, but too small for liquid—moisture is expelled more quickly without sacrificing protection.
Kokatat Gore-Tex Paclite Full Zip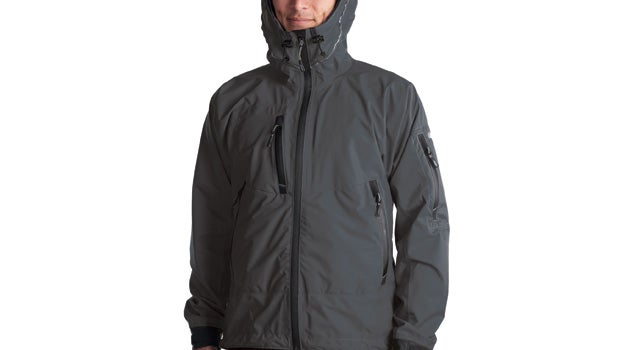 BEST FOR: Paddlers, fishermen, hikers in extremely soggy climes. THE TEST: The folks at Kokatat are best known for paddling apparel (and, apparently, not creative product names), so it's no surprise this jacket is loaded with aquatic features: self-draining pockets, a paddle-stroke-inspired cut, and watertight wrist gaskets. But it's no fish out of water. On a damp backpacking trip in the Pacific Northwest, the jacket beat back six hours of steady cold rain. Two fleece-lined pockets kept testers' hands warm, and the paddling-top-like Lycra wrist gaskets received rave reviews: when a tarpful of water spilled down a tester's arm, not a drop made it inside. THE VERDICT: If you paddle (canoe, sea kayak, etc.) as often as you hike, this is your jacket. 14 oz
BREATHABILITY: 3.5
WEATHERPROOFNESS: 5
UTILITY: 4