Indefinitely Wild
This Is the Only Insulation Layer You Need This Fall
By focusing on breathability, Polartec Alpha works when you're moving, too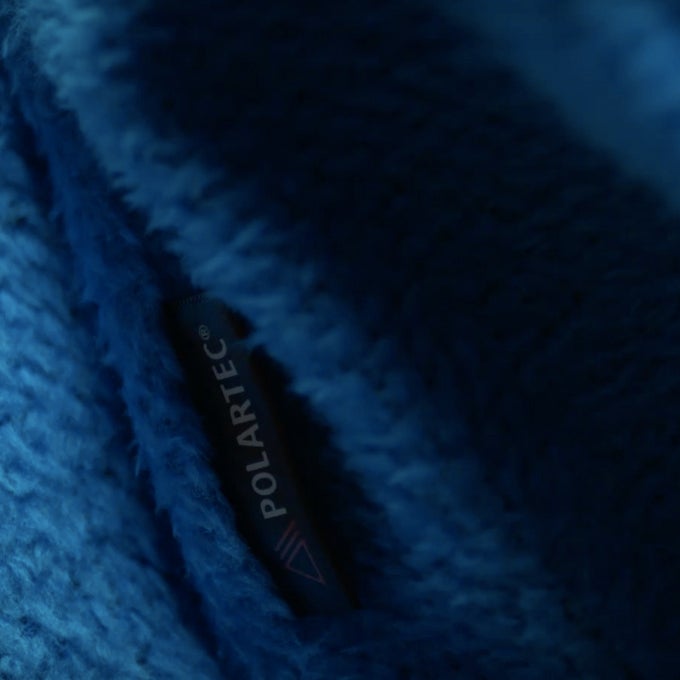 Heading out the door? Read this article on the new Outside+ app available now on iOS devices for members! Download the app.
Wear layers. That's how you dress for comfort outdoors, right? The idea is that you can add more, or take off those layers as activity levels and temperatures change, allowing you to stay comfortable. But, what if you didn't have to layer? What if one piece was capable of keeping you warm when you're sitting still, but breathed so well that it dumped all your excess heat when you started moving? Well, that technology exists, and it's called Polartec Alpha. 
Alpha was developed to form part of the Special Forces' protective combat uniform that was developed post-9/11 to keep warfighters comfortable in the cold, wet mountains of Afghanistan. The PCU's big achievement was acknowledging that, outdoors, it's often impossible to stay dry, so materials instead need to focus on getting the human body dry as quickly as possible. That's because, during athletic activity, our bodies produce moisture in the form of sweat. Focussing on keeping environmental moisture out also traps that sweat inside. And the second you stop activity, all that trapped sweat will make you feel cold. 
As you're probably painfully aware, saying "active insulation," is sort of like saying "jumbo shrimp." Traditional insulation pieces work great at keeping body heat in, but that becomes an issue as soon as you start to move. So you take them off. While engaged in combat, soldiers are unable to strip layers. Not only do they wear them under their packs and body armor, which are difficult and time consuming to remove, but stopping to add or subtract layers would distract them from the battle. 
"They were asking for something that would have enough insulation that when they stop, they wouldn't have to add layers, but that wouldn't cause them to overheat immediately when they got moving again too," says David Costello, who ran the program for Polartec that developed Alpha. 
Costello explains that the PCU originally tried to solve the problem of active insulation with a high-loft fleece layer. "It was like a Patagonia R2 jacket," he says. But while traditional fleece proved good at providing insulation, even when wet, it just didn't cut it once soldiers were on the move. "Feedback said they just weren't wearing it." So Costello set about coming up with a solution.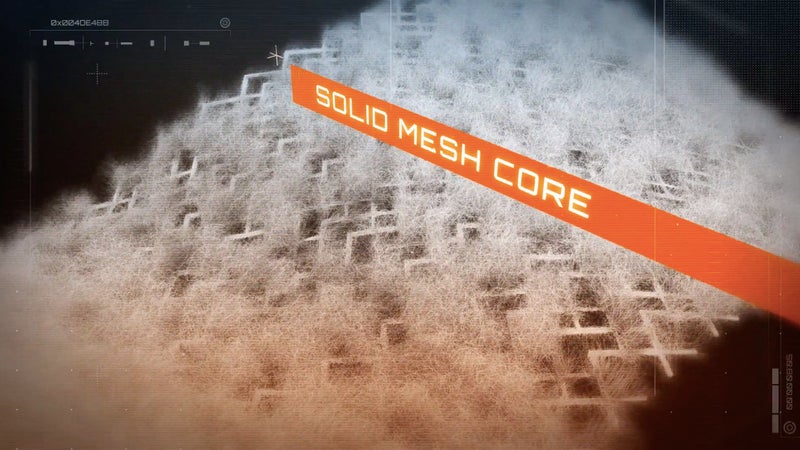 What he ended up developing was a mesh chassis that holds together lofted polyester fibers in a continuous sheet. The resulting design creates a lot of dead air space—what actually insulates—in a very light, compressible format that's also extremely porous. When you're sitting still, it's a better insulator than that traditional fleece jacket. Work up a sweat and the pressure created by your body heat forces that hot air and moisture through the material's pores, keeping you dry and cool. 
"Because we combined the good characteristics of a couple layers into a single piece, the operator could carry it less, use it more, and be more combat effective," says Costello. Alpha's innovation is that, in cool to cold weather, you can keep it on all the time and it'll work to keep you comfortable no matter your activity level. 
And Alpha has advantages beyond just breathability. Because it's a knit sheet, rather than the loose loft that's contained in most puffy jackets, it can be sandwiched between inner and outer face materials without the traditional baffles that have become synonymous with insulated jackets. And that allows heat to flow from warm areas of the jacket into cool ones. "The heat generated in your armpits is free to flow down your arms, keeping them warmer," says Costello. 
Those face fabrics also allow designers to tailor pieces constructed from Alpha to perform in more diverse conditions. DWR coatings on the outside face fabric are capable of shedding light rain. Inner faces can facilitate moisture wicking. Because the polyster fibers in Alpha itself are impervious to water, the material does not soak up any moisture. Sweat wicked away from your body by the inner face just passes unimpeded through the insulation. If any precipitation gets past the DWR on the outer face, it's unable to hang around inside. 
"You can really fine tune the packability, the thermal insulation, the breathability, and the wind resistance in a unique way," says Costello. Alpha's unique properties allow clothing designers to create unprecedentedly functional pieces. Let's take a look at some of the best.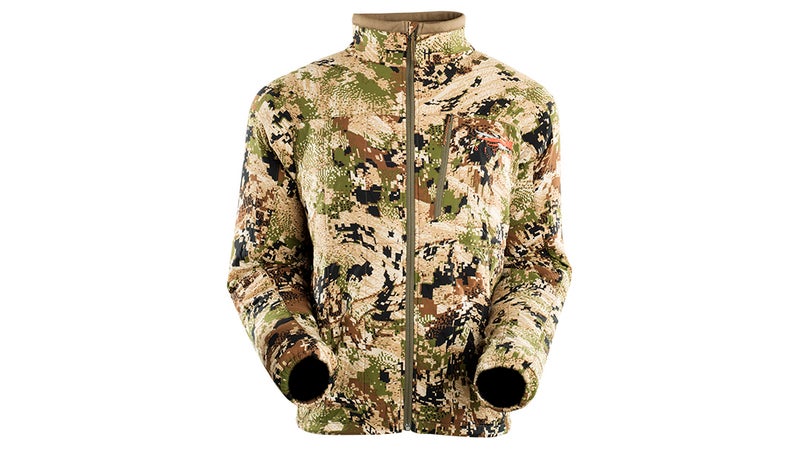 For Hunting: Sitka Kelvin Active Jacket ($289)
Last week, I wore this jacket while hunting elk in the Missouri River Breaks. That's Montana's equivalent of the Grand Canyon, just up here, it's all made from mud. Temperatures were in the 40s, it was misting all day every day, and my buddy and I needed to navigate an endless labyrinth of slot canyons and muddy ravines. I zipped the Kelvin Active on in the morning, took it off to climb into my sleeping bag at night, and was comfortable and dry the entire time, whether we were sitting still glassing or clamoring up a 500-foot mud embankment. 
Because we didn't get any elk, I'm going to go look for some in the mountains outside Bozeman this weekend. I just got a weather alert on my phone: "Be prepared for wet and raw conditions." Temperatures will be in the high twenties or low thirties, and it's going to dump snow, so I'll add a light soft shell and carry nothing else. 
Buy Now (Men's) Buy Now (Women's)
For Travel: Beyond A3 Alpha Lochi Jacket ($340)
On the other side of the table from Costello during Alpha development were John Barklow and Rick Elder. Barklow now runs big game product design for Sitka and put together the Kelvin Active Jacket above. It was Elder who came up with the original PCU concept, and he now runs Beyond Clothing, which adapts PCU functionality to the civilian market by adding style. 
The A3 Alpha Lochi jacket uses a DWR-coated nylon ripstop shell for enhanced weather resistance. This thing will keep you comfortable during a flight, walking home from dinner, or while sitting around a campfire way out in the woods—all in a package that won't look out of place in any of those environments.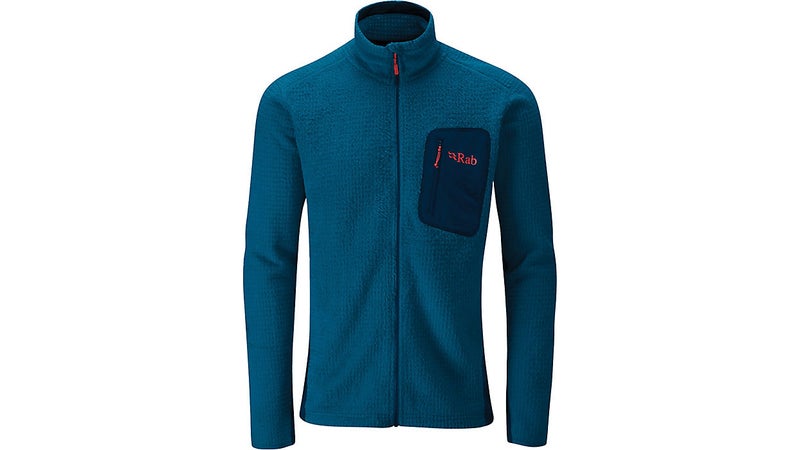 For Skiing Uphill: Rab Alpha Flash Jacket ($125)
Unlike the other pieces mentioned here, the Alpha Flash ditches both the inner and outer face fabrics, leaving the insulation bare. And because Alpha is incapable of absorbing water, that makes this the fastest drying, most breathable mid-layer ever made. 
It's also probably one of the most misunderstood mid-layers ever, too. Due to its furry appearance and… loud colors, I get the impression that the Alpha Flash didn't sell very well. It appears to be discontinued, but is still available in limited quantities from some online retailers. 
If you can find one in your size, buy it. This is hands down the most versatile mid-layer in my arsenal. Because Alpha helps keep you so dry, and because this piece is so minimal, it layers perfectly under everything from a puffy down jacket to a light soft shell, and it even adds warmth and comfort under a wool sweater. 
I was initially concerned that the bare insulation would prove incredibly fragile, but I've been wearing this jacket regularly for a year now and it's virtually as good as new. One other feature of Alpha is its surprising durability.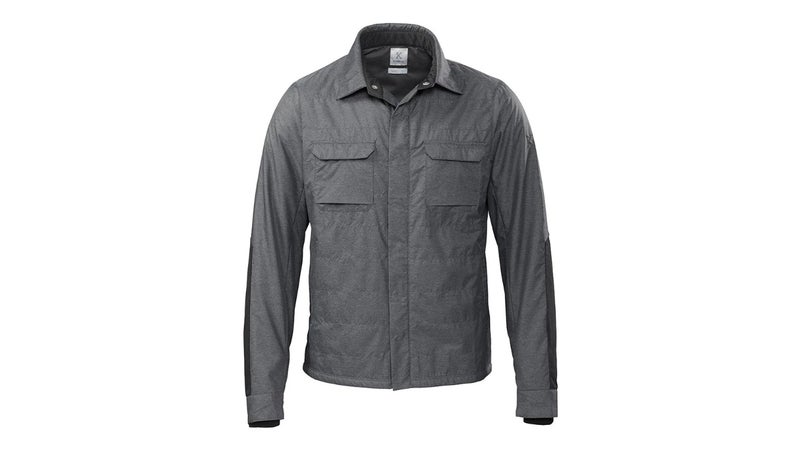 For Everyday Wear: Kitsbow Vertigo Jacket ($350)
Want to take advantage of Alpha's comfort while hanging out at a bar? Boutique mountain bike clothing brand Kitsbow packaged the insulation into this casually-styled shirt jacket. You could totally throw down a cold weather climb in this thing, but it looks as good around town as a flannel shirt. I'm wearing mine as I write this.