These Puffy Pants from Mountain Hardwear Are the Answer to Your Chronic Cold Person Problems
Winter after winter, Outside contributor Kaelyn Lynch had trouble keeping her lower body warm. Until she stumbled onto a pair of puffy pants—then her whole world changed.
Courtesy Mountain Hardwear
Heading out the door? Read this article on the new Outside+ app available now on iOS devices for members! Download the app.
Since the time of my birth in the sunny climes of Southern California, I have suffered from what I call Chronic Cold Person Syndrome. Unfortunately, adult me also suffers from a love of winter and shoulder-season outdoor activities. Needless to say, the two do not blend well, and despite owning mountaineering-grade backpacking gear—including a Rab Infinity Alpine Jacket ($400) and a Therm-a-Rest NeoAir XTherm sleeping pad (starting at $219)—for years I planned on frigid, sleepless nights every time I ventured into the backcountry when temps were low.
The problem is almost never my upper body—the Rab jacket atop multiple base and midlayers takes care of that—but my legs are a different story. Despite there being numerous options for layering your torso, bottom-half insulation traditionally involves just putting thermal on top of thermal. While my Selk'bag wearable sleeping bag is my go-to choice for car camping, its bulk and weight make it less than ideal for multi-day tent-based trips.
Despite popular belief, good base layers are only a part of the equation. Though they provide some additional warmth, even heavyweight fabrics are primarily meant for moisture management—by absorbing and wicking sweat away from your body, they prevent you from getting cold. They do little in static situations, like sleeping, where you're not actively generating excess body heat. Instead, top-tier insulation such as down jackets work by trapping a layer of air against your body, forming a warm, gaseous cocoon.
After years of freezing my lower half, I finally discovered that there are in fact puffy jackets for legs. What a revelation! One particular pair, Mountain Hardwear's Stretchdown Pant ($250), answered my frigid plea with the perfect combination of warmth and functionality.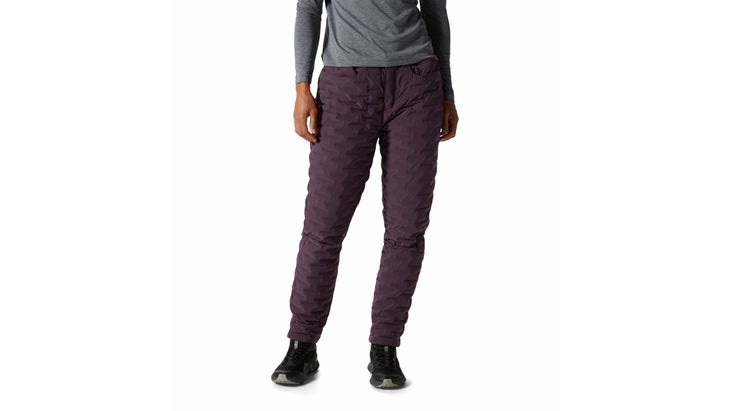 The pants are the love child of two of the brand's other offerings: its Ghost Whisperer Pant ($250) and Stretchdown Hoody ($275). Rather than traditional horizontal baffles, the Stretchdown Pant features offset pockets of goose feathers contained within a single piece of stretchy fabric to let you move around more easily. Plus, it has fewer seams and no lines of thread that could shed warmth and down. At 9.6 ounces, the pants weigh less and pack down smaller than the heavy additional base layers I was lugging around (I stuff the pants into a sack I stole from a puffy jacket).
Slipping into the Stretchdown Pant as the temperatures started to dip at camp was as comfortable as putting on my favorite pair of decade-old high school basketball sweatpants, but way warmer. They are far less restrictive than tight base layers, allowing some much-needed room for my legs. And jeez, are they warm. For the first time in memory, I slept soundly through subfreezing nights and even had to open up the footbox on my quilt at one point because I was roasting. While there is debate over whether to sleep in your down layers, there was no way I was taking these suckers off.
My biggest question about the Stretchdown Pant was durability. I'm a gear company's worst nightmare: I'm tough on my stuff and I'm extremely clumsy. I've torn holes in many a down jacket, so I figured the pants weren't long for this world. But even after getting caught on tree branches and scratched by dog claws, the nylon-elastane combo shows no sign of wear. And I crouched down to build fires and knelt on the rocky ground without tearing a seam. They even survived an early-morning summit rock scramble with a shocking amount of maneuverability and breathability. My wool gloves, on the other hand, did not.
Beyond the backcountry, the Stretchdown Pant has served as my perfect après slip-on, my around-the-house loungewear when trying to save on heating costs, and even my running-errands-when-it's-freaking-cold-out bottoms. With their combination of toughness and adaptability, and their ability to keep me warm on chilly nights, I can confidently say they solved my Chronic Cold Person Syndrome.
Lead Photo: Courtesy Mountain Hardwear
Trending on Outside Online